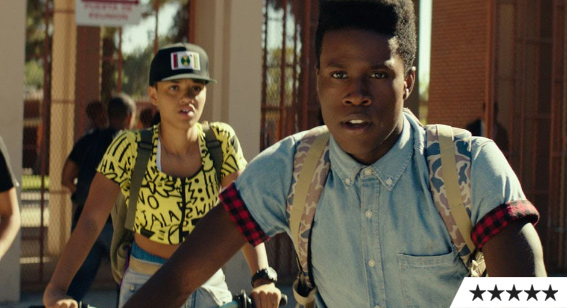 ---
Move over Ferris Bueller, high school has a new king and the high school movie genre has a new heavyweight. Meet Malcolm and his two friends. Three self-professed high school geeks with an obsession for '90s hip hop who are weeks from graduating having navigated the complex dilemmas of life in a modern high school world and urban gang war landscape. They are surviving if not thriving until one day Malcolm crosses paths with Dom, the top run on the local gangster totem and sets in motion an out of control spiral of a high school caper that has the potential to set Malcolm up for life, or end his days far sooner than anticipated.
The film opens by articulating the three meanings for Dope – dumb, weed and awesome – and they are all worked in to this glorious tale. The crucial word however is fresh. Dope is a mesmerizingly fresh take on the well-worn and much-loved high school genre.
From it's awesome soundtrack to it's twisting original plot, this is a fun and fantastic wild ride through action, mild-level debauchery and mid-level illegal entrepreneurship that demands an impresario performance from Shameik Moore as Malcolm in order to ground it all in a plausible and enjoyable fashion. To say Moore delivers is an understatement, this is a break through performance that screams future star.
The big names are behind the scenes with Forest Whitaker, Sean Combs and Pharrell Williams all getting producer credits. It explains the way that race politics are seamlessly interwoven in the tale to amuse as much as enlighten, with nary a soapbox or moral judgment in sight. Dope is a must-see not only for lovers of high school flicks but for anyone who wants a glimpse of film's future.
In short, Dope is dope (awesome).
Want More Like 'Dope'? We Think You'll Dig:
Dazed and Confused | Scott Pilgrim vs. the World | Boyz 'n the Hood