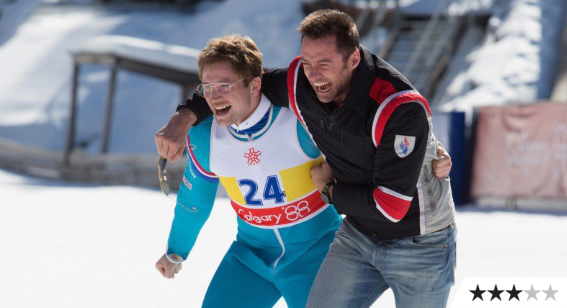 Review: 'Eddie the Eagle' Will Swell Chests & Enthuse Audiences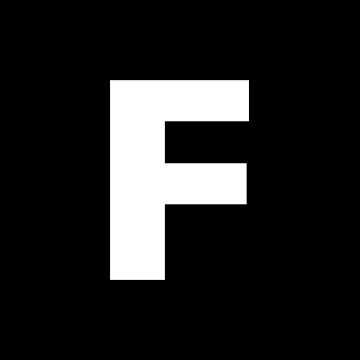 ---
In the hands of producer Matthew Vaughn (Kingsman), this unlikely, one-of-a-kind, underdog tale may take many liberties with the truth, but in doing so follows in the ski-boot-steps of its subject. A self-made, bespectacled spectacular at the 1988 Winter Olympics, Michael "Eddie" Edwards relished being at the epicentre of a media circus that wasn't always entirely accurate. Did this diminish his achievements as a rare British ski-jumper, landing underwhelming jumps? Nope. And as Eddie the Eagle's predictable feelgood dominoes fall in succession, the same's true here – embellishments only aiding his folk hero status.
In a spot of extremely unlikely casting, Kingsman's young lead Taron Egerton brings Eddie to life. For this fresh-faced young chap, that means a tragic dye job and a consistent jutting of the jaw that looks even more painful than many of the film's stunts. Add coke-bottle-strength eyeglasses, and the transformation begins to look more tricky than need be, in a world where Trailer Park Boys' Bubbles could waltz in and do the same thing. Evidently it's Egerton's unrelenting enthusiasm and charisma that win out though. While he may have a touch of Ricky Gervais' Derek to him, his Eddie offers enough to invest in – as does his mentor Hugh Jackman, in a reasonable outcome considering his character is completely fabricated.
Why's nit-picking the accuracy relevant, you ask? Eddie the Eagle becomes more fable than fact because it's only partly grounded in truth, and so is able to enjoy the best of both worlds. Freed from detailing the minutiae of Eddie's achievements, it can focus on purely how bonkers the attempt itself was, and while its tale is ever-so-familiar, it'll defy anyone but the most hardened cynic to get something out of. Audiences will enthuse, chests will swell, and critics will struggle to avoid phrases like crowd-pleasing and heart-warming. Oh, bother.
Other Feelgood Olympic Movies: Cool Runnings, Chariots of Fire, Foxcatcher*
*might not make you feel good