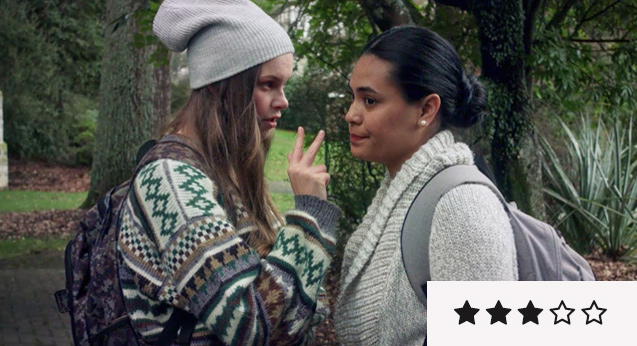 Stallone "S.Q.S." Vaiaoga-Ioasa's feature debut Three Wise Cousins was a self-funded hit that proved audiences were hungry for mainstream Pacific films that put Pacific Islanders in the spotlight. It resulted in a film that asked you to forgive some huge pacing problems and dicey acting to support something greater – the growth of a filmmaker we need. His second feature, Hibiscus & Ruthless, is a better film both aesthetically and on a storytelling level. It's also really, really funny.
Hibiscus (Suivai Autagavaia) is an intelligent and hardworking young woman living under the heavy shadow of her merciless Samoan mother. She must adhere to two rules: No going out and no boyfriends. Her best mate Ruth (Anna-Maree Thomas), who always goes out and has had many boyfriends, is there to keep her in check as they begin life as uni students. Ruth's also a palagi who was pretty much raised Samoan, as demonstrated in an affectionate childhood montage.
Thomas goes for broke as the eccentric "Ruthless" with a lively performance that sees her smacking a number of gags over the boundary. She turns it all the way up to 11, though she could have benefitted from toning it down more often – one of the funniest moments actually comes from how casually she exits a hugely dramatic scene.
Fortunately, Autagavaia keeps things grounded as the comedic straight woman to Ruthless and the numerous goofs trying to court her. This includes a tragically corny pseudointellectual and a French-Samoan heartthrob so gosh-darn pretty he makes Channing Tatum look like Gilbert Gottfried.
The big setback lies in the third act where key characters make sudden 180-degree shifts in their personality for the sake of drama. Ruth's turn is the most jarring, going from university slacker who sleeps through lectures to sudden engineering genius. Had she shown more devotion to her studies, it would have done a lot to give the somewhat surprising conclusion the emotional punch it was aiming for.
Despite playing its hand too heavily near the end, Hibiscus & Ruthless remains an entertaining comedy with a strong sense of character and an even stronger sense of humour.