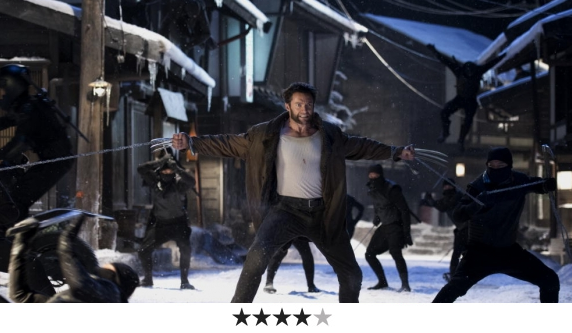 ---
Let the healing begin. After the sheer awfulness of James "Logan" Howlett's 2009 Origins story, Wolvie is back with a vengeance in this brooding yet bravura tale based on one of his most popular comic arcs. Taking him from Grizzly Adams-esque recluse back into the fighting fold, this Japanese sojourn owes more than a debt to Nolan's Dark Knight and Marvel's own Avengers series with its sombre storytelling and breadcrumbs of things to come (or should I say Future Past).
A working knowledge of the original X-trilogy would be helpful to prospective viewers, but even those who think Adamantium is a fan of 1980s New Romanticism will be swept along by the thrills, spills (a battle atop a bullet train the shining highlight) and meaty drama (thankfully not involving an alien invasion or city destruction) on offer.
There are plenty of pointy sticks, claws and cutting comments, as the script allows Jackman myriad opportunities for appropriate pithy remarks in his new guise as a ronin.
As has been a trademark of the X-Men, the girls also get in on the action, with Rila Fukushima surely the stuff of Tarantino's dreams and Svetlana Khodchenkova a venomous adversary. And the end "stinger" continues a Marvellous tradition of whetting the appetite for more. Snikt!
Read more on 'The Wolverine' and find movie times.