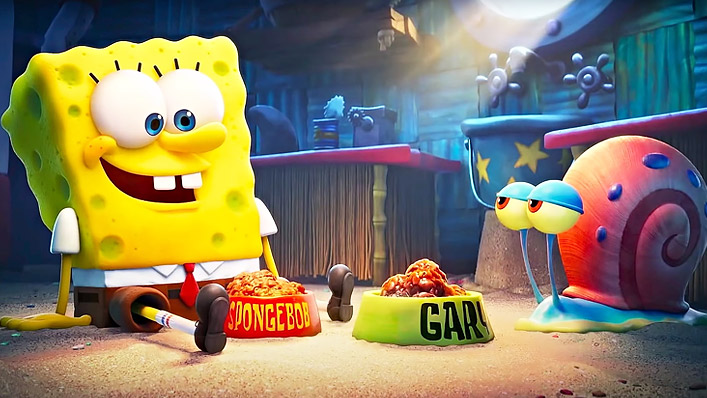 Sponge on the Run reminds us there's no such thing as a bad SpongeBob movie

---
The SpongeBob Movie: Sponge on the Run (now on Netflix) is as silly, sweet, joyous and anarchic as anything that's ever had the SpongeBob name. Here's critic Sarah Ward's review.

When a certain absorbent, yellow and porous sea sponge squelches across the silver screen, movie magic tends to follow. The SpongeBob SquarePants Movie, from 2004, ranks among the most surreal and delightful all-ages films ever made, and delivers a bender scene—swapping ice cream sundaes for the hard stuff—that's like a kid-friendly version of Fear and Loathing in Las Vegas. Its sequel, 2015's The SpongeBob Movie: Sponge Out of Water, gifted the world a rapping, time-travelling dolphin voiced by the inimitable Matt Berry, as well as a Mad Max-style war waged with condiments.
See also
* Best new movies & series on Netflix
* All new streaming movies & series
Arriving on Netflix in Aotearoa after ditching its cinema plans due to the pandemic, The SpongeBob Movie: Sponge on the Run clearly has big soap bubbles to fill. Thankfully, although this is the lesser of SpongeBob SquarePants' three movie outings thus far, there's no such thing as a bad SpongeBob film.
Sponge on the Run mirrors the first flick's quest plot, even offering up its own version of a big night on the town—in The Lost City of Atlantic City. It brings back Matt Berry, this time as a vain King Poseidon, who exploits sea snails for their youth-giving goo. In recognising its past movie successes, it can occasionally feel like it's interlacing familiar seaweed strands, but it's still as silly, sweet, joyous and anarchic as anything that's ever had the SpongeBob name.
Following an observational, David Attenborough-leaning opening that introduces SpongeBob's (Tom Kenny) home of Bikini Bottom to the unacquainted, Sponge Out of Water devotes an early montage to the light of its central figure's life. That'd be Gary (also voiced by Kenny), his meowing, litter box-using, extremely cat-like snail, who he adores with a passion relatable to any pet owner.
Alas, once the reliably nefarious Plankton (Mr Lawrence) spies Poseidon's plea for shelled gastropods, Gary is snail-napped. In one of the franchise's classic touches, it shows SpongeBob's distress not just through an ocean of tears, but in his cracked and red eyes that look like something out of Ren and Stimpy. It's a break from the film's glossy CGI visuals that isn't just textured, but visceral.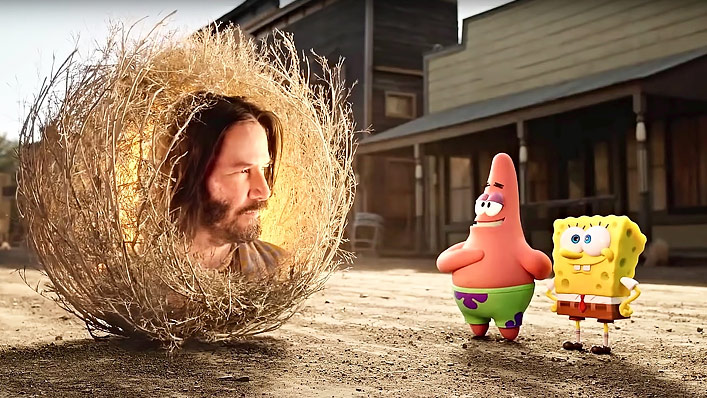 Constantly trying to glean the secret Krabby Patty recipe from the Krusty Krab, the fast food shack where fry cook SpongeBob is always the employee of the month, Plankton doesn't just want to upset his perennially perky nemesis. After his supercomputer wife Karen (Jill Talley) informs him that SpongeBob always foils his schemes—unwittingly, admittedly—Plankton is trying to push him out of the picture. Cue a cross-seabed journey to rescue Gary, with SpongeBob accompanied by daffy starfish Patrick (Bill Fagerbakke). They're driven, literally, by a homemade robot called Otto (Awkwafina), who likes telling people they're fired more than a particular reality TV host-turned-US president.
Sign up for Flicks updates
Sponge on the Run also features Keanu Reeves as a sage tumbleweed who is also a sage in the advice-giving sense, with the actor's flesh-and-blood face emblazoned across an animated ball of spiky strands. Knowingly and enjoyably playing to adult audiences, it features him more heavily than viewers might initially expect. And, because random, absurdist gags are as important to all things SpongeBob as the eponymous critter himself (he is a sea sponge that looks like a dish sponge, after all) it also includes a dance-off in an Old West-esque saloon featuring flesh-eating cowboy pirate zombies and Snoop Dogg.
Any description of any SpongeBob film—or of the television show's 264 episodes to-date—always seems both ridiculous and random. Turning that combination into comedy gold is the overall franchise's not-so-secret strength, however, and that proves the case here. There's little reason for SpongeBob and Patrick to cross paths with Sage, for instance. And yet the combination of former's chaotic energy and the latter's cool, calm and collected Keanu-ness works a charm.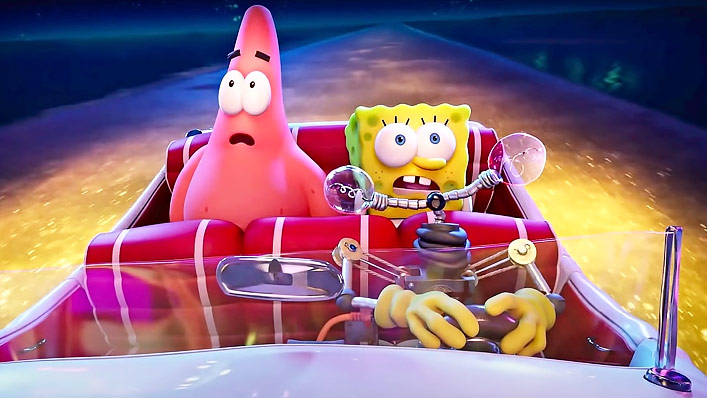 The same applies to the film's small details. There's no reason that Plankton should have sculpted buttocks, as augmented by the movie's computer-generated imagery. Or that a scene in which Krusty Krab owner Mr Krabs (Clancy Brown) tries to throw Otto away should resemble The Simpson's famed Sideshow Bob-stepping-on-rakes sequence.
Although tender and cute, Sponge on the Run's flashbacks to SpongeBob, Patrick, squirrel Sandy Cheeks (Carolyn Lawrence) and cantankerous fellow Krusty Krab employee Squidward's (Rodger Bumpass) childhood are its weakest element. They play exactly as they're meant to, of course: as a precursor to a TV spin-off prequel series, called Kamp Koral: SpongeBob's Under Years, which is due to release in 2021.
But these scenes fail to recognise that bringing SpongeBob to the movies isn't just about matching its television success, or replicating what works in episodic chunks. Audiences might be watching Sponge on the Run at home but, like its predecessors, it's at its most delightful when it expands its silliness and absurdity to fill its bigger, lengthier format.