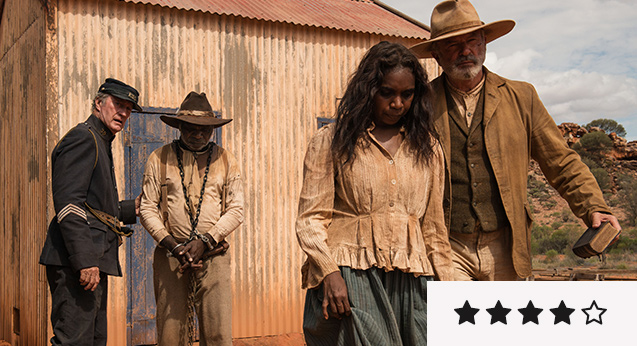 At times exploiting the Western genre's conventions and at others gently subverting them, Warwick Thornton's Sweet Country takes place a while after typical horseback foundational myths. The film's 1929 Australian Outback setting is as lawless, violent and transitional as any, however, and serves as a potent backdrop to an often searing portrayal of colonial racism and rage at a time when today's cultural paradigm coalesced – a continent ruled by arrogant invaders, who've dispossessed the indigenous people's connection to culture and country.
As this suggests, Sweet Country is frequently bleak, but it's also beautiful. Gorgeously shot and patiently paced, the tension and drama is punctuated by moments of humour and grace, all soundtracked by the sounds of the native environment rather than a traditional cinematic score.
The Northern Territory is a place that seems to be driving its settlers mad – town lawman Bryan Brown is a mean bully, prone to erupting in spittle-flecked fury; Sam Neill only sporadically emerges from myopic thrall to the Bible; cattle farmers treat blackfellas like livestock, then deal with the emotional, psychological, sometimes physical ramifications.
What they've brought with them represents a minefield for the indigenous people to navigate under the ever-present threat of violence, and when Sam Kelly (Hamilton Morris) commits the cardinal sin of shooting a white man (no matter that it's self defence in the face of a deranged war veteran), the result looks to be a foregone conclusion. Thornton suggests as much with flashes of premonition that foreshadow violence to come, further bolstering the film's visual flair.
Like most films working within formulaic genres, Sweet Country is largely about the journey to its destination – the literal form of which sees Brown and Neill, in a wonderful pairing, form part of a posse to track Kelly down. As they journey away from their flimsy civilisation, the colonisers' grip on the country becomes demonstrably weaker – in their weakness, some opt to attempt to reassert it. Like all Westerns, tragedy lies in wait for some of the film's characters. Depending on how you read it, Sweet Country either despairs for, or celebrates, some of their futures beyond the credits. Maybe a bit of both.