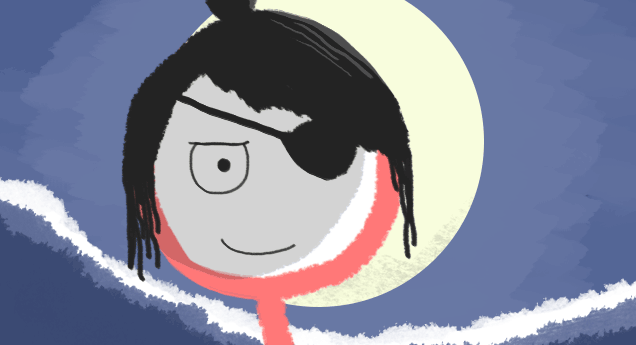 Laika's animated fantasy adventure Kubo and the Two Strings has been out for a week, and I went a little bit nuts for it. It's a superb piece of storytelling with an even superb-er-er look that stamps Laika as one of the best big budget animation studios working today.
But then there's the socially-awkward elephant in the room: the main voice cast in this Ancient Japan-set film are Westerners. We got a few comments about this apparent case of whitewashing and whether or not we should be losing more of our shits over it.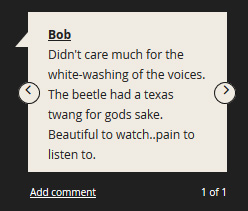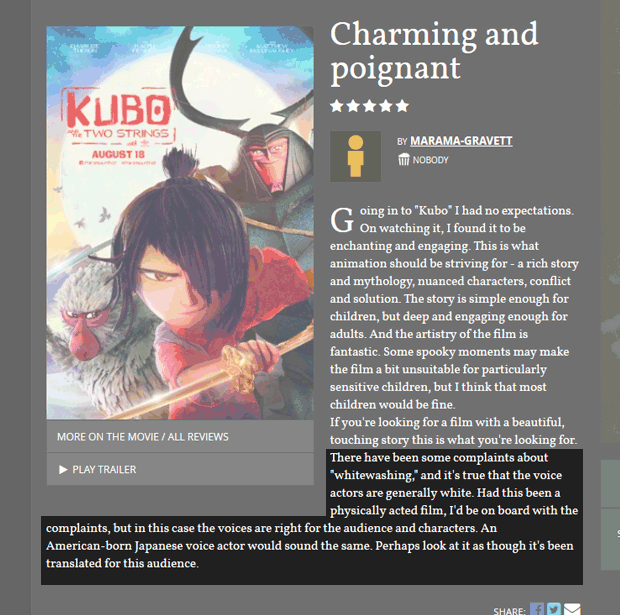 They are fair points, ones that reflect of a world coming to realise how bullshit it is that we don't get to see fulfilling Asian characters portrayed in mainstream Western films and how bloody hard it is for Asian actors to breakthrough because of it. It's why the meme #StarringJohnCho exists and it's why the director of The Great Wall had to make a statement about Matt Damon's face.
So why can't English-speaking Japanese voice actors lead this Japan-set film?
One immediate response would be that there simply are no Oscar-winning Japanese actors available (you can blame that one on casually racist Hollywood, right?). Had there been, it would have taken the ease off of the studios to find that golden marketing labels 'starring Oscar-winner' and 'starring Oscar-nominee'. This is why the main leads are voiced by Oscar-winner Charlize Theron (South African), Oscar-winner Matthew McConaughey (Texan), Oscar-nominee Rooney Mara (New Yorker) and two time Oscar-nominee Ralph Fiennes (half-blood wizard).
But that response doesn't stick, not when you have Oscar-nominee Ken Watanabe and Oscar-nominee Rinko Kikuchi still in their prime.
(The animated TMNT film may not have been a smash, but at least that film got the late, great, Oscar-nominated Mako to voice Japanese sensei Master Splinter.)
The next response would be to say "Well, Watanabe and Kikuchi are just not as recognisable as Furiosa and Alright Alright Alright." That's true, but that's not an excuse. I get why the money-keepers would want to be 'reassured' that a film would get butts in seats (especially when funding stop motion animated films, which have a history of tanking HARD) but how much reassurance can you really bank on a voice? Did Billy Connolly's mouth push Pixar's Brave over the $200mil mark? Was the first Despicable Me a colossal money-maker thanks to the voice of The 40-Year-Old Virgin? CAN YOU EVEN NAME WHO VOICED JUDY HOPPS IN ZOOTOPIA!!??
(I apologise to any fans of Once Upon a Time who just yelled out "Ginnifer Goodwin, you condescending fool!")
This celebrity stunt casting has worked in the past. As pointed out in this very good article by The Atlantic, you can trace the trend back to Disney's Aladdin with the casting of Robin Williams as Genie. This pairing sparked a dynamite of interest, one that resulted in the ultra-meta, not-very-Arabian character being the most marketable on Disney's roster.
We've seen other family films attempt to make us squee like we did in 1992. "How cute, Jack Black is a kung fu-ing panda! Hey look, it's the Fish Prince of Bel Air! Oh boy, Robin Williams is a mentally ill robot!" Through this tactic, interest is always guaranteed – but not marketing success (just have a squiz at the grosses for Jerry Seinfeld's Bee Movie and Tina Fey/Will Ferrell's Megamind).
Given how big of a drawcard the name 'Disney' is, they're in a better position than anyone else to buck the trend of celebrity voice whitewashing. In Big Hero 6, Ryan Potter and Daniel Henney were the voices of Hiro and Tadashi. In Pixar's Up, young Jordan Nagai was the voice of Russell. Hell, damn well nearly every voice in Mulan came from someone of Chinese descent, and that film is 18 years old!
The name 'Laika' has no such pull. I suspect that's why they leaned on Western celebrity voices. Kubo director Travis Knight claimed to BuzzFeed "Ultimately, what matters most for us is the ability for an actor to convey the nuance and the emotional truth of the role…" Theron and McConaughey do that – they are unquestionably superb in their roles – but I don't believe it to be the sole reason for their casting.
I've heard the statement: "If this was a live-action film, more people would be outraged." Sure, but that requires us to simplify something that just isn't that simple. If Kubo was a live-action film with the same cast, Kubo would not look like Kubo. His mother would not look like his mother. The Moon King would not look like the Moon King.
If you want it put crudely, the Japanese characters would look like Westerners. But they don't, and that's a significant difference.
There's another aspect to all this that makes things trickier. What about the foreign dubbing?
Is it sweet-as for the German-dubbed version of Kubo and the Two Strings to be led by white voice actors, or should noses turn up if the film contains an Austrian-sounding Beetle who isn't of Japanese descent? And what about Studio Ghibli films that get dubbed in English? Does The Wind Rises get a pass for giving the lead roles to Joseph Gordon-Levitt and Emily Blunt simply because it was originally voiced in Japanese? If so, does Kubo get a similar exemption for when it inevitably gets a Japanese dub?
I don't have answers to these questions. Like I said: shit's tricky.
There's really only one thing I feel solidly against. The film has talented voice actors of Japanese descent (Ken Takemoto, Kaura Miro, Alpha Takahashi, Minae Noji and, of course, George Takei) but they only make up bit roles. It places them in direct contrast to the A-list celebrities, who score the lead roles.
That is tokenism. That is unfair. That is whitewashing.
In saying that, it would be equally unfair to define Kubo and the Two Strings as "the whitewashing film for the whole family." At the heart of this controversy is an ideal – people want to see more Asian characters portrayed prominently in mainstream films. In its looks and its personality, Kubo does so with tremendous respect, and a simple glance at behind-the-scenes footage will give anyone a good idea of how much incredible detail went into making this fantasy world set in Ancient Japan.
Next time, let's hope the voice casting team keep an ear out for those same details.