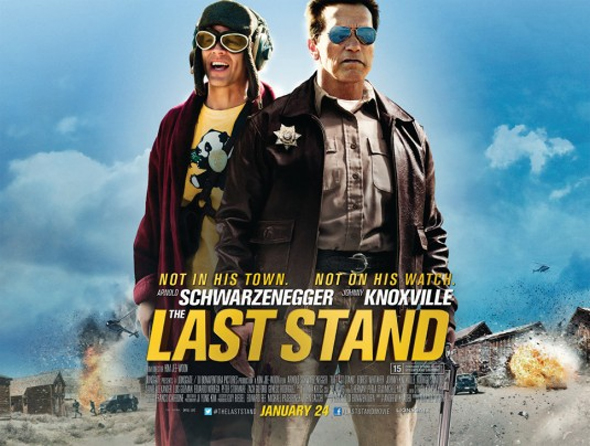 Arnie's first lead role in a film since Terminator 3 went straight to DVD here after flopping at the US box office. This breaks my heart.
I've seen The Last Stand twice, luckily both times on the big screen – one of which was in Japan. Later that night Arnie appeared on Japanese TV in an interview/eating/cooking/quiz segment. Thanks, Japan, that was amazing. The Last Stand is far from Schwarzenegger's best work, but it's very, very good as his comeback film. It beats the hell out of both Expendables movies combined and is just a bloody great big-screen action. It's the English language debut of Korean director Kim Ji-woon (I Saw The Devil, The Good The Bad The Weird), who nails it. Clearly a fan of American action, Ji-woon celebrates the genre and brings an exciting, fresh energy to the very classic action script. He also emphasizes the most American elements – guns, cars and capitalist attitudes – in a really nice way I think only an outsider could still pull off so earnestly.
The Last Stand probably shouldn't make any top ten lists this year or anything like that, but it's a great, simple action movie, the sort I wish we had more of in cinemas. I wish like hell Schwarzenegger keeps making films like this and that American audiences go and support it at the box office, rather than more goddamn Expendables movies.
The Last Stand came out on DVD and Blu-ray in New Zealand recently and I strongly recommend checking it out.
---
In my last blog I was all excited about Man of Tai Chi, Keanu Reeves' directorial debut. It's a kung fu tournament movie with famed stuntman Tiger Chen in the lead. It snuck into New Zealand cinemas recently after playing at Cannes and Berlin, and it's pretty good.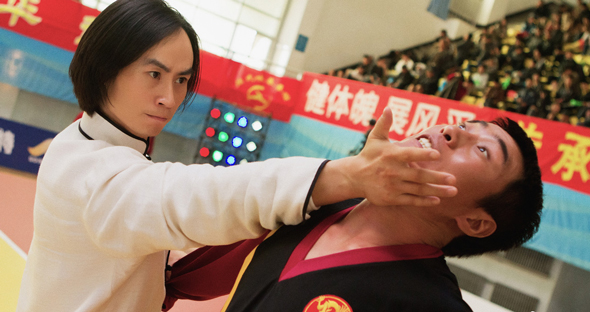 Keanu has a lot to learn about how to make fight scenes look and sound as great as they should, however, and the movie is altogether pretty damn silly. But there is a lot of fighting in it – like, most of the running time. Despite the poor direction sullying things somewhat, the martial arts choreography is at times quite stunning. But I did get pretty mad when The Raid legend Iko Uwais didn't even get to fight in this. He appears in what is essentially only a cameo and the teased duel between him and Chen doesn't even happen. Bullshit.
---
Recent Scott Adkins news has been mixed. A trailer was released for Legendary (previously known as Tomb of the Dragon), which is the one where he and Dolph Lundgren are hunting a dragon in China. It looks pretty shit. Adkins is some sort of science nerd, talking like he should be wearing glasses, and he's all into saving cryptids while Dolph is into killing them. There's one tiny slither of a fight in the trailer, but it really looks like more of a weird, crappy creature feature rather than a fight film. Think I'll watch Dolph and Adkins battle in Universal Soldier: Day of Reckoning again instead.
Hard-working Adkins tweeted that he had just three days off in between wrapping Hercules 3D and starting work on Wolf, a Chinese war film by Wu Jing. It's his second feature after Legendary Assassin, but the Wu is mainly famous for being a martial arts movie star. Yuen Woo-Ping plucked him from the Beijing Wushu Academy to star in 1996′s Tai Chi Boxer and he's been kicking ass since. There's not much information out about Wolf yet, but it could be pretty sweet.
Proving how good he is at bromance with other modern action heroes on Twitter recently, Adkins and The Rock talked about potentially fighting in Fast & Furious 7 and accepted The Raid director Gareth Evans' offer for a fight with Iko Uwais. Both of these Twitter conversations gave me goosebumps.
@ghuwevans @Marshy00 @iko_uwais Mate – I'll fight whoever you want me to but @iko_uwais would be an honour.

— Scott Adkins (@TheScottAdkins) June 1, 2013
@TheScottAdkins Thanks Scott! Keep kickin ass brother.

— Dwayne Johnson (@TheRock) May 27, 2013
---
A couple of images and a synopsis have emerged for the Adkins-led Ninja 2 and it's looking fantastic: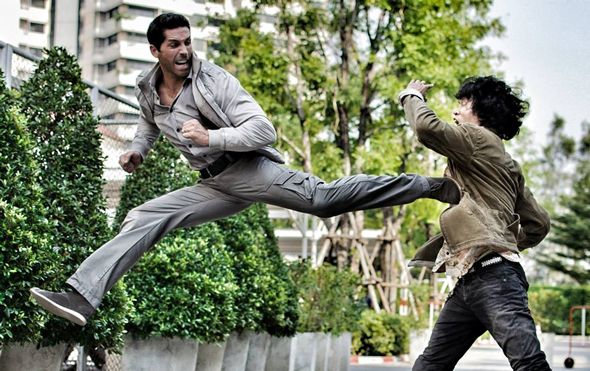 The domestic bliss Adkins' character earned through arse-kicking and babe-saving in the first Ninja is shattered by a gang of meanies that love two things: the meth business and killing people by strangling them with barbed wire. A cool line from the official synopsis is: "the fearless American stealthily tracks the killer from Osaka to Bangkok to Rangoon with the help of a wise and crafty sensei". Fuck yeah, I love fearless Americans! Check out the fearless American kick he's doing in that Ninja 2 still above.
One of the co-stars of Ninja 2 is Vithaya Pansringarm, the chap that plays nasty Thai cop Chang in Only God Forgives. I saw a preview of this film recently and really dug it, but I get the feeling that not many other people will. It's slower, weirder and less decipherable than Drive, director Nicolas Winding Refn's previous film that also features Ryan Gosling in the lead and a memorable Cliff Martinez score. Only God Forgives has a focus on violence and is a tale about the never-ending violent cycle of revenge that appeals to me greatly. If you're open-minded about ultraviolent films with very arthouse sensibilities, do not miss it.
Pansringarm has a fist-fight with Gosling that is really very impressive. I'm not sure how it was filmed, but it looks a lot like Gosling takes some serious hits without much stuntman support. Pansringarm has some great, nasty moves up his sleeve and does really cool angry facial expressions, so I can't wait to see him and Adkins go at it.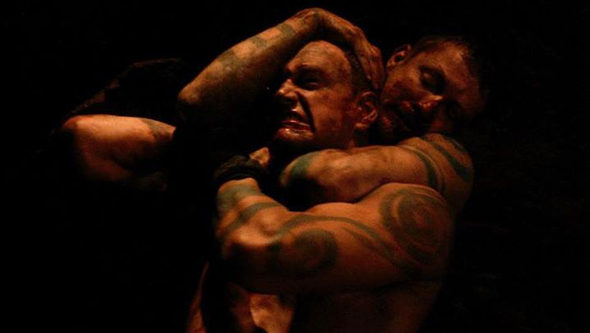 New trailers out include Machete Kills and 300: Rise of an Empire, both of which promise some sweet as violence but neither of which are that exciting to me. There are a couple of new Viking movies around which I'm eager to see – Hammer of the Gods (pictured above) and Escape, which a mate described to me as "the kvlt version of Apocalypto". Do check out Valhalla Rising if you're reading this and interested in Viking steez. It's by Nicolas Winding Refn, so is of course weird and slow, but if you can handle that it's a beautiful and brutal work of genius.
In Donnie Yen news, he stars in and choreographs his own action in the upcoming Iceman 3D. The Law Wing Cheong remake is a time-travelling martial arts epic, with Yen playing a Ming era warrior thawed out in modern dayHong Kong.
"Jackie Chan, he directs his own action movies and I feel it's probably better for the film itself because you do make sure that the flavors are synchronised because you're acting in one way and you're directing," explained Yen to APTN at Cannes. "If you're not directing in one way then you really can't bring that essence of the character so it's probably best to direct your own action."
The film has faced a number of issues – a ballooning budget, reshoots and so on. But Yen is primo and I hope we get this on the big screen here.
This is a film blog on a film website, but the last few things I want to share are about videogames. Anyone reading this should enjoy the trailer above for Rambo: The Video Game. It's coming out later this year and will centre on playable versions of iconic scenes from the original trilogy. The gore shown off in that video suggest violence much more in line with the deliciously over-the-top 2008 Rambo film, however. Ryse: Son of Rome is another game definitely worth checking out for some brutal next-gen hack & slash action and Mad Max is another upcoming game readers of this blog will probably have a lot of interest in.