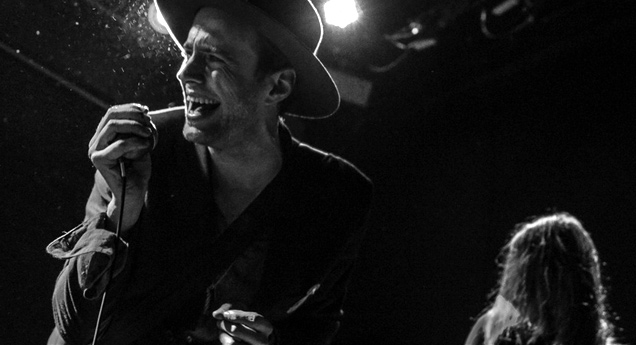 Touching down back in New Zealand for a run of summer shows – including Auckland's Laneway Festival on Jan 30th – The Veils bring with them a bevy of new songs courtesy of last year's album Total Depravity, co-produced with Run the Jewels' El-P. They also make an appearance in David Lynch's upcoming third season of Twin Peaks, which was an irresistible topic to bring up with Finn Andrews when we caught up for a chat.
---
FLICKS: Since it's premiere date is only a few months away – May 21st – you'll get to talk properly about being in 'Twin Peaks' soon.
FINN ANDREWS: Yeah, that would be nice. Yeah.
How long has it been since you knew that was going to happen, and how long have you just had to mostly stay mum about it?
It was a long time ago, I think we were filming it in March last year, something like that. Maybe a little later, April? It all happened very quickly. We recorded one of the songs on the record at Lynch's house, and that was an amazing thing in and of itself, and then it was about a week after doing that that we got a call from Dean, who's his sort of music producer and engineer, who worked on the song with us. We'd just left LA and gone back to London, and he said, "Oh can you come back in like three days and do this," and so we then went back again. It was all very quick. But just incredible. One of the first things we all used to do, with Soph as well, we'd drive to Videon and rent out all the Twin Peaks series.
There was a lot of competition over that particular VHS there. They're probably the most played VHS tapes in Auckland.
It was very well worn.
You can get a sense, while watching Lynch films, that on the one hand they are ultra-considered in some aspects, and in others he's like, "I feel like doing this," and making impulsive decisions as well.
That was a beautiful thing to watch, really, him working and I guess actually you see what a collaborative effort it is as well. He's got all these people that he's worked with for years, and everyone's just so cool and onto it, and he's so lovely. They were so warm and lovely and you don't really know what you're walking into with that sort of thing. He's had such an incredible career, hasn't he? And you don't know, is he just going to be a total arsehole? I don't know. He could be, couldn't he? Very easily.
I guess we all invent a persona behind the stuff we love, and the more you like it, the more you create it. You can read as much as possible about them, you can watch interviews, but you're still creating an idea in your head of what that figure is.
No he's exactly what you wanted, you know? It's like all that you see, it's not a persona at all. He actually is that completely, he's got the megaphone and he's like, "Okay, okay, the Veils." You know, great, "Camera one," it's perfect, we were just all pinching ourselves [laughter] how awesome he was.
There was almost like a sort of radiation, that just everything around him becomes Lynchian, you know? His house, everywhere we went, the place we were shooting, it's not just the place that they were shooting at, but the whole area around it. It had this high school next door, this sort of very 50s-looking high school. They weren't even filming there! I just love that idea that he's created his own universe, entirely, where the rules of the outside don't apply. It's sort of what I've always wanted to be able to do and work towards doing, so amazing to be able to walk into someone else's thing like that. Yeah, such a fucking cool experience. Hopefully we don't get cut out [laughter].
Now, you've probably heard this one before… It's a fundamental cliche of music journalism to call music cinematic.
Ah, yeah.
You've probably heard that a couple of times?
Oh yeah.
How does that make you feel?
I mean, I understand why it might be called that. I think of our music very visually, I suppose. Though all songs to me have that kind of quality to them. They're sort of the same parts of the brain that they tickle, so yeah, I would find it hard to say which music isn't cinematic. They all fit in that world.
I suppose it's also used to describe a production aesthetic, what the audioscape of a record sounds like, so it's applicable to your records very strongly.
We get used in stuff a lot, sort of in the background of TV things and movie things quite a bit, it does seem to work well in that world. We certainly have a great time making music videos and getting to mess around with things visually, sort of play off the music like that.
Is it interesting to see what comes back as a video treatment idea from one of your songs? Say you already have some of those cinematic thoughts about the piece of music in the first place, what's your reaction to see what gets pulled out of the song and then translated to a visual idea?
We stopped asking for treatments. I think we did one, our first music video when I was 17. That was the only one we sort of sent out for treatments, because we found the process weird, and you don't know the people and we tended to always have an idea ourselves, like Advice for Young Mothers, where it was like, "could we just get heaps of babies, and just hang out with some babies?", and then they sort of will just extrapolate on that little idea. They've all sort of started like that, with just silly ideas. And these last two we did, with Tu Neill directing, it was the same really. "Could we get Charles Darwin out in the desert, sort of exorcising some sort of tentacled demon?", and yeah, it just sort of wrote itself.
That's a great fuse to light, and see what happens.
I really enjoy it as well, I still don't take that process all that seriously as it's kind of a fun thing to do, making videos, so we just don't see the point of not enjoying it ourselves, really. We kind of like hogging the fun and coming up with the silly ideas ourselves.
I guess for most people it necessitates a career change to get to see an idea of theirs on the screen. Why wouldn't you want to take that opportunity?
I'm such a film sort of groupie as well. Before I started playing guitar, that was absolutely all I thought I would do with my life was something in that world, so I do really enjoy being a part of it. I think it's that sort of big group dynamic thing I really love, and it's nice when you're making records, it's sort of the same, but it's also quite a bit smaller. There's sort of seven or eight of you involved making those things, whereas when you're doing, like the Axolotl shoot, I think Tu got like 50 people out there or something, there was a whole art department and everyone. It was such a fun process that. So collaborative. It's like being at school, I think that might be the feeling. It's like being in drama class or something. Everyone's pulling together. It's always something I've really enjoyed about making things.
I always quite fancied, like when you go to a musical or something, and there's like the pit, the orchestra pit, and like they all hang out with the actors after the show, and they all go out and party. I sort of wish I'd got into that, I think I would have really liked it. I guess when you're on tour, you become this little family and it's really the more the merrier for me really, I really enjoy all the little dynamics that happen, everyone working together on this one thing. It's a great feeling, that, everyone pulling in the same direction together.
We've spent lots of time talking about movies and visual elements, so when you play your upcoming run of shows here, and when you play Laneway, why should people watch you instead of watching a movie?
Well, there's a good question. Well, it's the best shows we've ever done, it's got this whole other element to it from the past few years, because we've got all this fantastic sort of sub-bass. We're having a lot of fun with that, things you can do to an audience with a lot of frequencies, sort of paired with the very brittle, harsh sort of thrashy guitar howling stuff going on. So it's very intense – I hope it is, I never get to see it obviously. It feels like a very intense sort of live show, and it feels like something that I would really like to go and see when I go to shows. It's a very immersive sort of thing. It's quite a theatrical kind of feeling, we have entry music and it's all, we hope, quite transportative fare.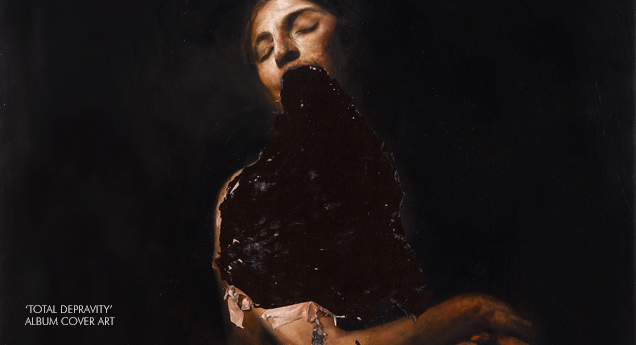 I presume that that sort of sub-bass stuff is a real consequence that production process having El-P work on the new record.
Yeah.
Did you then have to sort of go, "Hey, made this record, really happy with that, concentrated on making a record as a body of work. Fuck, now we've got to play it"?
It was absolutely, exactly like that, but it was a fun challenge and it's ended up still quite band-like obviously, because it still is a band. We're sort of just bringing in elements of that and it's just widened the palette a bit, really. I mean, there's other things we could bring in there. We had songs like Jesus for the Jugular and In the Nightfall that had that similar energy, but there's now all these new tricks in there, I guess, to really hopefully drive people into a sort of foamy stupor. That's the aim.
Oh, it has foamy stupor written all over it.
---
The Veils play Auckland's Laneway Festival on Monday Jan 30th (tickets still on sale here) as well as headline shows around New Zealand from Jan 28th to Feb 3rd (click for details and tickets via Undertheradar.co.nz)