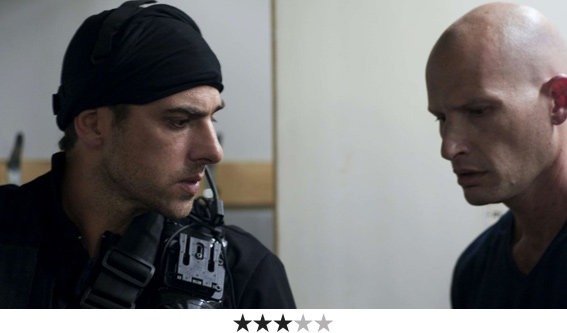 In this Israeli political drama the leader of an elite anti-terrorist unit clashes with a group of young radicals. Writer/director Nadav Lapid explores the violence between Israelis, the different sorts of tribalism, and the camaraderie amongst both police officers and gun-toting youths plotting class warfare.
Read more and find movie times.
---
The pointed title of writer/director Nadav Lapid's debut Policeman might suggest a straightforward cop movie, but it definitely isn't one. This is an assured, willfully detached, almost ascetic socio-political drama that uses the role of the police to probe the topical issue of class divide in modern Israeli society. Adopting a neutral position, Lapid employs an unusual, risky structure, which, hesitant to assign a single, guiding protagonist to provide a clear perspective, follows one group of characters for about 40 minutes before abandoning them to track another.
The first section establishes a sort-of protagonist in Yaron (Yiftach Klein), a member of Israel's elite counter-terrorist squad. We immediately observe a strength of identity that seemingly can't be challenged: at home Yaron's a supportive and proud father-to-be, while at work he's part of a brutish, rock-solid, almost comically masculine brotherhood hard-wired to hunt down Arab terrorists. The status quo is upended though, when the film shifts focus to a band of discontented, naive, fame-seeking rich Jewish kids hoping to become revolutionaries by taking some billionaires hostage.
The film's low-boil remove may be alienating for viewers requiring sympathetic characters or narrative signposts to latch on to; indeed, someone like Shira (Yaara Pelzig), the young rebel who wears a blankness generally reserved for the films of Robert Bresson, is more difficult to identify with than anyone in Yaron's world, which is depicted in universal codes of family and togetherness. But Lapid lands a gut-punch once their paths intersect in the riveting climax, bringing home realities – both political and psychological – that aren't as cut-and-dry as either party would like to believe.