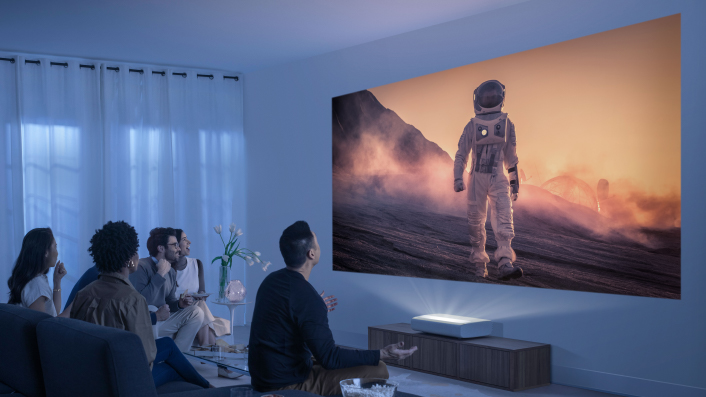 A weekend in with The Premiere, Samsung's impressive new 4K projector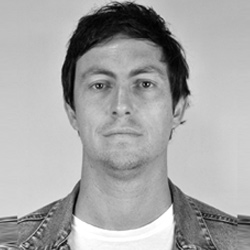 ---

Samsung makes it easy to experience cinema-like entertainment at home with their new 4K triple laser projector. Steve Newall set one up in his living room for a weekend and chronicles the experience. 
Confidently dubbed The Premiere, Samsung's new projectors use ultra short throw (UST), meaning they project vertically up the wall (as opposed to across the room). This means there's no ceiling mount required, no cables running around the corners of your room or across the ceiling, just one minimalist device sitting below the white wall or projector screen of your choice.
And, more than convenience, they also boast top tech under the hood. Of the more highly specced of the two, The Premiere P9 uses a triple laser, and Samsung promises "no matter where you sit, the 130-inch wide screen immerses you like no other, while crystal 4K resolution gives your eyes the incredibly crisp images and optimised colour expression they deserve." The Premiere P7, meanwhile, offers 90 to 120 inches of screen space at 4K, with a single laser.
See also:
* Movies now playing in cinemas
* All new streaming movies & series
Tearing myself away from an important Friday afternoon work meeting that was turning into Friday drinks was as easy as it gets thanks to the knowledge I had Samsung's The Premiere P9 sitting at home and requiring plenty of my attention over the weekend. "It's for work!" I had explained to my housemates about the amount of time I was going to be spending on the couch. As if that would be hard to justify…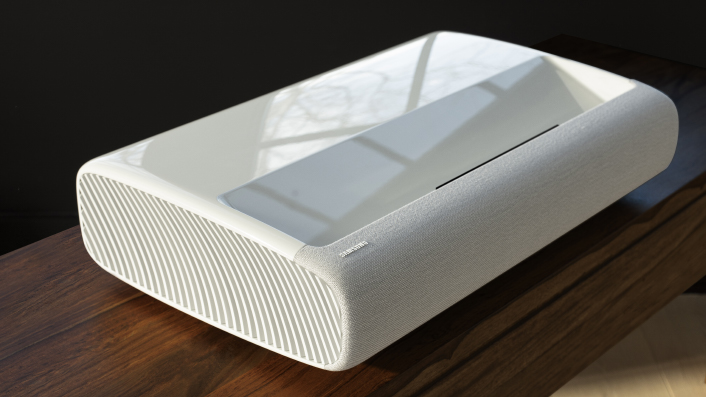 The first thing I discovered about The Premiere was its portability and ease of setup—the projector is easily manoeuvrable and not especially heavy. In the living room, I found a spot for it against a white wall, plugged in the power lead and an HDMI from my PlayStation, and very quickly had an image up on the wall. All I had to do was place it on a flat surface at the appropriate height and with the rear of the unit around 28 centimetres from the wall, and then adjust the projector to fine-tune the picture in time for kickoff.
Warriors, come out to plaaaay
Yes, I was perhaps foolishly about to put my first experience with The Premiere in the hands of the mighty Vodafone Warriors. The user experience of the projector is straightforward to navigate, like that of smart TVs, and I was met by an array of built-in apps. So, on finding the Sky Sport Now app, I logged in and settled in for some gladiatorial sporting viewing as the Warriors took on the Sea Eagles.
The picture was detailed and crisp, kept up well with the rapid movement on-screen, and delivered exactly the kind of experience a sports fan needs. The Premiere's built-in audio proved great at conveying the crowd noise—if only I'd had the volume turned up more, because I heard my housemates cracking up at my loud cursing when Daly Cherry-Evans slotted a match-winning field goal, cruelly crushing Warriors fans' hearts just seconds before full time. Did The Premiere project this moment with heartbreaking clarity upon the wall of my own home? Why, yes it did. Would I hold that against the inanimate device? Only for a few minutes.
DCE ices the game for @SeaEagles! #TelstraPremiership #NRLWarriorsManly pic.twitter.com/A3NY2ckzXs

— NRL (@NRL) April 9, 2021
I hadn't really been expecting amazing audio from the all-in-one unit for a couple of different reasons. Partly because of its size, and through past experience with TVs showing that expecting one device to do a couple of different yet crucial specialist tasks well can be a fool's errand. It's a different story here, though, with The Premiere P9's 40 watts of 4.2 channel audio, using the same Acoustic Beam tech found in Samsung soundbars. Time to put it through its paces then, I figured—and with something more befitting volume than the sound of a ref's whistle and inane commentary chatter.
Friday night FILTH in the club
Continuing to navigate the app menu I headed over to YouTube, where a series of videos had been waiting for this opportunity to experience in maximum glory. In the weeks prior, online dance music broadcasting platform Boiler Room had focused its massive global audience on Aotearoa, first by streaming sets from Auckland waterfront's Beacon Festival. I was eager to see how The Premiere would convey Boiler Room DJ sets from the FILTH club night, described by Boiler Room as "Auckland's most vital club community & one of the only collectives prioritising the QTBIPOC experience in Aotearoa".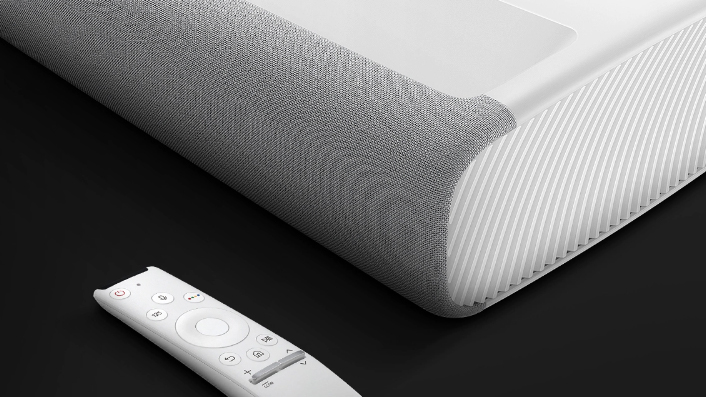 The first step was to turn the volume significantly up—and then jump right in with Lady Shaka's set of genre-bending dance, with Pasifika music threaded throughout. No filmed performance can ever amount to a fraction of what it is like to actually be at a live event, much less when it's as sweaty and full-on party as seen in these clips, but with a projected image over three metres wide across the wall, and the music cranked, the viewing experience was intoxicating.
Let's just say this was an opportunity to discover another benefit of The Premiere being an ultra short throw projector. By having a triple laser projecting vertically up the wall, the only time you're going to get in the way of the beam is by leaning over the projector itself to make some sort of adjustment. If you were—hypothetically speaking of course—dancing by yourself in the lounge on a Friday night to video of a club set there would be no shadow obscuring the visual. Other thoughts stemming from this vertical projection revelation ranged from "oh, karaoke will be good!" to "friends walking in front of the screen to get a drink won't be so annoying!" Life-changing stuff.
Justice is Gray – and impressive at this scale
With Saturday came something else I had been meaning to watch, but with perhaps slightly more tempered enthusiasm. With The Premiere for the weekend, this felt like the time to finally make myself comfortable—four hours worth of comfortable—and be pummelled by Zack Snyder's Justice League. The black and white version. As others have remarked (including Dominic Corry here on Flicks), the Snyder cut's boxy 4:3 aspect ratio is an interesting choice in our widescreen era—but it's one that really works on as large a projected image as this, which showed he was on to something with accentuating his heroes' verticality.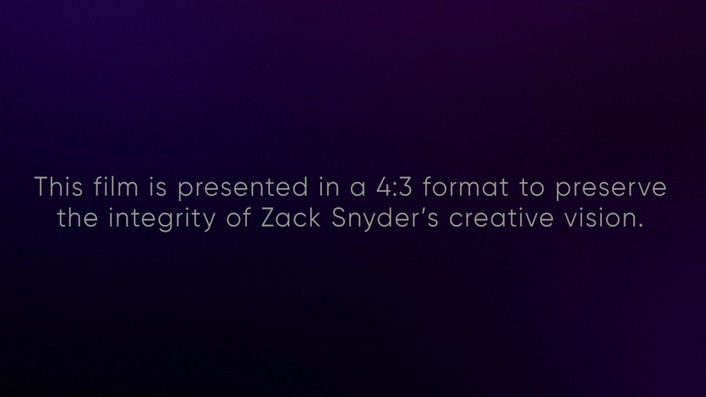 Helpful in presenting Justice is Gray most closely to the way Snyder would have wanted it this side of an IMAX screen, The Premiere includes a new industry standard called Filmmaker Mode. Its purpose is to "make sure the correct aspect ratio, colour and frame rate, as determined by the creator(s), is preserved and presented to the viewer".
Filmmaker Mode is approved by a wide range of film industry bodies, receiving official endorsements from the likes of Directors Guild of America, The Film Foundation founded by Martin Scorsese, International Cinematographers Guild, and the American Society of Cinematographers. Basically, it's the easy way to not see all those innovations that manufacturers think you want, but make viewing look like garbage (unless you are on the shop floor, where the screens look dynamite—until you get them home).
Samsung seems eager for The Premiere to complement the cinema experience, rather than replace it. If we're going to continue seeing streaming platforms release cinematic content directly, this projector makes a pretty strong argument for itself watching a title like Justice is Gray, streamed via the Neon app on the unit.
Gaming takes on a new dimension
After some more passive (and mostly less sweary) viewing than the previous night, my recent addiction to buzzy paranormal game Control had flared up. I'd slept on this third-person console title since its release in 2019, but was stoked to see it pop up as a free PlayStation Plus title in February. Rich in mood and with strongly cinematic elements, it was a treat to play blown up to an immersive, massive size—one which really heightened the experience late into the night.
And, as I discovered the next day, The Premiere doesn't need you to sit in a darkened bunker to use it. Unlike previous experiences with projectors and daylight, which involved vampiric efforts to block the sun by hanging blankets over already-closed curtains, it was a breeze playing Control during the day.
With 2800 ANSI Lumens of brightness provided by The Premiere P9, you can expect to see crisp images even in a brightly lit room—I wondered if that's also thanks to The Premiere's ultra short throw lasers having such close proximity to the surface it's projected on (Samsung notes typical brightness is based on internal testing in dark room (100 nits) and is subject to change according to viewing environment or specific conditions).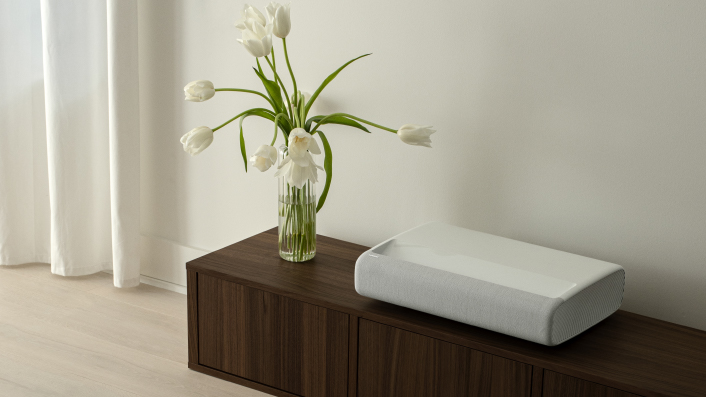 Eventually reaching frustration point with my own inadequacies at a specific combat scenario, down went the PlayStation controller in favour of assessing what 4K video looked like on a meters-wide section of my wall. In a word—awesome. The closest 4K content to hand was Star Wars: The Rise of Skywalker, and while The Premiere P9 sadly couldn't improve on the many creative problems with the film, it certainly did a great job of beaming a universe of special effects and jaw-dropping space vistas into my living room.
With that, I'd engaged with a pretty typical swathe of content for a weekend and been impressed with the capabilities of The Premiere P9. Incredibly user-friendly from set-up through to daily use (I didn't even mention the small, simple remote!), it might end up replacing some people's whole home viewing setup. As with all things in life, of course there's somewhat of a downside: the Premiere P9's $12,999 price tag ($7999 for the Premiere P7) will not be for everybody. But those that can justify the investment will be in for a treat.
For full specs on The Premiere – and how to buy – visit the Samsung website