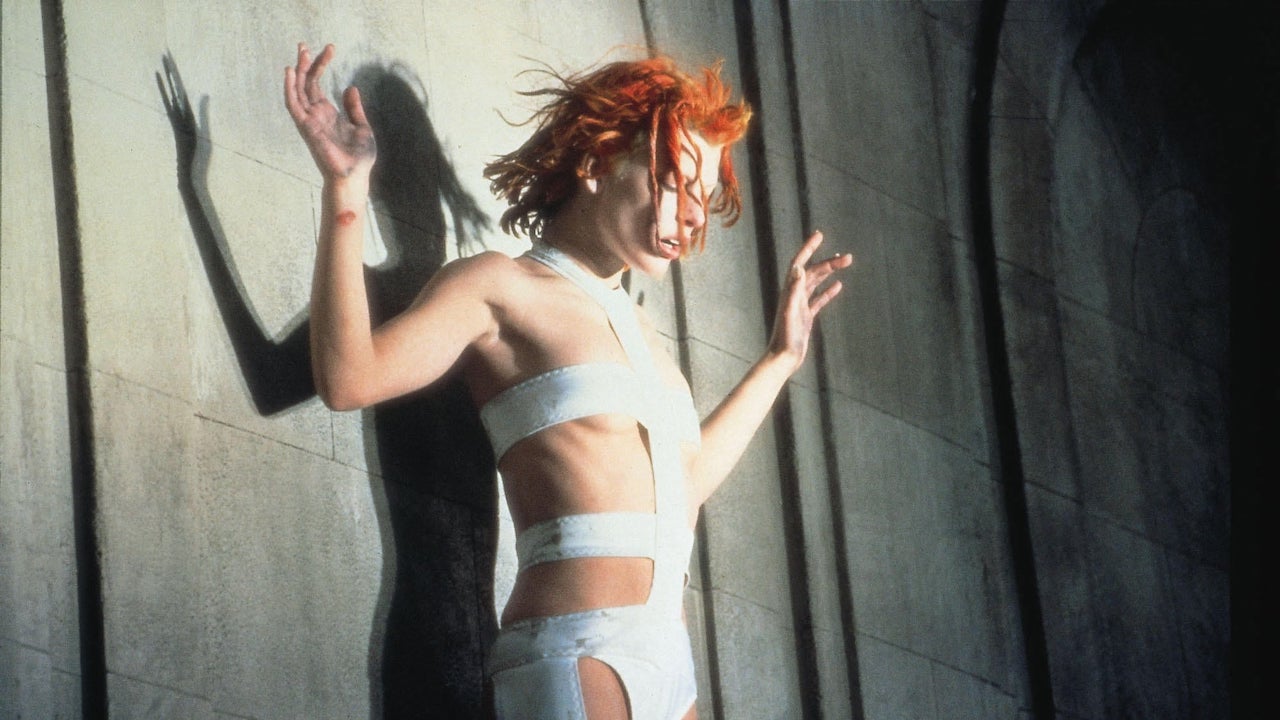 Retrospective: The Fifth Element remains a singular sci-fi vision—and it shows Bruce Willis having fun

---
It's the 25th anniversary of Luc Besson's style-over-substance, dazzling sci-fi breakout The Fifth Element. To Travis Johnson, plot is certainly not one of the film's most compelling elements.
When Luc Besson's The Fifth Element first hit cinemas back in 1997, it looked like nothing we'd ever seen on the screen before. We may have seen it on the page, though.
Teenage Besson, first scribbling the ideas that would be manifested in celluloid years later, was inspired by European science fiction comics by the likes of Jean "Moebius" Giraud and especially Jean-Claude Mézières and Pierre Christin, whose Valerian and Laureline series he would bring to the screen in 2017. Their works were colourful, wildly imaginative epics, unbound by such trifling considerations as "logic" and "realism".
When Besson mounted The Fifth Element over 20 years since he started work on the project, Giraud and Mézières were on production design duties, with Jean Paul Gaultier providing costumes, in an effort to produce a sci-fi film a million aesthetic miles away from the industrial dystopias, dusty wastelands, and sterile starships of most screen SF of the time.
That concern with aesthetics should not surprise us—Besson was part of the French cinema du look movement along with Jean-Jacques Beineix and Leos Carax, and made films that privileged style over, well, anything else. Although only Besson's first feature, 1983's post-apocalyptic Le Dernier Combat, could be said to be science fiction, much of his subsequent body of work—Subway, The Big Blue, even the sleek crime thrillers La Femme Nikita and Léon, seem only lightly tethered to our grounded reality.
Sign up for Flicks updates
With The Fifth Element, Besson cuts the cord. Set in the distant 23rd century—with a charming early 20th century prologue to set up the plot—The Fifth Element sees all life in the universe threatened by a giant, roiling ball of elemental evil travelling through space. Our only hope against this threat is an ancient, alien legend of a Supreme Being, an all-powerful warrior who can focus the energies of the four classical elements—Earth, Air, Fire, Water—in order to battle the darkness.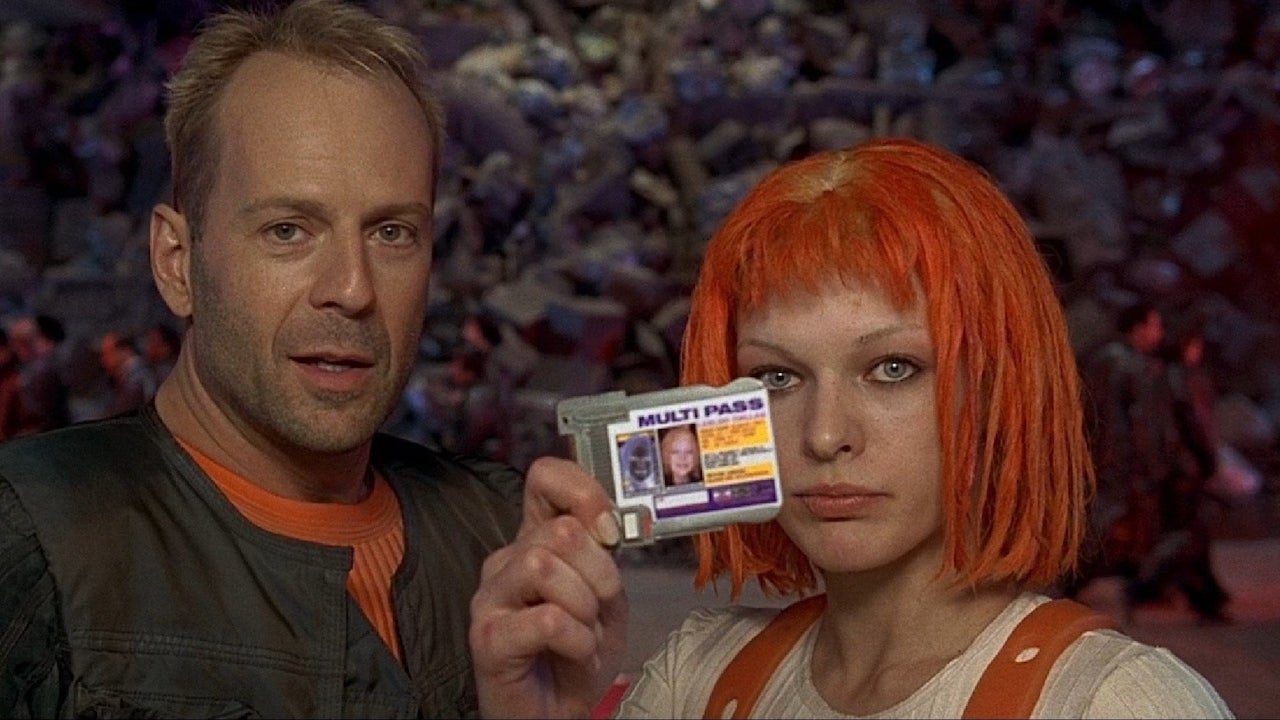 To the surprise of the Earth government and military—embodied by Tiny Lister's President and Brion James' General—this turns out to be Milla Jovovich's Leeloo, a waif and a naif who quickly escapes from their custody and crashlands into the back of a flying taxicab piloted by Bruce Willis's Korben Dallas, a former special forces operative. Together, the gruff Korben and elfin Leeloo set off to recover the four sacred stones representing the elements.
But the plot of The Fifth Element is perhaps its least essential…er, element, existing only to allow Besson and his team to throw a cavalcade of bizarre characters and scenes into our faces. We get a less abstract villain in the form of Gary Oldman's Hitler-haired, Texas-accented war profiteer Zorg, who sics both an army of shapeshifting alien mercenaries and UK rapper Tricky onto our heroes.
Ian Holm shows up as a priest dedicated to protecting Leeloo, while Besson's soon-to-be-ex-wife, Maïwenn, appears as an alien opera singer. The entire film stops to watch her sing in an extra-terrestrial language intercut with a scene of Jovovich fighting off a horde of villains (Besson divorced Maïwenn and married Jovovich in 1997, the year of the film's release). And of course, Chris Tucker leaves no gender norm unchallenged as the playful, promiscuous, preening radio DJ Ruby Rhod, a role originally earmarked for Prince.
Amongst all this sound and fury, mind-searing visual vistas that take us from 20th century Egypt to 23rd century New York City and beyond, it's sometimes easy to overlook how well Bruce Willis' easy charm anchors the film. Harrison Ford once complained that his function in Blade Runner was to provide a focal point for Ridley Scott's detailed mise en scene, but here Willis takes to the task with little grumbling. He's clearly enjoying himself; The Fifth Element came around at the height of Willis' action stardom, but there's surprisingly little in that vein to be found—one chase and one gunfight is all he gets, and he and Oldman's Zorg don't get a single scene together.
Instead, his job is to provide a slightly detached ironic American point of view from which to experience all these weird European sci-fi shenanigans. There are times when you almost expect him to break the fourth wall with a raised eyebrow and a "get a load of this!" grin as Besson's bizarre universe spins around him. Willis sells us the film, and it wouldn't work without him—compare Besson's recent Valerian and the City of a Thousand Planets for a Willis-free example.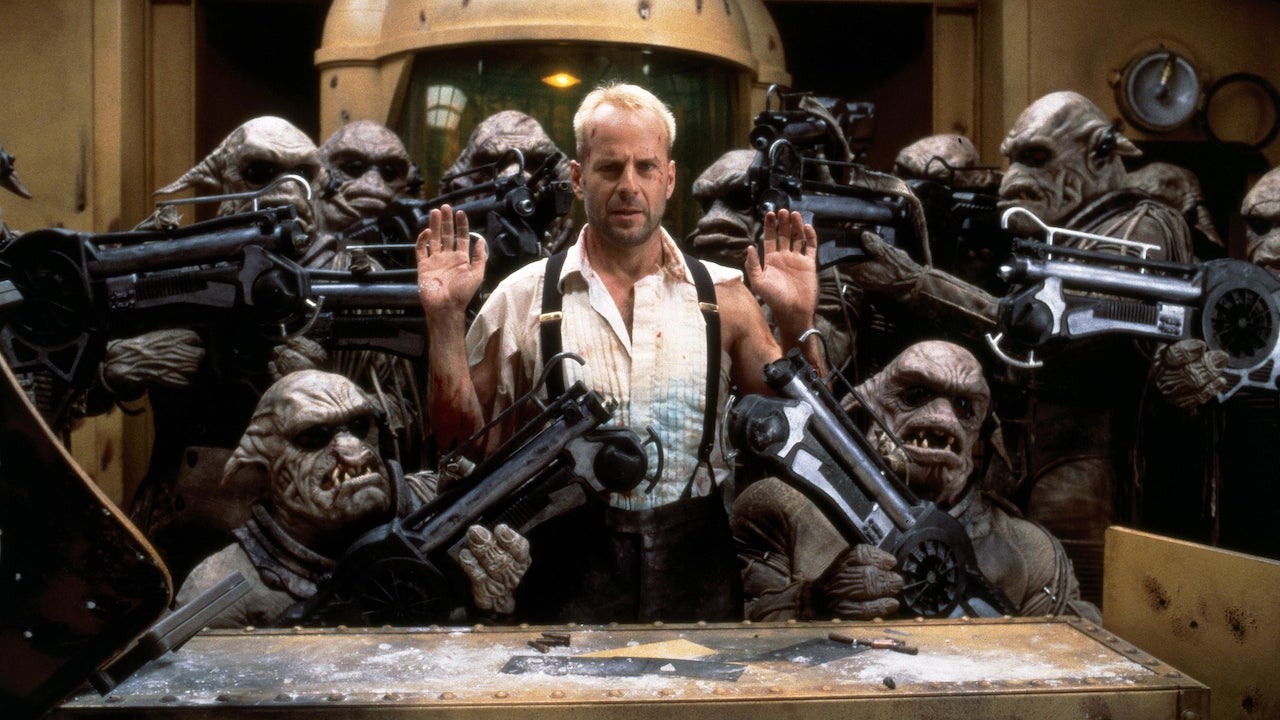 Indeed, Valerian shows that even Besson couldn't bottle this lightning twice, and no other filmmaker has come within a parsec of capturing The Fifth Element's singular vibe. Watched today, it's still a dazzling experience: a boldly cinematic vision of an impossible future that stands out as a welcome anomaly in an ostensibly imaginative genre that all too often cleaves to the same familiar tropes.