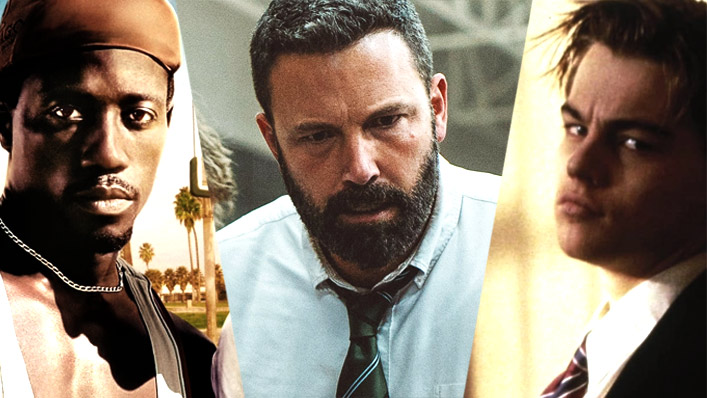 The 10 best basketball movies of all time

---
With the Ben Affleck drama The Way Back certified fresh on Rotten Tomatoes (and the NBA season canceled), the question beckons: what are the greatest basketball movies of all time? Critic Travis Johnson lists 10 bball flicks that got game.
Having recently arrived in cinemas, Gavin O'Connor's sublime redemption drama The Way Back sees Ben Affleck baring his soul as a spiraling alcoholic who gets a second shot at life when he's tapped to coach his old high school's basketball team.
It's a bravura film about grief, faith, hope and hoops, but it's also just one of many. The court and the streets have long served as a backdrop for a wide range of stories. So if you find yourself bitten by the b-ball bug after watching boozy Ben find faith, give these other films a spin, too.
In 1950s Indiana, Gene Hackman's disgraced basketball coach finds a new lease on life, taking small town high school team the Hickory Huskers from ignominy to victory. Rooted in the ridiculously strong basketball culture of rural Indiana, Hoosiers is emotional but unsentimental, thanks to sterling performances from Hackman and Dennis Hopper, whose supporting turn as the town drunk turned assistant coach earned him an Oscar nomination.
Wesley Snipes and Woody Harrelson are rival streetball hustlers who team up in Ron Shelton's brisk and breezy comedy/drama. While the on-court action is great, White Men Can't Jump lives or dies by the charisma of its cast, which also includes Rosie Perez as Harrelson's long-suffering girlfriend.  This is a bromance for the ages, though – the real love story is between Woody and Wesley, here making the second of four films they appeared in together.
College basketball coach Nick Nolte runs a "clean" sports program – he doesn't bribe talented high school prospects to play for his school, and his squad is suffering as a result. "Friend of the program" J.T. Walsh is more than happy to incentivize promising players, and the stage is set for a battle of ethics on the b-ball court. Written by Ron Shelton (Bull Durham) and directed by William Friedkin (The Exorcist), Blue Chips also features basketball legend Shaquille O'Neal as sports prodigy Neon, which means we don't have to include the terrible Space Jam on the list.
Steve James' fascinating, fearless documentary follows two impoverished African American high school students from inner city Chicago who are recruited to a school basketball program in ritzy Westchester. Potential NBA careers await them, but first they just contend with issues of class, race, poverty, and the incredible pressure of upper-echelon high school basketball in the U.S. This is a sobering look at the sheer grind on the lower rungs of the basketball career ladder.
Currently unavailable to watch
Leonardo DiCaprio is Jim Carroll, high school basketball star, promising writer, and nascent heroin addict, in this controversial adaptation of Jim Carroll's memoir. Drenched in drugs, violence, and the daunting prospect of American sweetheart Leo dabbling in sex work, The Basketball Diaries isn't as confronting as obvious shelfmates Drugstore Cowboy and Requiem for a Dream, but a top turn from the former Growing Pains star makes it worth your time. Surprisingly little basketball, though.
Spike Lee reteams with frequent leading man Denzel Washington for this insistent drama, which sees a convicted murderer (Washington) paroled for one week so he can convince his son, the top-ranked college basketball prospect in America, to play for the governor's old school. Electrifying as ever, Lee uses basketball as a way to talk about race (of course), class, the prison-industrial complex and the broken patterns of African-American masculinity. But he never forgets the sheer, ecstatic beauty of a well-played game.
Young basketball prodigy Jamal (Rob Brown) strikes up a friendship with a reclusive writer (Sean Connery) and learns lessons about friendship, art, life – the whole megillah. Gus Van Sant's film is the rarest of hybrids: a literary sports drama. And while the sports sequences are fine enough, the real draw here is hearing Connery growl "Punch the keys! You're the man now, dog!" as he teaches his protégé the sheer unfettered joy of the writing process. This was Connery's last great film performance.
Sanaa Lathan and Omar Epps are ambitious high school basketball stars who fall for each other in this court-set romantic drama. In a rare turn, Love & Basketball is as much about women's basketball as men's and it's Lathan's Monica who has the more interesting arc. Her fierce temper in the game is as big a hurdle for her as the societal expectations she experiences because of her gender. If nothing else, it's a rare sports film that makes romance as important to the narrative as the in-game action, so Love & Basketball stands out from the pack simply by dint of that.
Samuel L. Jackson is notably non-sweary in this inspiration true story of Californian high school coach Ken Carter, whose disciplinarian approach to leading his team extends to locking them out of the gym and forfeiting games when their academic standards drop below acceptable levels. Carter knows that not everyone he coaches will go pro, so he's making men, not sports stars – these future men including Rob Brown (Finding Forrester) and Channing Tatum making his big screen debut. If you want a PG-rated, speechifying SLJ and are sick to death of Marvel films, this is your go-to.
Will Ferrell is Jackie Moon: owner, coach, power forward and announcer of the minor league team the Flint Tropics, in this '70s-set farce. Facing the elimination of his team when the local league merges with the NBA, the buffoonish Jackie recruits Woody Harrelson's former NBA star to the squad in hopes of winning the season and staving off execution, and we proceed from there. Ferrell is as farcical and OTT as ever, but Semi-Pro isn't a million miles from the great sports dramedies of the '70s like Slap Shot and North Dallas Forty, throwing plenty of pathos and grit into the comedic mix.