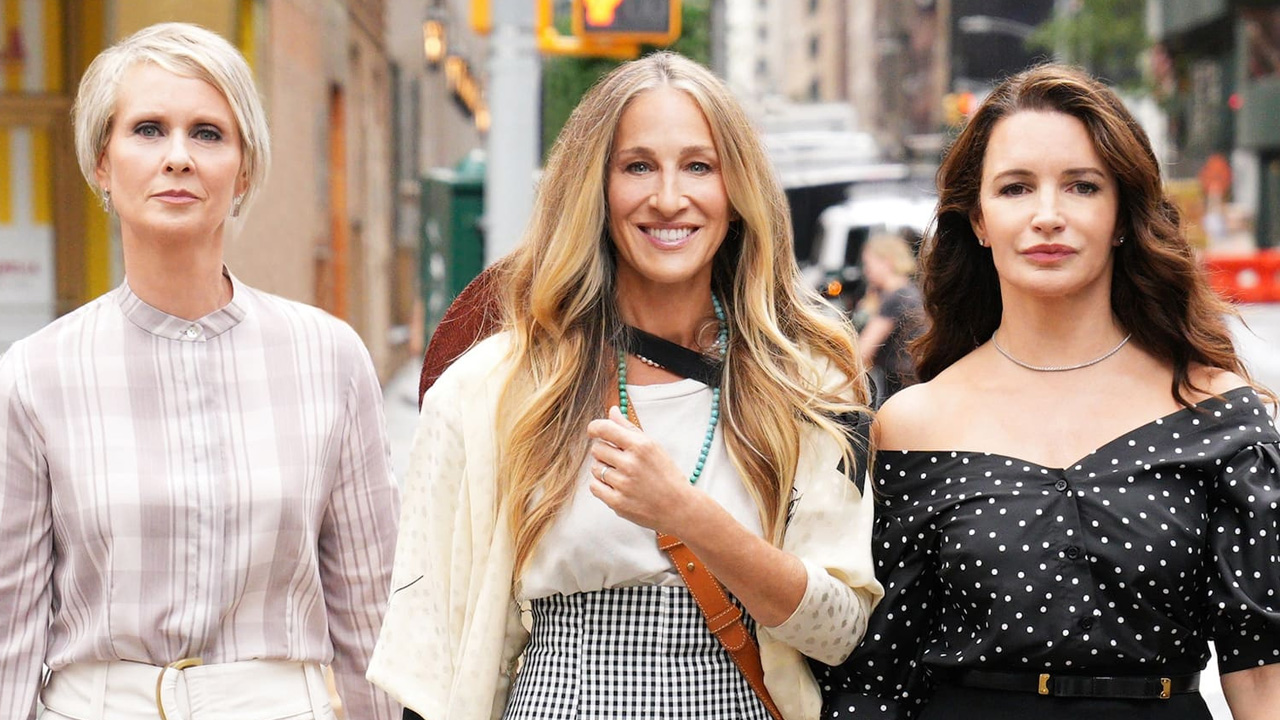 And Just Like That… Sex and the City and fashion and friends are back

---

And Just Like That…, a new chapter of Sex and the City is nearly here – streaming on Neon. Claire White has three reasons why she can't wait for the new show: the friendships, the cheekiness, and the glamour of NYC.
After following them across six seasons of iconic series Sex and the City and two movies, Carrie, Miranda, and Charlotte are back on our screens and in our lives in a brand-new chapter, with And Just Like That… arriving on Neon on December 10. 50 and fabulous, they will continue to take love, friendship, and their careers by storm in New York City. Of course, you can expect a few curveballs along the way, but they'll get through it together—as they have for 23 years on our screens.
I don't know about you, but it seems like everyone and their mother binge-watched Sex and the City over the past couple of years. For years we've turned to Carrie and her friends for guidance—and the reminder that despite any attitudes towards the contrary, life and love does continue after 30. As we enter an increasingly confusing and noisy modern world, the girls are once again there to navigate it alongside us, making And Just Like That's arrival the perfect timing.
Enduring female friendship
Relationships and Russian lovers may come and go, but friendship is forever. Think about all the times the girls rallied around each other with Cosmos and a big "F— you!" to the ones who wronged them, or in the case of the first movie, commiserated in a lavish villa on the Mexican coast.
This is the salient message of Sex and the City, and it rings even more true in the very nature of And Just Like That. How great is it to know that even after 30 years they're still best friends, taking on life together, side by side? Even in my own life people may come and go but Carrie, Charlotte and Miranda are a constant I can rely on.
Sign up for Flicks updates
Enduring female friendship is truly what makes Sex and the City and And Just Like That so unique. Rarely are female friendships given this amount of space and longevity on screen, especially in a way that isn't altogether catty or about tearing each other down.
They have differences in the way they approach life: Charlotte is ruled by her dreams of the perfect husband and the perfect family, Miranda is the more pragmatic career woman, and Carrie believes in romance and the idea of a Great Love. But it is these differences that create the perfect mix—like your favourite cocktail—demonstrating that family can be the friends with whom you choose to surround yourself. Now in their 50s, And Just Like That is sure to explore the role the ladies' friendship plays in this new stage in their lives.
View this post on Instagram
The glamour of New York City—the show's most important character

Forget the question of whether you're a "Carrie", a "Charlotte", a "Miranda" or a "Samantha." While such a question may be tempting, we are forgetting the most important character of Sex and the City itself: New York City.
Of course, we are all eager to be updated on the rollercoaster ride that is Carrie and Mr. Big. But let's be honest here: the most important men in Carrie's life have always been MAN-hattan and MAN-olo Blahnik. Carrie Bradshaw's New York City is a magical dreamland of designer shoes, dinner reservations at the latest hot restaurants, and fabulous parties every night. It's glamorous; it's aspirational; it's a fairytale.
The costume design in the series was ground-breaking, and an integral part of the show's character building. As New York, fashion, and our favourite stylish group of women have changed over the years, all eyes are on the way And Just Like That adapts and recaptures the aesthetic magic.
View this post on Instagram
Older and wiser but sexy and cheeky as ever
There can never be any doubt that the new series will be as sexy as ever. It wouldn't be Sex and the City without the frankness and cheeky way with which the show discussed sex on television. With age comes not only wit and wisdom, but also evolving passions and desire. As the show's audience grows, so do the characters.
In an industry that's so quick to write off women after they reach a certain age, expect And Just Like That to double down and dedicate itself to the romantic lives, relationships, and sex of these women in their 50s, in a way rarely seen on screen before. And cheers to that! The show wouldn't be Sex and the City without it.