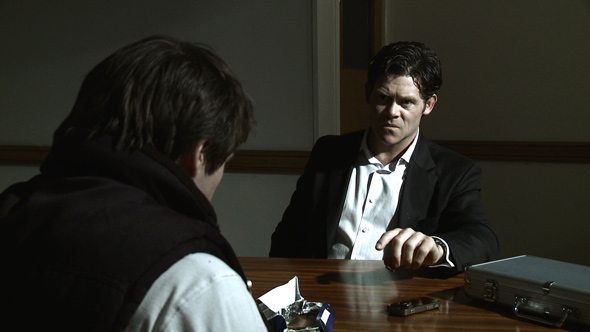 Q&A with 'The Fall Guys' Director Scott Boswell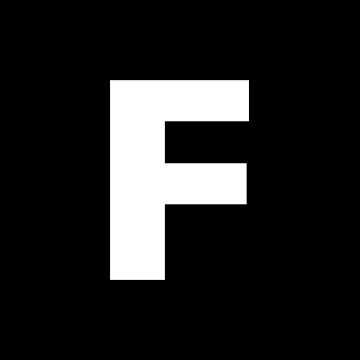 ---
The Fall Guys is an independent Kiwi crime comedy following three criminally clueless college buddies who come into possession of three cases of premium grade heroin. When put under the heat of police interrogations, each lad gives their own side of the story. We asked director Scott Boswell a few questions ahead of the film's premiere on November 24 at SkyCity Theatre. As you'll find out, it's already an award-winner…
---
Hello from Flicks.co.nz. How are you doing?
I am getting prepared for our grand premiere at Sky City Theatre on the 24th of November, and getting the film polished up. Excitement is building for sure. This has been a long time coming and will truly celebrate the hard work and effort of the cast and crew over the last 3 years.
I really want this to be a great night and hope it brings in some filmmakers wanting to make their first feature. I want to share the dos and more importantly the don'ts in the process of making a low budget feature, including the advantages and disadvantages of shooting weekends.
What should people expect from 'The Fall Guys'?
It's a wild ride that twists and turns. Basically the concept was what Tarantino or Guy Ritchie would make if they were born in Auckland, NZ. I wanted a fish out of water story with Kiwis getting mixed up with English gangsters and hard nosed cops. It's a fun farce that plays on Hollywood clichés and New Zealand stereotypes.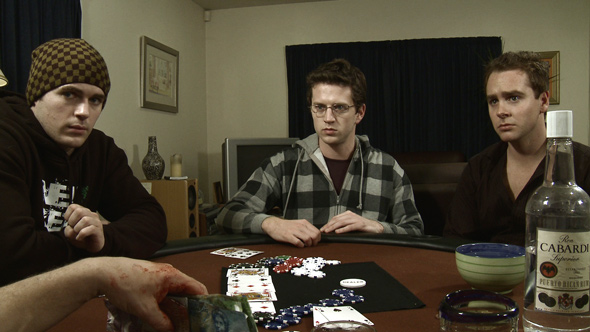 What is your strongest memory from filming?
One truly amazing thing was the finding of a film-friendly abandoned warehouse location. We got a great deal and shot inside and outside for 5 weekends. All the car scenes were shot in the carpark outside. We also got the basement, the underground carpark at the end, and all the interrogations. We drenched the walls and floor in blood which took nearly all night to clean after two seconds of firing a mortar cannon filled with blood and brains into the back of Matt MacDougall's head.
That location was amazing; it saved our film. We had been pushing those scenes further and further down the schedule then at the last moment where the film may have ground to a halt we got it. The sad thing is that wonderful location in St. Lukes is now an empty lot. R.I.P.
---
"I wanted to satisfy the film student in me obsessed with Tarantino and Rodriguez."
---
How did the film come together for you?
The script was born from a challenge. A friend was pushing my buttons telling me to get off my ass and write something. I have had a project in development for a few years and was itching to make something. He annoyed me so much that I went home and starting writing the next day. I wanted to satisfy the film student in me obsessed with Tarantino and Rodriguez. So a month later I presented my team at Certain Scenes Productions Ltd a script. They loved it and wanted to make it straight away.
My Producer Rhys Cain believed in it so much he got a loan so we could upgrade from the Mini DV camera and lights we used to make our first features Motiveless: Suburban Killer and Tyrannical Love (2005 New Zealand Film Festival) to a Sony Ex 3 and some low end film lights on dimmer packs. As homage, we shot a story scene from The Fall Guys on the Mini DV camera.
Basically, he made my dream come true and we entered casting. I wanted to work with professional actors and we approached agents. Coen Falke came on as our casting director with his directory of talent. This is how we found Kyle Pryor who originally was supposed to be a Dane Rumble hip hop guy. But I liked Kyle so much and his nature in his audition I actually rewrote the part to suit him.
Ryan O'Kane was found through Amy Louise Waller; he contacted me. I had seen him in The Insiders Guide to Love as a skinhead and I was intrigued how he could play the mild mannered nerdy Kubrick. But in actual fact, Ryan later told me Kubrick is the closest he has ever played to his own personality.
Dane Dawson came along at the last minute and was our Lucas. He even said on set once "Hey Scott, this guy thinks he's cool but he's a dork right? Yeah I think I can relate to that."
Paul Glover scared the shit out of us in his audition. The problem was Harrison was supposed to be an older cop, but I was so taken with Paul and I have followed his career since seeing him in Snakeskin I rewrote the part for him.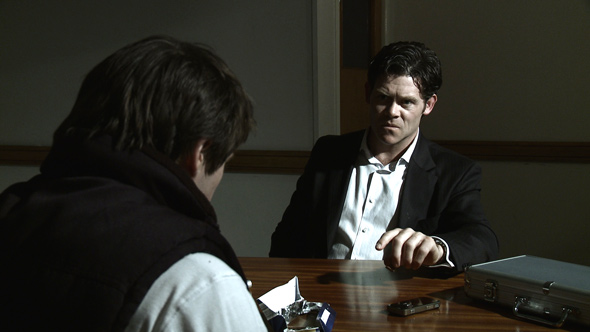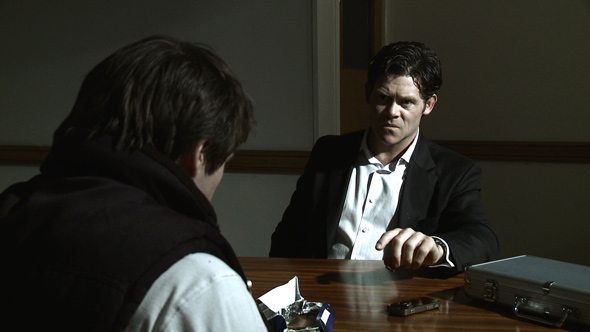 Then it was into shooting. We have it down to a fine art – we produce the scenes during the week then shoot 'em on weekends. It's like making a short film every week, you get what you need and worry about the rest next week. So after 15 or so weekends we had it in the can.
Since then, the post-production has been on and off for over two years. We tried to get completion funding, we just missed out on a 30,000 prize in the Australian DIGISPAA film competition in 2010. The Fall Guys was the only one of three NZ films submitted to get in and we were told by Daniel Scharf, the producer of Romper Stomper, that out of the 24 entries he had watched, ours was a "welcome breath of fresh air".
What was the biggest challenge you had to overcome in making 'The Fall Guys'?
I won't say we overcame; I'll just say we had to learn to live with. Having little or no money meant restrictions on equipment and crew. So often we had to double up jobs and use people with little or no experience. Having said that, they learnt quickly and everyone did what was needed doing, even jumping into scenes as background extras.
The crew were amazing. We were a small but tight unit. Compromise was a must. We had to adapt scenes and shots to fit the locations. Mallick's drug den for example was the D.O.P.'s Dad's empty house he had on the market. We literally had to completely dress it and undress it for a one night shoot.
Pre-planning was the key. We tested early on how we would do the night driving scenes. I had watched the Terminator 2 Special Edition DVD and they showed how they used a lot of rear projection for night scenes. We shot those scenes in a garage with a large screen and projector; it gave us a lot more control than shooting an outside location with car rigs. We set up some lights to swing for passing cars and gently bounced the car.
Our post-production has been a mission. I edited on a home PC using Sony Vegas. It's not a professionally recognized editing software but I love it. The computer kept needing upgrades to handle the demands of the film. Because we couldn't get any completion funds I had no choice but to learn how to grade, as I wanted the film to have a distinct look.
The final sound mix, however, was beyond my abilities as it needed an extensive clean up. Many scenes had hiss and distortion that needed a lot of filtering and de-clipping. Luckily I found sound engineer Nick Corbett wanting to cut his teeth on a film. He had done a lot of music recording and wanted to help me out. Together we have spent months going over the film with a fine tooth comb. The end result is fantastic.
---
"I love films that take me on a ride: one second it's action, then drama, then I'm laughing my ass off."
---
What are you trying to convey with the film?
All my films have been about the bonds of friendship, the brotherhood that exists between lifelong mates. They grow apart but somehow always remain bonded.
To be honest, The Fall Guys is meant to be a fun time at the movies. In some ways it plays on the structure of movies, we even poke fun at the plot holes evident in the script. I love films that take me on a ride: one second it's action, then drama, then I'm laughing my ass off.
What expectations did you have for the completed film?
I really want this film to find its audience, it's one of those films you'll tell people about particular lines or scenes when you're in a bar or at a party. We hope to take the film and our story across New Zealand and Australia to share our experience in making it and challenge others to do the same. I want people to come out thinking "Yeah that was cool, I reckon we could do that!" and then get out there and do it.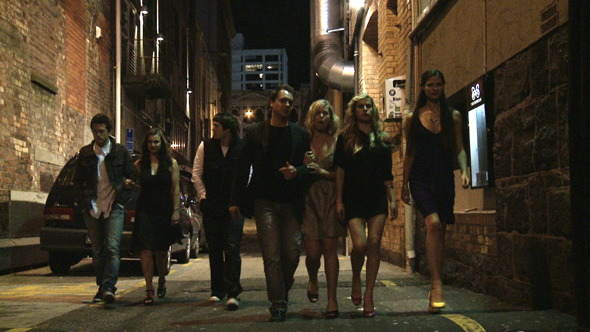 What's this Russian award that I see mentioned on the poster?
In April this year The Fall Guys was invited to be in a specialized festival in Moscow, Russia called Detectivefest. It is a festival for films that feature police and crime. The Producer Rhys Cain and myself went along to attend at our own expense. We both really wanted to see how the film was received by an international audience and what better test for it than Russia (it's almost the polar opposite of NZ).
We were up against Jason Statham's Safe and films from all over the word including England, Indonesia and even Kazakhstan. We were blown away at this televised awards ceremony in a Military base when they said "New Zealander". We were rushed up to the stage where we were presented the top prize of Best Detective Film and handed a beautiful gold statue similar to an Oscar holding a magnifying glass. I dubbed him our 'Moscar', we graciously accepted, then proceeded to finish up the night with shots of Vodka of course.
If you could make a film about anyone living or dead who would it be?
I just finished reading Heavier than Heaven, the biography of Kurt Cobain. I have been a fan of Nirvana since I was 13  and his music has had a huge effect on me. I would love to do a mini series or two films that cover his life. The first would be his childhood and early Nirvana years as he chases his dream. It was quite amazing how it all played out and how Nirvana changed the face of music. The second would obviously be about the price he paid for his fame and the how the pressure destroyed him inside and out.
What was the last great film you saw?
Warrior with Tom Hardy, so simple yet so powerful. Two estranged brothers have to fight each other in an ultimate fighter competition. You follow them as they train, each has their own reason to win. Tom Hardy's a bit of a mystery that I won't ruin but Joel Edgerton loses his teaching job and is about to lose his house etc. The family tore apart years ago from the mistakes of their father Nick Nolte (an amazing performance I might add) who taught them both how to fight when they were young. He has since rehabilitated himself and is desperate to reconnect his family. As the tournament plays out, Tom trashes his opponents like a wrecking ball, while Joel the underdog fights for his life every time he gets in the ring.
The fight between the brothers in the ring is so rich with emotion it is hard to watch as the brothers hammer at each other, taking out years of pent up rage. The final frame concludes the whole thing perfectly. The fight choreography is truly fantastic.
My only gripe is that the amount of blood in it seems to be lacking considering the nature of the sport.
What's the best piece of advice you've ever been given?
Don't reach for the sky, aim for the stars.
What are you thinking about doing next?
I have submitted some shorts into the premiere shorts funding scheme. I would very much like to make a film with a real budget, something that is more aligned to professional filmmaking than my guerilla shoot-from-the-hip projects. I want to step up my game. One of the films I have submitted is a visually stunning martial arts drama. It has no dialogue and is completely told through visuals and performance. The other is a buddy comedy about two unemployed stoners who find a thought-to-be extinct species in the woods.
I have a road trip comedy in development called Death or Milton which I hope with the success of The Fall Guys may finally move into production. So keep watching this space.