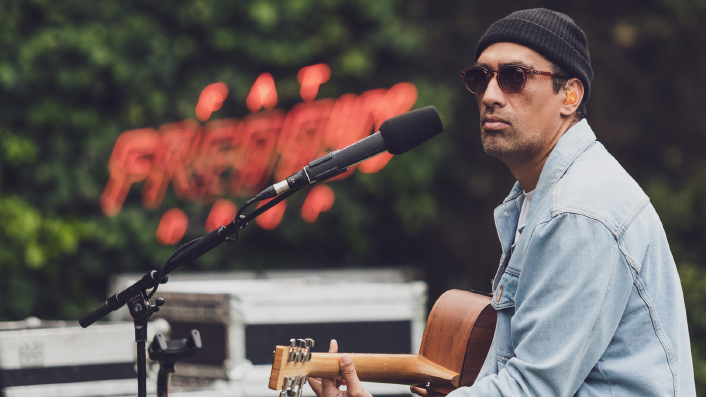 Stream live film of Fat Freddy's Drop as they make their new album and battle the elements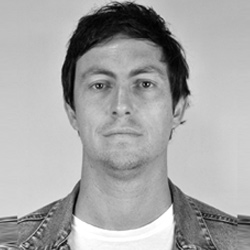 ---
Fat Freddy's Drop return with a combo announcement of tour, album – and live performance film, streaming for free this weekend.
After cooking up a fresh batch of songs during a COVID-caused lull in touring, Fat Freddy's Drop set about recording them—and capturing the new material in a performance documented in the new Wairunga concert film. To create the album of the same name, featuring five new songs and revisiting two classics from the Freddy's catalogue, the band decamped to the hills above Waimarama Beach, a place called Wairunga (yes, now you know where the title comes from).
See also:
* Movies now playing in cinemas
* All new streaming movies & series
In a media release announcing the release, Wairunga is described as "a place etched into the DNA of Fat Freddy's Drop who've roamed here for over 20 years; to party, relax between tours, make a song Wairunga Blues in its honour and even to get married. Farmed by the Parker family for a century, Wairunga is an oasis of green pasture and native tree-filled valleys that fall away to the ocean below."
"Every time we have a party there, it would be like: 'We should set up the band,'" explains Fat Freddy's MC Slave. "Everybody gets excited: 'We should do it!' Well, we talked about it for 15 years—and then this year was just a perfect opportunity to do it."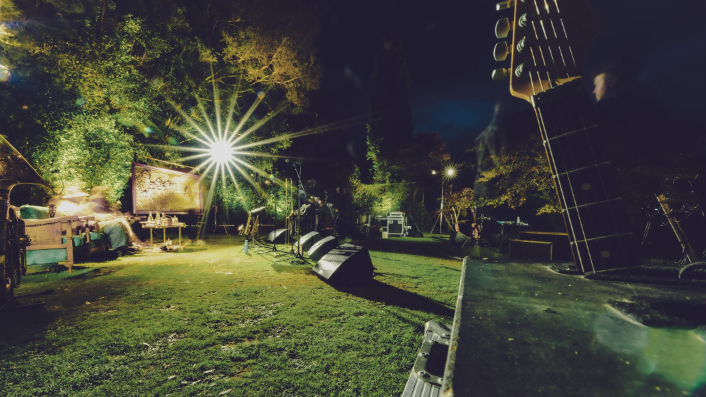 Setting up outdoors on a grass tennis court, with a verdant bush backdrop, the band seemed to be in an idyllic spot—but wild weather elements would do their utmost to disrupt proceedings, lending an unexpected energy to Wairunga's recording.
"It was one of those things where I think nobody wanted to mention the weather," Freddy's bandmember Toby Laing tells me. "And the crew was running around with the tents putting them over us, and they just kept filming, we kept playing. Maybe if it had got slightly heavier, they would have had to have cancelled, but it just hung in there."
Weather aside, the Wairunga concert film offers a rare and fascinating view of Fat Freddy's Drop as it documents the band at work. "The true fans, the Fred Heads, they will get to see Fitchie up close," says MC Slave. "You're right around Fitchie's desk, you see the playing and see the drums and the MPCs and the effects, the whole works. So I guess for the real Heads or music freaks, they do get to see a lot of the kit up close and personal."
Sounds a bit like Pink Floyd: Live at Pompeii, I joke. "We've got the crème de la crème from our studio out there as well, so can't quite compete with Pink Floyd and all of their big modular synthesisers and whatnot," Laing laughs. "But, no, in our own small way, that's right. It's our own Live at Pompeii."
As well as the intimacy of the footage, Wairunga captures a side of the band that Laing suggests wouldn't have been likely to make it to the live stage. "If we were just on the road touring or something,  that song would be on the back burner because it is a very gentle sort of track," says Laing about lead song Coffee Black. "I mean, it builds slowly. It starts at a very low dynamic and it does get up to pretty euphoric sort of place, but it's sort of a slow burn."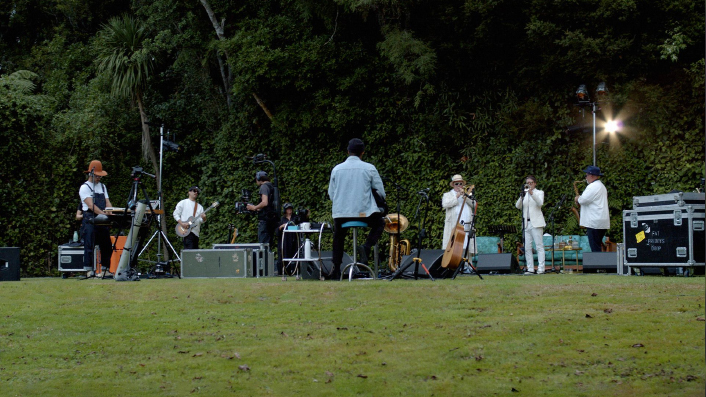 You can see it for yourself this weekend when Wairunga streams (free) via the Fat Freddy's Drop YouTube and Facebook. The concert film premieres online on Saturday 31 July, with the stream starting at 9pm. A repeat drop kicks off Sunday 1 August at 8am.
Wairunga the album is available digitally on August 20, with a vinyl release to follow. Fat Freddy's Drop are also on tour in NZ during September—find concert dates here.