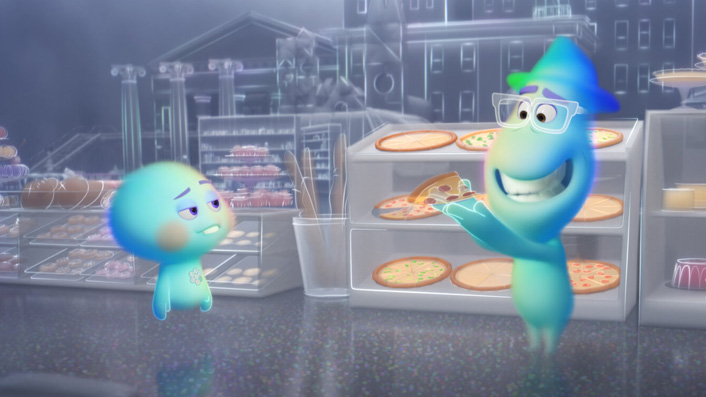 Disney+ claims Pixar's Soul, streaming exclusively later this year

---
Earlier this year, Disney shocked fans with the announcement that their tentpole blockbuster release Mulan would be partially released on their streaming platform Disney Plus, with a special $39.99 price tag on top of subscriber's monthly fees. The move was celebrated by some Disney die-hards, but also criticised, with much discussion as to whether that exclusive (and expensive!) streaming style could become a new norm.
But now we've got news that Pixar's upcoming family film Soul is headed straight to the streaming service, and without any additional cost; premiering on December 25th, the release seems to be Disney's Christmas present to us all. Or at least those of us who already have Disney Plus subscriptions.
Sign up for Flicks updates
Starring Jamie Foxx and Tina Fey, Soul looks to be a tear-jerking, toe-tapping journey into the afterlife, another addition to the Pixar canon of films that turn depressing or abstract concepts into emotionally rewarding animated films for the whole family (where do our dead ancestors go? what if your toys were conscious? what if your feelings were conscious??!!).
Disney and Pixar's Soul will be streaming exclusively on Disney+ on December 25th. ✨ #PixarSoul #DisneyPlus pic.twitter.com/wLeLHpaZk0

— Soul (@PixarSoul) October 8, 2020
With an original jazz soundtrack by Questlove and Trent Reznor, Soul was all set up as Pixar's first film with a Black lead character, albeit a Black lead character who is quickly turned into a more marketable, amorphous blob. It's a design choice that has been singled out for having unfortunate racial implications, but nevertheless; the movie looks awesome and I was all ready to head into the cinema and shed some unabashed tears.
Now that we know Soul is skipping cinemas and heading directly to Disney Plus on Christmas Day, however, maybe we should just be thankful that it's at no additional cost, like the Disney Plus bump on Mulan's price.
Breaking: Pixar's SOUL bypass theatrical release, will instead debut on Disney+ on Christmas Day…at no extra charge (unlike Mulan) https://t.co/gnF8bfTnRs

— Borys Kit (@Borys_Kit) October 8, 2020
With one more of 2020's big blockbuster releases quietly pushed onto streaming services, we are pretty much just waiting on Wonder Woman 1984 at this point, and its rescheduling to sometime next year feels like an inevitability. Check out our list of 2020's remaining cinema releases to check out some blockbuster alternatives; there's still plenty of worthwhile Kiwi, indie, and foreign stuff hitting cinemas near you!