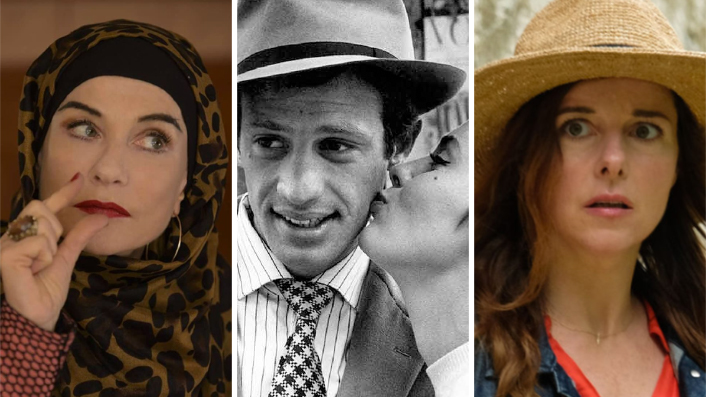 The 2021 French Film Festival Aotearoa brings an impressive programme to cinemas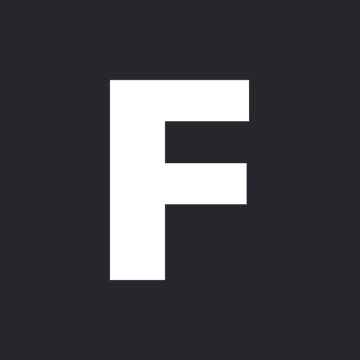 ---
This June and July the 2021 French Film Festival Aotearoa comes to cinemas to delight audiences.
A cavalcade of French cinematic talent will make its way into cinemas around Aotearoa from June with the welcome return of the French Film Festival. Across 21 films, almost all of which are NZ premieres, familiar faces like Isabelle Huppert, Virginie Efira, Omar Sy, Ciarán Hinds and Call My Agent!'s Laure Calamy make their way to the big screen for an enticing selection of French noir, drama, comedy and gastronomy. The festival also features screenings of Jean-Luc Godard's all-time classic Breathless, newly restored in 4K.
See also:
* All new streaming movies & series
* Movies now playing in cinemas
"We're particularly excited to be able to include in our programme, Antoinette in the Cevennes, our opening night film for which lead actress Laure Calamy was named Best Actress at the 2021 César Awards; Delicious, our centrepiece film for foodies and everyone to drool over; and The Man in the Hat, an almost entirely dialogue-free film that tributes French comedy master Jacques Tati," says Festival Director Fergus Grady.
Locations and dates for the 2021 French Film Festival Aotearoa are as follows:
North Island:
● Auckland (Rialto Newmarket, Lido Epsom, Bridgeway): 9 – 23 June
● Wellington (Embassy Theatre, Penthouse, Light House Petone & Cuba) 10 – 23 June
● Tauranga (Rialto Tauranga): 10 – 23 June
● Masterton (Screening Room): 10 – 23 June
● Havelock North (Event cinemas Havelock North): 24 June – 7 July
● New Plymouth (Govt Brewster/Len Lye Gallery): 1 July – 14 July
● Palmerston Nth (Event cinemas Palmerston North): 24 June – 7 July
● Hamilton (Lido Hamilton): 24 June – 14 July
South Island:
● Nelson (Suter Gallery): 9 – 23 June
● Christchurch (Lumiere, Academy Gold and opening night at Christchurch Art Gallery): 24 June – 7 July
● Dunedin (Rialto Dunedin): 24 June – 7 July
For more information, visit the 2021 French Film Festival Aotearoa website, or read on for this year's selections, with synopses taken from the 2021 French Film Aotearoa programme:
Antoinette in the Cevennes (NZ Premiere): An Official Selection of the 2020 Cannes International Film Festival, writer/director Caroline Vignal's hilarious and life-affirming romantic comedy stars the wonderful Laure Calamy (Call My Agent!, Sibyl) as a woman who finds herself on a journey of self-discovery in somewhat unexpected circumstances.
40-something primary school teacher Antoinette (Calamy) has been eagerly looking forward to a long-planned weekend escape with married lover Vladimir, the father of one of her pupils. However, their plans are upended by his wife's booking of a surprise hiking trip in the picturesque Cévennes mountains in the South of France. Completely unversed in the ways of the wilderness, the spurned Antoinette impulsively decides to follow them, and once paired with an unlikely companion – an obstinate but evidently wise grey donkey named Patrick – discovers much, much more than she bargained for…
Carried by the remarkable Calamy and her scene-stealing co-star, Vignal's wonderfully mischievous film offers both its lead character and audiences an uproarious and poignant reminder of the virtues of independence, and that the journey, not the destination, is often the reward.
Delicious (NZ Premiere): Éric Besnard's mouth-watering new film (in the grand tradition of Chocolat and Big Night) is set in 1789, just prior to the Revolution, when gastronomy is strictly the domain of the aristocrats. When the talented but prideful cook Manceron (Grégory Gadebois) serves an unapproved dish of his own creation at a dinner hosted by the self-entitled Duke of Chamfort, the repercussions are brutal, and he is promptly dismissed.
Wounded, Manceron retreats with his son to a regional inn visited only infrequently by travellers, and where vegetable soup is the common meal. When a mysterious woman (Isabelle Carré) arrives and offers to pay to become his apprentice, the stage is set for a wildly enjoyable tale of reignited passion, mentorship and revenge… and of the creation of France's very first restaurant.
The Rose Maker (NZ Premiere): Eve used to be one of the most famous rose creators in the world. Today, her company is on the verge of bankruptcy. On top of that, her secretary Vera has hired three outcasts with absolutely no gardening skills. Though they have nothing in common, they come up with the most crazy plan that could change their lives forever…
Perfumes (NZ Premiere): Anne Walberg (Devos) was once the star of her industry – a perfumer whose ability to produce enticing new fragrances was second to none and which saw her rise through a competitive landscape. She remains in demand, but her intemperate behaviour has made her difficult. However, striking up an unlikely friendship with her equally troubled new driver, Anne sees a way to return to the top, which might offer a solution to both their problems.
How to be a Good Wife (NZ Premiere): The sparkling new comedy from César-winner Martin Provost (The Midwife, Seraphine) It's 1967. The immaculate and morally upright Paulette Van Der Beck (the ever-exquisite Binoche) and her husband Robert have been running Van der Beck's School of Housekeeping and Good Manners in the lush regions of Alsace for over two decades, with the help of Paulette's eccentric stepsister Gilberte (Moreau) and the school's communist-fearing, ex-Resistance nun Marie-Therese (a scene-stealing Lvovsky). Their mission: to train teenagers to become perfect housewives, in times when women were expected to be largely subservient.
After an accident turns clockwork order into chaos, Paulette discovers that the school is on the verge of financial ruin. Forced to assume executive responsibilities, she is flustered even more by an encounter with her long-lost first love, André (Edouard Baer), who becomes relentless in his desire to rekindle their romance. Meanwhile, a sweeping nationwide protest movement is transforming society around them, encouraging the school's pupils to challenge authority and question their own desires and beliefs… Before long the entire group undertakes a journey of liberation, one that will transform all their lives.
Striking a near-magical tone that's both satirical and tender, this tale of solidarity looks set to become one of the year's biggest comedic hits.
The Godmother (NZ Premiere): The effervescent Isabelle Huppert (Mrs Hyde, Things to Come) stars in The Godmother, where the gritty realism of Breaking Bad meets the stoner comedy of a Cheech & Chong movie.
Huppert will leave you grinning from ear-to-ear in her performance as Patience Portefeux, a middle-aged police interpreter who switches sides to become a wholesale narcotics trafficker. Armed with her insider knowledge of the law and a striking wardrobe of Hermès scarves, Patience reinvents herself as a drug lord.
As well as delivering laughs, The Godmother is a moving and heartfelt drama about female empowerment. The audience is encouraged to vicariously take delight in Patience's transformation and gleefully relish the scenes where she dominates her competition in the drug trade and thwarts detection from her colleagues in the police.
Based on the award-winning novel by Hannelore Cayre – who also co-wrote the script – The Godmother is a beautifully crafted blend of French noir, drama and comedy with a triumphant performance by Huppert as a defiantly independent woman making her mark on the world with a bang rather than a whimper.
The Man in the Hat (NZ Premiere): The Man In The Hat (Ciarán Hinds) journeys through France in a Fiat 500 accompanied by a framed photograph of an unknown woman. He is pursued by five angry men in a Citroën Dyane. On his escape he hears stories of love and loss, listens to Shubert, Otis Redding and Canteloube, and encounters mysterious strangers including The Damp Man (Stephen Dillane), The Chef (Muna Otaru) and The Biker (Maïwenn). The Man In The Hat is a contemporary odyssey of music, story-telling and silent comedy traversing the wonderful landscapes of France.
Only the Animals (NZ Premiere): Evelyne Ducat (Valeria Bruni Tedeschi) has gone missing. Following a snowstorm, her car is found on the road to a rural French plateau where a few isolated farms struggle to survive.
While the local gendarmes look for answers, five people, each of them somehow linked to the woman's disappearance, try desperately to protect their secrets. But none of them suspect that the whole story began far from the windswept French highlands, on another continent where the sun beats down and where poverty can drive people to extremes.
Dominik Moll's sophisticated French thriller Only the Animals watches quietly as an all-star cast are connected by desire, fear, ambition, poverty and murder.
Bye Bye Morons (NZ Premiere): This crowd-pleasing film by writer/director/actor Albert Dupontel (See You Up There, AF FFF18) blends dark humour, social satire and tragedy into a frenetic and fast-paced story that leaves audiences delightfully giddy by its twists and turns. As a testament to its wildly entertaining characters and plot, Bye Bye Morons conquered the French box office in 2020 despite being released at the height of the curfews.
Suze Trappet (Virginie Efira, Sibyl, AF FFF20; An Impossible Love, AF FFF19) doesn't have long to live and she is going to make her last remaining days count. Determined to find the son she was forced to abandon almost three decades ago, Suze sets out on a madcap quest that is filled with adventure, peril and bewildering encounters.
While the whirlwind and borderline absurd style of the film delivers a series of glorious over-the-top comedic set-pieces, Dupontel ensures his film never loses its heart and embeds his characters with genuine empathy amid all the chaos. Dupontel himself is particularly endearing as Jean-Baptiste, who becomes one of Suze's closest companions. Exhilarating, poignant and hilarious, this urban comedy is a refreshing blast of anarchic energy.
De Gaulle (NZ Premiere): Biographical drama is one of French cinema's most established and beloved genres, and Gabriel Le Bomin's spectacularly-mounted De Gaulle stirringly depicts a crucial period in the life of one of the most famous (if not infamous) figures in the nation's modern history, doing it enormous justice in the process.
It is May 1940, where the war between Germany and its neighbours has intensified. Shockingly, the French army collapses, and Hitler seizes Paris. The government is in panic and considers accepting defeat, but recently promoted two-star General Charles de Gaulle (The Translators' Lambert Wilson, in a career-best performance), wants to change the course of history…
His wife, Yvonne (Isabelle Carré), is his first support, but very quickly events spiral out of control and separate them – she and their children set out on the roads of exodus, as Charles travels to London to meet with Winston Churchill. He wants to make another voice heard: that of resistance.
Matching the impact and scale of recent war dramas The Darkest Hour and The King's Choice as it depicts crucial incidents in gripping tick-tock fashion, Le Bomin expertly mixes the historic and the Romanesque, charting both a military debacle and the eventual revelation of a destiny. De Gaulle is filmmaking on a grand scale, with an impact to match.
A Friendly Tale (NZ Premiere): A superb all-star quartet in stellar form leads the terrific new comedy of manners from Daniel Cohen, the story of life-long friends whose loyalties to each other are unexpectedly tested.
Life loving 40-something Lea (Oscar nominee Bérénice Bejo, The Artist) works in retail, and is happily married to Marc (Vincent Cassel), a conservative and somewhat insecure salesman. Lea has long been considered a dreamer by her know-it-all best friend Karine (the inimitable Florence Foresti), who seems content enough with her advertising executive job and life with gentle giant Francis (François Damiens) and their two kids. But something is about to upset the intricate balance of this quartet.
Over dinner one evening, Lea unexpectedly announces she is trying her hand at writing a novel, a declaration met with some bemusement; Marc is certainly unconvinced. Lea's burst of creativity triggers an apparently threatened Karine to pick up her own pen, and even Francis dusts off a long-abandoned artistic side. When Lea's book is picked up by a major publisher great things seem assured, if only her friends and husband can handle it…
Aline (NZ Premiere): Quebec, late 1960s, Sylvette and Anglomard welcome their 14th child: Aline. In the Dieu family, music reigns supreme and when Aline grows up we discover a gift to her, she has a golden voice. When he hears that voice, music producer Guy-Claude has just one thing in mind – to make Aline the greatest singer in the world.
The Wedding Speech (NZ Premiere): Meet Adrien! He's 35. He's stuck in a mid-life crisis. He's neurotic and hypochondriac. Tonight he's stuck in an endless family dinner and his girlfriend is not answering his texts. On top of that, his dumb brother-in-law asks him to prepare a speech for his wedding. Could it get even worse?
Miss (NZ Premiere): Twenty years ago, Billy Elliot showed us that boys can dance and now Miss will win hearts as it proves that boys can compete in beauty pageants. The new film by Ruben Alves (The Gilded Cage) is a feel-good story about overcoming hardship and prejudice, with a fun and light-hearted commentary on how attitudes towards gender are shaped. It is the best kind of thought-provoking film: one that is celebratory and joyful.
Ever since childhood Alex (Alexandre Wetter) had wanted to enter the annual Miss France beauty pageant, despite being a boy. However, adolescence was not kind and Alex suffered huge blows to his self-esteem. When an unexpected encounter allows Alex to once more pursue his dreams, he does everything he can to transcend the traditional binary gender definitions that threaten to hold him back. Miss is the first major acting role for Wetter, a model who has made a career out of defying gender norms. Wetter's personal journey makes them the perfect person to play Alex in this inspirational film that inspires us to rethink the status quo.
Skies of Lebanon (NZ Premiere): A poetic blending of the personal and political, Skies of Lebanon combines live action with animation to create a vivid picture of Lebanon, inspired by the family history of filmmaker Chloé Mazlo. Using stories told to her by her grandmother of life during the Lebanese Civil War, Mazlo crafts a touching and heart-breaking story of love during wartime.
Alba Rohrwacher (Happy as Lazzaro) plays Alice, a Swiss woman who moved to Beirut in the 1950s and falls in love with a Lebanese man. Wajdi Mouawad (author of the play Incendies, which was the source material for Denis Villeneuve's 2010 film) plays Joseph, an astrophysicist with dreams of sending his fellow citizens into space, and the object of Alice's affection. Joseph and Alice appear to lead the perfect life until their bliss is ripped apart by the civil war and nothing will be the same again.
An official selection for the 2020 Cannes International Critics' Week, Skies of Lebanon stunningly gives shape to the emotional undercurrents felt by the characters through the use of animation. This rewarding and quietly devastating cinematic experience announces Mazlo's arrival as an important new talent.
Night Shift (NZ Premiere): The new film by acclaimed Luxembourger auteur filmmaker Anne Fontaine (Coco Before Chanel; The Innocents) is an engrossing insight into the high-pressure world of policing. Set over 24-hours, Night Shift follows three officers who start to doubt their actions.
Premiering at the 2020 Berlin International Film Festival, Night Shift questions the role of the police and scrutinises the legal and moral culpability of individual officers just following orders. Aristide (the irresistible Omar Sy, Lupin) Virginie (Virginie Efira, Sibyl) and Erik (Grégory Gadebois, Reinventing Marvin) are three world-weary cops who have to put aside their personal lives to do their jobs. But this night their professional detachment is put to the test when they are ordered to escort a man to a plane for deportation to a country that will kill him.
France is just one of the many nations engulfed in debate about police powers and the treatment of refugees, making Night Shift a boldly relevant film. A tense and gritty drama, Night Shift is guaranteed to be one of the Festival's most talked about events.
Breathless: If you've never seen Breathless, now is the time. If you have, then you've never seen it like this: newly restored in 4K and projected on the big screen in all its ground-breaking brilliance. Sensual, thrilling and effortlessly cool, Breathless changed cinema forever.
After shooting a policeman, petty criminal Michel (Jean-Paul Belmondo) attempts to lay low with his American girlfriend, aspiring journalist Patricia (Jean Seberg), who is unaware of what he's done.
Written and directed by Jean-Luc Godard from a treatment by François Truffaut and Claude Chabrol, Breathless is one of the most iconic films from the revolutionary French New Wave period of the late 1950s and 1960s. Inspired by American crime dramas, but completely rejecting the Hollywood approach to film style and storytelling, Breathless bursts with infectious and defiant energy that is just as subversive and joyful today as it was in 1960.
Not just a masterpiece of French cinema and not just a classic from the French New Wave, Breathless is simply one of the greatest and most influential films ever made, appearing at number 13 on the 2012 Sight and Sound Greatest Films of All Time poll
The Big Hit (NZ Premiere): Inspired by remarkable true events, award-winning Emmanuel Courcol's rousing, Cannes-selected film follows a dedicated out-of-work actor (indelibly played by the fabulous Kad Merad) whose life takes an unexpected career turn.
Disillusioned thespian Étienne (Merad) reluctantly accepts an arts rehabilitation job, leading a theatre workshop group at a correctional facility under the watchful eye of cautious warden Ariane (Marina Hands). His program attracts a motley group, and Étienne, surprised by the raw talent, comes up with the idea of workshopping Beckett's "Waiting for Godot". To the surprise of many, the play's themes prove to be a natural fit for the inmates, and the connection between the cast and their kind-hearted director grows stronger with every rehearsal, though not without some very unexpected ramifications…
To spoil what develops would be criminal, but when the story of the real troupe's experiences went viral, Beckett himself commented: "That's the best thing that happened to this play since I wrote it!".
Inscribed with intelligence and humour, The Big Hit was named Best Comedy of 2020 at this year's European Film Awards. It's an empathetic and hugely entertaining celebration of camaraderie, and the liberating power of art.
Appearances (NZ Premiere): The wickedly entertaining new film from writer/director Marc Fitoussi (Folies Bergére), Appearances is a sexy, Chabrol-esque marital thriller, featuring the sensational Karin Viard in one of her most vivacious roles.
The setting is Vienna. Ève (Viard), Henri (Benjamin Biolay) and their young son are among the entitled bourgeois community of wealthy French expatriates. They move amongst "la crème de la crème"; she as the CEO of the city's Institut Français, he as a prestigious conductor who flitters across Europe, always in first class. It's a seemingly flawless life, until the day Éve begins to suspect Henri of infidelity with her son's primary school teacher (Laetitia Dosch). Absolutely desperate not to lose face, Éve engineers a dangerous double game, all the while preserving the façade of a happy marriage…
Tailor-made for its indomitable star, thirteen-time César nominee and three-time winner Viard completely inhabits the skin of a woman unafraid of callousness in her quest for affection, financial security and, most of all, status. Expertly stripping away the varnish of privileged social circles, Fitoussi's darkly comic and playful thriller winks at its genre forbears whilst tightening the screws. It's an unashamed and cinematically luxe slice of entertainment for adult audiences.
Love Affair(s) (NZ Premiere): Waiting for her boyfriend to join her on a country vacation, three months pregnant Daphne bonds with his cousin Maxime, and their shared intimacy brings them closer together into a full fledged love affair.
My Journey Through French Cinema: Writer-director Bertrand Tavernier is truly one of the grand auteurs of the movies. His experience is vast, his knowledge is voluminous, his love is inexhaustible and his perspective is matched only by that of Martin Scorsese. This magnificent, epic documentary has been a lifetime in the making. Tavernier knows his native cinema inside and out, from the giants like Renoir, Godard, and Melville (for whom he worked as an assistant) to now overlooked and forgotten figures like Edmund T. Gréville and Guy Gilles, and his observations and reminiscences are never less than penetrating and always deeply personal.