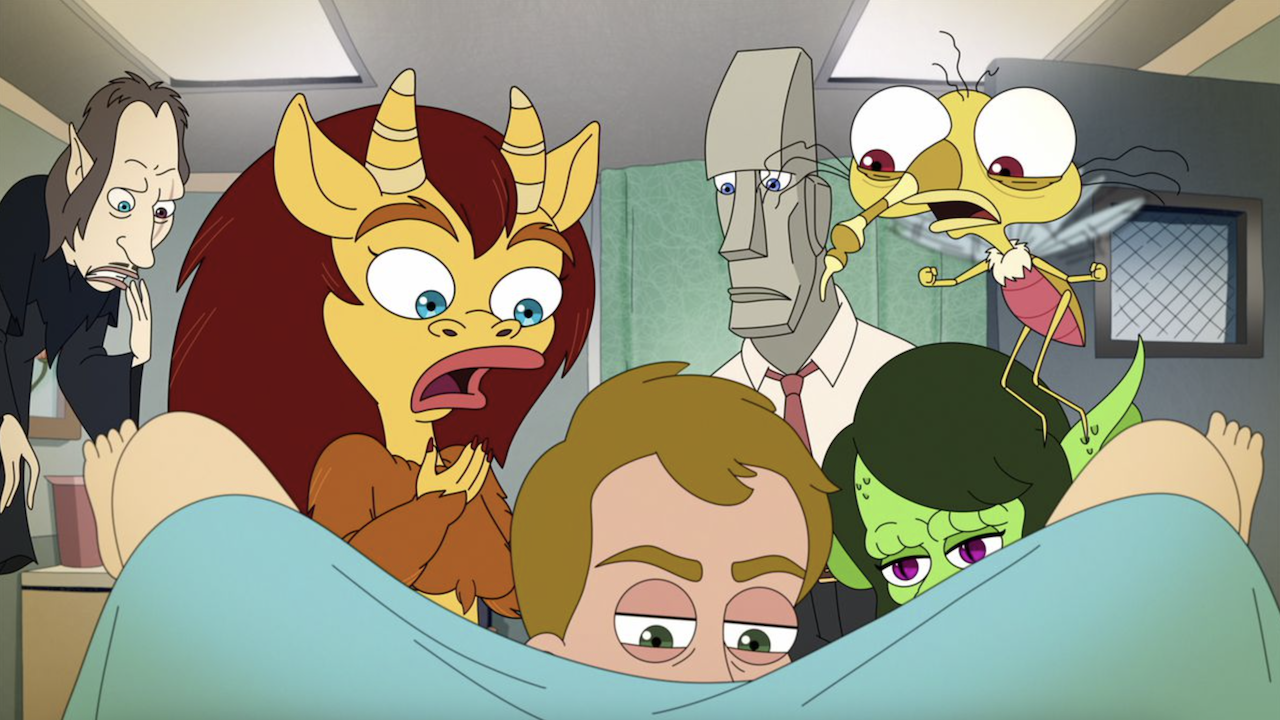 Human Resources is even more filthy, funny and thoughtful than Big Mouth

---
If Netflix's Big Mouth was a tad raunchy for your tastes, steer well clear of fantastical spin-off Human Resources: Travis Johnson says it's a disgustingly good time.
What hath Maurice the Hormone Monster wrought? In the animated Netflix series Big Mouth, a brutally funny, deeply dirty, and radically empathetic look at adolescent sexuality, the forces of puberty are represented by Hormone Monsters, anthropomorphised manifestations of…well, unbridled horniness, basically.
First there was gravelly-voiced Maurice (Nick Kroll), who was in charge of shepherding Andrew (John Mulaney) to something resembling maturity. Hormone Monstress Connie (Maya Rudolph) soon appeared, along with decrepit, ancient, repulsive Hormone Monster Rick (Kroll again.)
Then Lionel the Shame Wizard (David Thewlis, absolutely fearless here) showed up, and we had an inkling that there was a whole, ornate metaphysical world of anthropomorphic representations to be explored—sort of like Neil Gaiman's The Sandman, but with dick jokes.
As it turns out, there is, and here we get to do some exploring. Human Resources is a workplace comedy set in the otherworld inhabited by such…spirits? Sprites? Daemons (in the classical sense)? And we get to hang out with them as they manage their human charges through all of life's big changes. So, it's The Office meets The Sandman, but with dick jokes.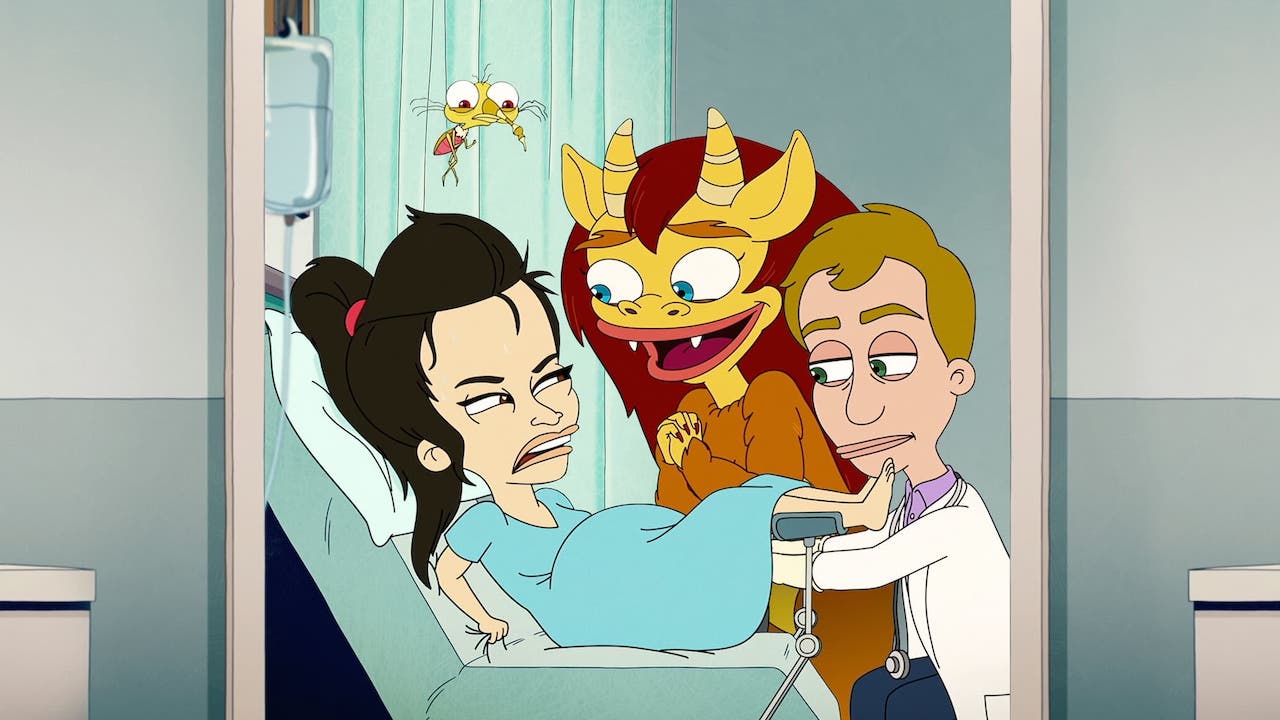 They are very good dick jokes, mind you; if Seth MacFarlane's shows set a new record for in-your-face animated ribaldry, the Big Mouth/Human Resources team absolutely smashed it, and then taped it back together and fucked it. This is a show where one major plot point involves HR cracking down on the Hormone Monsters knocking boots in the workplace after a co-worker slips in a pile (not a puddle, we are told) of semen. If you can't handle blue humour, give this one a wide berth.
That'd be a shame, though, because Human Resources does great character work with its sprawling cast. There's Love Bug Emmy (Aidy Bryant), who's a train wreck in her personal life but needs to step up to help her human Becca (Ali Wong) deal with her first pregnancy. Randall Park voices Pete the Logic Rock, the natural straight man of the office.
Sign up for Flicks updates
Rosie Perez is perfect as the brassy Petra the Ambition Gremlin. Hugh Jackman is Dante the Addiction Angel, who has three penises—a relatively minor character but I'm never going to get to write that sentence again in a professional capacity, so carpe diem. All these and more bicker, fight, and fuck their way through the first season's brisk 10 episodes, clearly relishing the opportunity to be as brazenly lewd as the sharp scripts allow.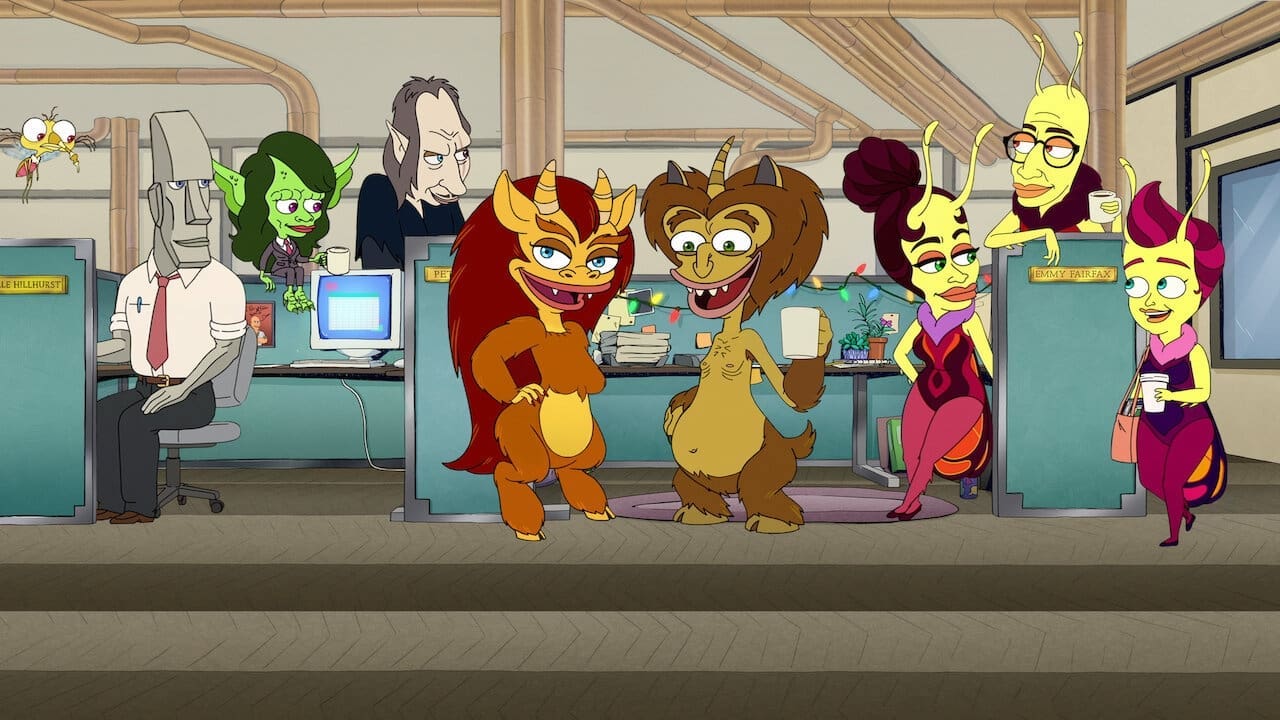 But it's not all piles of semen and orgies in the office Sex Room. By taking the focus away from Big Mouth's cast of teenage misfits, Human Resources is able to embrace a broader and more complex emotional and thematic palette, and it goes to some poignant places. An exhausted Becca grapples with post-partum depression and the possibility that she doesn't actually like her new baby. Late in the season, a dying grandmother gets the whole team rallying around to help a human family through their grief.
Yeah, it's a cartoon where two furry penises (Cocky Ball-boa and Mr P) battle in an underground fight club, but it's also doing the hard yards in terms of using these metaphorical characters for their exact, mythic purpose—to explore deeper human experiences via narrative. That is, after all, what we create gods and monsters for. And don't forget, Hugh Jackman plays an angel with three dicks. All else aside, you owe it to yourself to check out The Wolverpeen.