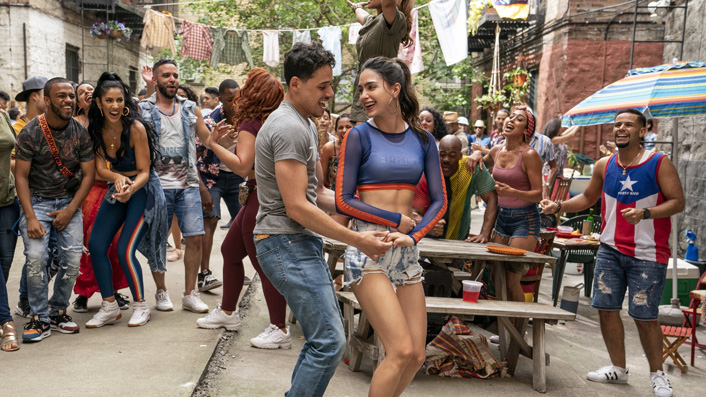 In The Heights breathes new life into the old-fashioned cinema musical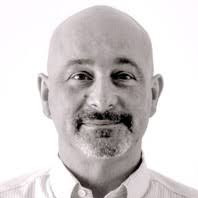 ---
The Tony-winning Broadway stage play by Lin-Manuel Miranda (Hamilton) hits the screens thanks to director Jon M Chu (Crazy Rich Asians, Step Up 3D). As Adam Fresco writes, even the biggest cynic will find this fantabulous musical hard to resist.
Crazy Rich Asians director Jon M. Chu dynamites the theatre walls, centring the action in Manhattan's Washington Heights, capturing the New York neighbourhood's dynamic mix of culture, music, accents, and boundless energy. With its bright, bold message of hope in humanity, and the potential of every person to fulfil their dreams, no matter how small, In The Heights is a buoyant mix of song, dance, music, and passion that's hard to resist, turning even the most cynical critic into a toe-tapping, musical movie convert.
If you first saw Hamilton on Disney+ then it's worth bearing in mind what you witnessed was a masterpiece of modern musical theatre that came after Lin-Manuel Miranda's first Broadway show. Seen in this light, In The Heights is a fascinating insight into the genesis of the genius that was to follow. Whilst it can't touch Hamilton in terms of narrative and musical mastery, it does contain all the elements of song and dance, politics and passion, heart and hope that Miranda would later refine to even greater effect. So, whilst it's odd to see a stage career play out in reverse chronological order on screen, In The Heights has a lot to offer in its own right.
See also:
* Watch the first 8 minutes of In The Heights
* Movies now playing in cinemas
* All new streaming movies & series
Taking on the role Miranda originally played on stage, as bodega owner Usnavi (named by his immigrant father after the "US Navy" ship he saw on first coming to New York), Anthony Ramos brings an abundance of energy, wit, intelligence, and downright talent. As do the whole damn cast, who shine throughout, with not a single sour note. In a tale told through the medium of music, it's as if every character is so swollen with emotion they are apt to burst into song and dance, making it a simultaneous celebration of multicultural America, and a loving homage to great Hollywood musicals, from Singin' In The Rain, through to Spielberg's modern remake of West Side Story.
From the moment Usnavi looks out of his storefront window and we see the street through his eyes, transformed into a giant musical routine, the filmmakers take what should be a corny, saccharine, and downright old-fashioned Tinseltown cliché and, by embracing it full on, breathe new life into the genre. There hasn't been a musical this fantabulously over-the-top, uncynically sincere, and damn proud to be a musical since, well, Hamilton. Whilst that was a filmed version of a stage musical, restricted by the confines of the theatre walls, In The Heights is shot on location, an advantage used to the full by a camera that moves, swoops, and glides with the action, dancing as effortlessly as the cast through the streets, over the roofs, and through the bodegas of Washington Heights, transforming the entire neighbourhood into a stage. From manhole covers, to the noise of the elevated train, keys jangling, to shoes clacking, Washington Heights becomes one giant orchestrated celebration, in which the lines between movement and dance, talking and singing become so blurred as to seep into one joyous, fist-bumping, chest-thumping, holler of defiant optimism.
The film opens with a definition of "sueñitos", the "little dreams" that everyone has in their heart. From wanting to provide for family, to winning the lottery; from escaping to an island paradise, to falling in love–it's the American Dream writ large and small. Whether you believe in the ideal that anyone can make it, or think it's little more than a trite saying found in fortune cookies, is irrelevant. All that matters is Miranda's musical is proof enough that, with enough talent, persistence, luck, energy, and enthusiasm, it's still possible to dream the impossible dream. And that's exactly what his characters do.
Usnavi dreams of returning to The Dominican Republic, the island of his birth, where he wants to one day rebuild his father's hurricane-smashed beach-bar. Vanessa, the girl Usnavi dreams of dating (Melissa Barrera), dreams of leaving her job at the local hair and nail salon and making it downtown in the world of fashion design, whilst her boss Daniela (Daphne Rubin-Vega), dreams of moving her business a few blocks, to the better side of town. Meanwhile minicab business owner Kevin (Jimmy Smits) dreams of his daughter, Nina (Leslie Grace), making it in the rarefied, white, male-dominated world of Stanford College, whilst Nina's former sweetheart, Benny (Corey Hawkins), dreams of making it big in business. Nina herself dreams of escaping the weight of her father's expectations and returning to the neighbourhood she loves. Then there's Claudia (the amazing Olga Merediz), the self-appointed Aunt and matriarchal elder to all, who dreams of her childhood journey from Havana, Cuba to New York, whilst Usnavi's young cousin, Sonny (Gregory Diaz IV), dreams of becoming a bonafide US citizen.
Sign up for Flicks updates
Each dream is explored in song, and flourishes of cinematic artifice. From fabrics raining down over Vanessa as she dreams of taking flight in the world of fashion, to a gravity-defying dance as Nina and Benny literally dance across buildings. For Miranda fans, there's much to love too, from the familiar Hamilton hold-music played while Jimmy Smits is on the phone in one scene, to an exuberant cameo from Miranda himself as the owner of a piragua stand, in comedic competition with a rival Mr Softee van to sell cold refreshments in the blistering New York summer heat.
With a first-class cast, acting, singing, and dancing their hearts out, In The Heights is both a fascinating insight into the development of a group of artists who would go on to create the phenomenon that is Hamilton, and a gloriously, exuberant, and shamelessly optimistic, sentimental, old-fashioned ride in its own right. For anyone who loves old school musicals and regrets how they don't make them like that anymore, I've got good news for you. They do. And they did.