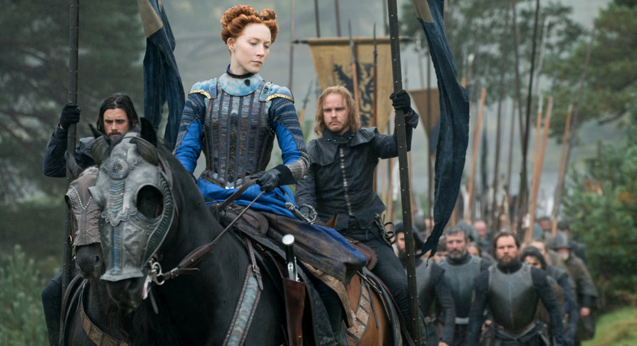 Mary Queen of Scots turns a famous rivalry into a flat, forgettable period drama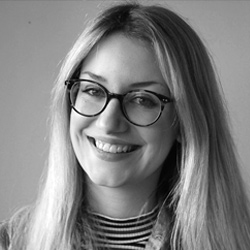 ---
Oscar nominees Saoirse Ronan (Lady Bird) and Margot Robbie (I, Tonya) lead this battle-for-the-throne historical drama helmed by Josie Rourke (director of the Donmar Warehouse).
Critic Katie Parker explains how this should-be-compelling film ends up without nuance, intrigue or life.
---
Beginning as Mary Stuart returns home to Scotland following the death of her French King husband to reclaim the throne from her formidable cousin, Queen Elizabeth I, Mary Queen of Scots spans the years before her ultimate imprisonment and execution: From her days giggling about sex with her gal pals, to accidentally marrying a rude gay alcoholic, right up until she finally meets Elizabeth in a washhouse full of chic gauzy linen.
Unfazed by the fact that many of these things didn't exactly happen—or at least certainly not as they do here—director Josie Rourke sets about spinning the famous rivalry between Mary and Elizabeth into a kind of modern feminist story. Never mind that the protestant Elizabeth and Catholic Mary were fundamentally ideologically opposed political enemies vying to rule the same land. Maybe they actually wanted to be friends—if only their male advisors had allowed it!
It's a cute, if cynical idea and, with the film based on John Guy's biography Queen of Scots: The True Life of Mary Stuart, presumably Rourke has some historical grounds for making this suggestion.
In practice, however, it just doesn't work. Let down by a confused plot and occasionally inadvertently hilarious script, in attempting to revise notions of the pair's relationship Rourke somehow manages to undermine any prowess these supposedly strong, tough women are apparently meant to have.
Mary's emotions repeatedly compromise her apparent political aptitude and decision making; Elizabeth, meanwhile, is shown more-or-less throughout as an unhinged, hysterical spinster, driven increasingly mad by Mary's beauty and motherhood.
Sign up for Flicks updates
It is unfortunate for Mary Queen of Scots that one of the best films about female rivalry in years (which also happens to be a lavish, stylised period drama), The Favourite, beat its release by just a few weeks—particularly since Mary Queen of Scots fails spectacularly at almost everything The Favourite so perfectly nails.
But most unfortunate is the fact that even a female director could not imbue this project with nuance, intrigue or even any life: instead it's just another flat, long, forgettable period drama.