NZIFF 2013 Mini-Reviews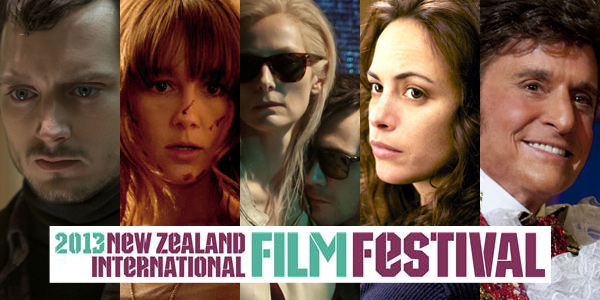 With the NZ International Film Festival in full swing once again, Flicks writers are giving their first impressions on what they're seeing in the form of bite-sized mini-reviews. This blog will keep updating through the festival, so keep checking back and take the time to share your thoughts with us in the comments – and get out to see some of these films!
Click on a title below to go straight to the review or scroll down to browse through the list.
56 UP | A BAND CALLED DEATH | A FIELD IN ENGLAND | A HIJACKING
THE ACT OF KILLING | ANIMATION NOW | ANTARCTICA: A YEAR ON ICE
BEHIND THE CANDELABRA  | BLACKFISH | THE BLING RING | BLUE RUIN
CAMILLE CLAUDEL, 1915 | THE CAPTAIN AND HIS PIRATE
CHARLES BRADLEY: SOUL OF AMERICA | CHEAP THRILLS | COMPUTER CHESS
THE CRASH REEL | DIAL M FOR MURDER | DIE WELT | DIRTY WARS
FRANCES HA | THE GATEKEEPERS | GOBLIN PLAYS SUSPIRIA
THE GREAT BEAUTY | THE HUMAN SCALE | ILO ILO | IN THE HOUSE
IT BOY | LESSON OF THE EVIL | LEVIATHAN | MANIAC
MISS NIKKI AND THE TIGER GIRLS | MISTAKEN FOR STRANGERS
MUCH ADO ABOUT NOTHING | MOOD INDIGO
MUD | MUSEUM HOURS | NEW ZEALAND'S BEST 2013
NGĀ WHANAUNGA MAORI PASIFIKA SHORTS | NORTH BY NORTHWEST
OH BOY | ONE TRACK HEART: THE STORY OF KRISHNA DAS
ONLY LOVERS LEFT ALIVE | ORNETTE: MADE IN AMERICA
OUTRAGE BEYOND | THE PAST | PERSISTENCE OF VISION
POST TENEBRAS LUX | PRINCE AVALANCHE | PUSSY RIOT: A PUNK PRAYER 
ROMEO AND JULIET: A LOVE SONG | SHEEN OF GOLD | SLEEPWALK WITH ME
THE SPECTACULAR NOW | THE STRANGE LITTLE CAT
TWENTY FEET FROM STARDOM | UPSTREAM COLOR
US AND THE GAME INDUSTRY | V/H/S/2 | THE VENICE SYNDROME
WE STEAL SECRETS: THE STORY OF WIKILEAKS | WEEKEND OF A CHAMPION
WHICH WAY IS THE FRONT LINE FROM HERE? | YOU'RE NEXT
---
56 UP
The most comprehensive of the Up series, in which a diverse group of Brits are interviewed every seven years, this one finds the 14 participants in a recessionary world, at the age of 56. Cue an amazing montage of conversations as they age before our eyes. That may mean there's a fair amount of repetition for those already well-acquainted with the crew at younger ages. But as each of them talk about their life's ambitions, relationships, regrets, mistakes, achievements and ultimately ideas about happiness, what unfolds is a surprisingly philosophical and moving glimpse at the highs and lows of the human experience. Most of the participants express discomfort at the format's time constraints and reflect on the fame the series has brought them. But at this wise age, they also have something to say about life that we could all benefit from.
REBECCA BARRY HILL
---
A BAND CALLED DEATH
Death is a band whose story is well worth seeking out if you're not in the know, but this documentary's going to have to get used to the chill underneath Sugar Man's shadow. There's little doubt that you'll be riveted by the end as hipsterism saves the day for musical talent that almost went unnoticed, but the first hour is so stuffed with filler and repetition that I couldn't help but feel that I was in the cinema half-an-hour longer than I really needed to be.
LIAM MAGUREN
The story of the band Death is as fascinating as the question posed by their proto-punk rock n roll – what would have happened if they'd put out an album while together in the 70s? The surviving Hackney brothers who made up the band with their songwriting brother make for engaging interview subjects, and there's a lot to like about their tale of black brothers making a hell of a racket without anyone really paying attention at the time. Sadly though, this doco struggles to the 90 minute mark and feels padded out (I thought I'd been in the cinema for 2 hours)  as emotionally and musically engaging as its subject may be.
STEVE NEWALL
---
A FIELD IN ENGLAND
A psychedelic freakout in black and white, Ben Wheatley's A Field in England involves magic, mushrooms and the English Civil War. There's grim humour throughout, but the highlights for me were the hallucinatory sequences, Wheatley combining strobing, rapid editing and the English countryside to create an assault on the eyeballs. It's wholly original, but the material felt a bit thin for a feature length film, marking this as my first (slight) disappointment of the festival. I've come to expect greatness from Wheatley, and this is merely very good.
TONY STAMP
---
A HIJACKING
Further proof that the Danes really are the European kings of drama. Writer-director Tobias Lindholm's Somali pirates thriller ratchets up the tension both onboard and back home in the boardroom. Cleverly eschewing the normal focus on the violent boarding itself, it instead hones in on the negotiations between the pirates' seemingly laid-back negotiator (Abdihakin Asgar) and Soren Malling's initially cocky corporate man. I found myself absorbed from start to finish. This year's The Hunt.
JAMES CROOT
---
THE ACT OF KILLING
Joshua Oppenheimer's unsettling film utilises real Indonesian murderers re-enacting real murders in the style of Hollywood movie clichés. If you're concerned it puts an all too human face on mass murderers, then you're right. That's the point. In fiction it is demons, ghosts, vampires and zombies who commit evil acts. In reality it's people… An horrific, fascinating, unpleasant and unparalleled journey into the heart of darkness. If you see only one thing at this year's film festival – see this. You'll be thinking on it for weeks.
ADAM FRESCO
Easily the most affecting film of my festival so far and odds-on to stay that way, The Act of Killing offers an insight into the banality of evil and humanity's propensity for cruelty, but does so in an altogether unique, imaginative way. As Indonesian mass murderers re-enact their atrocities for the cameras through various movie genres, the film, audience and its subjects travel together into uncharted territory. Essential, unmissable viewing.
STEVE NEWALL
---
ANIMATION NOW
In a way, Animation Now represents the festival itself: there's something bonkers, something that disagrees with me and many things that blew my jaw and dropped my mind. A superb showcase of finger-breaking craftsmanship and innovative animation techniques – the perfect companion piece to the excellent Persistence of Vision. Highlights include an existential musing expressed using a 240,000 pin pin-screen (Here and the Great Elsewhere), a ridiculously populated stop-mo animated by one person (Mound), the multi-award-winning Oh Willy… and the delightful story of a horny tram conductor who craves the D (Tram).
LIAM MAGUREN
---
ANTARCTICA: A YEAR ON ICE
Don't wait for it on TV – Anthony Powell's documentary looks simply stunning on the big screen. His depiction of Antartica sent chills down my spine. It's a lovingly shot, beautifully realized record of life on the ice for the animals who live there and the humans that work in the stark beauty of the sub-zero environment.
ADAM FRESCO
New Zealand photographer Anthony Powell has captured the wonder of Antarctica for award-winning nature documentaries. For his first feature film, Powell collects footage taken over fifteen years and nine Antarctic winters to impart what life on the southern continent is really like. Mercifully, his camera goes beyond penguins and seals (although they are well represented). Powell's most fascinating subject matter is the humans at McMurdo Station and Scott Base and how they cope, particularly during the six months of deep winter when there is no light and no escape. Of course breathtaking shots of the stunning landscape impress but it's the frank revelations of the workers coping with the claustrophobic company of a few that are Powell's greatest insight.
FRANCES MORTON
---
BEHIND THE CANDELABRA
Even ignoring the journey this took to the screen via HBO, there's more than a dash of lurid TV movie to Behind the Candelabra, something that I welcomed wholeheartedly. This isn't weeknight network filler by any stretch of the imagination, awash with opulent sets and magnificent performances. While Michael Douglas' Liberace is a brilliant piece of against-type casting and he revels in the character, Matt Damon holds his own as the far-less-flamboyant Scott Thorson and Rob Lowe eschews all subtlety as a scene-stealing plastic surgeon whose attempts to swallow (water – steady on there, your imagination) reduced me to tears.
STEVE NEWALL
I'm a toy-boy myself for Steven Soderbergh's work, so it comes as no surprise that I enjoyed the hell out of this. Michael Douglas is as great as everyone has made him out to be, with Soderbergh utilising swift camera movements and air-tight composition to showcase the rock-solid chemistry between misunderstood/dirty old man Liberace and Matt Damon's Scotty. It also ends with a big gay send-off that would have done the flamboyant queen proud.
LIAM MAGUREN
The NZIFF kicks off with a TV movie – but this HBO production deserves to be seen on the big screen. Steven Soderbergh delivers a scintillating drama in his supposed final directorial effort (for this week at least…). Reminiscent of Oscar Wilde's turbulent relationship with young 'Bosie', this so-over-the-top-it-must-be-true tale centres on a warts 'n' wigs 'n' all portrayal of extravagant pianist Liberace by Michael Douglas, who hasn't been this riveting since Wonder Boys way back in 2000. Matt Damon is subtle and solid as Scott Thorson; Rob Lowe's a scream as plastic surgeon Jack Startz; and you may not even recognise Scott Bakula as Bob Black or Dan Aykroyd as Liberace's ruthless and huge-spectacled agent, Seymour Heller. Fabulous darling – in every sense.
ADAM FRESCO
---
BLACKFISH
Tilikum has killed three people. Yet it's hard not to sympathise with the killer whale held in captivity in Gabriela Cowperthwaite's powerful and downright disturbing documentary. It will upset animal lovers. It will make you think twice about keeping animals captive for our entertainment. It won't surprise you in the least that SeaWorld declined to be part of this documentary that exposes the story of their orca. Gripping, shocking, thought-provoking, opinion-altering stuff.
ADAM FRESCO
I don't think I'll ever be able to watch Free Willy or an aquatic theme park show in the same way again after viewing Gabriela Cowperthwaite's disturbing investigation into Sea World and other aquatic entertainment venues' treatment of killer whales. Horrific footage and shocking testimony from former Sea World employees present a compelling case as to why orca should not be kept in captivity.
JAMES CROOT
---
THE BLING RING
While perhaps the least distinctive film Sofia Coppola has made, placing less emphasis on visual style and use of music than one would expect, The Bling Ring is sufficiently entertaining – just – to overcome its lightweight feel. Like Spring Breakers before it, you can't help but cringe at how it would have been handled by other directors and as with Harmony Korine's film, the shallowness of youth is on full display. Coppola doesn't go for shock value, but brings a touch of believability to proceedings – no doubt informed to some extent by her own Hollywood upbringing.
STEVE NEWALL
---
BLUE RUIN
Why can't New Zealand make movies like this? It's easy to imagine intimate revenge tale Blue Ruin set on the East Cape as we follow a mentally-scarred drifter on a long-awaited eye-for-an-eye payback through a semi-rural setting. Macon Blair brings to life the desperation of a man with little left to lose, over his head in violent work he's not really cut out for. His general uselessness and mumbly delivery lead to tension-relieving chuckles around a dramatic narrative that may not defy convention, but plays out in satisfying, bloody fashion.
STEVE NEWALL
---
CAMILLE CLAUDEL, 1915
Bruno Dumont's casting of a well-known name like Juliette Binoche might suggest a move by the French auteur — who steadfastly employs non-professional actors — towards accessibility, but Camille Claudel, 1915 is as ascetic and austere as anything he's made. Haggard and frumpy, Binoche is stripped of any star quality, turning in a performance of soul-baring nakedness as Claudel, a sculptor who was confined in a mental asylum in Southern France for the last 29 years of her life. Dumont grounds narrative in clockwork mundanities, creating a monastic timbre  that's more prayer-like than drama, while the unnerving use of real-life mental patients underscores her isolation and aloneness. A welcome cinematic detox.
AARON YAP
---
THE CAPTAIN AND HIS PIRATE
So often the news is articulated through bland formal channels. This documentary goes to the people most affected by the storming of a German freighter by Somali pirates, talking to the traumatised captain and remarkably his charismatic captor. Cowboy-cool Somali, Ahado, is the star, winning over the audience with his clear-eyed insight of his high stakes game. The story is told through interviews back and forward between Captain Kotiuk's therapy sessions in Germany to Ahado shooting guns in the Somali desert. There's little context and therefore questions left unanswered. What happened to the millions paid in ransom? But by keeping the focus intimate the director reveals a moving human tale of would-be enemies and their mutual respect.
FRANCES MORTON
---
CHARLES BRADLEY: SOUL OF AMERICA
This year's Searching for Sugar Man. Not only is the sexagenarian soul singer's music both haunting and inspiring, but his life story is the stuff of real heart-wrenching drama. You can see why Bradley spent decades as a James Brown impersonator, but equally once you hear his own music you'll understand why he's become such a cult figure in his own right.
JAMES CROOT
---
CHEAP THRILLS
An extremely black comedy about the growing class divide in America, Cheap Thrills manages to score some big laughs, but it's also a really angry piece of work. The filmmakers have a point to make and it's made none too subtly, dipping into some nihilistic, morally disastrous territory. The four leads are all great. Pat Healy manages to be heartbreaking and hilarious at the same time, but it's David Koechner who impressed me the most, revealing a heretofore unseen dark side at odds with his natural joviality. Whenever Koechner's eyes go dead things are bound to get interesting. Laden with twists, shock, and bleak humour, Cheap Thrills is a blast.
TONY STAMP
Sweet baby Jesus; this was a crowd-pleasing load of nastiness. Pat Healy and Ethan Embry demonstrate the disgusting side to desperation (and animalistic competitiveness) as the two fools who are constantly paid to do gradually more disturbing acts to entertain the wife of a manic millionaire (played by David Koechner in one of his best performances). Bravo to director Evan Katz and screenwriters David Chirchirillo and Trent Haaga for pulling off the patient build-up required to squeeze out every bit of shock from this straightforward concept.
LIAM MAGUREN
---
COMPUTER CHESS
I wasn't gonna see Andrew Bujalski's mockumentary, until I read Steve's review (below). I'm glad he turned me onto it, because this fake 80s-style satire is a real gem. Shot on video in a 4:3 ratio, its nostalgic fun reminded me of cult UK TV comedy Look Around You. Those who don't get the joke of A carefully crafted faux-doco (from the likes of Forgotten Silver to Best in Show) will find it cheap, annoying and clichéd. But for my taste – that's half the fun.
ADAM FRESCO
As I'd expected a pastiche period piece, Computer Chess promptly confounded and enthralled me. This black and white feature rudimentally shot on video (complete with comical titles) doesn't conform to conventional ideas of found footage, rediscovered "lost" films or even the well-trodden competitive tournament movie structure. Instead this tale of nerdy computer scientists sending their computer chess programs into battle with one another is often hilarious, sometimes surreal and wholly original.
STEVE NEWALL
---
THE CRASH REEL
Justin Timberlake's character in Friends With Benefits was right – U.S. Olympic Snowboarder Shaun White really is a douche! That's the over-riding impression I got from this fascinating tale of snowboarding obsession and tragedy. Some of the footage British documentarian Lucy Walker has captured is disturbing, some heartbreaking, and the rest exhilarating as she not only perfectly captures Kevin Pearce's desire to get back out on the slopes after a horrific accident but also the toll his determination has on the rest of his family.
JAMES CROOT
---
DIAL M FOR MURDER
Aside from the credits, some slightly noticeable foreground work and a very prominent hand holding a key, there's little 3Dness to Dial M for Murder 3D. But that doesn't stop Hitchcock's attempted-murder thriller from kicking loads of ass. It's an extremely concise piece of work that makes it an utter joy to watch as Ray Milland's smugly overconfident Tony Wendice tries to squirm his way out of his failed Plan A and into a comfy Plan B (how dare he try to harm my precious Grace Kelly). John Williams is another stand-out as Chief Inspector Hubbard – in a perfect world, every movie would end with the combing of a moustache.
LIAM MAGUREN
---
DIE WELT
A mix of This is Not A Film and the intersecting-story works of Alejandro Gonzalez Inarritu (remember him?), this naturalistic Dutch film set in Tunisia at times drifts a little too much, but makes some nice observations about the westernisation of the country. As well as evocatively showing life on the streets and in workplaces and homes, it also boasts a terrific Transformers 2-hating opening and a knock-out, humorous ending.
JAMES CROOT
---
DIRTY WARS
Investigative journalist Jeremy Scahill does excellent work digging into the 2010 deaths of innocent Afghanis by mysterious American nighttime military raids unlocking a wider story about Joint Security Operations Command (JSOC) – a shadowy arm of the defence force that executes drone attacks and deadly raids in countries not officially at war with the States. It's a chilling look at "War on Terror" strategies the US is taking that, according to the documentary, are leading to an escalation, not eradication of its enemies. Stylishly and alarmingly presented with a few too many flattering shots of our hero the journalist. It's a disturbing and important tale, I just wish Scahill would step aside and let it be told.
FRANCES MORTON
---
FRANCES HA
HBO's Girls, a few seasons down the track — with added French New Wave flourishes. Perhaps a reductive comparison, but hard not to ignore similarities in its cringey, foot-in-mouth conversations delivered by fickle, self-searching NYC twentysomethings (plus presence of Girls' Adam Driver). Greta Gerwig is endlessly watchable/infuriating.
AARON YAP
A kind of a cross between a Woody Allen movie and Girls (without the requisite cable channel nudity), I found myself charmed and cringing in equal measure at Greta Gerwig's hapless "heroine" as she passively-aggressively gets herself into endless scrapes. Think a slimmer yet equally garrulous and gauche New York-version of Miranda. Perfectly captures the universal feeling of being lost in your 20s, while backed by an evocative, and highly ironic, '80s soundtrack that include Hot Chocolate and David Bowie.
JAMES CROOT
---
THE GATEKEEPERS
Defying black and white depictions of both the Israeli-Palestinian conflict and the relentless, unquestioning loyalty of intelligence chiefs, The Gatekeepers sees six former heads of Shin Bet, Israel's secret security service, offer candid views on their organisation and their country's relationship with Palestinians. The results are fascinating, not only in how most despair of Israel's occupation of the West Bank and Gaza but also their insights into the personal effects of a lifetime's ever-stressful work protecting Israel in morally-questionable ways.
STEVE NEWALL
---
GOBLIN PLAYS SUSPIRIA
To me the stars of Suspiria are the set design, colours and score, so seeing this on the big Civic screen with Goblin providing a live accompaniment proved a potent combo. While the presentation of the film could have been better, it was still a rare chance for the film to make its impact felt. The presence of Goblin not only showcased their musicianship (and knack for providing a chorus of scary voices) but meant that the volume was set to loud, a nice parallel to the size of the Civic's screen and nearly enough to drown out the audience sniggers referred to elsewhere. Suffice to say, if you shelled out the bucks to come to this show and then laugh at the more dated or cheesy elements of a film that's over 35 years old you're a bit of a dick.
STEVE NEWALL
If I were to be completely honest — a mixed bag. There's no doubt that Italian prog-rock gods Goblin performed their blood-curdling soundtrack to Dario Argento's seminal supernatural shocker with flawless sonic prowess that left no question of their integrality to the film's power. But the can't-miss prospect of this event (Goblin! Suspiria! Civic!) quickly dissipated as the realities of the night took over. It was a once-in-a-lifetime gig served by less-than-optimal conditions: the hazy, constantly out-of-focus Blu-ray projection that did little to preserve the feverish temperature of Luciano Tovoli's Technicolor cinematography was a compromise I could live with, had my patience not been tested by an audience who cackled at every opportunity Goblin weren't able to drown them out.  While I acknowledge that Argento's oeuvre is littered with goofy, amusing WTF moments, heckling, guffawing moviegoers effectively adding their own snide MST3K-like soundtrack to Suspiria — especially in the presence of those artists who actually created the soundtrack — is something no fan of the film should stand for.
AARON YAP
---
THE GREAT BEAUTY
Director Paolo Sorrentino proves you don't need melodrama or tragedy to create something profound. The Great Beauty is a spectacular film, as messy, strange and funny as a dream, with hedonistic party scenes to rival The Great Gatsby. Through the eyes of consummate bachelor and journalist Jep Gambardella (played by the magnetic Toni Servillo), it has much to say about ageing, beauty, spirituality, art and life, hinting at sadness without wallowing in it. Whether the camera captures Jep as he walks through a gloriously lit Rome in one of his dapper cream suits, taking in a ridiculous art performance or engaging in a barbed conversation with his neurotic bourgeoisie friends, there's a surprise in every scene. Surreal and brilliant, it's an absolute must-see.
REBECCA BARRY HILL
---
THE HUMAN SCALE
It's frightening how much our quality of life is dictated by the physical spaces we live and work in. This Danish doco serves up some smart and simple solutions – here's hoping our city planners are watching. The authorities in mushrooming Chinese cities and besieged Dhaka sure aren't, blithely becoming disciples of Western cities' car worship. Christchurch is the great hope – and Bob Parker does a good job of looking saintly while Gerry Brownlee plays the villain. A real conversation starter.
FRANCES MORTON
As a Christchurch resident, I have to put my hand up and say I was more interested than most might be in this Danish documentary on cityscapes. The Garden City, post-earthquake, features heavily as its unique opportunity to start again is explored. Looking at it more than 12 months on, it's fascinating to see the hope and enthusiasm we once had – before the Government stepped in and it all started unravelling.
JAMES CROOT
---
ILO ILO
This Singaporean drama has a pretty simple message: raising a family in a broken economy sucks balls. The family itself are pretty hard to like with the mother who's prone to jealousy, the father who constantly makes poor financial decisions and a son who lacks a social filter. However, their plight and flaws are understandable, and through the growing relationship between the child and the Filipino maid-for-hire, this well-made slice-of-life foreign film kept me invested.
LIAM MAGUREN
In many ways the film I've always wanted to see: an eerily accurate representation of my childhood. Even when viewed through a veil of misty-eyed nostalgia, Singaporean filmmaker Anthony Chen's autobiographical Ilo Ilo is a remarkably assured, nuanced debut, encapsulating the 1997 Asian financial crisis through the prickly bond between Jiale, a mischievous 10-year-old boy and his Filipino maid Teresa. Every beat is true-to-life, enriched by organic humour, affecting, naturalistic performances and a decided lack of sentimentality that recognises the cruelly transient nature of Teresa's surrogate-mother role.
AARON YAP
---
IN THE HOUSE
I enjoyed this voyeuristic voyage into the literary mind of a gifted, articulate, manipulative little teenage shit. His writing teacher eggs him on because he's the only pupil who shows any talent, but the real-life subject that inspires the young author pushes boundaries in compelling fashion. The movie doesn't give us enough background on the kid, there's a weird narrative stall in the middle and the finale didn't ring completely true to me, but this is quality entertainment nonetheless. Don't be surprised if the yanks remake this one.
LIAM MAGUREN
---
IT BOY
A macaron of a film – sweet, light, French and a little nutty. It Boy drolly flips the old French cinema trope of old professional guy with hot young crumpet. This time the professional is buttoned-up single mum fashion editor, Alice, who encounters goofy-cute architecture student, Balthazar, 18 years her junior. Perfectly pitched by its leads, Virginie Efira and Pierre Niney, you can't help fall in love with this feel-good rom-com. And it's set in the fashion world so there's plenty of French chic for the eye to devour alongside the facepalm visual gags.
FRANCES MORTON
The traditional frothy French rom-com is turned on its ear by this engaging and entertaining tale which switches genders on the usually dodgy age gap. Virginie Efira is still ridiculously ravishing to look at, but for once there is some toy boy candy for the ladies, rather than France's latest Bob Hoskins look-alike. Also has some nice The Devil Wears Prada-esque digs at the fashion industry.
JAMES CROOT
---
LESSON OF THE EVIL
Far from Takashi Miike's best work, this high school drama turned serial killer rampage does feature an truly nihilistic last half hour that kept my jaw dropping with its unrelenting violence. I stopped trying to latch onto any subtext (I think Miike is making a point about American school shootings) and just went with it. One thing's for sure: nothing like this would ever, EVER get made in the USA.
TONY STAMP
Japanese horror maestro Takashi Miike is back in Ichi the Killer and Crows Zero territory with this mad-as-a-badger-on-crack high school massacre movie. If like me you loved the gore-soaked, dark-as-Johnny-Cash-in-a-graveyard-at-midnight humour of movies like Battle Royale, this will be right up your sluice gate. Beginning with the song "Mack the Knife" and introducing a popular teacher at a school with serious social issues, nothing can prepare you for the batshit crazy remorseless mayhem of the film's second half – except maybe two words: Takashi Miike. A brutal, violent, relentless visit to the dark side with oodles of arterial spray, buckets of bonkers, a Norse god's ravens, and a talking gun. All this and an ending that promises more carnage to come. Miike fans rejoice. Guardians of good taste avoid. Seriously. Stay away. Don't even read this… You have been warned.
ADAM FRESCO
---
LEVIATHAN
Absolutely staggering, immersive experience fills you with awe and reinforces the cinematic power of image and sound over narrative. Leviathan is as close as you'll get to being on a commercial fishing trawler without actually being on one. The images engulf the viewer in their grainy, tenebrous abstraction and unsettling, almost painterly beauty. A queasy, brutal ethnographic monster.
AARON YAP
I'm all for experimental artistic expression in documentary form (the Hitchcock-themed Double Take was an eye-opener for me), but I struggled with Leviathan. It does a hell of a job in amplifying the sombre mood it wanted to portray, successfully personifying the fishing vessel into some sort of dark beast. It presents a type of immersion that's impossible to replicate through interviews, but despite the tremendous sound design and some truly PHENOMENAL-looking shots, the over-reliance on repetition deafened my attention span. It's a film I respect more in hindsight, but my fascination brewed too closely with my frustration.
LIAM MAGUREN
---
MANIAC
So there turned out to be more going for this banned film shot from the POV of a serial killer than you'd expect, from Eljiah Wood's over-the-top psycho-sexual turmoil to a tremendous soundtrack. A better-than-average slasher flick, Maniac never let its gimmick grow tiresome although at times you could see why censors took offence at how it puts audiences in the position of a killer – because violent murder is unpleasant. No shit. If you're a horror fan, catch this if you can.
STEVE NEWALL
---
MISS NIKKI AND THE TIGER GIRLS
Politics and pop music collide in this poignant, entertaining doco about Burma's first all-girl pop group. Filmmaker Juliet Lamont followed the group from 2010-2012, capturing the warped ideals of the country's military dictatorship and its galling effects on the nation's youth. Despite their naïve, insular music, the band has irrefutable appeal. But what's really telling is their fear of change once Aung San Suu Kyi's release from house arrest begins to move the country towards democracy. Leading their charge for freedom through stardom is the passionate, hard-headed and outspoken Aussie expat Miss Nikki, a documentary-maker's dream. The only thing missing was an update on how the girls are faring.
REBECCA BARRY HILL
---
MISTAKEN FOR STRANGERS
How do you make an interesting documentary about a band with zero personality? Mistaken For Strangers solves that problem by making Tom Berninger, little brother of The National lead singer Matt Berninger, its subject as he struggles to make a film about the band while on tour with them. Amusing as it chronicles Tom's unorthodox attempts to be a filmmaker, and his inability to perform basic road crew tasks or get his head around touring, it's a light, enjoyable film set in the world of musicians while offering a tangential take on a familiar subject.
STEVE NEWALL
---
MOOD INDIGO
Michel Gondry overdosed on himself, and the movie that frothed from his mouth was Mood Indigo. Witnessing the flurry of textile stop-mo, Pee-wee's Playhouse set design and bombastic limb puppetry put a big, dumb-guy grin on my face that only a Gondry high could provide. However, after that first intoxicating hour, I slowly gained an uneasy feeling that this film didn't really know what to do with itself – a fear that was confirmed by a major anti-climax and a weird, unrewarding deviation from the plot in the final act.
LIAM MAGUREN
If you found Michel Gondry's Eternal Sunshine of the Spotless Mind pretentious, artsy-fartsy, self indulgent bullpoop – then you're gonna hate his adaptation of Boris Vian's novel, 'Froth on the Daydream.' Like Terry Gilliam at full tilt, it's an eye-poppingly imaginative trip in which stars Audrey Tatou and Romain Duris excel. You can accuse it of style over substance, but dig deeper than the froth and visual fireworks and this is a love story by way of tragedy in which Death looms large and conventional cohesion takes a leap off a tall building as Gondry embraces film as dream rather than dull old reality.
ADAM FRESCO
---
MUCH ADO ABOUT NOTHING
Director Joss Whedon proves himself a genius yet again with this original, witty, modern-day adaptation of the popular comedy. Anyone who finds Shakespeare intimidating needn't worry; the actors deliver the lines with breezy irreverence, doing away with any ounce of pomp. But Whedon also gives the iconic moments the emotional heft they deserve. Shooting in black and white in just 12 days (during downtime from The Avengers) hasn't diminished the quality of the performances. Luminous leads Amy Acker and Alex Denisof as Beatrice and Benedick, and a hilarious Dogberry care of Castle's Nathan Fillion, bring Much Ado smartly up to date.
REBECCA BARRY HILL
---
MUD
Director Jeff Nichols follows up the impressive Take Shelter with a movie that fuses Tom Sawyer and Huckleberry Finn and Stand by Me with Whistle Down the Wind. As the kids, Tye Sheridan (as Ellis) and Jacob Lofland (as Neckbone) excel, whilst as the enigmatic drifter Mud, Matthew McConaughey cements his welcome return to displaying his acting chops in decent movies. I loved the way the first act family drama suddenly twisted violently into a mano-a-mano showdown worthy of Shane as directed by the bastard offspring of Rob Reiner and Sam Peckinpah.
ADAM FRESCO
With its sun-scorched look and a soundtrack smooched by Dirty Three, writer and director Jeff Nichols continues his perfect record of outstanding cinema. I saw Mud as a gritty Southern American fairy tale of sorts, with Matthew McConaughey playing fairy God hobo to a 14-year-old boy and his mate. Like Shotgun Stories and Take Shelter, Mud is astonishingly dense with its airtight narrative and fulfilling characters, with Tye Sheridan pulling in a fantastic performance as a lad susceptible to his youthfully ignorant romantic ideals.
LIAM MAGUREN
---
MUSEUM HOURS
Mumblecore for the gold card set. Sweetly dippy Anne goes to Vienna from Montreal when her relative falls into a coma. She breaks up her hospital bedside vigil with visits to the art museum where she befriends kindly security guard Johann. The film's allure creeps slowly so that between the lingering shots of grey streetscapes and close ups of oil paintings you suddenly find yourself contemplating the big life questions. A serene musing on loneliness, friendship and life with a diaphanous narrative that leaves a deep impact.
FRANCES MORTON
---
NEW ZEALAND'S BEST 2013
I'm Going to Mum's: With its original approach, rock-solid performance from the young lead and a family-friendly quality that Kiwi Flyer should have aimed for, Lauren Jackson's short is a witty winner.
Interim: Though I wasn't totally sold on the conclusion, I couldn't take my eyes off this sombre mood piece. Superbly shot and instantly engrossing.
Tom's Dairy: Oscar Kightley must've punched a wall when Shopping emerged early this year – the similarities between that film and his short are uncanny. It has its rough patches, but Tom's Dairy is an effective slice-of-life.
Here Now: I don't give a lot of leeway to shorts that attempt to make a message out of the mundane, but Chelsie Preston Crayford impressed me greatly with hers. I only wish the film didn't ask its message so overtly – I felt Crayford said it all with her sly narrative and finely tuned performance.
Blind Mice: Walter Lawry's short is constructed with such confidence that you'd never recognise it as the student film that it technically is. A superbly dense character piece that only wobbles slightly with some awkward line deliveries.
Friday Tigers: …sorry Aidee Walker, I wasn't able to watch your film. I had to haul my ass to The Civic. Please don't punch me.
LIAM MAGUREN
---
NGA WHANAUNGA MAORI PASIFIKA SHORTS
Despite the odd dud short, there was solid gold in this year's Maori Pasifika Shorts. These are the three that should be seen: Catherine Bisley's Wide Eyed made me want to see a feature-length coming-of-age tale set in rural New Zealand; I absolutely adored Renae Maihi's Butterfly and its culturally significant and enlightening perspective on a heavy issue; Lauren Jackson's I'm Going to Mum's exhales so much child-amongst-a-divorce awesomeness that I feel no need to see What Maisie Knew.
LIAM MAGUREN
---
NORTH BY NORTHWEST
Hitchcock's masterclass in how-to-make-a-damn-entertaining-thriller, lovingly restored and projected on the big screen in 4K glory. It now joins Psycho and Vertigo in my all-time top-three Hitch movies and easily rates as his most fun. With Cary Grant and James Mason in splendid form and Bernard Hermann's stunning score, this is sheer old school cinematic class.
ADAM FRESCO
Still untouchable after all these years. Gorgeously restored in 4K, Hitchcock's masterclass of thriller filmmaking is so light on its feet, so swoony with its witty tête-à-têtes between Cary Grant and Eva Marie Saint, when the taut grip of its numerous iconic set-pieces sneaks up on you, it's almost revelatory. Perfect entertainment, not to be missed.
AARON YAP
---
OH BOY
Fans of last year's Holy Motors and Jim Jarmusch movies will particularly enjoy this German black and white slice-of-life tale. James McAvoy-esque lead actor Tom Schilling is an engaging and entertaining guide as his day seems to get progressively worse (and he just can't seem to get the one thing he desperately wants) to hilarious effect. Proof that Germans really do have a sense of humour about themselves.
JAMES CROOT
---
ONE TRACK HEART: THE STORY OF KRISHNA DAS
This portrait of the almost-rock-star-turned Indian devotional singer Krishna Das will no doubt appeal most to those who've dipped a toe in spiritual waters. If you feel uptight at the thought of roomfuls of people chanting, this might not be for you. But it's just as much a tale of the power of devotion, as the affable American shaped his life around his Indian guru, Maharaj-ji; likewise, KD's followers clearly find his music taps into something powerful. The film doesn't achieve transcendence, but regardless of whether you find it enlightening or simply take it all in as a bemused spectator, it's an intriguing story.
REBECCA BARRY HILL
---
ONLY LOVERS LEFT ALIVE
More like only cheekbones left alive. Jim Jarmusch's camera drinks in the beautiful angular faces of Tilda Swinton and Tom Hiddleston with the same relish that their vampire characters devour blood snacks. It's signature Jarmusch where his exquisite painterly approach to the visuals, music and atmosphere ranks style over plot – although quirky jokes on the history of the world as seen by frustrated immortals save it from taking itself too seriously. Hiddletson wins Emo of the Festival hands down.
FRANCES MORTON
---
ORNETTE: MADE IN AMERICA
I don't know if I walked out of this knowing much more about avant-jazz saxophonist Ornette Coleman than I did going in; Shirley Clarke's lysergic editing techniques occasionally prove too eager to cause seizures, making it hard to even focus on Coleman when he's talking on screen. But it's a film as ambitious, conceptually liberated and rhythmically jagged as Coleman's music, cross-cutting childhood re-enactments, past and then-present performances (including an amazing jaunt in Nigeria), spacey tangents and talking jazz-heads into that rare music documentary that's actually musical. Enthralling.
AARON YAP
---
OUTRAGE BEYOND
Beat Takeshi returns to the Yakuza genre, directing and starring as Otomo, a Yakuza sprung from jail by a corrupt cop to stir up a gang war. The follow-up to Takeshi's Outrage is a slow-burn drama that might not be a gangster classic but sure is classic gangster. Old enemies unite to take down former friends turned traitors. In true third-act-of-The Godfather fashion, the killings take a while a-coming, but once they arrive they don't let up. Takeshi's character may bemoan: "I'm getting too old for this shit," but – judging by the assured direction, tight script and palpable tension delivered in this tale of violence begetting more violence – no matter how old he is, you can't 'Beat' Takeshi when it comes to classy slow-burn existential gangster fare. Old school Yakuza flick cool.
ADAM FRESCO
---
THE PAST
Iranian director Asghar Farhadi (A Separation) heads to France for this tightly-wound drama about a broken love triangle and its ripple effects on a modern-day imperfect blended family. The story is restricted to a few key characters with excellent Oscar nominee Bérénice Bejo and magnetic Ali Mosaffa, playing Bejo's ex, at its centre. The film runs well over two hours yet is expertly paced with enough push and pull and twists and turns to captivate. Farhadi is a master at unpicking human relationships, revealing that in the end everyone, and no one, is blameless.
FRANCES MORTON
---
PERSISTENCE OF VISION
Kevin Schreck's lovingly crafted documentary on Richard Williams – the greatest animator many have never heard of – is a fascinating and heartbreaking glimpse into genius gone awry. It's a cautionary tale in which corporate demands and the artist's own monomaniacal perfectionism prevent completion of Williams' vision of The Thief and the Cobbler – the animated masterpiece that never was. A crying damn shame as the completed hand-rendered animated segments screened are simply awe-inspiring – especially when you realise the only digital tech involved consisted of the digits at the end of the artist's hands.
ADAM FRESCO
Richard Williams is a master animator – this documentary easily proves that with the test reels of his magnus opus The Thief and the Cobbler. What was completed is astonishing to behold, which only adds to the devastating reality that his work was never completed. This documentary feeds the mind and kicks the gut with this real-life story of an artistic genius, whose nobly pretentious goals blinded his ability to manage his resources. The result is this sad creative implosion that should be compulsory viewing for problematic perfectionists.
LIAM MAGUREN
---
POST TENEBRAS LUX
If you've been finding the programming in the festival enjoyable but a bit middle ground, swing off track to this impressionistic lyrical drama by Carlos Reygadas, who picked up best director at Cannes this year. Trust Cannes to salute the weird ones. Post Tenebras Lux follows a loose narrative about a wealthy couple with two adorable toddlers living in rural Mexico. There are moving sections of marital discord and societal inequality played straight and others featuring dream sequences, a bizarre encounter in a swingers sauna (ahoy paunchy middle aged full frontal) and the incongruous addition of a English schoolboy rugby game that just don't compute. But who said life ever makes sense anyway. Baffling, absorbing and arty – which makes it a delectable festival watch.
FRANCES MORTON
Didn't come together for me as much as Reygadas' previous film Silent Light did, but honestly I don't know if or how I'd change a frame of it. This arcane, time-skipping autobiographical meditation on family, life, Mexico, or whatever, is totally mesmerising in parts, off-putting in others, as befitting a film shot in Academy ratio (often with a fisheye-like effect), containing a vicious dog bashing, high school rugby matches in England, sweaty swingers club sex, a toolbox-carrying devil, an off-key rendition of Neil Young's "It's a Dream" and a batty WTF ending that'll sum up what most people will feel about the whole thing. Glad I saw it.
AARON YAP
---
PRINCE AVALANCHE
More loser comedy than bromance, I found myself constantly chuckling at the near-silent antics of Paul Rudd and Emile Hirsch (here clearly channelling Jack Black) in what is essentially a two-hander. Wes Anderson would be proud of this offbeat tale, which boasts its share of unexpected turns and sharp observational humour reflecting the Icelandic original this is loosely based on.
JAMES CROOT
---
PUSSY RIOT: A PUNK PRAYER
Obviously reactionary and feels quickly cobbled together post-arrest of Pussy Riot. A bit of time and distance might have produced a more nuanced perspective, but the story is compelling enough to hold interest.
AARON YAP
Mike Lerner and Martin Pozdorovkin's film may be preaching to the choir – but it's a message that needs to be heard. If you're interested in feminism, freedom, modern Russian politics, political censorship or why church and state should be separate, check out this by turns entertaining, riveting and shocking documentary. It's enough to make any cat riot…
ADAM FRESCO
Three young women go up against the might of the Russian state in a tale played out across the news, but seldom given the exposure seen here. Supportive of the Pussy Riot members whose history it charts and who it follows through their trial, A Punk Prayer is careful to not demonise establishment Russia. Instead we're offered insight beyond that which news bulletins can offer, the whole saga painted more a system driving itself to an inevitable result more than a malicious persecution.
STEVE NEWALL
---
ROMEO AND JULIET: A LOVE SONG
Shakespeare for the Twilight generation comes with a steady stream of visual and aural gags, as Tim Van Dammen's rock opera gives the Bard's most familiar work a gaudily comic overhaul. With its trailer park setting, the romance plays out bogan style, a jarring experience at first, but all the more amusing for it. While iambic pentameter doesn't always lend itself naturally to pop, R&B or soft rock, it meshes surprisingly well with hip-hop, in a clever soundtrack by composers Michael O'Neill and Peter van der Fluit. The filmmakers have clearly had a blast with the art direction and costuming too, creating a world that makes Outrageous Fortune look like Remuera. And it has a good cast of misfits, not to mention its star-crossed lovers, played convincingly by beautiful leads Derya Parlak and Christopher Landon.
REBECCA BARRY HILL
On paper it's an inspired proposition – Shakespeare's most popular tragedy as a musical set in a Kiwi campground populated by warring bogans. Visually it's a gorgeous picture with excellent production design and suitably lust-worthy casting of our doomed hero and heroine. But a musical has to have music at its heart and that's the weakest component to this labour of love. It aims for a mainstream commercial sound that is difficult to execute on a minimal budget. The score railroads Shakespeare's iambic pentameter, which should be a golden gift for a composer but instead iconic lines are breezed over – drastically diminishing their complexity and dramatic power. The pre-recorded audio amplifies the distance between music and performance. The most successful numbers were the priest's let-it-rip soul tunes (played by Sarah Houboult). Director Tim Van Dammen has created a stylish, amusing world with great verve that perfectly suits obsessive teenage horniness. It just a pity you can't dance to it.
FRANCES MORTON
---
SHEEN OF GOLD
Fans of the Skeptics and those interested in NZ musical history will enjoy the archival aspects of Sheen of Gold and the opportunity to see and hear the band members in the present day. For many eventual viewers, much of the tale will be familiar and the film's value will lie in its performance and music video content woven through it. Some context as to what else was happening in NZ either musically or socially would have helped the film define what was so unique about the band – divorced from this, the Skeptics still intrigue but Sheen of Gold largely relies on familiarity to win its audience over.
STEVE NEWALL
---
SLEEPWALK WITH ME
When I heard stand-up comic turned film-maker Mike Birbiglia was the new Woody Allen I was worried – 'cos I like the old, funny, imaginative and wildly witty Woody. Fortunately, Birbiglia's more akin to old rather new Woody. The movie's mix of light humour and dark themes works a treat. It's let down by too short a running time and too convoluted a script, but that's more than made up for by a film that's eschews easy jokes for the humour to be found in everyday reality.
ADAM FRESCO
---
THE SPECTACULAR NOW
Not as genre-defining great as the Sundance praise made it out to be, but a solid, well-acted coming-of-age pic with two terrific leads who aren't your traditionally pretty H-wood up-and-comers. Miles Teller and Shailene Woodley's moments together, often shot in long takes, br