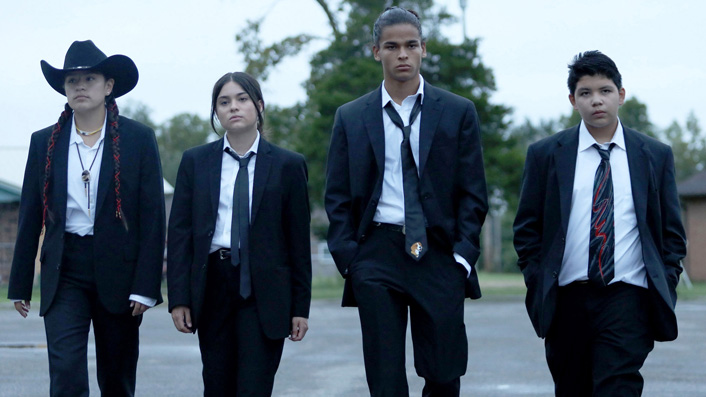 Reservation Dogs is a genuine and funny portrayal of small-town Indigenous life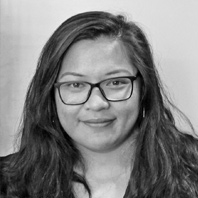 ---
Two Indigenous filmmakers, Native American Sterlin Harjo and Aotearoa's Taika Waititi, have created something epic in the quirky, coming-of-age comedy series Reservation Dogs, streaming on Disney+. And they've done it with an almost entirely Indigenous cast and crew, writes Laumata Lauano.
Set in Indian Territory, the name for the northeastern part of Oklahoma, four Indigenous (Native American) teenagers in rural Oklahoma steal, rob, and save in order to get to the exotic, mysterious, and faraway land of California—their dream.
See also:
* Movies now playing in cinemas
* All new streaming movies & series
The slice of life show is a genuine, funny, and unflinching portrayal of small-town life. Not just any small-town life, but small-town Indigenous life.
Without even knowing specific points of the history, you should at least be aware of the atrocities committed to the nation's First Peoples. The show doesn't wallow in it but it doesn't shy away from the intergenerational trauma that bleeds into the contemporary communities—a feat that could only be authentically recreated by people with a connection to the history, an understanding of that history and how it affects the current Indigenous experience.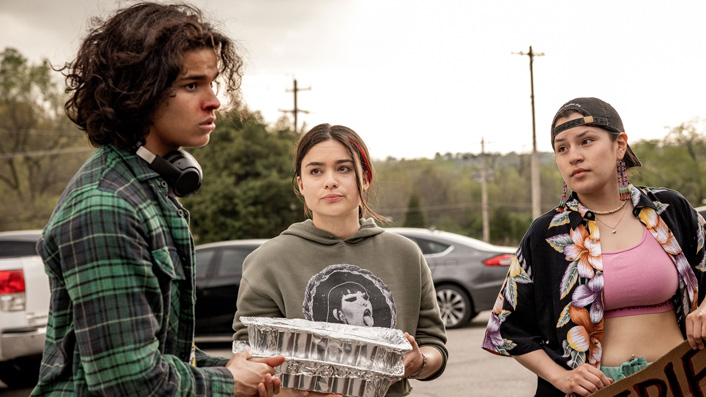 The understated script is done justice by some superb performances from the young cast. D'Pharoah Woon-A-Tai plays default leader and 'responsible' one Bear and Elora Danan (Devery Jacobs) the unofficial second-in-command and moral centre.
My personal favourite Willie Jack (played so well by Paulina Alexis) is the quick-witted, enterprising wild-card, and Cheese (Lane Factor) is adorable. Each of the four teens slightly differ in age, with different family dynamics that we learn about as we go and have their own quirks and personality traits that work well as we see them not just as a friend group but a crew of chosen family. A family in the wake of losing one of their own (Daniel) a year before we meet them.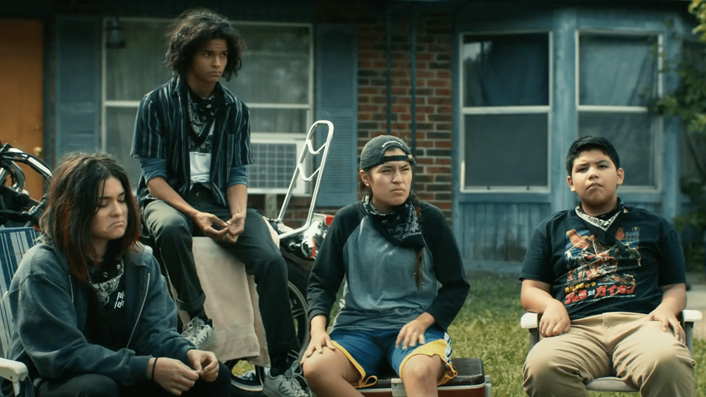 The small eastern Oklahoma town of Okmulgee, where the Muscogee Nation is headquartered, and its history has a clear presence, its influence on the restless young characters is strong and grounds the show. However Waititi's involvement brings a feeling of universality to the experience that lets you draw similarities to other Indigenous experiences. Which allows you to feel like you're in on what feel like inside jokes.
Not that the show alienates those who wouldn't understand (or maybe it does). In any case, Reservation Dogs is storytelling in its most authentic form. The first four episodes bring a sense of truth that is specific to the Oklahoma Native experience and unlike anything that has aired before. Hard to think that Harjo was having trouble finding funding before teaming up with Waititi.
The adults in our Res Dogs' lives are well-meaning and also funny. They alternate between wanting to help them stay young, curious and somewhat innocent, and wanting them to understand the realities of the world—in particular the reservation.
The characters are likeable and human, flawed and raw—from the main characters you are endeared to from the beginning to adults like beleaguered cop Big (played by Zahn McClarnon) whose interactions with the Res Dogs get more and more hilarious. Hell, even the doctor in the NDN Clinic gave me a couple of chuckles.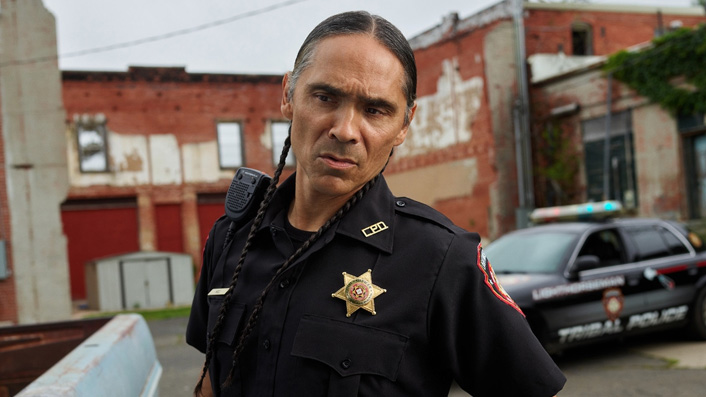 Reservation Dogs doesn't try to be anything other than what it is, a slice-of-life coming-of-age dramedy about a group of teens who are trying to figure out life. However in just being made authentically (with Indigenous creators at the helm) the show has become one of TV's first First Nations stories of its kind, breaking stereotypes and forgoing the usual reductive clichés about reservation life.
Can't wait to see what the rest of the season has for us—and it's already been renewed for a second. Cheeehoo! (Samoan equivalent of a Native American celebratory shout, or war cry.)