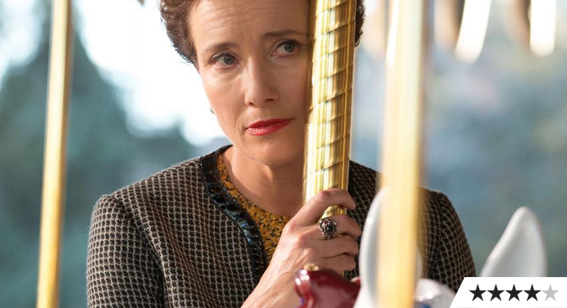 ---
"A spoonful of sugar makes the medicine go down" might have come from Mary Poppins but it's a line that could also be applied to Walt Disney films in general. So it's a welcome surprise to find that Saving Mr. Banks, with its sweeping soundtrack, emotional family backstory and Mickey Mouse motifs, is smart enough not to overdose on the sweet stuff.
That's largely thanks to the brittle Mrs PL Travers (Emma Thompson), the fascinatingly difficult Poppins author whose early life in Australia with an alcoholic father forms much of the film's narrative. She could have been easily demonized or overplayed but Thompson brings the author to life with wit and vulnerability. (Audio recordings of the author, played in the credits, show just how accurately Thompson gets the prim dialect.)
Meanwhile, the many flashbacks – featuring a convincing Colin Farrell as the drunk Dad – are sadly not as authentic and the audience is faced with the irony that they feel like sentimental Disney, the kind of thing Travers apparently despised, even if they do go some way to explaining how Mary Poppins was born.
Thankfully the heart of the story is the amusing culture clash between the repressed writer and the relentlessly optimistic Walt Disney (Tom Hanks, slightly overdoing the drawl), a man who seems the last person on earth to understand her. The scenes revealing the opposite are sensitively handled and moving and serve as a poignant reminder that even our brightest childhood stories come from dark places, something Disney knew all too well.