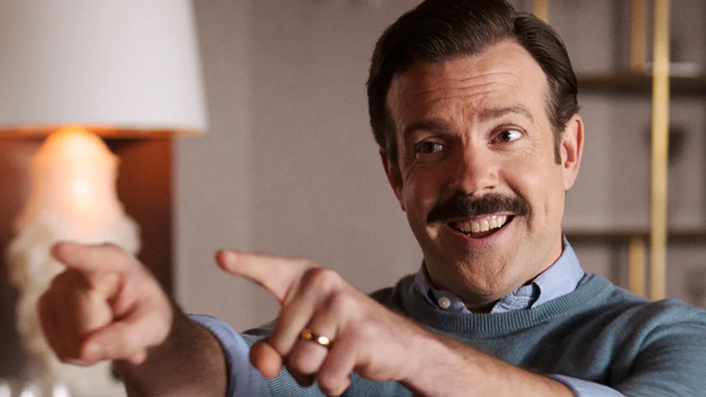 Ted Lasso's inherent niceness is back for another winning season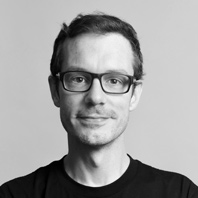 ---
Jason Sudeikis is back with a second season of the Apple TV+ comedy series that earned him a Golden Globe. Fans will already know – new viewers faced with something this genuinely positive will find it hard to not be won over, writes Tony Stamp.
A story did the rounds a few weeks ago regarding the actor Jason Sudeikis at the Ted Lasso season two premiere. He was wearing a t-shirt that read "Jadon & Marcus & Bukayo". Those are the names of three players on the English football team who missed penalty kicks in a European Championship match. The players are Black, and were subjected to a barrage of racist abuse, which four people were arrested for their part in.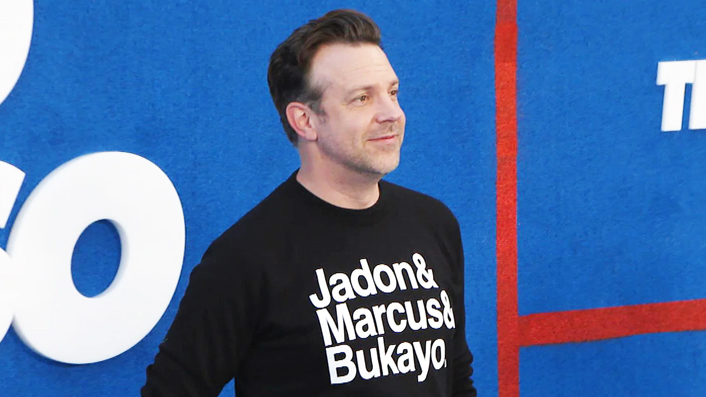 When Sudeikis was asked about the shirt, he told the Associated Press "It's just in support of the three fellas from the English team in the Euro final. They've caught a lot of unnecessary guff from unnecessary people. I'm just giving them a holler, letting them know that even over here in the States we have our own issues with what they're going through and letting them know that they're not alone."
See also:
* Movies now playing in cinemas
* All new streaming movies & series
This may as well be dialogue from Sudeikis' show Ted Lasso. In it he plays the title character, an American football coach transplanted to England who's a constant font of positivity and folksy wisdom. He also has a knack for diminishing thoroughly awful things by referring to them with words like "guff", and by the same token can make a phrase like "unnecessary people" feel like a devastating insult because it's so knowingly underplayed.
I knew Sudeikis from his run on Saturday Night Live, his role in Colossal, and two hilarious appearances on It's Always Sunny In Philadelphia where his outer cheeriness masks an inner awfulness, so I had an impression of him as a guy who fits a certain callous type of character.
He's played nice guys before in movies like Sleeping With Other People, even We're The Millers, but nothing has fit quite like Lasso. Maybe that's because he co-created the role. It's still surprising to learn he speaks just like the character.
When The A.V. Club reported on the t-shirt, they included a story Uproxx writer Mike Ryan shared on Twitter about Sudeikis connecting with him after the death of Ryan's father. It's very moving, and just cements that the guy is thoroughly decent. He also got great reviews for his awards show Zoom appearances, opting for a comfortable hoodie over a tux and looking like a man who'd recently been broken up with.
All this preamble is to underscore that Ted Lasso is a show about decency. It's received rave reviews for its good natured tone, and that tone seems to stem from its lead and co-creator.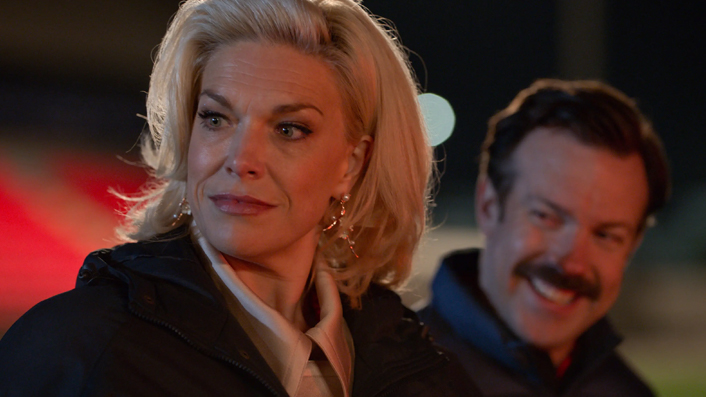 According to Hannah Waddington, who plays Club Owner Rebecca Welton, "He's a constant presence, and he's very much the last conduit through which everything goes. Rightly so, he's the whole vibe of all of it."
In season one Welton brings on Lasso to coach the UK football team she owns because she wants him to fail: her ex-husband used to run the club and she wants to hurt him. Lasso is hopelessly out of his depth, and doesn't even understand the basics of the game, but he calmly takes it on and over the course of the season wins over Welton, the team, the press, and the fans, with his unrelenting good nature.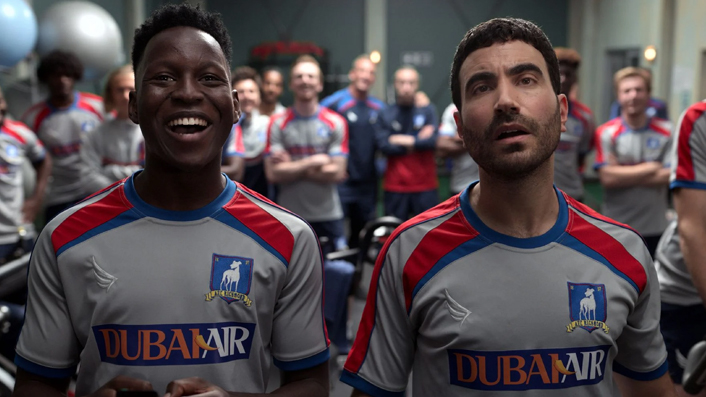 The idea of a Midwestern American in the UK, and the culture clash that suggests, is a big part of the appeal, and while you might be imagining laughs at the expense of a boorish yank, that's not quite it. The show is broad but not crude. Its humour partly comes from gentle, very British wordplay, and partly from defining its characters well then letting them rub up against each other.
Lasso is the constant around which these characters orbit, but it's very much an ensemble show. In fact it was nominated for Best Ensemble at the SAG Awards, so the cast filmed a charming video in response, which manages to capture the series' appeal in just a few minutes.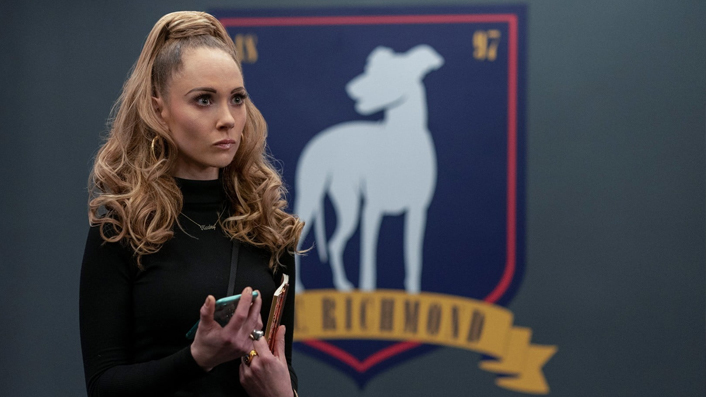 Waddingham is imposing as the club owner, and Keeley (Juno Temple) is in awe of her. Keeley used to date hot-headed player Jamie Tartt (Phil Dunster), but now dates equally hot-headed player Roy Kent (Brett Goldstein, who also writes on the show). There's also Coach Beard, Nate the Great, Leslie Higgins (a character as funny as that name suggests), and around twenty supporting players, all of whom get their own quirks. The most impressive thing about the show might be the way it balances these interactions, and wrings chuckles out of them all.
Season two introduces a sports psychologist called Sharon, and she becomes Lasso's main foil. Because while the series celebrates his optimism, it also recognises that bottling up anything negative might not be for the best in the long term. He suffered a panic attack in season one, and as the show delves into the reasons why it grows increasingly dramatic.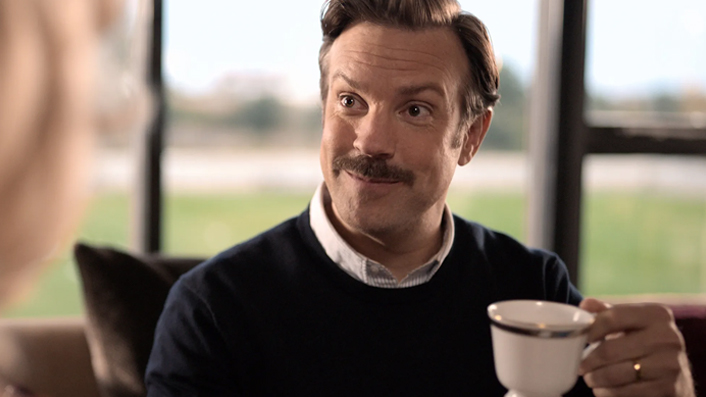 And I think that's what makes Ted Lasso so compelling. All these characters are pretty nice to each other, save for the odd ribbing. But comedy and drama spring from conflict, and while yes, all this niceness feels like a balm for trying times, it would get boring pretty quickly if that was it.
Much like Sudeikis' "unnecessary people" quip, the writers know they just need to inject a tiny amount of darkness and it will feel immense. Sometimes that comes from outside figures making a brief appearance, like Anthony Head's slimy cameo in season one as Walton's ex. But often it comes from the characters' blind spots, which makes them do shitty things. In true sitcom fashion they pretty quickly realise their mistakes and atone for them, and the show is really good at these moments. They feel great. You feel happy for them. It's nice.
Having said that: I've watched eight of the twelve episodes in season two, and without spoiling anything I'll say one character performs a massive heel turn that still isn't resolved, and it hits like a tonne of bricks.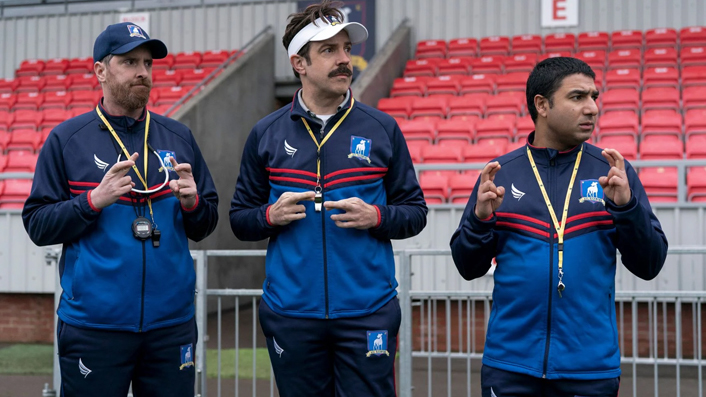 This is also a series about sports, and uses that to its advantage. Plenty of pathos comes from wanting AFC Richmond to win, and season two cranks up those stakes, with more matches to get involved in. Lasso was an underdog for most of season one, and the show needs to come up with ways to keep Richmond on the back foot. There's also new romance, a continuing romance, big egos are humbled, small ones swell, and Leslie Higgins is forced to use a closet as his office (and doesn't mind even slightly—again, these people are all thoroughly affable).
Sign up for Flicks updates
Beyond the culture clash of its story, it's interesting to watch an American show that's set in the UK. Its mix of sensibilities has clearly been carefully thought through, and never feels forced or fake. Nor does its inherent niceness. Again, there's probably a very good reason why 'nicecore' shows like this one, Schitt's Creek and Joe Pera are so popular at this point in time.
A character like Lasso, who only wants the best for others, who's so thoroughly decent he forgets about himself, almost feels like a direct response to the likes of Tony Soprano or Logan Roy. And much like the sneering UK press in the show, viewers faced with something this genuinely positive will find it hard to not be won over.