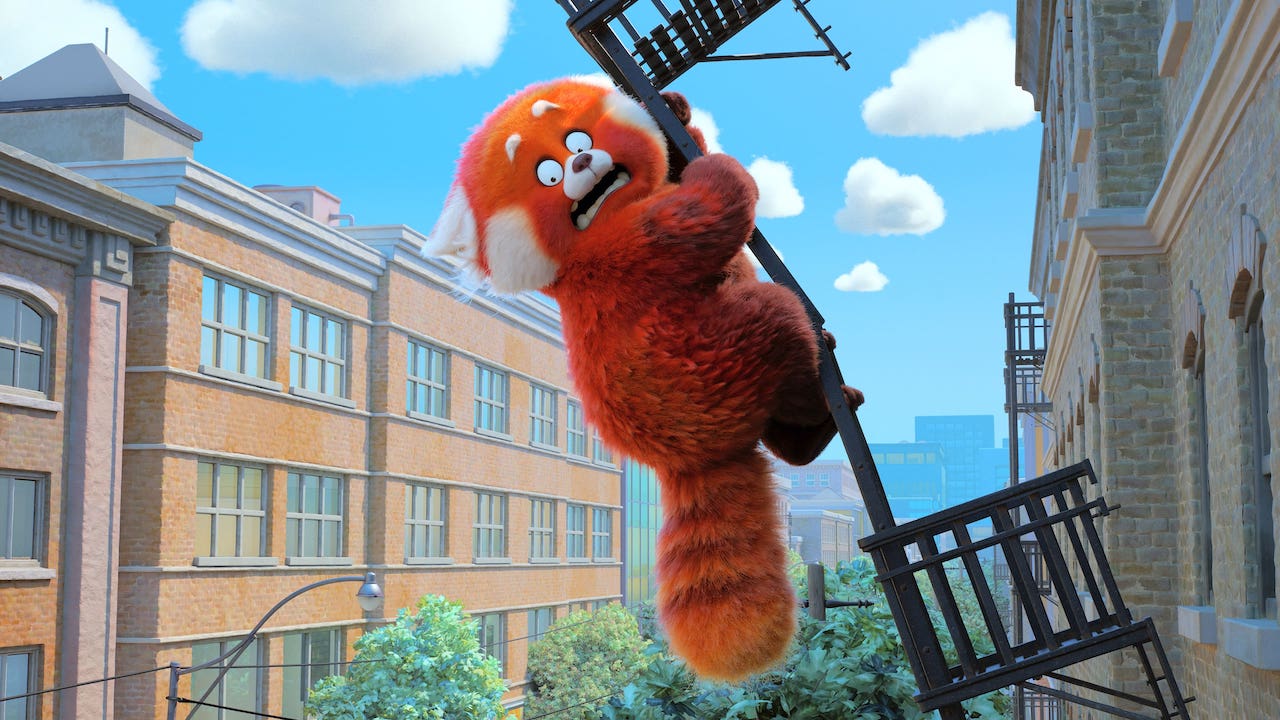 Turning Red is a big, fuzzy, funny metaphor for puberty

---
Pixar's latest movie for Disney+ is hyperactive, hilarious, and unafraid to get hairy in its story of a tween turning into an ancient red panda being. Eliza Janssen squees at Turning Red.
Red sure is a ripe colour for symbolism on screen. Schindler's List and The Sixth Sense (both totally, utterly irrelevant to this cute kids movie) use it as a nifty storytelling device. It's considered lucky in Chinese-Canadian teen Meilin Lee's ancestry, seen on her family temple's walls and lanterns.
And it's pretty potent too as a metaphor for perpetual teen embarrassment, signifying both blushing and menstruation. Mei's mum Ming (Sandra Oh) assumes that's what her daughter's going through at first, too, and puts it more delicately than I did, asking in a whisper through the bathroom door "has the red peony bloomed??"
Alas, the truth is far more weird for poor Mei, voiced with awkward gusto by newcomer Rosalie Chiang. Pixar's Turning Red is still a big, fuzzy, apt allegory of puberty, but oblivious younger viewers will get something from it, too, as merely the magical story of a young girl who transforms into a huge red panda whenever her emotions run high. And, being a boyband fangirl determined to live up to her parent's expectations 24/7, Mei's emotions run at about the height of the Toronto's CN Tower, ever-present on the pastel skyline.
Sign up for Flicks updates
Call it a curse, or the mystical ancient ancestral gift it's explained to be: I call it fricking adorable, the kind of brainwashingly cute character design that Disney must design in a lab far below the earth's surface for maximum merch appeal. Mei's peers at school think so, too: soon they're paying her to get photos and T-shirts of her panda form, raking in enough money for Mei and her mates to see their beloved 4*Town in concert.
Potential triggers include: a box full of squee-inducing kitties, a schoolyard bully, the flirtatious excitement of drawing your boyband crush as a sexy merman and—most agonisingly of all—an overbearing mother who isn't afraid to bring you a pack of sanitary pads in the middle of the school day.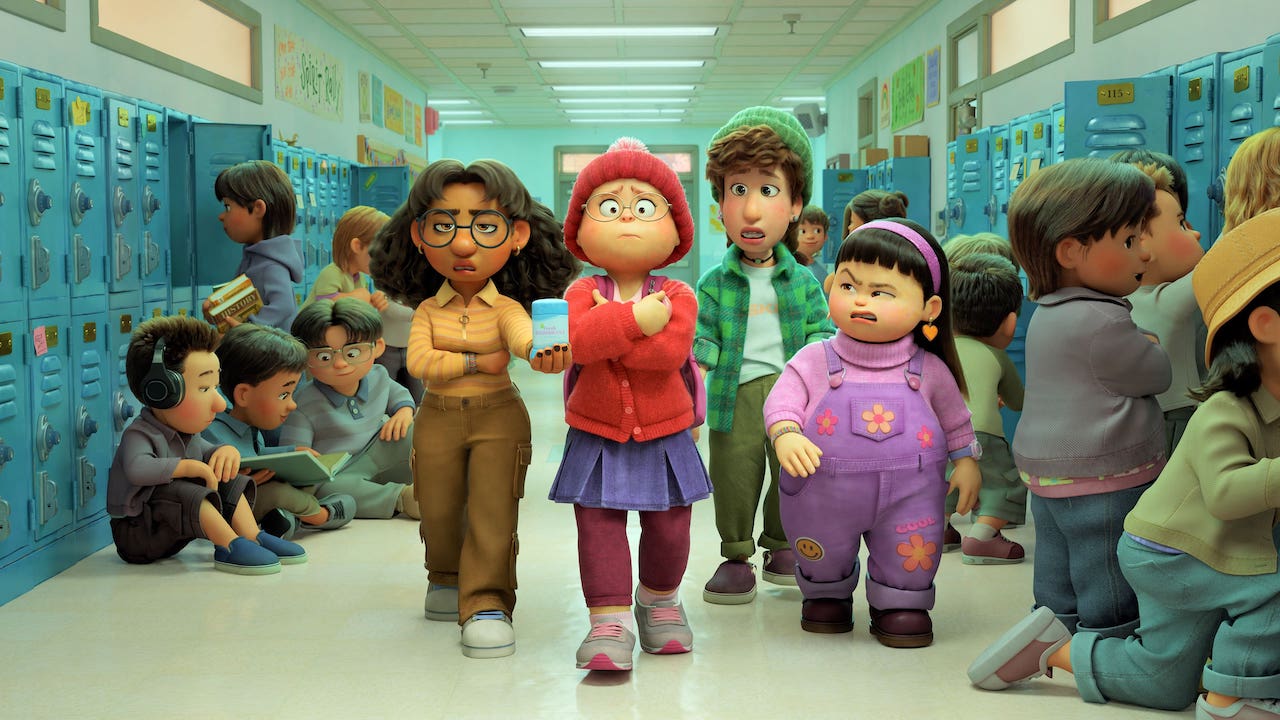 Tweens in the audience will shriek at these moments, whilst Pixar's typical demographic should enjoy Mei's OTT reactions even if they lack some understanding. In fact, Turning Red might be Pixar's first movie to court a slightly older, coming-of-age audience, as opposed to primary schoolers and their Gen X parents—the sole exception might be Violet's romantic misadventures in The Incredibles movies.
Our chirpy opening narration establishes that honouring her family is Mei's number one priority in life, her devotion to her colour-coded, hilariously animated friends a close second. Asian fans of Disney might roll their eyes at this recurring theme—it's extremely frequent in the company's stories with Asian protagonists, from Mulan and Raya and The Last Dragon to even Bao, the tearjerking short that got animator Domee Shi the lead directing job here. Oscar-nominee Encanto went for a similar approach to the intergenerational heartstrings, teaching kids that it's okay to yearn for independence whilst encouraging adults in the audience to lay off a lil.
BRB though I gotta think about my honour for the fourth time this hour it's very important to me, as you can tell from movies that your people have written about my people.

— Simu Liu (刘思慕) (@SimuLiu) September 5, 2020
At least Turning Red commits to its story of over-protective pressure whole-heartedly, introducing Ming's own domineering mum (Wai Ching Ho) and aunties in the movie's more complex second half. Before Mei has to really knuckle down on controlling the panda within, it's a delight to watch her fumble through the life of 2002 Toronto teen: all Tamagotchis, flip phones, and that ever-present face-fanning love of teen pop, the film's characters adorably unashamed of their shared obsessiveness. Her idol's songs, written by Billie Eilish and brother Finneas, are truly catchy, and will take any Disney Adults in the audience back to their millennium-era fangirl days.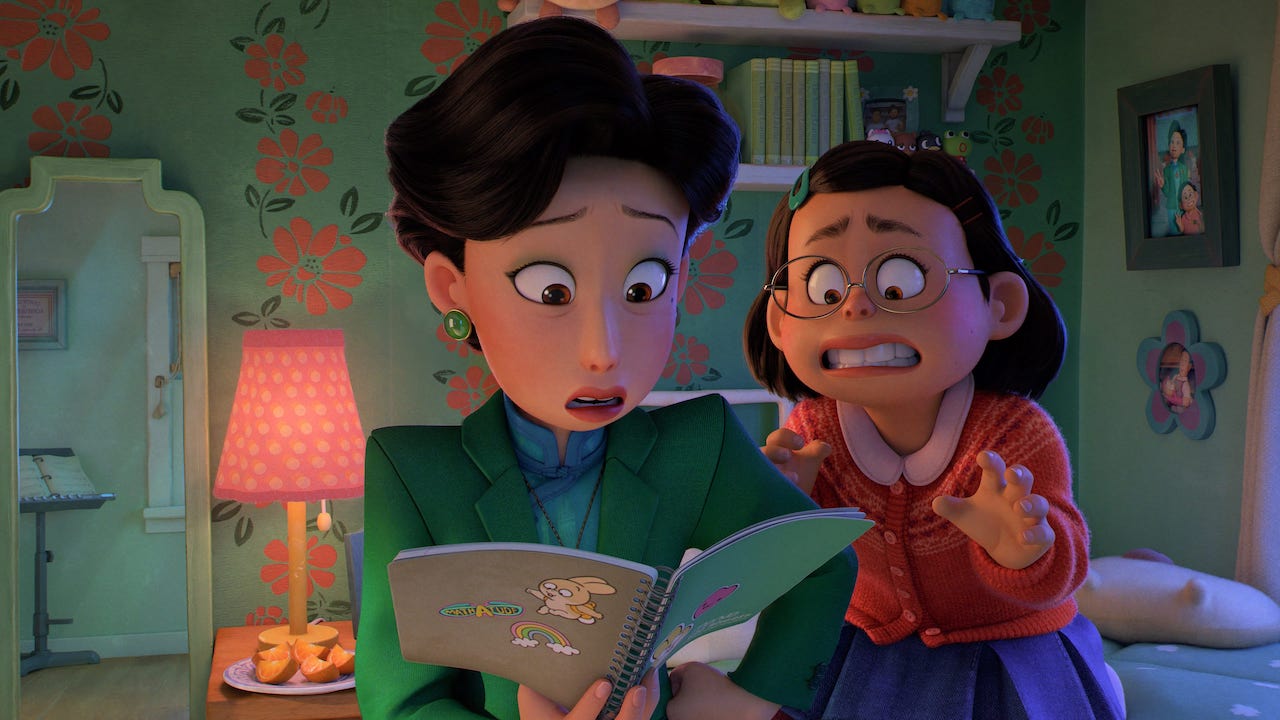 In terms of aesthetics and pacing, though, some grown-ups who are well past Mei's period of tween angst might find themselves a little beleaguered by the obvious kawaii influence on Turning Red. Zingy montages and twerk-happy gags will wear down viewers who aren't on board for the sugar rush, or who don't find the frequent smash-cuts to Mei and co. pulling an exaggerated manga-like expression of horror as funny as I did. It all looks closer to something like the hyperactive Lego Movies or The Mitchells Vs. The Machines, leaving Pixar's celebrated hyper-realistic, lyrical style behind. I will say there are some quick cooking shots that give the mighty Ratatouille a run for its money.
In any case, that fresh and bratty tone is still grounded by the parental narrative. In my screening I saw plenty of parents reaching over to give their offspring's hand a warm squeeze as Mei and Ming's relationship is tested. It was difficult to not emote a single succulent anime tear of my own, when Oh gently admits to her daughter that she knows she can't stay a perfect little girl forever: "the further you go, the more proud of you I'll become". Man I wish there was a big squishy red panda nearby to bury my sobbing face into.