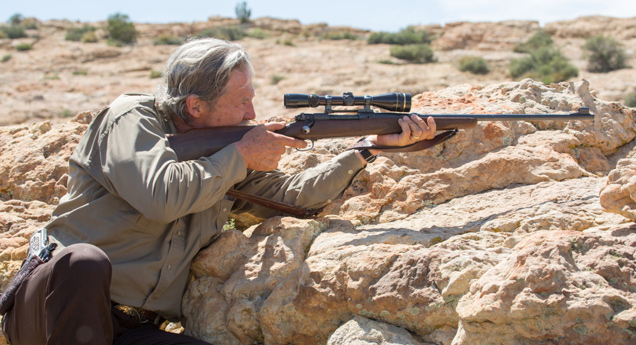 A unique thing happened in between the time we were kindly offered an interview with David Mackenzie, director of the excellent Hell or High Water, and the time we actually interviewed him – reality TV star Donald Trump became the new President-elect. It was a political upset felt across the world, so naturally, we have a few extra questions to get off our chest. Who better to answer them than the filmmaker behind one of the best American films this year?
'Hell or High Water' is now playing in cinemas – find movie times near you
You can listen to the audio here or read the transcript below…
---
FLICKS: So I had a whole bunch of questions written up on Wednesday my time, and then Donald Trump became president. You seem to have a great understanding of Americans and America, what do you make of the whole situation?
DAVID MACKENZIE: Very hard one to say, because we made the film like a year and a half ago, and at which time the phenomenon that became what has just happened wasn't really around. But obviously, the underlying forces that were unleashed are definitely part of the landscape of what we were doing. We tried to make a film that was political but we weren't trying to go one side or the other — we were just trying to shine our light into the thought-lines of modern America.
I didn't anticipate what happened on Tuesday, and I think all of us are slightly bewildered by it. I have a kind of anxiety that I hope the film, in some way, wasn't taken to heart by people and had an influence, because that was certainly not the intention of the film.
I don't know how to answer the question beyond that, but I'm not surprised your questions changed on Tuesday night.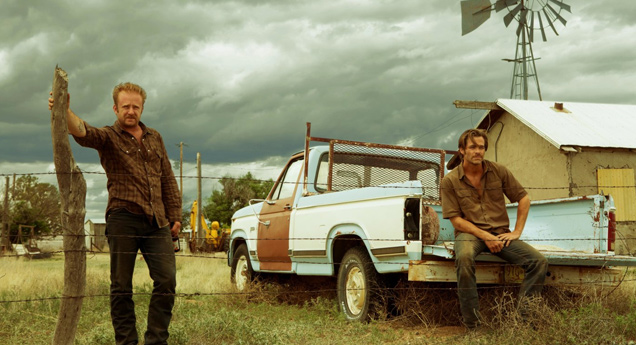 I continually think about the way the film excellently uses the environment to say a lot about the current situation – it's very clear from the opening shot. When you went to make the film, how did you approach each shot to make absolute use of the environment?
Part of the world in West Texas and Eastern New Mexico, it has got a very impressive landscape. The landscape is mostly flat and very kind of empty, and for film makers, the frame's always very uncluttered. There's not a lot going on, so things tend to be graphic and have a certain amount of emptiness and the light is very hard. So you're instantly in this environment where the filming of that environment is part of the whole thing.
Myself and my DP were both of Scottish origin. In this environment, it was hard not to be impressed by it, hard not to feel it. And so in there, we were selecting locations. It was shot on location and it was all about trying to feel the world, and trying to express the narrative of the film and the character of the film and the landscape of the film in everything we did.
Now this isn't the first American film that you've done, but do you think that being an outsider looking in on America gave you an advantage from an observational standpoint?
I didn't really want to be an outsider. I tried to understand as much as possible of what was going on and what the story was about. And the other thing is that I think American culture and global culture are almost intertwined in some ways, so in a way, I'm not such an outsider after all. So it's not really coming from that perspective.
Finding the beauty in stuff that people might find mundane if it's normal, that's definitely what an outsider does. But in terms of understanding the characters and the themes and what's going on in contemporary America, I don't think it was from an outsider's perspective. It felt like it was trying to be from within and trying to kind of reach out to each of those characters and to be sympathetic to them even if they're not necessarily, you know, good people.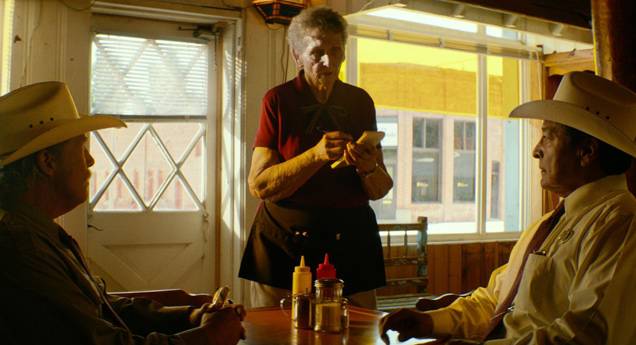 I think one of the greatest things about that film is the way it's able to exude that character within, as you say, the everyday people as well. And a lot of what makes it great is the way the film is able to infuse racism and racist jokes, but not purely in a way that people think, "Oh, that was racist."
We've seen a line that was being tread there, and it comes directly from the script and you know there's lots of script that we improvised, whether we adjusted. But that stuff we kept as was, because it felt awkward and uncomfortable to most of us who are in the film industry making the film. There was a temptation to kind of soften that a little bit.
I know Gil [Birmingham] and Jeff [Bridges] were a little bit uncomfortable. We thought, "No, no, let's go straight at it and use that material and understand that this character appears a little bit close to the edge in terms of racism," you ask questions about that then you start realising that maybe it's more race awareness than racist, maybe it's more affectionate, and it's about the weird relationship that men have, where you know there's a bit of tough love that goes on.
There's a lot of masculine communication in the film that is not necessarily about even saying what they mean. It feels like you start that journey being a little bit awkward, and then by the time you get to the end of that journey, you realise that what you initially thought is only one part of it, one part of the equation.
It's interesting to be touching on those sensitive subjects and then doing something with that. That feels like good storytelling and being able to look at these sensitive issues in the eye is something that feels important.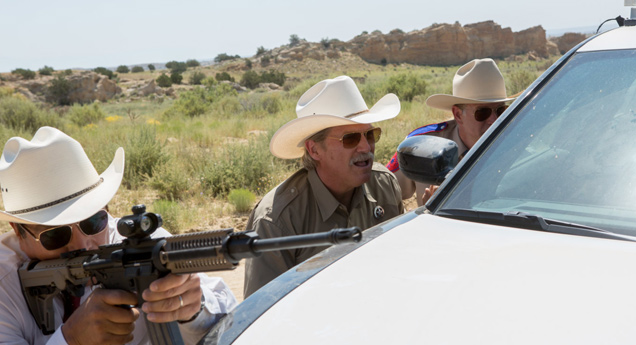 One other thing that's pretty Trump-related is the movie is quite powered by anger and fear and how that can equate to revenge and justice, although the movie doesn't really flip on whether that's all completely positive or completely negative. When it finally sunk in that Trump was president, was it all starting to make more sense to you? I mean, it's not making sense to me until I start talking about it now.
Not making sense to me either. You know, I had a meeting last night with somebody who was a Trump supporter, and then quite a lot of other people who were not. There's a lot of frayed edges. There's a lot of confusion. So I don't know the answer at all.
I feel the film very, very particularly tried not to divide itself on party political line. It was about the heartland of America. It was about dispossession. And it wasn't about Democrats are better than Republicans — it never was intended to be. And so the things that we were saying before the election have the same resonance as after the election to some extent. Obviously, the context is different, but the intentions behind the film haven't changed just because it looks like the landscape has.
So it's hard to talk about it. And I'm very uncomfortable. It's the first sort of proper conversation I've had through an interview, I've had about the film since that has happened.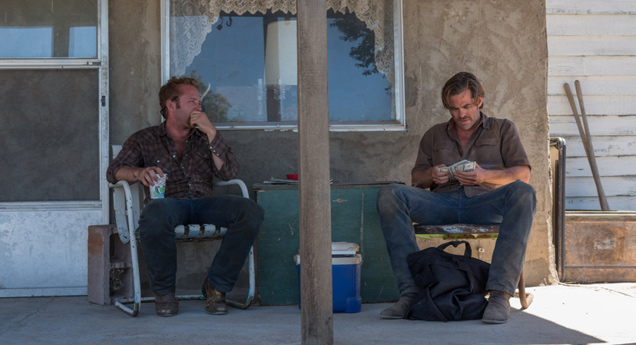 Are you making another American movie at present?
I'm not currently making one, but I don't know what I'm doing next. I've just finished doing a TV pilot, and we have a project back in Scotland that we're trying to get off the ground. But I had a good time making this film, and I really enjoyed my cast and I've really enjoyed the plus of working in the American system and so there's no reason why I wouldn't do it. It was a good experience.
Can you recommend me a film to watch?
American Honey – it was made right about the same time, in around about the same place, by another British film maker, Andrea Arnold. I thought it was pretty beautiful.
The last thing I actually saw was Werner Herzog's volcano documentary on Netflix, Into the Inferno, which is relevant to anyone who lives on a fault-line. It starts off thinking about it as volcanology but it ends up being kind of about culture and humanity. Iit's a deceptively simple idea that turned out to be a kind of rich, kind of humanistic exploration.
That sounds very Werner Herzog.
It's very Werner Herzog — I like his work but this is a particularly special one, I think.
Awesome. Thank you so much for talking to me, David.
I'm coming to New Zealand, by the way, next month.
Oh, when?
Like on the 19th or something for three weeks.
I got a spare couch if you want to crash on it.
Okay, thank you [chuckles].