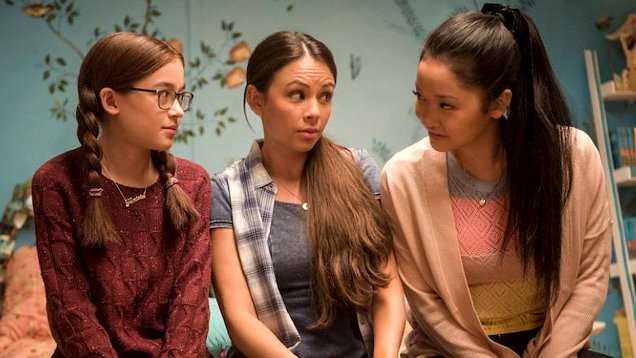 10 teen movies you should watch on Netflix and 5 you should avoid

---
Boasting a variety of hits including To All the Boys I've Loved Before and Dumplin', Netflix has become known as a home for teen movies. Jenna Guillaume sorts through the collection to find the gold and the duds. 
A good teen movie captures the raw roller coaster of emotions that is being an adolescent so perfectly that even if you're long past high school, it can still move and delight you. It's the kind of movie that treats its teen characters with respect – like actual human beings, as opposed to weird creatures to be observed or laughed at (and never with).
A bad teen movie does…not. Bad teen movies are typically over-the-top, clichéd, all gloss and superficial jokes with no heart to ground them. To help you sort the muck from the gold and avoid wasting valuable bingeing time, here's a run-down of the teen movies on Netflix you should definitely watch, and those you should avoid (it goes without saying that classics like Clueless, The Breakfast Club, Ferris Bueller's Day Off, Juno and Mean Girls are worth watching and have thus been left off this list).
Teen movies you should watch
This was one of Netflix's most rewatched movies of 2018, and for good reason; see it once and you'll be hooked for life. In a world that feels increasingly bleak, To All the Boys I've Loved Before offers a cosy respite, telling the story of introverted homebody Lara Jean (Lana Condor), whose world is turned upside down when the secret letters she's written to her crushes mysteriously get mailed to them.
Sign up for Flicks updates
One ends up with Peter Kavinsky (Noah Centineo), the most popular guy in school and a dreamy jock to boot – but with more under the surface than your typical lacrosse-playing stereotype. The stakes are as low as who sits next to who on the school bus, but director Susan Johnson treats them with such sensitivity that you can't help but be invested. It's a sweet, funny and tender movie, and if you haven't watched it 117 times already, it's time to get on board before the sequel comes out in the not-too-distant future.
In 2008, Michael Cera and Kat Dennings were audience darlings thanks to their respective adorkable/snarky charm, and as the titular characters in Nick and Norah's Infinite Playlist they embraced their own personal brands to perfection. The two teens experience one wild night together in New York City, starting off as strangers and ending up, through various hijinks, with the kind of deep connection that often only seems possible in movies. Cera and Dennings' performances and chemistry really ground the plot, and make this an endlessly rewatchable ride.
Alex (Daniel Doheny) wants to lose his virginity to his girlfriend Claire (Madeline Weinstein) – until he unexpectedly finds himself attracted to the mysterious Elliot (Antonio Marziale). His journey exploring his sexuality is by turns funny, sweet and moving. While this is by no means a perfect movie, it displays flashes of brilliance and overall it's a joy to watch.
Willowdean Dickson (Aussie Danielle Macdonald) is a plus-size teen who loves Dolly Parton and hates the beauty pageants her mother (Jennifer Anniston) is obsessed with. When Willowdean enters the Miss Teen Bluebonnet Pageant out of protest, she unwittingly starts a movement, as other outcast girls in town follow her lead and enter too.
While there is a sweet romance in this movie, the true heart and beauty of it is in the relationships between women – the fraught mother/daughter bond as well as the connections Willowdean builds (and occasionally tears down) with the other misfit girls. After the mess that was Sierra Burgess is a Loser (not to mention the appalling original series Insatiable) it's refreshing to see that yes, Netflix can tell a plus-size teen girl's story with humanity and affection.
If you haven't yet seen this brilliant British rom-com from 2008, get onto it. It's a hilarious tale starring Georgia Groome as Georgia Nicolson, a melodramatic girl who only cares about hanging out with her friends and impressing boys. That might sound annoying, but anyone who has ever been a 14-year-old girl – or known one – will be able to relate to the cringe-worthy scrapes Georgia gets herself into on her quest for kisses and coolness. The whole thing is just so damn charming and fun.
This movie was hugely popular in Japan when it was released, and has since found fans all around the world. It's about two teens (voiced by Ryunosuke Kamiki and Mone Kamishiraishi in the original Japanese) who have never met, but who inexplicably wake up in each other's bodies. It starts off as a broad comedy, but there's a twist at the halfway point that shifts the tone in a breathtaking way. J.J. Abrams is set to produce a live-action remake of Your Name, but it's well worth watching the original if you haven't already. The stunning animation is enough reason, but the story itself will also burrow its way under your skin and into your heart.
Lona (Sami Gayle) and Bennett (Jacob Latimore) come from completely different worlds and absolutely hate each other. The only things they have in common are their passion for the debate team and their affection for their school counsellor (Helen Hunt). But when tragedy rocks their world, they start to learn they're more similar – and they like each other a lot more – than they previously thought. Candy Jar is quirky and a little flawed, but ultimately warm and sweet. Plus, Christina Hendricks and Uzo Aduba are great as Lona and Bennett's mothers who have a rivalry of their own.
Dave (Dylan O'Brien) and Aubrey (Britt Robertson) are both interested in the wrong people when they meet at a party, spend one weekend together and learn just what the right person for them might look like. There's a lot of sex talk, as the title suggests, but this isn't an American Pie-style romp – it's actually surprisingly quiet, real and tender. A lot of its success is thanks to the chemistry between O'Brien and Robertson, who dated in real life after meeting on set.
You probably don't need me to tell you how brilliant this movie is, but I'm going to anyway, just in case. With a dream cast of America Ferrara, Blake Lively, Alexis Bledel and Amber Tamblyn, Sisterhood of the Travelling Pants is as cheesy and odd as the premise suggests: four very different friends find one pair of magical pants that mysteriously fit them all, and use them to stay connected over the course of a summer apart. Once you accept that weirdness and move on, you find a lovely and authentic portrayal of what it's like to be a teen girl, and how it feels when the worlds around you and within you are changing and you're not quite sure how to deal with it. If this movie doesn't make you laugh and cry, you probably don't have a soul. Sorry.
If the title of this movie reminds you of Nick and Norah's Infinite Playlist, it's because they're both based on books by the same co-authors – David Levithan and Rachel Cohn. This time, the story is about Naomi (Victoria Justice), a teen in love with her gay best friend Ely (Pierson Fode). Things get even more complicated when they both fall for the same guy. While the characters can seem a little irritating at first, the exploration of friendship and the ways you form your own family as you grow up is quite lovely.
Teen movies to avoid
Elle Evans (Joey King) and Lee Flynn (Joel Courntey) have been best friends their whole lives, but their friendship falls apart when Elle starts dating Lee's older brother, the hunky Noah Flynn (Australia's own Jacob Elordi). Despite the young performers trying their best (and a wasted Molly Ringwald trying her best as the Flynn boys' mother), the movie is a hollow, gross and misogynistic mess.
Despite being released in 2018, it somehow ends up being far less progressive than the classic teen movies it so desperately wants to be and so blatantly copies. Like To All the Boys I've Loved Before, The Kissing Booth was one of the most rewatched movies on Netflix last year – only this time, there's no good reason, other than that sometimes people make really questionable choices in the privacy of their own home.
Sierra Burgess is a Loser
This movie held so much promise before its release. Fresh off his star-making turn in To All the Boys I've Loved Before, Noah Centineo was back as another sensitive jock, here named Jamey, while Shannon Purser finally got the attention many people felt she deserved as Barb in Stranger Things, scoring the lead role of Sierra.
The premise – an updated version of the Cyrano de Bergerac story – also had potential. Which is why it's so disappointing that the final product is so very bad. Rather than being a cute love story, it turns into an unintentionally horrific display of catfishing, non-consensual kissing and cyber-bullying. Sierra's reprehensible actions are given a free pass because of the way she looks, which is frankly insulting. What a waste.
Another Noah Centineo stinker that proves he's only as good as the material he's been given (sorry, I still love you Noah). It's hard to sum up the plot of SPF-18 – mainly because it doesn't really exist. It involves a teen girl (Carson Meyer), her boyfriend (that'd be Centineo), her cousin (Bianca Santos) and a random musician (Jackson White) spending the weekend at Keanu Reeve's beach house (yes, really), partying, surfing and falling in and out of love with each other a bunch of times for no apparent reason. It's narrated by Goldie Hawn, features cameos by Pamela Anderson and Keanu Reeves himself, and in the end turns out to be one long advertisement for director Alex Israel's sunscreen brand. I wish I were kidding.
With a cast led by CW faves Danielle Campbell and Madelaine Petsch, this should have been a charming teen comedy. Unfortunately, the script sounds like it was written by someone who has never even been a teen, let alone interacted with one, and the plot is a Frankenstein's monster of clichés and stolen moments from other movies. It was the brainchild of the Fine Bros – the guys responsible for all those 'react' videos. Make of that what you will.
Liam (Daniel Doheny again) is a lonely home-schooled teen who rebels against his smothering mother (Judy Greer) and insists on attending a regular high school for the first time in his life. Mainly so he can get laid. Or something. This movie aims for whimsical and fun but falls pretty flat and is just entirely forgettable.