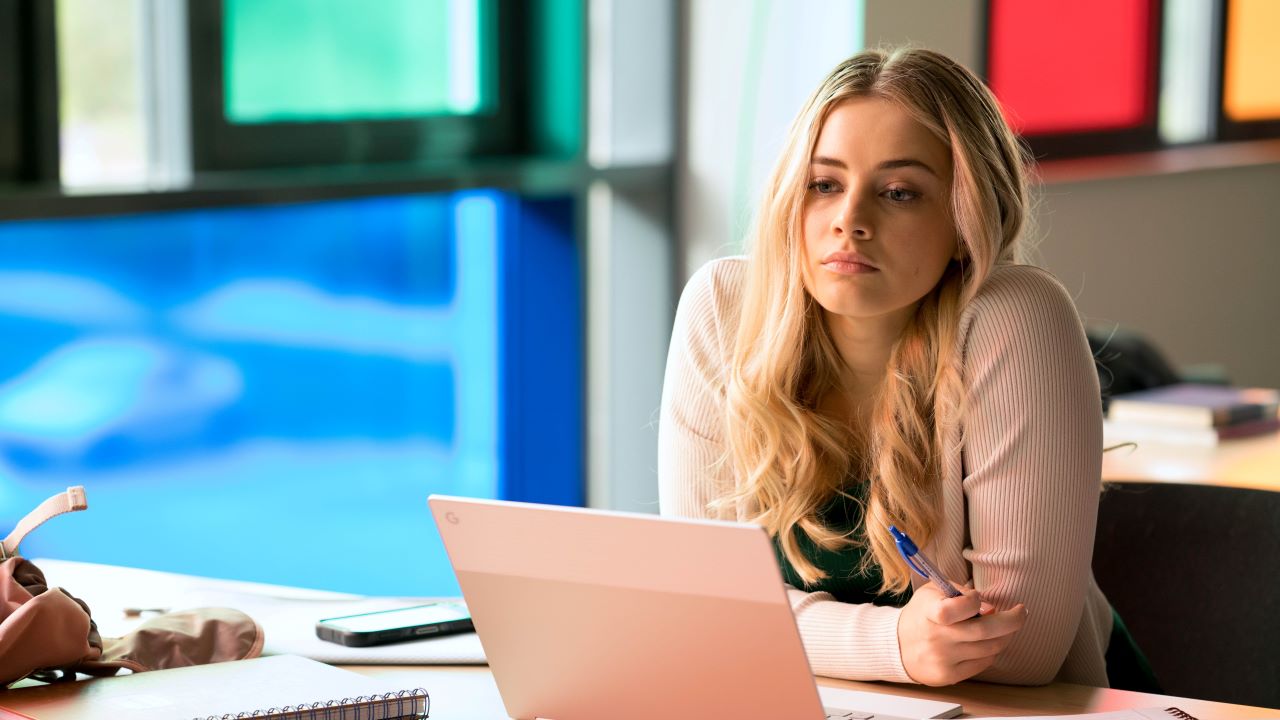 After We Fell star Josephine Langford chats to us about shooting steamy scenes and coming of age onscreen

---
To mark the arrival of the third chapter of the global sensation After We Fell, Eliza Janssen sits down with its star, Josephine Langford.

Josephine Langford seems to have made peace with 2020 getting in the way of filming After We Fell—the latest in a hugely popular YA film series based on Anna Todd's After novels. The Aussie actor spoke with Flicks from LA, noting the COVID-safety benefits for her character Tessa's steamiest moments, at least from a filmmaking perspective: "There were less people on set, which if anything is a good thing for those scenes," she says. "You want as few people in the room as possible."
Even a global pandemic couldn't stop Tessa and her bad boy BF Hardin (Hero Fiennes Tiffin) from finding their way back to each other, after three films of rollercoaster romantic tension. The newest installment, filmed back-to-back with the upcoming After Ever Happy, tests the young couple more than ever before, with Tessa excelling at a new job in Seattle and Hardin finally addressing his anger issues.
Langford is grateful for the opportunity to show Tessa's evolution, describing it as "such a privilege" to play a character over a number of films and years. "You don't often get that opportunity," she says, "and I've also aged and grown as we've done these films. So you get to kind of reflect those life experiences in the movie, while your character teaches you stuff that you can take into your day-to-day life."
From the reserved, virginal freshman in After to the self-possessed woman we see in After We Fell, Langford has indeed brought life to a character first introduced in a work of Wattpad One Direction fanfiction. Despite not being a romance devotee herself ("I don't think I've always been as big a fan as I should've been, just as 'a girl'", she jokes), Langford was initially drawn to the phenomenally-popular books for their story of selfhood.
"It's a girl coming of age, and discovering her sexuality; growing into her identity as a woman and figuring out who she is. But I wouldn't say that Tessa's confidence has reflected back onto me. I think I'm an equal mix of Tessa's confidence and insecurity."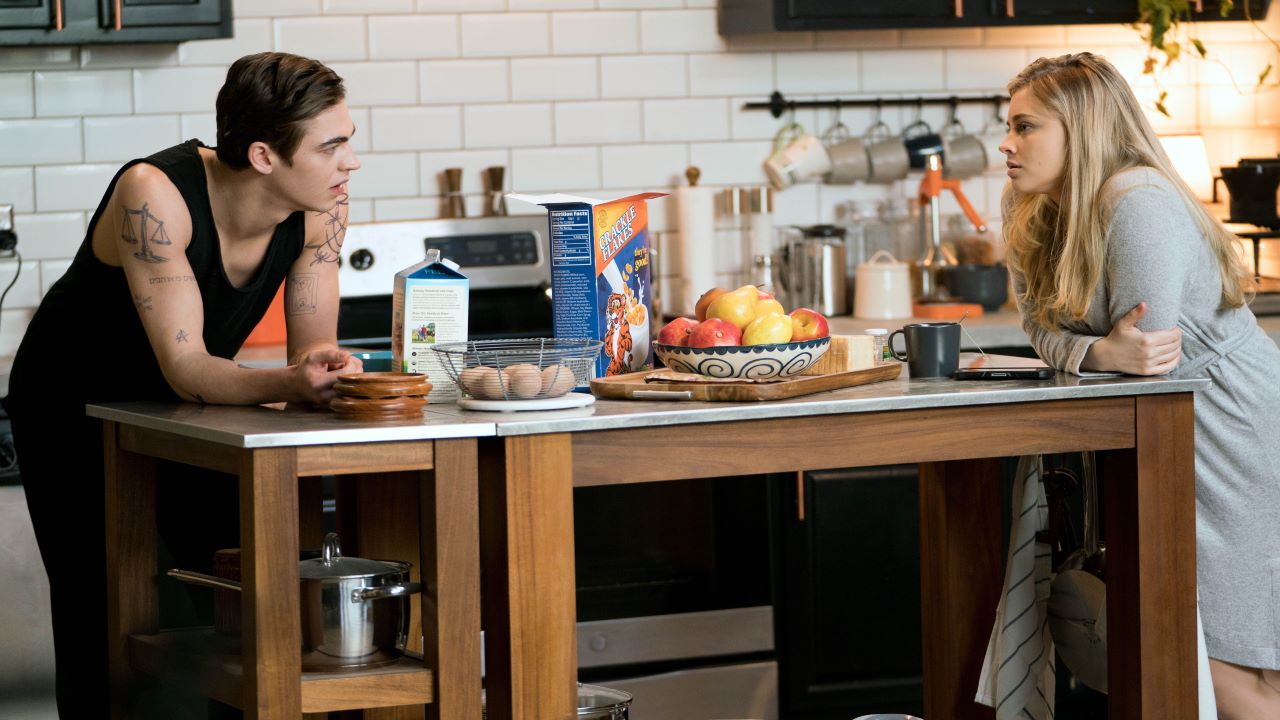 The presence of women filmmakers behind the camera may have helped to capture that contrast. Langford speaks enthusiastically about director Castille Landon, pointing out that while "in general the female gaze hasn't had time to develop", the proof comes across onscreen. "I think that softness, slowness, that sensuality is reflected in the third and fourth films because of Castile and her vision. Which probably has something to do with her being a woman."
The franchise's change of directors, as well as the recasting of some characters, was enough of an adjustment for After We Fell: even before shifting the shoot to Bulgaria, where facsimiles of world cities bamboozled the cast.
"That's movie magic! I know that when we were on the London set, Hero was Facetiming his friends and pretending it was London", Langford enthuses, pointing out again that COVID only added to her experience. "The silver lining was that we were all quarantined on this one floor and had the chance to really bond and get to know each other…and engage in all kinds of pranks and card games and board games and stuff."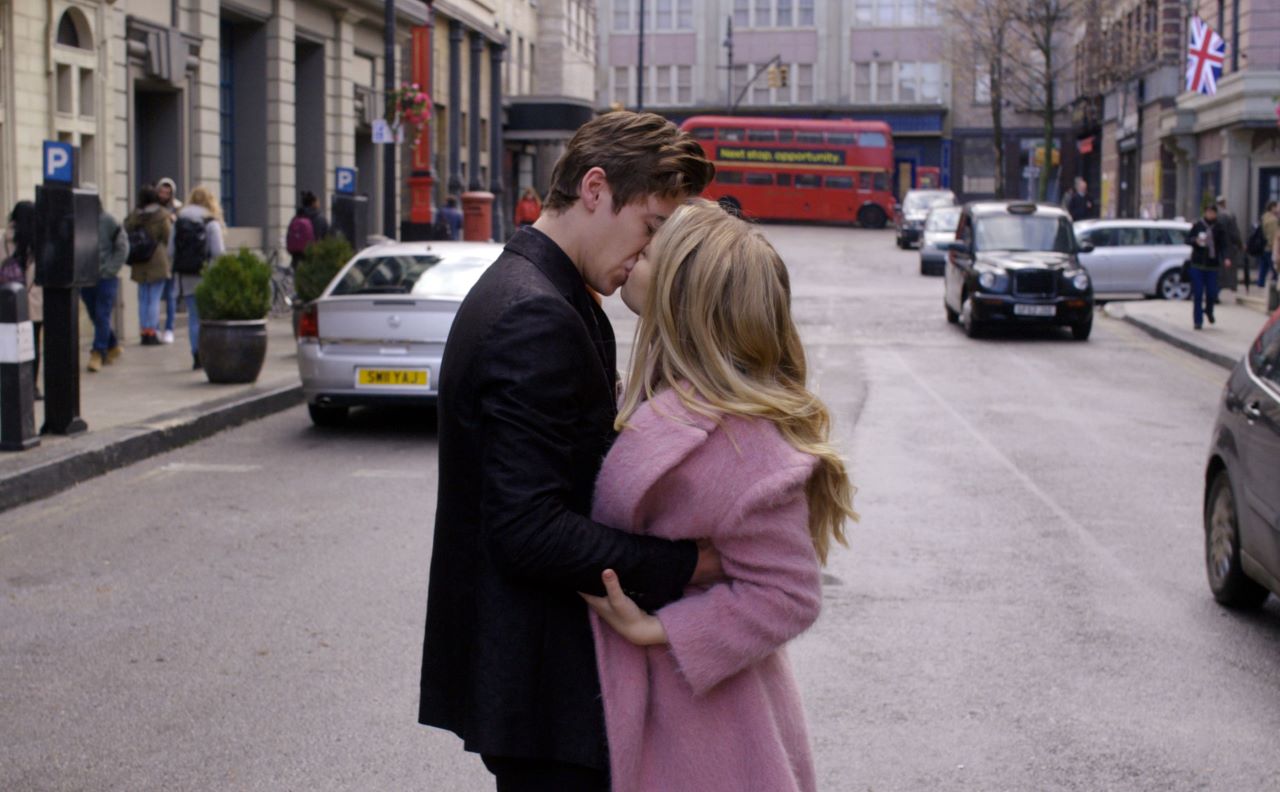 The actor is relentlessly positive about her job's "nomadic lifestyle" despite missing her family, including older sister Katherine Langford of 13 Reasons Why fame. "We've probably been in the same city in the same country for like…days at a time", she explains, hoping that both of them can make it back to Australia sometime soon. "I would very, very much like to come back for Christmas."
On the big screen, however, family life isn't so sweet for Tessa and Hardin. Both face conflict with their fathers that pulls the couple in separate directions, each forced to question where they belong.
"With Hardin, he just deals with it the way he's always dealt with things, which is a lot of anger and drinking. For [Tessa], I think it's just all this emotional stuff and messiness that reaches a breaking point, and I think that breaking point is probably the fourth film", she says.
Yikes. So what happens next, once Langford's done with Tessa? What happens after After? "I would love to do comedy! Especially period comedy", she says, listing off a few faves. "I loved The Great, The Favourite, Monty Python's Life of Brian. I'd love to do a good period comedy."