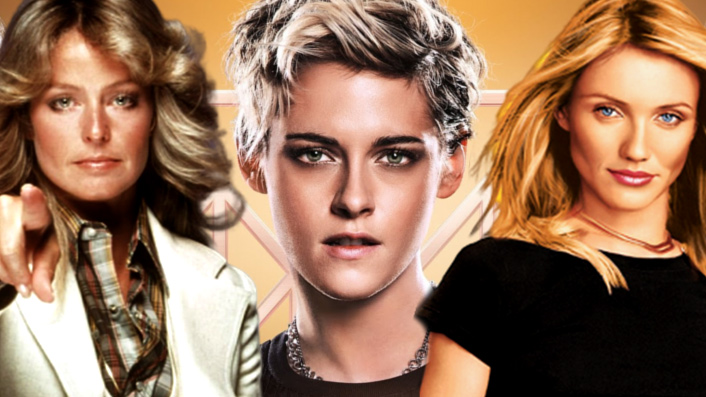 How Charlie's Angels turned outdated TV into an irrepressibly fun blockbuster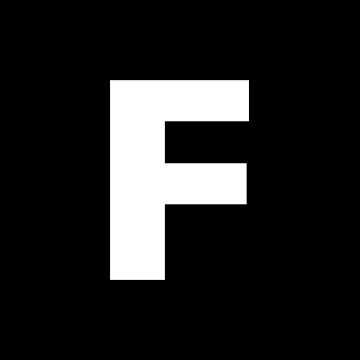 ---
A new Charlie's Angels film opens in cinemas this week starring Kirsten Stewart, Naomi Scott and Ella Balinska. It comes 20 years after the 2000 reboot, which came nearly 20 years after the show ended.
What legacy did the show leave behind? How did the original film flip the script? And what can we expect from this new reboot? Katie Parker answers those questions.
"Once upon a time there were three little girls who went to the Police Academy and they were each assigned very hazardous duties. But I took them away from all that and now they work for me. My name is Charlie."
Over 40 years since it first began, the opening lines of the original 1970s Charlie's Angels TV show remain some of the most chilling ever spoken. Inarguably creepy, extremely chauvinistic and oddly quaint, they set the tone perfectly for a show that at once empowered, infantilized and objectified women—and, even as the franchise this week sees the release of its third reboot—remain hard to forget.
Yet forget them we must, because there are new angels in town—and these ones have a closet for clothes and a closet for guns.
Sign up for Flicks updates
Boasting a female director in Elizabeth Banks (who made her directorial debut with 2015's Pitch Perfect 2), and starring Kirsten Stewart, alongside the lesser-known Naomi Scott and Ella Balinska, the new Charlie's Angels is being sold as a departure from its predecessors—promising, like Wonder Woman and Captain Marvel before it, to turn soft porn lemons into feminist lemonade to become the least problematic iteration of the franchise yet.
Which is to say, with an ethnically diverse cast, an apparently #MeToo inspired plot, and a vague intimation that Kirsten Stewart's character might be queer, Charlie's Angels is ready for a new generation—but is a new generation ready for it? And can any hierarchy that includes Charlie (the ultimate daddy) ever really be a particularly positive fantasy for women?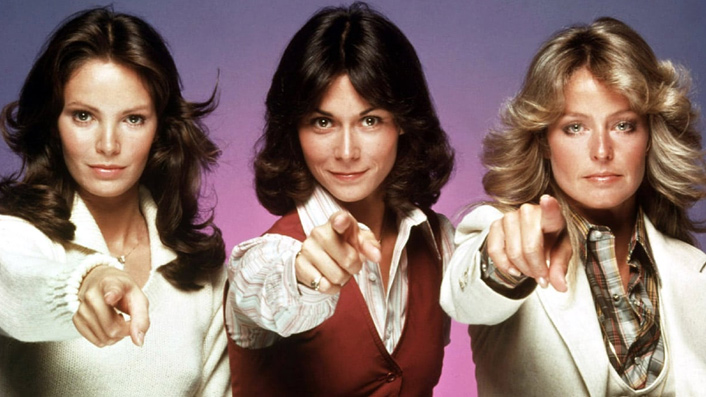 Starring Jaclyn Smith, Farrah Fawcett, and Kate Jackson (and later Cheryl Ladd, Shelley Hack, and Tanya Roberts), the original TV series was pitched as something akin to a feminist take on Baywatch. Dismissed by critics as "jiggle TV" and predicted on the fairly creepy premise of a powerful, unseen man issuing directives via speakerphone, its depiction of women doing traditionally masculine things* (*in bikinis) was, nevertheless, vaguely groundbreaking. Women could fight crime now—who knew!?
After an initial ratings boom, the show fizzled out after five seasons, but remained a cult classic—so when it was announced that it was to be rebooted as a film in 2000, nearly 20 years after the show had ended, it immediately became a Big Deal.
Starring Cameron Diaz, Drew Barrymore and Lucy Liu (ie. the biggest actresses in Hollywood at the time), the film received mixed reviews, curt accusations of male gazery (Roger Ebert called it "eye candy for the blind") and massive commercial success—taking $40m on its first weekend, dethroning Meet the Parents at the Box Office (!) and inspiring young girls everywhere to buy sunglasses with tiny diamante hearts on them.
Watching it nearly 20 years later, it's not hard to see why. Bouncy, bubbly and irrepressibly fun, the film combines the magic of star power with genuine, unadulterated joy.
Directed by the wonderfully monikered McG, and featuring the three main actresses essentially playing themselves (or at least their public personas), it was unstuffy, super silly, perfectly soundtracked—and a rare example of a female lead action film actually getting it right.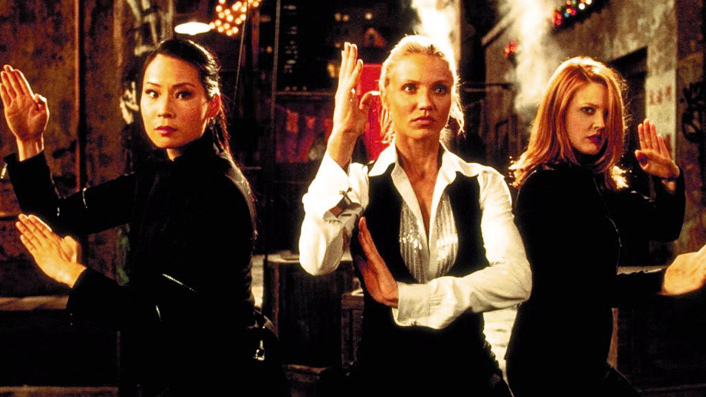 It is also a product of its time—and like many other gems from the 2000s could never be made the same way today. Like Ebert, it would be easy to criticise the film for overindulging the male gaze—one of McG's most iconic scenes sees Diaz dancing in tiny white undies before a startled UPS delivery man ("next time you can just stick it in my slot").
Yet as unsubtle as such scenes are, it's hard to see the film as actually backwards so much as mischievously wry—and with Diaz herself reaching the height of her wit and charm, you would have to be out of your mind to want it to be any other way. The film's legion of female fans would agree—2000's Angels was always in on the joke.
So what can we expect from 2019's Charlie's Angels? All we really know, as of yet, is that it's an origin story following the formation of a new gang of angels—and that, on various occasions, they will be wearing a variety of different wigs.
Given this lack of data, it's also hard to say what exactly is going to be so radical this time around. Aside from the fact that Stewart was allowed to keep her short hair for the role (as well as her sexual ambiguity), there's not a lot to go on.
Based on the fairly lacklustre trailers, it's hard to imagine this version of the film will hold a candle to 2000's—and even harder to imagine that these superficial changes will really do terribly much to alter a legacy over 40 years old. Yet, for a franchise that has always shared an essentially uneasy relationship with feminist politics, it will be interesting to see what kind of difference a female filmmaker and an apparently revamped Hollywood ethos can make—and whether moderns audiences are still interested in those three little girls.