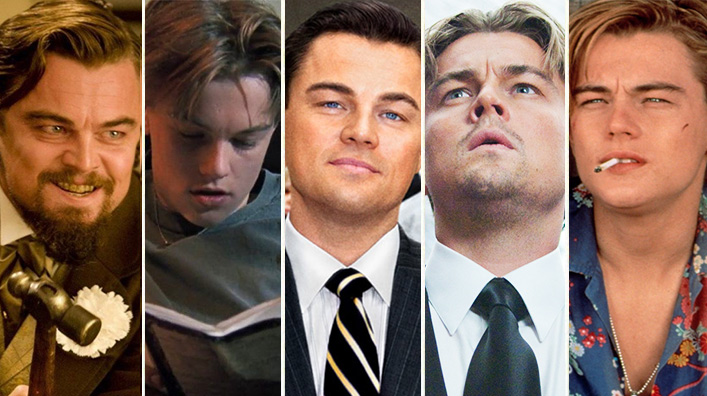 Leonardo DiCaprio's greatest performances, from Romeo to Rick Dalton

---
Leonardo DiCaprio is one of the world's biggest acting stars for a reason: he's damn good at his job. Sarah Ward picks the all-time greatest DiCaprio performances.

"That was the best acting I've ever seen in my whole life," Leonardo DiCaprio's Rick Dalton is told in Once Upon a Time in Hollywood. The compliment comes after shooting his latest scene as a TV villain for hire, after flubbing his lines moments prior, and after giving himself a manic pep talk in his trailer in-between.
There's humour behind the praise – the actor uttering such nice things is an eight-year-old – but also weight. Dalton's performance as a mustachioed old west heavy holding a girl hostage is exceptional ("Give me evil sexy Hamlet," the show's director Sam Wanamaker enthuses), and so is DiCaprio's along with it.
Finally returning to the big screen four years after he won an Oscar for The Revenant, DiCaprio is in stellar form in Once Upon a Time in Hollywood. That said, his resume is filled with roles that also earn the same description. He's one of the biggest acting stars in the world for a reason, boasting a three-decade filmography that's always been about quality rather than quantity – as his standout performances (listed below) demonstrate.
Sign up for Flicks updates
Before DiCaprio followed in Robert De Niro's footsteps – and even eclipsed them – by becoming Martin Scorsese's current favourite leading man, he played the Taxi Driver star's stepson in this adaptation of Tobias Wolffe's memoir. A '50s-set coming-of-age drama about the search for freedom in the face of abuse, the film is marked by its performances, especially by DiCaprio in only his third big-screen role (after Critters 3 and Poison Ivy).
DiCaprio earned the first of his five acting Oscar nominations for What's Eating Gilbert Grape, playing the mentally impaired brother to Johnny Depp's titular character. In a film filled with impressive performances – including Depp's, long before he settled into his current over-acting groove – there's potency and texture to DiCaprio's complicated role that demands attention, even when Lasse Hallström's film flirts with family melodrama.
Based on Jim Carroll's autobiographical novel about his slide from promising high-school athlete to heroin addict, The Basketball Diaries is the near-obligatory drug-fuelled drama on DiCaprio's resume. Most actors have one. While the film itself proves raw and unrelentingly intense, its star wholeheartedly earns both of those terms several times over, in one of his under-sung but excellent early performances.
Everything about Baz Luhrmann's decadent, energetic, in-you-face take on the Bard's greatest romantic tragedy works a treat, both back when it was made two decades ago and now. That said, in a film filled with ambitious touches that always hit their mark, DiCaprio's casting as a Romeo has always been one of the director's masterstrokes, with the pre-Titanic actor capturing both the angsty and lovelorn aspects of the character to perfection.
In 2002, DiCaprio acted his heart out in two high-profile movies from big-name directors – and opposite two huge stars. He makes an impact in both Gangs of New York and Catch Me If You Can; however, in the latter, he's an adaptable charmer as fresh-faced real-life conman Frank Abagnale. Showcasing his range, he impeccably embodies this crime caper's breezy and meaningful sides. It's hard to imagine Steven Spielberg's film working without him.
Remaking Hong Kong classic Infernal Affairs, Scorsese is in unabashed crime-thriller mode with The Departed. His sizeable list of stars – DiCaprio, Mark Wahlberg, Matt Damon, Jack Nicholson, Martin Sheen, Ray Winstone and Vera Farmiga — are all there with him. Wahlberg might've nabbed the movie's only acting Oscar nomination (the only nod out of five that it didn't win), but DiCaprio is at his wily best as a cop infiltrating a Boston mob boss' crew.
Forget Titanic. The best pairing of DiCaprio and Kate Winslet, and their best performances together, will always be found in the wrenching suburban drama Revolutionary Road. The Sam Mendes-directed film couldn't be more different from James Cameron's watery blockbuster, adapting Richard Yates acclaimed novel of the same name, charting a marriage in freefall in 1950s Connecticut.
Another big year, another big pair of movies. In 2010, DiCaprio starred in two mind-benders. Inception pips the also excellent Shutter Island, but only just. Christopher Nolan's blend of sci-fi, action and psychological thrills generally rests more on its concept, and the lauded filmmaker's twisty and trippy execution of said concept, than on its performances. However DiCaprio is in absolutely riveting form as the film's tortured hero.
Some actors have a winning way with words written by Quentin Tarantino. DiCaprio is one of them, and was long before Once Upon a Time in Hollywood. As Django Unchained's fiendish slave owner Calvin Candie, he spits florid, villainous turns of phrase with the best of them. When starring in the same film as dual Oscar winner Christoph Waltz, who nabbed both of his gongs in Tarantino's pictures (including this one), that's no mean feat.
Once again arriving in the same year, it's easy to view The Great Gatsby and The Wolf of Wall Street as two sides of the same excess-dripping coin. What Luhrmann's fictional account of wealth and indulgence boasts in visual extravagance, Scorsese's biopic of stockbroker Jordan Belfort counters in force and exuberance – not to mention DiCaprio's suitably loose, dynamic and swaggering portrayal. He matches the film's over-amped and irreverent mood perfectly.
From Once Upon a Time in Hollywood's opening, featuring DiCaprio's Rick Dalton and Brad Pitt's Cliff Booth being interviewed for a TV puff piece, both actors are at their absolute best. As Tarantino's film delves deeper into their 1969-era Tinseltown antics, that continues to be the case. But DiCaprio is tasked with the weightier part as the fading star trying to drink away his disappointments and, seesawing between devastation and playfulness, is simply superb.