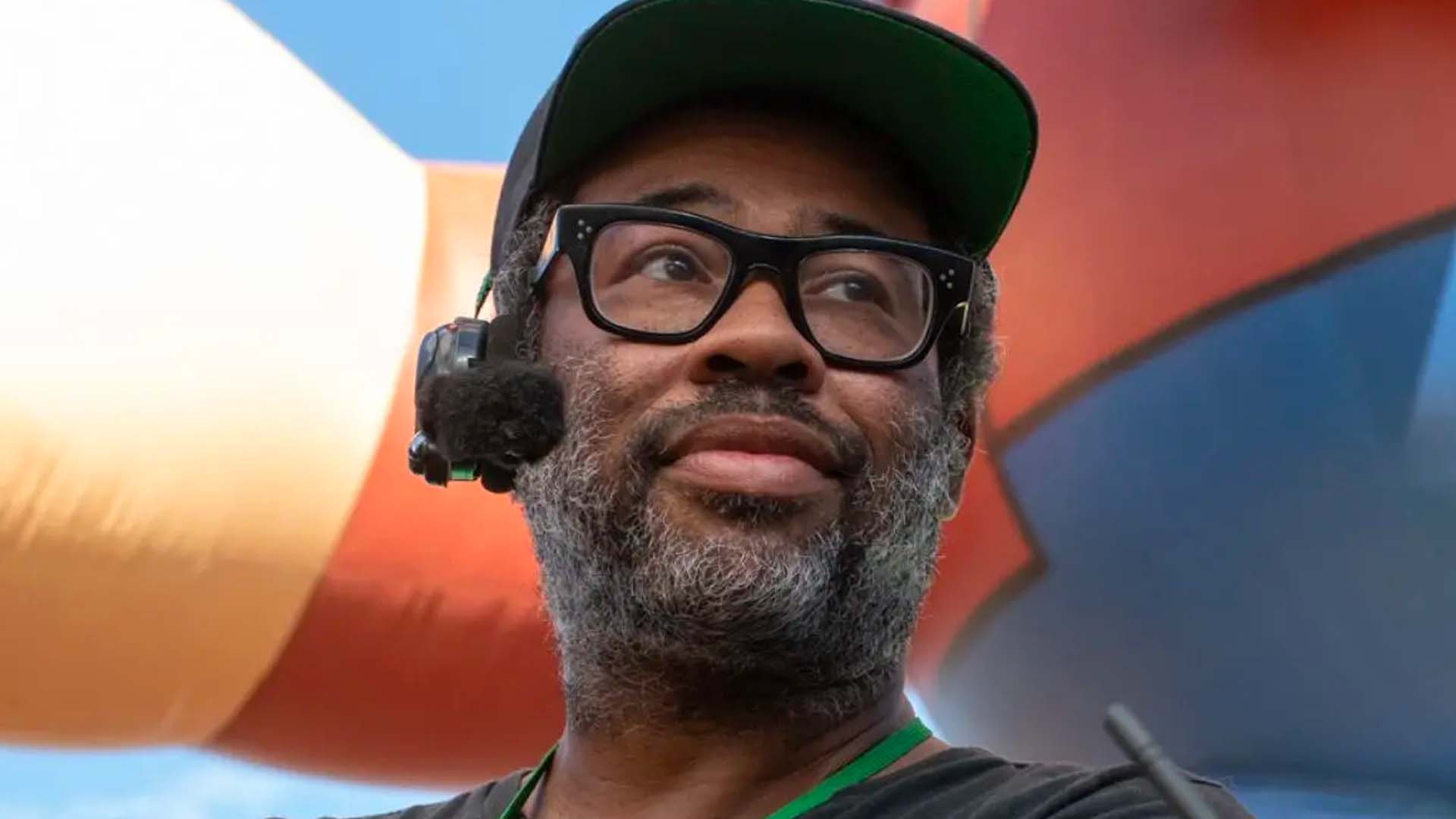 'Your body needs to release that fear,' Jordan Peele tells us about Nope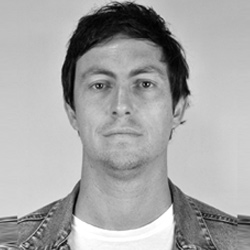 ---
Jordan Peele is back with Nope, the follow-up to Get Out and Us. Steve Newall found out more about the mysterious new film from the writer-director himself – and tomorrow we'll hear from the cast.
Following in the footsteps of King Kong and Jurassic Park as a film with science fiction elements about our culture's addiction to spectacle, Nope is Jordan Peele's most ambitious film yet—the first horror to be shot on IMAX. While very much its own movie, Nope is also reminiscent of other blockbuster classics but, as with exactly what unfolds on screen, we'll let you discover that for yourselves.
Reuniting Peele with Get Out's Daniel Kaluuya, and also starring Oscar nominee Steven Yeun (Minari) and Keke Palmer (Hustlers), Nope follows its characters as they make an uncanny and chilling discovery in the Californian ranchland. And, really, that's all you need to know to read on and hear more from Jordan Peele about his new film.
INTERVIEW HAS BEEN EDITED FOR LENGTH AND CLARITY – AND SOME SPOILERS REMOVED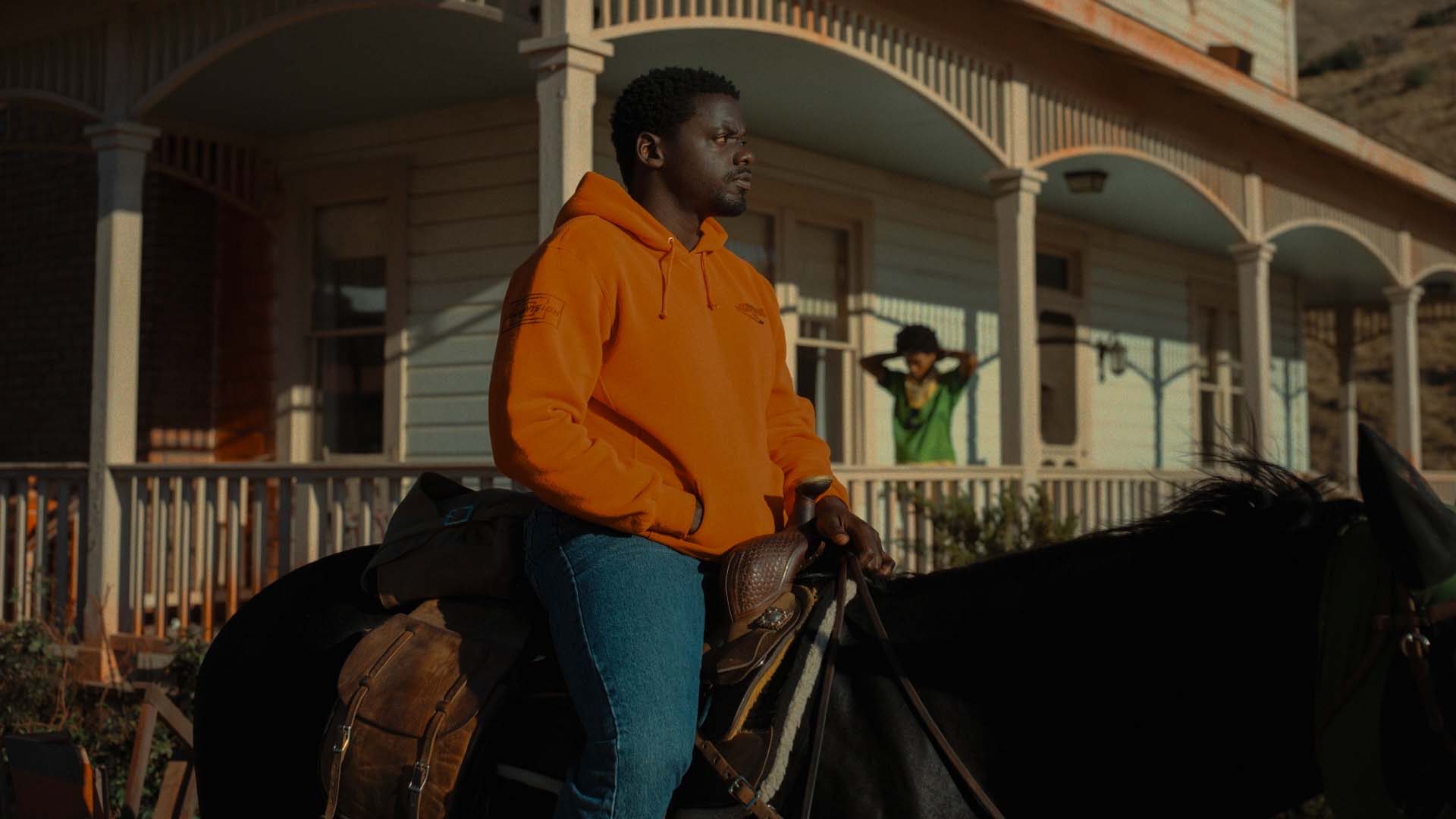 Daniel Kaluuya's reaction to hearing he'd spend half the movie on a horse
JORDAN PEELE: You'll have to ask him about it, but not great. No. This is what I will say—I've never seen an actor work as hard as he did in getting the horse skills together. And it's wonderful to watch his process, because from the first day I met him on Get Out, and I said, "I need that accent to be right though." He replied, "I got you, mate. I got you." I was like, "I don't know if you got me, because you're not doing it yet." And he comes and then bam—flawless. Right? And so, yeah, I had trust. And when says "Yeah. I got you. I'm going to be a horse rider next time you see me…" That's what happened.
Nope mixes horror with old-fashioned science fiction and new ideas
I always look for something that doesn't exist—for a film that I wish I could see for the first time. And in this case, it was a truly horrifying [spoiler] film in which we're really able to be immersed into the situation, like some of my favourite films. So, yeah, that was the nugget. And I was like, "I've got to make this. In fact, I have a responsibility to movies to make this movie."
I always feel I'm in some way in the science fiction game, in that I always like to marry a little bit of science fiction with reality, with "what-if-ness". Questions about genre get harder and harder as I go on with my career to know how to answer. I'm not offended by them, but they're harder and harder, because I think, hopefully, the notes that come out in these movies, and I think what happens in Nope, is you get something that feels like it has a little bit of everything.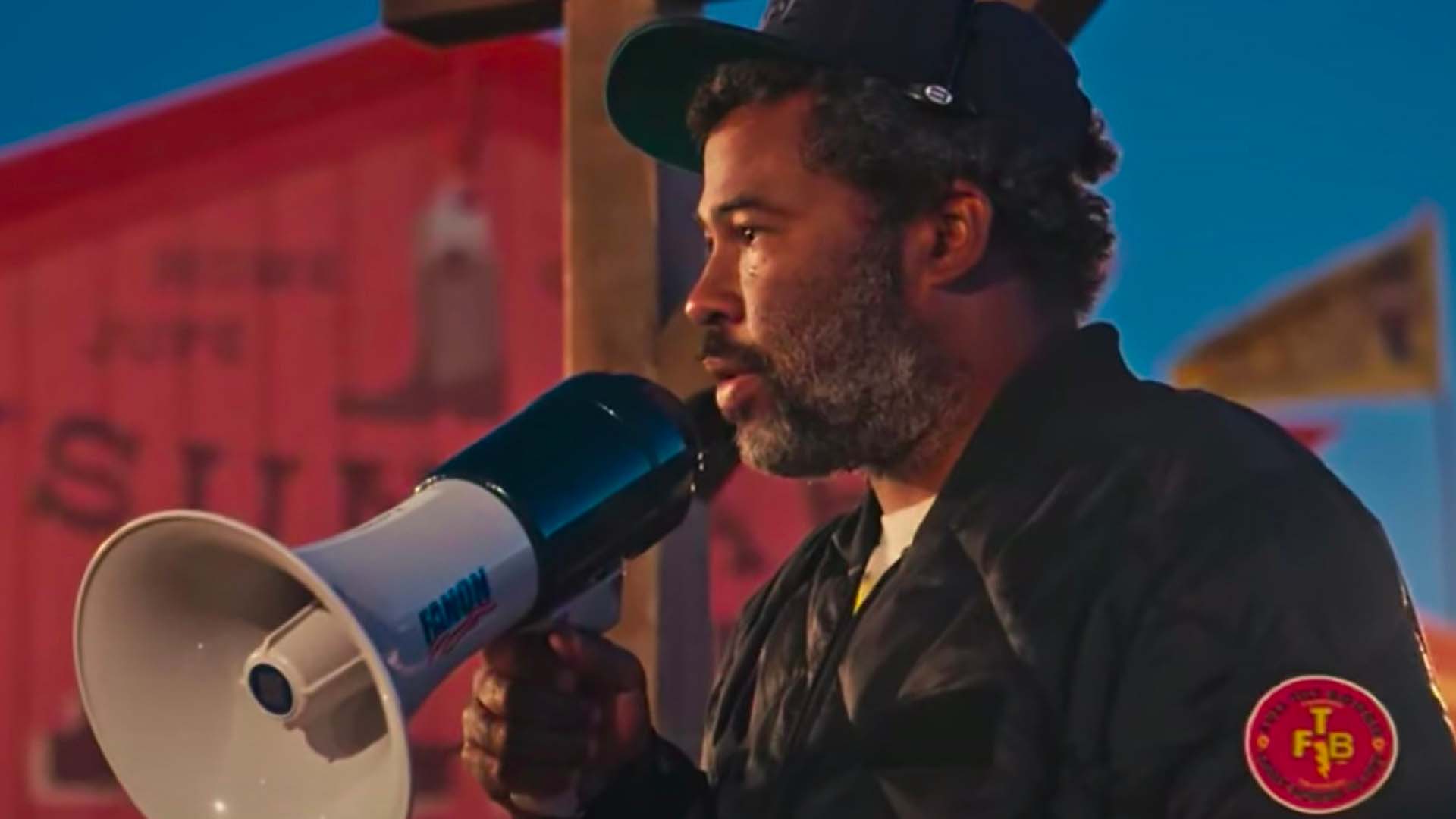 Dealing with big audience expectations from a new Jordan Peele film
I think of the expectations as gifts. It's the only way you can. Otherwise you're going to be, I think, smothered and unwound by overthought. But for me, taking control of what I think the expectations are, gives me a sense of power when I'm crafting a story. Because the more I know about what an audience is thinking and what they're expecting, the more ability I have to try to deliver on that or flip it on its head.
There's a sibling relationship at the heart of Nope
OJ, played by Daniel Kaluuya. Emerald, played by Keke Palmer. They both represent two distinct parts of my personal relationship to the need for attention. And I think, probably, two halves that most of us have within us, where I would, at least, say that most people would think that they are an OJ or they are an Emerald. There's part of me that is Emerald that wants to be out there to get the laugh—to get the appraisal. And there's another part of me that's OJ that is just very socially nervous and uncomfortable, and that's the siblinghood we're talking about here.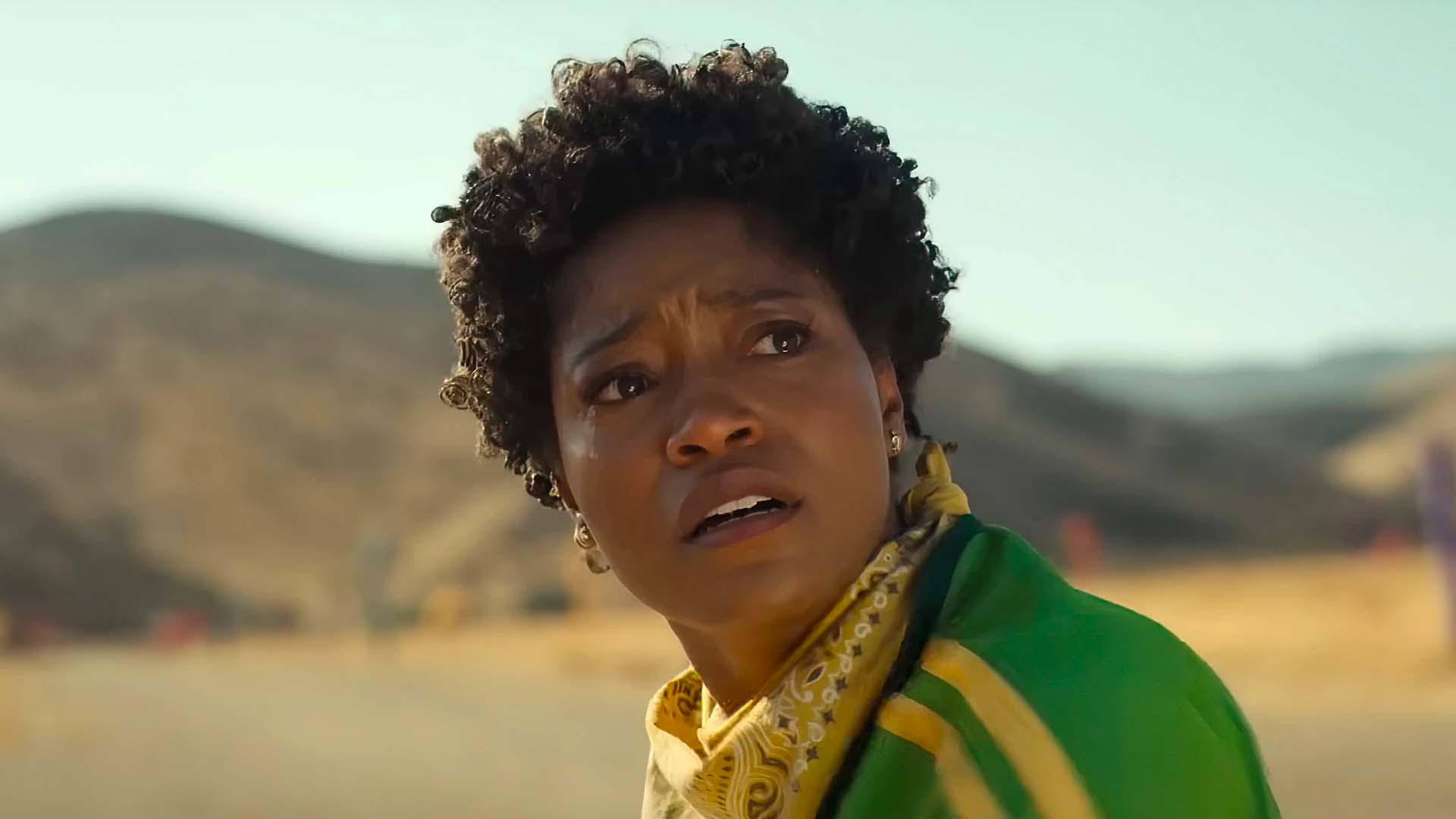 Why the experience of getting scared in a cinema still packs a punch
Oh my gosh. Because I think it's everything. I think that film is one of the ways that we address our fears. And I think that the thing that is trickiest about fear is it's such an unpleasant emotion that we fight it as human beings, and we suppress it. And I truly believe that anything that we suppress, anything that we keep down or hold down for long enough doesn't go away—it just comes out in worse and worse ways.
There's something about getting together with a bunch of people and facing those fears in a safe way, in a way where you feel at home and you feel good at the same time. Your body needs to release that fear. You can't hold on to it. So that's why horror movies work.
Sign up for Flicks updates
How symbolism appears in Peele's films – and to the director himself
My relationship to symbolism in my films has grown a bit, in that it's become a little bit more organic how certain symbols manifest and what they mean. Really, what happens over the course of a process is you find connections in things— their shapes, colours, or ways that patterns interact with one another, and you find patterns and you draw them out. And so much of telling a story and movie making is starting with inspiration, something you don't know, and then trying to understand what it is—what you've been trying to tell yourself.
So you can't decide what symbols are; you have to let them appear—let them show you what they are.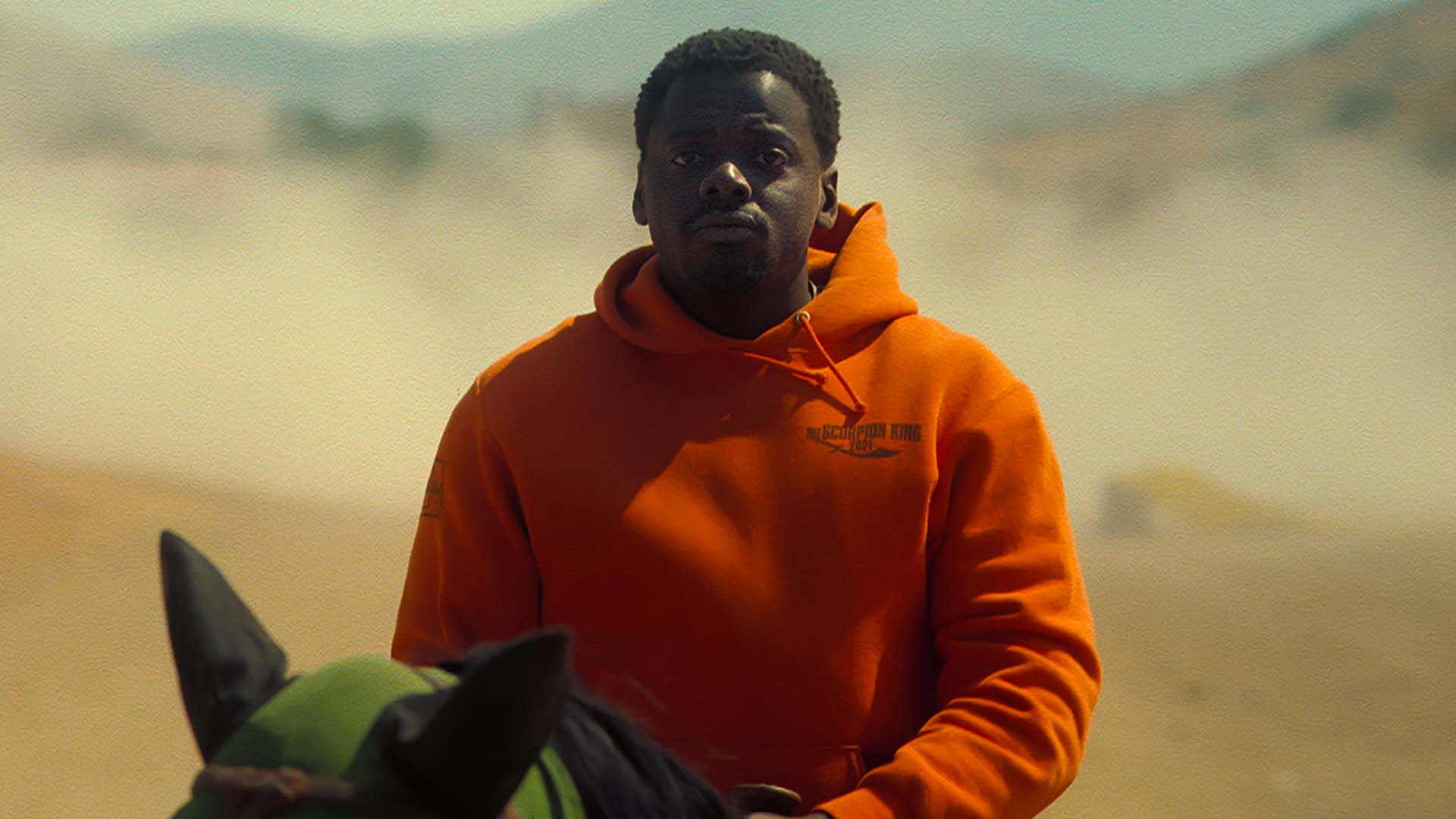 Nope doesn't just look terrifying – it sounds it
Johnnie Burn is my sound guy. He's my sound designer, and he has a brilliant team. He hails from London. We started early talking about this [spoiler], in terms of the environmental ways that you can sense something is close, that feeling of being in its presence. So, the first thing we started talking about was wind. And one of the things that Johnny happened to have was a library of wind. And so, yeah, this was part of this project was taking this sci-fi concept and making it as elemental and grounded and tactile as possible. And so that's where Johnnie really excelled with that particular type of immersion.
The title cards that introduce each different sections of the film
There are name cards. And without going too deep into what that's about or why, I think part of the thing is that I think Nope feels different, structurally, to other films, and there are departures from traditional storytelling in it. And I felt that the name cards helped an audience know how to watch the film and to know that this was not going to be the most straightforward style narrative—that it was going to exist in a movie where you had to pay attention in a different way.