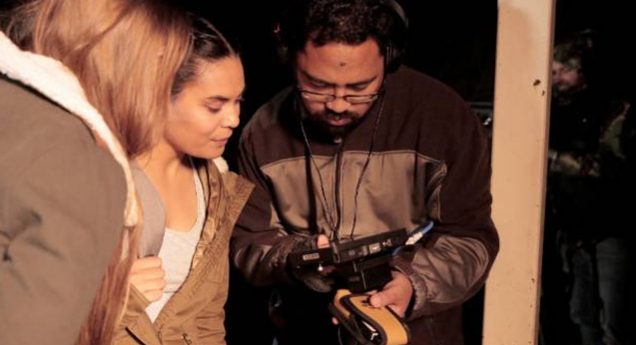 In its first weekend, homegrown buddy comedy Hibiscus & Ruthless earned over $125,000 across 20 screens. That made it the second highest grossing film per screen that weekend. Overall, it made almost as much as Oscar contender I, Tonya (which made $129,000) and far more than the Matt Damon-starring Downsizing (which gains a miserable $37,000).
And it was self-funded.
This closely mirrors the success of writer-director Stallone "SQS" Vaiaoga-Ioasa's previous self-funded comedy Three Wise Cousins which saw its release on the same weekend two years ago. We chatted to the filmmaker about what changed, what stayed the same, and what inspired this follow-up.
*main image credit: Stuff.co.nz
---
FLICKS: What inspired 'Hibiscus & Ruthless'?
SQS: I wanted to look at a slice of life I was familiar with and try to find a cinematic perspective on it – showing university the way we experienced it. It wasn't the usual American college experience of partying up. It's a lot more mundane than that.
I always remembered university as juggling between family, work, church, and your own personal interests into what you wanted to do. I wanted to find a story that supported that, but put in a comedic way.
That's very much the story of Hibiscus, but how did you come up with Ruth?
I know a lot of Ruths who are not just a palagi or New Zealand-European, but a different ethnicity as well. Ruth for me represents the cross-cultural personalities that exist in my community. You're always going to be a product of your environment and I felt that even I can take on European characteristics and ways of life.
I've met other people who hang out with Pacific people either through sports, or music, or Church activities and it's interesting what you take on board in order to make everyone feel comfortable or because it's just the way you live your life. So Ruth's character encapsulates that all for me.
It was important not to show someone who was struggling between different identities or two different worlds, but someone who had already navigated all that and is able to move easily between it. We always talk about being a multicultural society, but I wanted to have a character who just encapsulated that without question.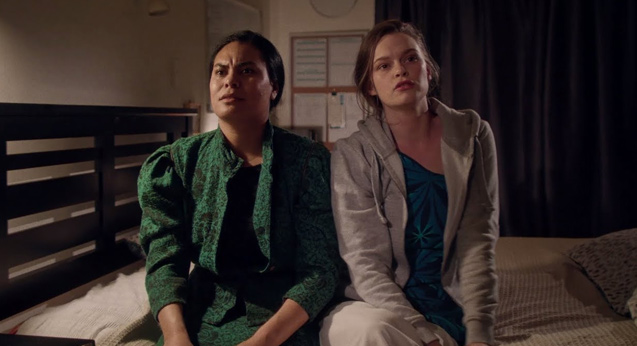 Was the casting for those two roles quite intensive?
It was hard. I think it was more difficult to find Ruth.
For Hibiscus, we were very clear that there was no compromise on their ability to be fluent in Samoan and to have a really strong understanding of the Samoan cultural side.
For Ruth, it was really hard to describe. I was very detailed about what I wanted from Ruth. She had to speak a certain way, she had to carry herself in a certain way, but she also had to be very academic. She had to be competent at university.
During rehearsals, in order to explain to Anna-Maree [Thomas, who plays Ruth] what we were looking for, whether it was a particular line or particular way, I would get Suivai [Autagavaia, who plays Hibiscus] to do it, and they would help each other by being the opposite characters. I always knew that I was never going to find the exact Ruth that we were after, but I needed to find someone who was willing to put in the work and who could then put their own take on top of that.
Despite being a broad comedy intended for big audiences, it was self-funded, like 'Three Wise Cousins'. Was this always the plan or did you approach anyone for funding first?
No, it was always the plan.
I wanted to prove that Three Wise Cousins wasn't a fluke. That it wasn't just some flash in the pan or lightning strike. That we have an approach that is very calculated, that it is measured. We knew who our audience was and we knew what steps we needed to take to make it beyond our specific demographic.
It's still a strong Pacific film. I guess in this way we're taking a step towards achieving mainstream audience. So we could have gone for funding, but I wanted to maintain creative control. I think there are a lot of decisions I made in this film that I would have faced a lot of resistance on if I'd gone the conventional funding routes.
Everything was filmed in two weeks, right?
Yeah, pretty much. 14 days, over 3 weeks.
Is that the 48 hours experience paying off?
Oh, you know what? It is. It is such a 48hour experience. Even our crew are like, "Oh my gosh, this is 48hours." I felt for them, but I absolutely love them and I know they're pretty loyal and hardworking. They just get on with the job.
It's not ideal to shoot at that speed, but we invested heavily in the rehearsal process and in the casting process. My sister and I, my producer Abba Rose, knew that if we get this right, then that affords us the opportunity to be able to work at speed, and while we might make certain compromises in the production stage, if we get the casting and the script right, it will be fine.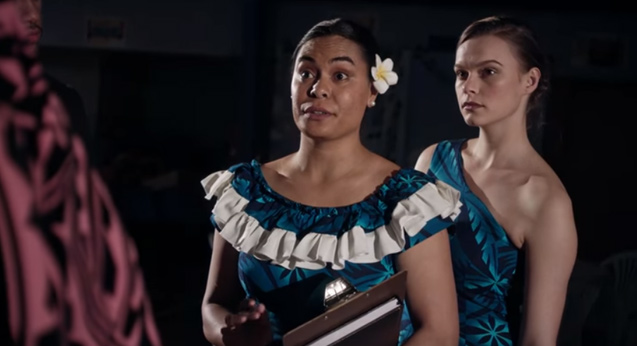 So how does this experience compare to filming 'Three Wise Cousins'?
Oh, this was much more difficult. Three Wise Cousins was a breeze compared to this one.
I think what I underestimated was just what it would take to achieve a plausible world-building experience. To build the world of university really pushed our budget and our time. We only had three days at university to capture everything we needed and that's just due to availability of the locations and things like having background actors. It might be only a few there, but I can't fake a full lecture theatre with three people.
All those small parts put pressure on. Whereas Three Wise Cousins was in Samoa, a more cinematic environment. Amazing landscape. You can point the camera in any direction and you've got your set.
I mean, when we were putting Three Wise Cousins together, I was a bit concerned. I'd go, "Oh my gosh, I think people are going to think there's only three people on this island."
Is there any advice that you would give the Stallone who was about to make 'Three Wise Cousins'?
Bring your sister [producer Dinah Vaiaoga-Ioasa] on board earlier. With Three Wise Cousins, my sister came in halfway through, and it was eye-opening. It needed a woman's touch. It needed a really strong project management. And that's what my sister brought to the bar.
There's no way I could have made Hibiscus & Ruthless without her. Just way too many moving parts to be able to produce and direct. It's too many hats to wear, so I'm glad she came on board. When you have a producer who understands the story and the limitations, you're always going to be in a good space.