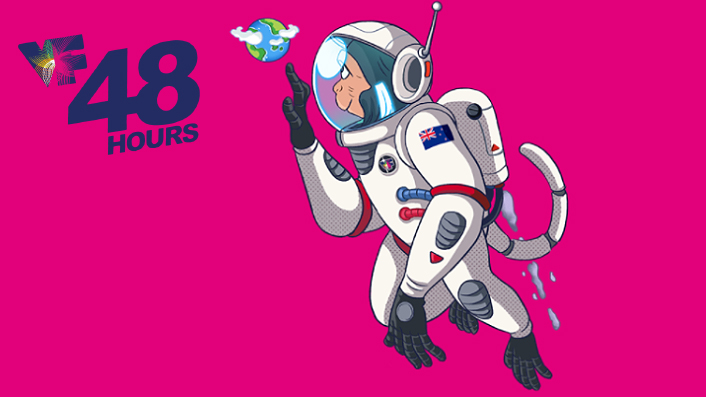 The Vista Foundation 48Hours Grand Finals are almost upon us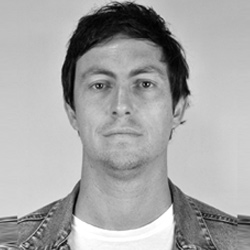 ---
18 films are about to square off in this year's Vista Foundation 48Hours 2021 Grand Finals.
As if filmmaking didn't come with enough challenges, for nearly two decades now 48Hours has been making the pressure even more intense for creative (and possibly foolhardy) folks in Aotearoa.
This year the shoot weekend(s) took place not just under the shadow of a pandemic, but a large earthquake and accompanying tsunami warnings. 48Hours organisers assure us they did not initiate these obstacles for competition purposes—although as in years past, teams were required to comply with some compulsory genre and element requirements.
See also:
* All new streaming movies & series
* Movies now playing in cinemas
Hundreds of films were completed across the country, many of which scraped in within minutes of the eligibility deadline (as per), and now the top 18 (including a superb animation by Flicks' own Liam Maguren) square off in the Vista Foundation 48Hours 2021 Grand Finals at Auckland's Civic Theatre on May 22nd (get your tickets here)
A national and international panel has been convened to assess the finalists, with judges including Cliff Curtis, Elijah Wood, filmmakers Oren Peli (Paranormal Activity) and Adam Egypt Mortimer (Daniel Isn't Real), screenwriter C Robert Cargill (Doctor Strange), film writers Alexandra Heller-Nicholas and Kier-La Janisse and more.
The finalists are…
(Team name followed by film name)
● Apple Fork – A Matter Of Time
● Awkward Animations – Unfinished Symphony
● BAE24 – The Dying Art of Cat Burglary
● Couch Kumara – Pre-Emptive Defence
● Cyan Sea – Max – *WILDCARD
● Disqualified Tim – We built and destroyed a full sized B17 bomber specifically and only for this competition. Also known as "Banana Boys"
● Dystography Studios – The Last Lord of Scotland
● Free Cinematic Luts – Shit Chat – *WILDCARD
● Good Girl – Traces of Nut
● I Love Loops – Loot & Blunder
● Kinaki – Good as Gold (Rarotonga Team)
● Mitchell's Here – Āta
● Pastafarian Productions – Rekindled Spirits – *WILDCARD
● Qualified Tim – We built and destroyed a full sized cardboard u-boat specifically and only for this competition. also known as "DAS BANANA-BOOT"
● Snack To The Future – Judy
● Tasteful Sideboob – Hydrangea
● The Creamery – In Deep
● Underwater Dreams – Jebivetar
Vista Foundation 48Hours 2021 Grand Finals
May 22nd, 2021 – Doors open 7:00pm
Civic Theatre, Auckland
Tickets via Ticketmaster
More from the media release:
The Vista Foundation 48Hours is the greatest film competition in Aotearoa! In its 19th year, this popular national competition provides a platform for making and showing films for creatives and filmmakers from all over Aotearoa.
As they say 'restriction breeds creativity' and that's what this competition is all about. Every year Vista Foundation 48Hours headquarters brews up a hearty challenge for our nation's filmmaking teams and every year they are awestruck at the creativity and ingenuity of the films that they produce in only one weekend.
The Vista Foundation 48Hours shoot weekend kicked off on March 5th – 7th, 2021 and due to the Auckland Lockdown, we ran a second weekend for Auckland Teams on 12th – 14th March.
Some of our past champions include Taika Waititi (2 cars one night, Boy, Hunt for the WilderPeople, Thor, Jojo Rabbit), Gerard Johnstone (Housebound, Terry Teo, Legend of Monkey), Jason Lei Howden (Deathgasm, Guns Akimbo), Stallone Vaiaoga-Ioasa (Three Wise Cousins), Chris Graham (Sione's Wedding), Te Radar (Off The Radar), Madeleine Sami (The Breaker Upperers), Jackie Van Beek (Wellington Paranormal, Funny Girls) and the Downlow Concept (Chief Gary, 7 Days), Tom Sainsbury (Wellington Paranormal, Sextortian), Aidee Walker (Westside, The Brokenwood Mysteries), Cliff Curtis (Boy, The Dark Horse).
"We have a large list of talented folks who all cut their teeth in the competition and have since gone on to direct major TV and feature films.
It's not the only pathway for people to make inroads into the industry but it's definitely the #1 way for relationships and foundations to be laid for a healthy creative community."
Ant Timpson – VF48Hours Founder