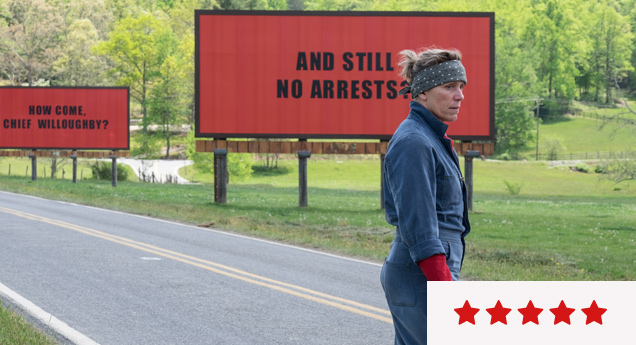 Review: 'Three Billboards Outside Ebbing, Missouri' is the Rarest of Cinematic Treats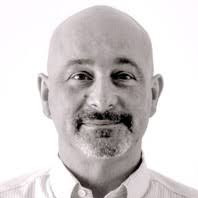 ---
Writer/Director Martin McDonagh follows his uproariously funny In Bruges and Seven Psychopaths with that rarest of cinematic treats, an entertaining and stimulating movie, with a superb script, rich characters and a cracking cast. Think the dramatic power of Coen brothers' No Country for Old Men, and the outrageous humour of The Big Lebowski, and you're within a billboard's-length of getting the picture.
Frances McDormand plays Mildred. Her daughter's violent murder has gone unsolved, so she rents out three old billboards on the outskirts of town, asking why there's been no arrest and naming and shaming local Police Chief, Willoughby (Woody Harrelson), who has problems of his own. To say more would be risking spoilers for an unpredictable plot that twists, turns, shocks, surprises, confounds and delights.
The cast are simply stunning, McDormand and Harrelson own the screen, with Sam Rockwell hilarious and chilling as a redneck cop and mama's boy, John Hawkes as Mildred's ex-husband, and Peter Dinklage as her would-be beau. Every character is fleshed out, essential and avoids cliché, with even the worst possessing redemptive qualities.
Less convincing is Abbie Cornish as Willoughby's wife, but that's a minor quibble when the writing, direction, cinematography, editing and music are this darn fine. I can't imagine seeing a better movie (not set in space) this year because Three Billboards is a stunning achievement. Featuring very adult themes and language, it's a wild, dark, disturbing, laugh-out-loud funny, achingly serious morality tale, asking: where does vengeance end, in a world where violence begets violence, and what we do to others really matters.
Dark comedy drama fans rejoice and avoid spoilers, it's a must see that will stay with you for days.
Find Times & Cinemas Playing 'Three Billboards Outside Ebbing, Missouri'