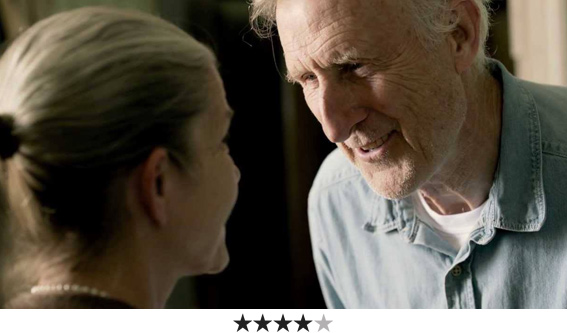 If you need a tonal gauge of where Michael McGowan's Still Mine sits in the scheme of films about old couples withering away: it's considerably sudsier than fellow Canadian Sarah Polley's Away From Her, but a lot less grim than Michael Haneke's Amour.
Buoyed by a warmly rustic visual palette, gently lilting score and predictably feel-good ending, Still Mine basks in the hope that late-life dignity and resilience are still very much options for its octogenarian characters: Craig Robinson (James Cromwell), an 87-year-old New Brunswick man who decides to build a new house against building regulations, and his wife Irene (Genevieve Bujold), whose mentally deteriorating state forces them – and their concerned children – to reconsider their situation.
Based on a true story, it's gracefully directed by McGowan, an astute judge of the film's modest scope who wisely allows his terrific lead actors ample room to breathe life into familiar material that's one hankie away from being a corny TV movie. The film's perhaps a bit clumsy in its handling of the everyman-versus-heartless-bureaucrats subplot: Jonathan Potts' building inspector is never made out to be anything more than the hard-hat-wearing, clipboard-carrying official who's begging for the audience's wrath.
But Still Mine doesn't announce itself as an Erin Brockovich-ish issues-driven polemic – it's primarily a movingly-acted tale of undying devotion and encroaching mortality, a last hurrah for Robinson, whose tenacity to do good by his wife will surely thaw out the steeliest of viewers.