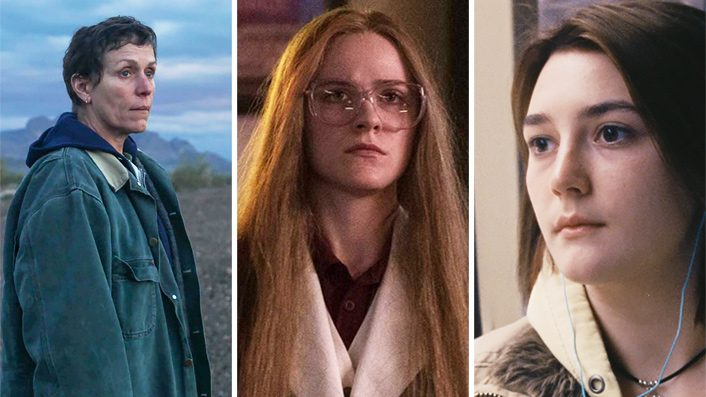 2021's award shows ought to recognise great female filmmakers – but will they?

---
As the 2021 awards season draws nearer, critic Sarah Ward looks back over 2020—an outstanding year for women directors—and explains why this could and should be the year in which female filmmakers finally receive proper recognition.

There's an excellent chance that Nomadland's Chloe Zhao will soon make history, deservedly so. A female filmmaker has never won an Academy Award for Best Director, for producing the Best Picture winner, and for screenwriting—all in the same year, and all for the same film. Of course they haven't; only one woman has ever received the Best Director prize, from just five nominees in the Oscars' 92 years to-date.
See also

* All new movies in cinemas
* All new streaming movies & series
* These were the best movies of 2020
Kathryn Bigelow earned two of the aforementioned awards for The Hurt Locker: Best Director and Best Film. For Lost in Translation, Sofia Coppola received all three nominations; however, she only won the original screenplay field. Jane Campion and Greta Gerwig didn't produce The Piano or Lady Bird, respectively, and Lina Wertmüller's Seven Beauties wasn't nominated for Best Film, so the trio just received directing and screenwriting nominations.
The lack of recognition afforded to women directors isn't new news. Whether a female filmmaker earns an Oscar nomination or not (the latter being more common, obviously) gender imbalance becomes a topic of conversation every time this self-congratulatory time of year rolls around. But 2021's ceremonies present a prime opportunity to redress the situation—via more than Zhao's certain nominations and likely wins. She's in stellar company this awards season, with most of 2020's best films helmed by women. Accordingly, this could and should be the year that more than one female filmmaker receives a Best Director nod.
Sign up for Flicks updates
Come Monday, April 26 NZ time, the familiar split-screen shot showing all five Best Director nominees will grace TVs everywhere. It might look different to usual, with the ceremony's chances of proceeding as normal fading as Los Angeles' COVID-19 caseload keeps spiking. Still, however it comes about, if that image features not just Zhao but also fellow likely nominee Regina King, it'd be the sight that dreams are made of—at least for women in the industry.
One Night in Miami would be blistering and astonishing if it was made by any filmmaker, let alone a feature first-timer. As a result, King couldn't be a worthier nominee—or winner, earning a second gong after picking up the Best Supporting Actress award in 2019 for If Beale Street Could Talk. The film should receive a nomination for Best Picture, and possibly others for Best Actor and Best Supporting Actor. But the Academy better not decide that it directed itself.
Getting the Oscars to pay attention to two female directors would be a remarkable feat, but it'd just scratch the surface of 2020's gems. Kelly Reichardt's First Cow is a phenomenal work of empathetic filmmaking, offering a distinctive look at America's past which might just be her best work yet. But, even when her lens has been trained at Michelle Williams, Laura Dern and Kristen Stewart in the past, Reichardt's movies have never earned the Academy's attention.
With Never Rarely Sometimes Always and Promising Young Woman, Eliza Hittman and Emerald Fennell each summed up the current moment perfectly. Both focus on young women, and the ways in which the world routinely keeps trying to put them in their place, but they're vastly different movies. Hittman's film about a pregnant teenager travelling to New York is naturalistic, lived-in and delicate, cutting deeply because it feels so real. For Fennell, who makes her feature debut, her Carey Mulligan-starring revenge flick opts for a blackly comic vibe, is showered in candy-coloured hues and makes a statement with its forceful vibe. Both movies are exceptional.
The list goes on, as it does every year. Miranda July's Kajillionaire, Amy Seimetz's She Dies Tomorrow, Kitty Green's The Assistant, Josephine Decker's Shirley and Julia Hart's I'm Your Woman have or might earn some love at the Gotham Awards and the Independent Spirit Awards—at the Gothams, all five Best Film nominees were helmed by women, with Nomadland winning—but that shouldn't be their only source of recognition. These talented women are each now several films into their respective careers, and all make must-see movies that don't just equal but exceed the likes of David Fincher's Mank, Aaron Sorkin's The Trial of the Chicago 7 and Paul Greengrass' News of the World, all of which have placed their directors in Oscar contention.
The Academy Awards aren't alone in routinely ignoring female filmmakers. Barbra Streisand is the only woman to win a Golden Globe for Best Director, for Yentl in 1983, out of only seven nominations (to Streisand again, Campion, Coppola, Bigelow twice and Ava DuVernay). Bigelow earns the same standing at the BAFTAs and at the Director's Guild Awards, too. Again and again, women filmmakers are overlooked across the board. Like the Oscars, the Globes, BAFTAs and DGAs have no excuse this year.
Of course, it should go without saying that no gleaming trophy truly decides what the best film was of any year, who the best director was or who topped any other category. Excellent movies and the brilliant talent behind them remain just that even if they don't get their time in the awards spotlight. But as Parasite proved in 2020, finally acknowledging at Hollywood's night of nights that filmmaking doesn't just belong to white, male and English-speaking directors matters — and you could fill every directing nominee in every awards ballot with the women named above, and not have an undeserving filmmaker among the bunch, or an incomplete picture of cinema's past year.