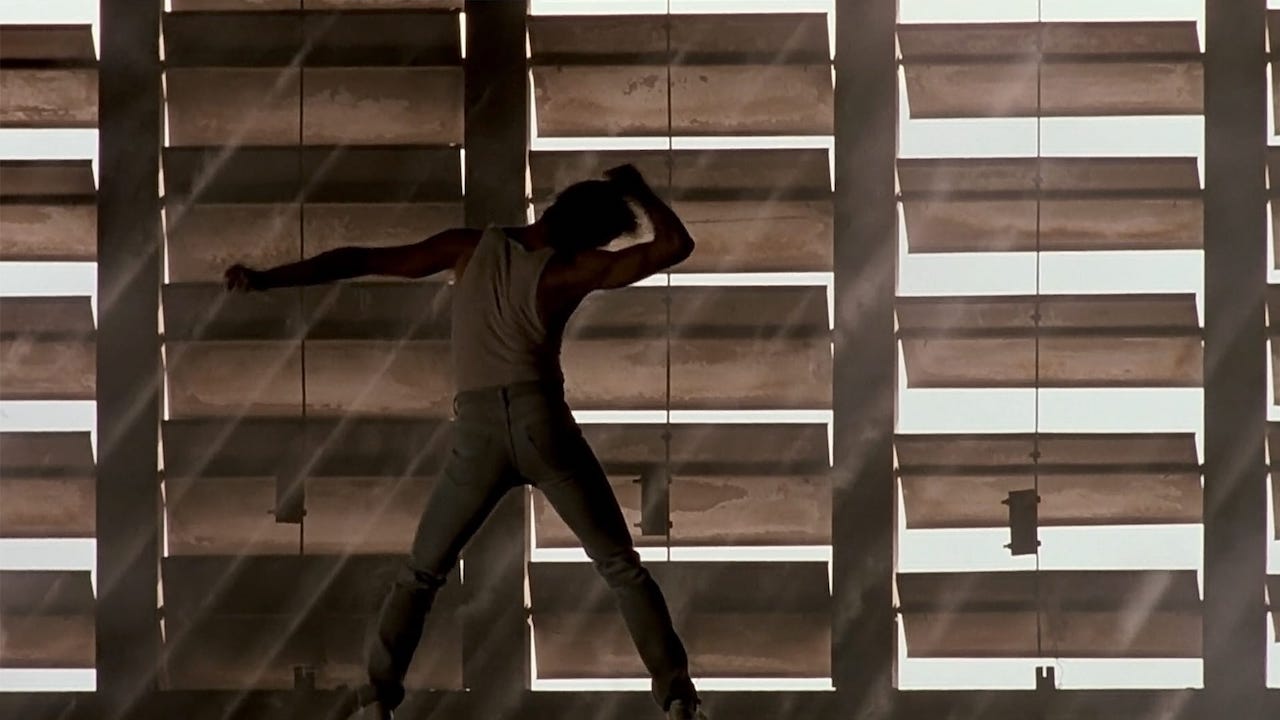 Don't you forget about the top 10 greatest needle drops of the 1980s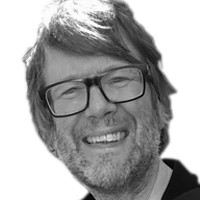 ---
Tony Scott's Top Gun took 80s audiences' breath away and now with Top Gun: Maverick, Lady Gaga and Hans Zimmer join Kenny Loggins and Harold Faltermeyer to score the soaring musical moments in the long-awaited sequel.
To celebrate, David Michael Brown looks at the biggest needle drops of the 80s, from Say Anything and Pretty in Pink to The Breakfast Club and Fame. All together now: "Hey! Hey! Hey! Hey!"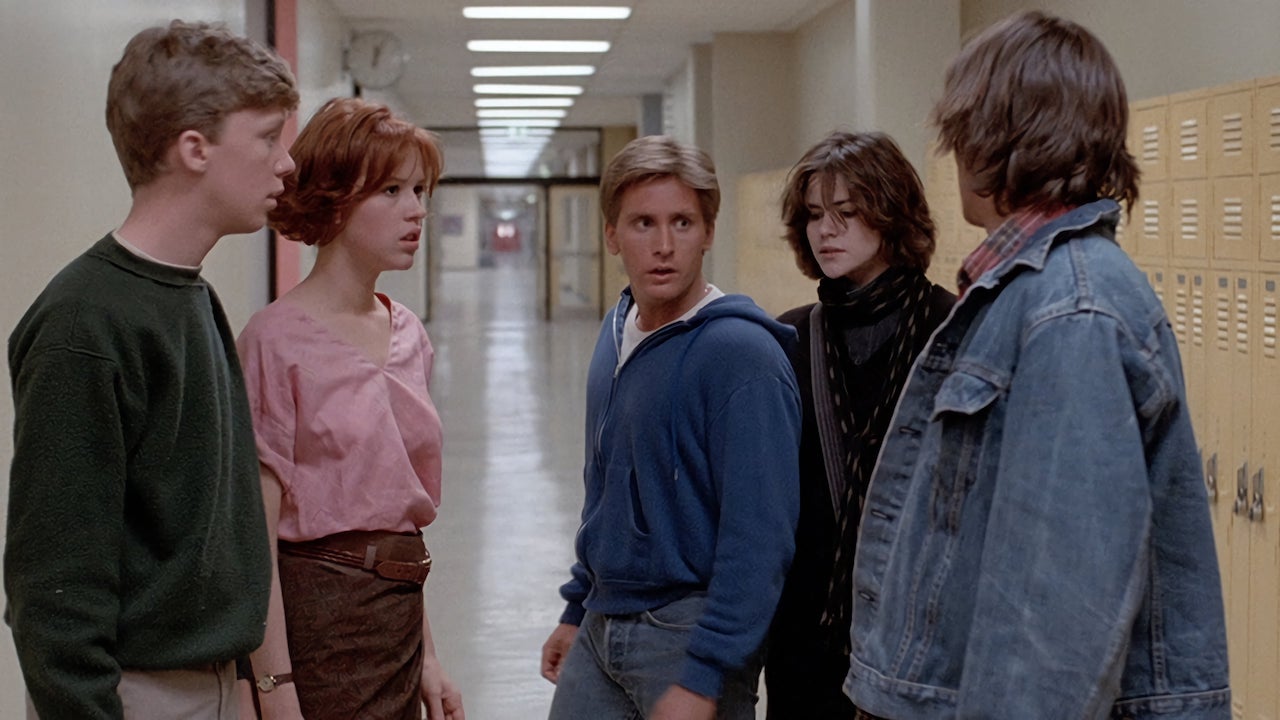 "Don't You (Forget About Me)" by Simple Minds, from The Breakfast Club (1985)
The Citizen Kane of 80s teen movies, John Hughes' perfectly-cast chamber piece takes five students from Shermer High School and drops them into a Saturday detention at 7:00 am with only a bullish teacher Mr. Vernon (Paul Gleeson) and janitor Carl (John Kapelos) for company. The delinquents in question are brainiac Brian (Anthony Michael Hall), a wrestler Andrew (Emilio Estevez), a basket case Allison (Ally Sheedy), prom queen Claire (Molly Ringwald) and a rebellious teen John Bender (Judd Nelson). At first appearances, they are poles apart but as they get to know each other, they realise they have more in common than the cliques that they have fallen into.
The Needle Drop Moment
Brian reads a letter he has written to Mr. Vernon on behalf of his new friends: "Sincerely yours, the Breakfast Club". The teens bid each other farewell. As Bender defiantly punches the air, the Simple Minds track, originally written for Bryan Ferry before the Scottish stadium rockers recorded their biggest ever hit, fills the air and the silhouetted freeze-frame of his defiant salute became one of the most recognised images of the decade.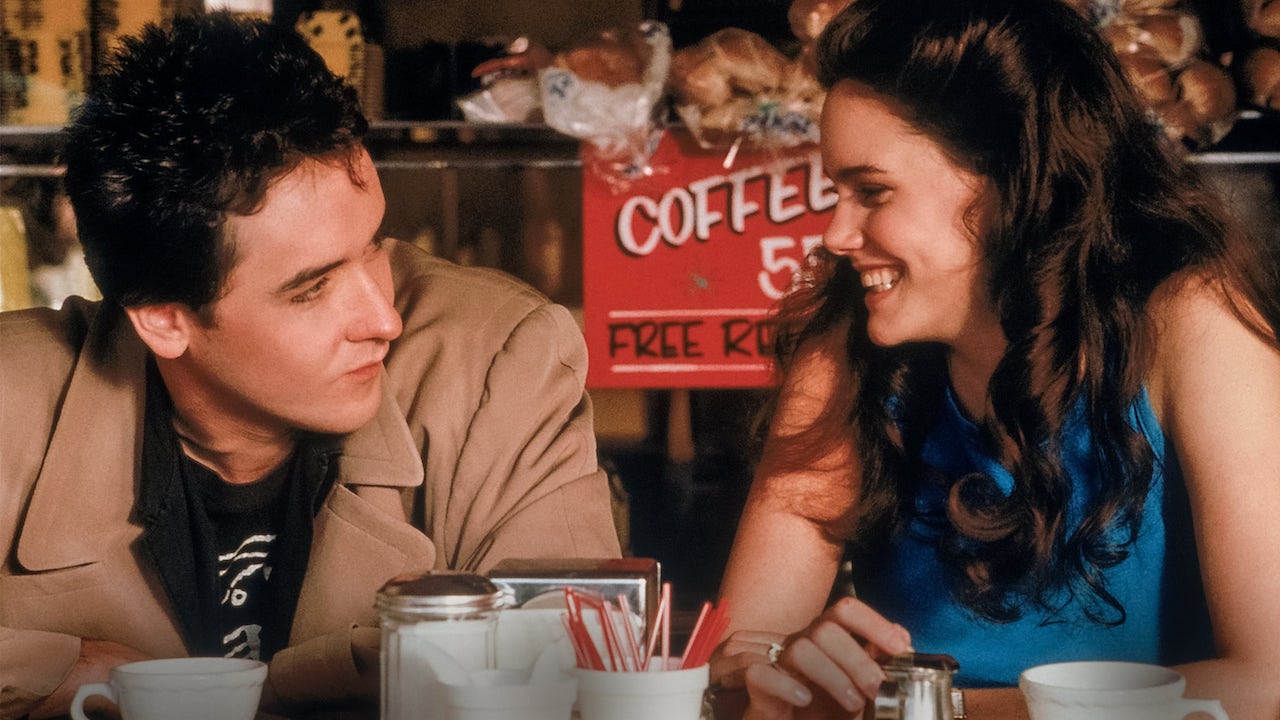 "In Your Eyes" by Peter Gabriel, from Say Anything (1989)
Written and directed by Cameron Crowe, Say Anything confirmed that John Cusack was the coolest actor of the 80s. From Savage Steve Holland's Better Off Dead to John Hughes's Sixteen Candles and Rob Reiner's The Sure Thing, his studied cool and perfectly timed comic delivery made him instantly likeable. In Crowe's directorial debut Cusack plays underachieving Lloyd Dobler who falls in love with the beautiful valedictorian Diane (Ione Skye) before going off to college.
The Needle Drop Moment
Diane slowly awakens from her slumber to hear the dulcet tones of Peter Gabriel singing "In Your Eyes". Outside, in the ultimate romantic and oft-repeated gesture, Lloyd is standing, arms aloft holding a boom box playing the track from the former Genesis frontman's So album.
"Fame" by Irene Cara, from Fame (1980)
Angel Heart and The Commitments director Alan Parker inspired a new generation of dancers to slip on a headband and a pair of legwarmers to strut their stuff. The surprisingly gritty story of the talented kids from New York's High School of Performing Arts may have spawned a more family-friendly TV show starring Janet Jackson and but the movie focuses not only on their extraordinary talents but the hardships many had to endure to study there.
The Needle Drop Moment
Proud father Angelo Martelli (Eddie Barth) pulls up his NYC taxicab outside the school with a couple of speakers on the roof and plays a tape of a new song by his son Bruno (Lee Curreri). The students stop the traffic in a spontaneous outburst of euphoric dancing as Irene Cara, who plays student Coco, belts out the memorable theme song. Cara also sung "Flashdance… What a Feeling" on that other 80s dance classic soundtrack.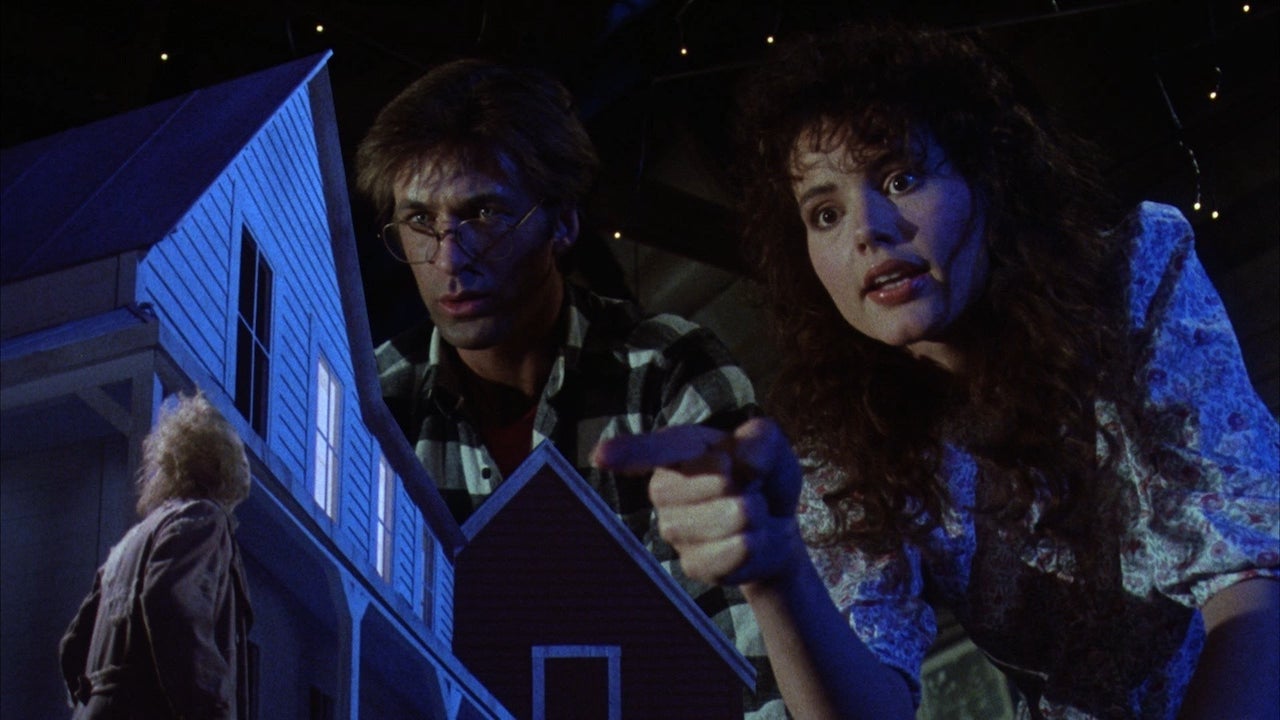 "Day O!" by Harry Belafonte, from Beetlejuice (1988)
Tim Burton's deliciously pitch-black comedy starred a pre-Batman Michael Keaton as the titular bio-exorcist who is hired by dead couple Barbara and Adam (Geena Davis and Alec Baldwin) to scare off the family who has moved into their old house. Also starring Winona Ryder as the goth girl who can see ghosts and the always brilliant Catherine O'Hara (Schitt's Creek) and Jeffrey Jones (Ferris Bueller's Day Off) as her parents, Beetlejuice is the perfect Grand Guignol collision of the director's morbid predilections for Gothic chills and slapstick spills.
Needle Drop Moment
When the Deetzes throw a dinner party for their unbearable hipster friends to show off their new abode and get some outlandish ideas for interior decoration, Barbara and Adam are horrified. In a bid to scare them off, they interrupt proceedings and possess the dinner guests, making them unwittingly mime Harry Belafonte's beloved "Banana Boat" song.
"Footloose" by Kenny Loggins, in Footloose (1984)
Kevin Bacon plays Ren, a spiky-haired rebel who moves to a strict religious country town from the city only to discover that dancing of any kind has been banned. Sticking it to the man, in this case John Lithgow's fire-and-brimstone preacher, he goes against the elders and town counsellors to try and organise a school dance, causing much consternation amongst the god-fearing community. With a soundtrack stuffed with hits including Bonnie Tyler's "Holding Out For A Hero" and "Let's Hear It for the Boy" by Deniece Williams, and a star-making turn from Bacon, Footloose almost makes you pine for the days when stone-washed denim was cool. Almost.
Needle Drop Moment
Ren, after brawling outside, crashes the party screaming, "I thought this was a party, LET'S DANCE!" Kids including Lori Singer, Chris Penn, and a pre-SATC Sarah Jessica Parker cut loose to the iconic strains of Kenny Loggins singing the smash hit theme song in a slice of 80s movie heaven.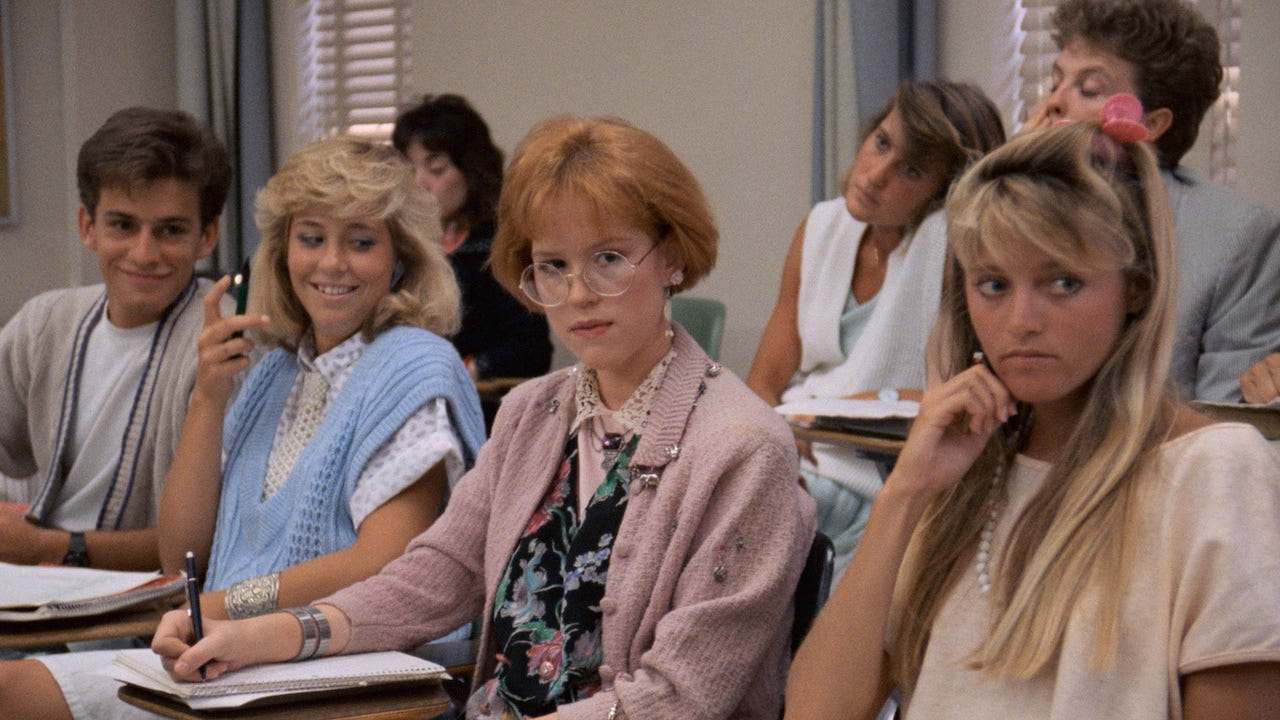 "If You Leave" by Orchestral Manoeuvres in the Dark, from Pretty in Pink (1986)
The brilliant song of the same name by British post punk rockers The Psychedelic Furs may have been the inspiration behind the John Hughes-written rags-to-riches teen drama's title. But the Pretty in Pink soundtrack is loaded with ear worms from the likes of 80s stalwarts New Order, The Smiths and Echo and the Bunnymen. Molly Ringwald plays Andie, a girl from the wrong side of the tracks who, much to the chagrin of her besotted best friend Duckie (Jon Cryer), falls for the dreamy-eyed charms of Brat Packer Andrew McCarthy playing rich kid Blane ("that's a major appliance, that's not a name!"). James Spader also out-Spaders himself as Blane's caddish best mate Steff.
Needle Drop Moment
At the high school prom, Andie is left heartbroken but still goes alone after Blane folds under pressure from his rich friends. She walks in with Duckie to the strains of OMD. Romance blossoms as Andie and Blane reunite, Steff gets his comeuppance, and Duckie breaks the fourth wall.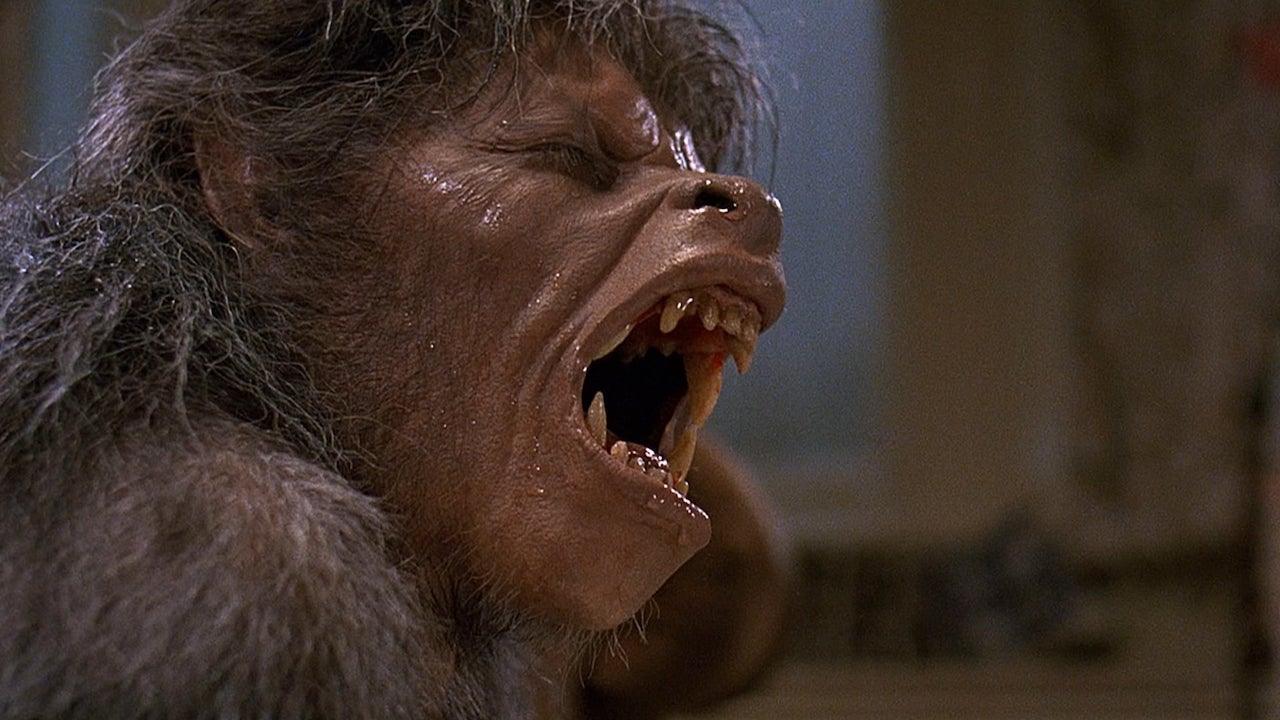 The ultimate horror-comedy, John Landis' brilliant fish-out-of-water chiller is a pointed critique of London in the 80s, a biting comedy, and blood-thirsty horror. Starring David Naughton as the hiker who is bitten during a lupine attack, Jenny Agutter as the nurse who brings the American tourist back to good health in more ways than one and Griffin Dunne as David's rapidly decomposing, wise-cracking best mate who is killed during the fateful lycanthropic attack, An American Werewolf in London also features some of the best make-up FX ever captured on celluloid, thanks to latex legend Rick Baker.
Need Drop Moment
One of the many moon-themed songs in the film's soundtrack. As a trapped David, in full wolf form, is cornered in a darkened alley of London's Piccadilly, armed police are waiting to shoot. Alex tries to talk to the creature and proclaims her love to David before he leaps towards her and is shot down. As the nurse looks at David's bloodied naked torso, now transformed back into a human, she sobs uncontrollably. This sombre, heart-breaking tableau is interrupted by an upbeat doo-wop version of "Blue Moon" by The Marcels as the credits roll in an abrupt but audacious rug pull.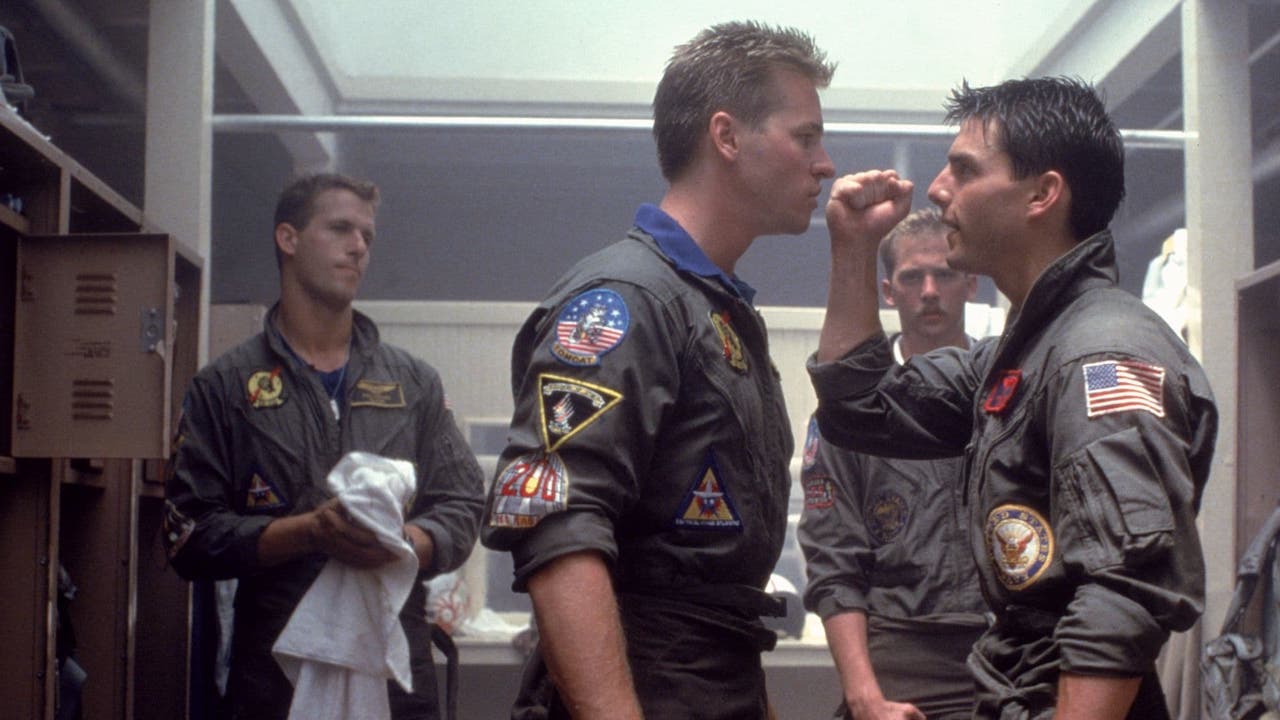 "Danger Zone" by Kenny Loggins, from Top Gun (1986)
Tony Scott's airborne actioner is dripping with muscular military machismo, gung-ho heroics and that winning Tom Cruise smile. The high-flying actioner was used as a glorified recruiting video for the US Marines and the film's hit-filled soundtrack album was a best-seller in 1986. Berlin's "Take My Breath Away" may have taken home the Best Song Oscar and but it was Kenny Loggins' "Danger Zone", co-written by Giorgio Moroder, that got the adrenaline pumping and became synonymous with the film that made Cruise a star—whilst also increasing sales of Ray-Ban Aviator sunglasses.
Needle Drop Moment
After the opening moments of the film show a crew preparing to take flight on an aircraft carrier to the tune of Harold Faltermeyer's "Top Gun Anthem", complete with a searing guitar solo by Billy Idol's collaborator Steve Stevens. Then as the F 14 Tomcat fighter jets take-off and break the sound barrier, Loggins' iconic rocker fills the speakers.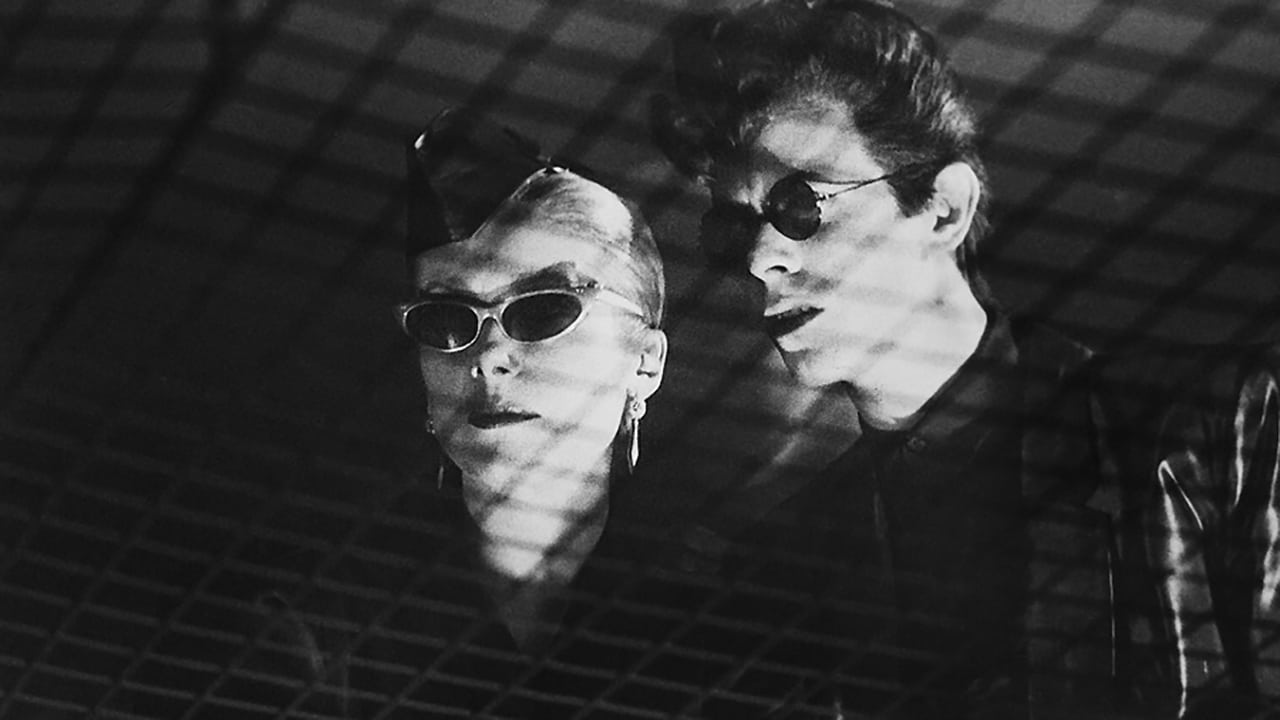 "Bela Lugosi's Dead" by Bauhaus, in The Hunger (1983)
Tony Scott's debut feature is the archetypal 80s vampire flick. Ice-queen Catherine Deneuve stars as Miriam Blaylock, an immortal vampire and David Bowie, who had just released his globe-conquering Let's Dance album, is her partner in bloody crime who has been prolonging his life by sucking blood but is beginning to crumble. Quite literally. Effortlessly stylish, Scott's adaptation of the Whitley Strieber novel may look like style over substance but looking beyond the billowing curtains, cool posturing and shadowy visuals, and The Hunger is a vampire flick like no other. And did we mention it stars David Bowie?
Needle Drop Moment
A strobe-lit Pete Murphy, the lead singer of Goth outfit Bauhaus, prowls the screen as the sinewy opening to their debut single screeches the film into life. As the singer begins singing the sinister refrain of "Undead, undead, undead", a black-haired bespectacled Bowie and Deneuve seduce a young couple before slashing them to death and drinking their blood.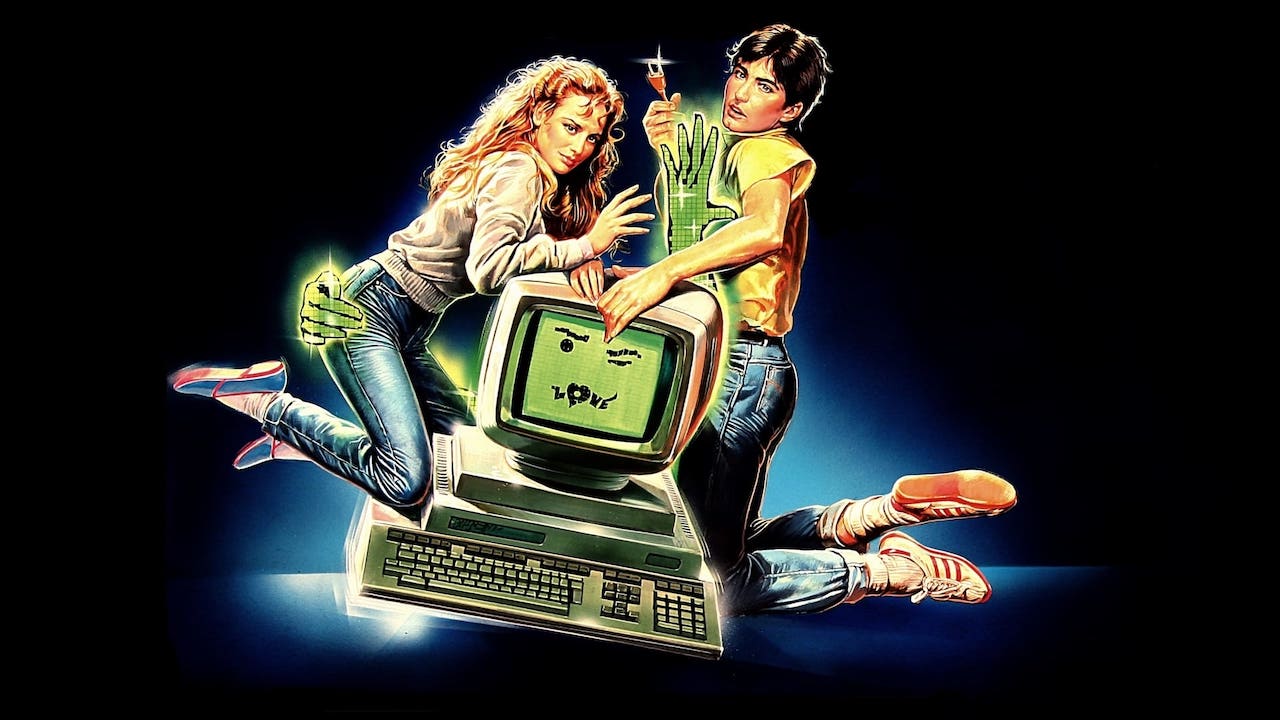 "Together in Electric Dreams" by Phil Oakey and Giorgio Moroder, from Electric Dreams
An 8-bit proto version of Spike Jonze's Her, Steve Barron's rom-com follows a ménage-a-trois between bespectacled architect Miles (Lenny Von Dohlen), his computer Edgar (voiced by Bud Cort), and Miles's neighbour, an attractive cellist named Madeline Robistat (Virginia Madsen). Barron made his name as a music video director—his impressive resume including "Take On Me" by a-ha, "Billie Jean" by Michael Jackson and "Money for Nothing" for Dire Straits—so he called in some favours when putting together the film's soundtrack with the likes of Culture Club, ELO's Jeff Lynne, and Heaven 17.
Needle Drop Moment
Edgar writes a song for Madeline, and the results get the toes tapping when the amorous PC takes over every available speaker on the planet to dedicate the pop song to the one he loves. The song happens to be the smash-hit by 80s music legend and Daft Punk chum Giorgio Moroder (Scarface, Cat People) and Phil Oakley, lead singer of new wave synth gods The Human League.