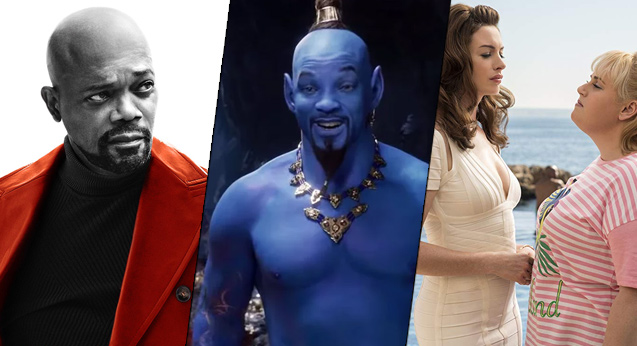 We cover a heap of movie trailers at Flicks, so we're not often overwhelmed by the amount that comes in. However, this week was different. Just look at all this. Look at it!
---
Not yet dated for NZ cinemas
Take a look at this biopic on legendary Lord of the Rings author JRR Tolkien, played here by Nicholas Hoult fresh off The Favourite. While it obviously doesn't have the LotR budget, this trailer teases how the writer's experiences in war grew to inspire the classic fantasy novels.
---
In cinemas June 27
The latest from Oscar-winning director Danny Boyle and the writer of Love, Actually looks infectiously delightful. Sure, we've had a few too many comedies where a bonk on the head gives you superpowers like gendered telepathy or self-confidence. But warping the world where you're the only one who remembers The Beatles? That's pretty specific, and we're all for it.
---
In cinemas May 9
Oscar winner Anne Hathaway and Pitch Perfect's Rebel Wilson lead this con-artist comedy as two swindlers with two completely different methods who unite for a common hustle. Will this espionage be as passably forgettable as Ocean's Eight or as surprising as Spy? Nothing's definitive in this trailer, though it has a clever visual gag near the end.
---
In cinemas May 23
Disney dropped a weighty look at their live-action remake of the classic '90s animated adventure. There's a heap to take in, but there's ultimately one takeaway that cannot be ignored: Will Smith as Genie. From Scorpion King references to images of the Blue Man Group, the internet's been having a good time commenting on his, erm, look.
---
In cinemas June 20
The killer toy is back with a new name, Buddi, and a whole new set of skills including WiFi and voice recognition. Sadly, those features are present in this first trailer, which looks a little generic, to be honest. However, there's no clear sight or sound of the demonic doll, so there are surprises the film's keeping in its Polly Pocket.
---
In cinemas April 4
Another horror remake dropped another trailer, this time for the latest Stephen King adaptation. Turns out, resurrection isn't all that's cracked up to be. If you're already excited for this, don't watch the trailer, as it reveals some key moments you'd rather have come at you by surprise.
---
In cinemas April 18
Here's a new trailer to the latest from the producers of The Conjuring, based on the classic American folklore. Two observations here. 1) gees, kids are getting it rough in these new horror films. 2) demonic ghouls have a thing for running their fingers through clean hair, don't they?
---
Not yet dated for NZ cinemas
The director of Ride Along, Barbershop and Think Like a Man introduces a new new Shaft in Jessie T Usher. If this trailer makes him seem like an odd choice to follow in the footsteps of Richard Roundtree and Samuel L Jackson (both of whom appear here), you're absolutely right. And that's entirely the point.
---
In cinemas April 4
Returning from the New Zealand International Film Festival, director Rebecca Tansley's beautifully shot documentary follows the construction of the ballet adaptation of Jane Campion's The Piano. As this trailer points out, there was a lot more for the production team to take on than they first thought.
---
In cinemas May 16
Speaking of dancing hearts, this soothing slice of romance gives plenty for the lovesick to swoon over. The film's leads, Yara Shahidi (Black-ish) and Charles Melton (Riverdale), look terrific and seem more than able to make a crazy ol' thing like 'love at first sight' seem believable.