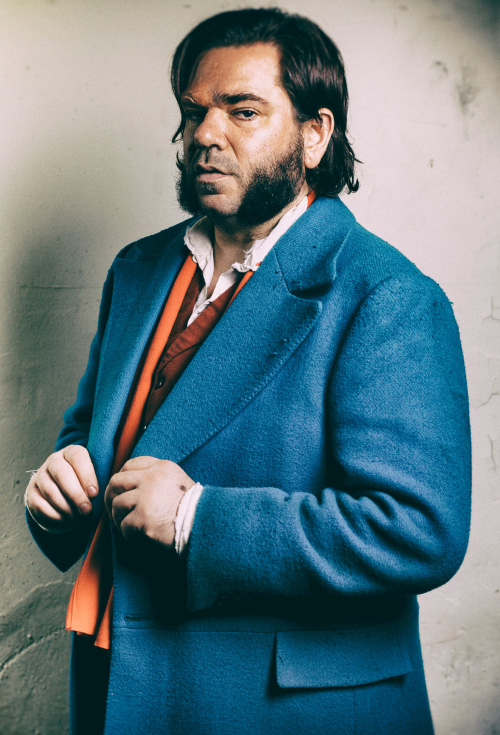 Matt Berry's comedy genius, Taika Waititi's cameo, and Year of the Rabbit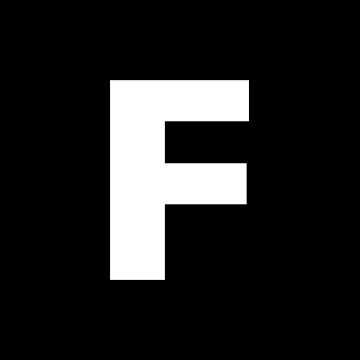 ---

Now streaming on NEON, Matt Berry stars in Victorian London cop comedy Year Of The Rabbit. As Matthew Crawley explains, Berry's genius precedes him in a way that'll get long-time fans excited about his new show.
Matt Berry is one of those comedy actors; you always remember exactly where you first saw them. For me, it was the brilliant show-within-a-show, Stephen King-esque Garth Marenghi's Darkplace, playing actor Todd Rivers playing 80s horror hospital hunk Dr Lucien Sanchez. His eyebrow-raising ability was, well, eyebrow-raising, and his stilted and hammy overacting second to none. By the end of that cruelly short series, I was a bona fide fan. For others, their "Berry birthing" may have come via his cocky explorer, Dixon Bainbridge in The Mighty Boosh, the boorish boss Douglas Reynholm on The IT Crowd, his infamous "Boyfriend sketches" from skit show Snuff Box, or even his turn as a burping antiques expert in obscure skit show Monkey Trousers.
Somehow having avoided the pitfalls of becoming trapped in the eternal cycle of British game show appearances, more recently Berry has won a cultish fanbase (oh, and a BAFTA) for his turn as caddish but down-on-his luck actor Steven Toast in Toast of London, and has been slowly edging his way into American living rooms via appearances on Community and Portlandia, voicing both a dolphin named Bubbles in a SpongeBob movie and Prince Merkimer in Matt Groening's Disenchantment, then a romping turn as Laszlo the vampire in the surprisingly good US series adaptation of Taika Waititi's What We Do In The Shadows (yes, the one streaming on NEON).
It could be argued that every man Matt Berry plays is, in essence, the same man—deluded, amoral, cavalier, and ridiculous. His characters always seem to have been born decades too late, with principles and vocabulary more in line with the likes of Carry on Camping and Benny Hill, with a touch of d-grade Casanova. Lest we forget the most important common denominator in any Matt Berry role, that which strikes mirth and glee into the heart of all who behold it: that voice. Blessed with a smooth and golden baritone set of talking pipes—a voice that could sell Scrooge McDuck a broken toothbrush—any one of Berry's characters sounds as if he's narrating issues of 1970s Playboy, complete with saucy pauses and exaggerated inflectionssssss-ahh.
However you came to be on Team Matt Berry, chances are you've followed him with a leery delight wherever he's gone since. So, when whispers began to circulate that Berry was co-writing and starring in a new BBC detective-comedy set in Victorian London, eyebrows began to rise very high indeed. That show, guvnor, is here at last and streaming on NEON. It's called Year Of The Rabbit, and holy tom tit me old mucker, it's as funny as all clackers.
When we first meet Berry's foul-mouthed, boozy, and jaded titular Detective Inspector Rabbit, he's being paired with an over-eager rookie, Wilbur Strauss, played by the fresh-faced Freddie Fox (of the famous Fox film-star family). The usual macho "cop show cliche" is swiftly avoided, with Chief Inspector Wisbech's adopted daughter Mabel (Susan Wokoma of Chewing Gum and Crazyhead) joining, and regularly outsmarting, the pair—against her father's wishes.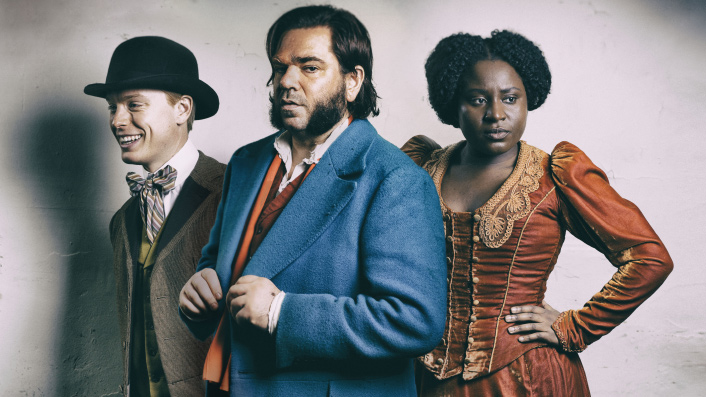 Across six gnarly, mud-sodden, beer-soaked, blood-stained episodes, we are treated to a parade of increasingly absurd cases for our fantastically flawed trio to crack, with an overarching mystery concerning a nefarious secret Victorian society, Belgian royalty, and a whole load of bloody murders. Along the way, we meet series regulars Joseph "Elephant Man" Merrick (David Dawson) the oracle of all things concerning London's underbelly; a nasty rival detective played with aplomb by Paul "Dennis Pennis" Kaye; the all-seeing publican Gwendoline (Ann Mitchell of EastEnders), and actual proper serious actor Keeley Hawes as the shadowy Big Bad of the season.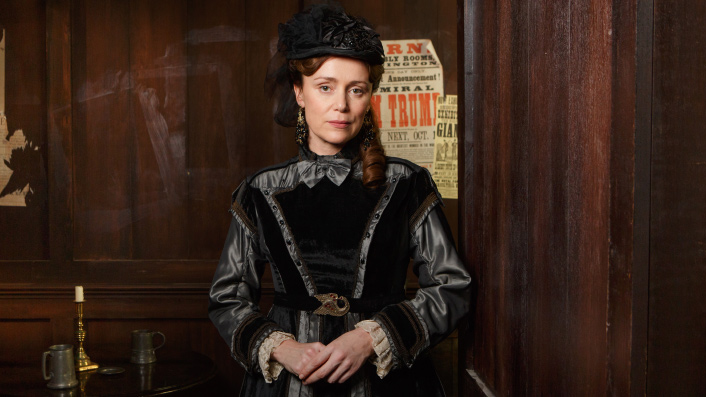 When it comes to cameos, again it's nice to wait for the odd surprise, but Taika Waititi fans can look forward to finding out how well he plays the accordion, and how much he knows about Cockney rhyming. It remains to be seen if Matt Berry will be stepping in to replace Chris Hemsworth in Thor: Love and Thunder, but dreams are free. Also showing up notably are Coronation Street's Jill Halfpenny, and a royal turn from British comedy legend Sally Phillips of Smack the Pony fame, but again, mum's the word on quite how they fit in the picture.
It's worth repeating quite how silly this show is, and with seemingly quite high production values and impressive attention to detail, it's a modern joy that this show was given such free reign to be made in the way it has been. The jokes in Year Of The Rabbit come thick and fast, never stopping too long to check whether they've made sense or landed where they intended to. Each of the characters gets ample opportunity to come across their own kind of moronic, and of course, everyone gets a win, managing to straddle that timeless line between unlikeable and charming.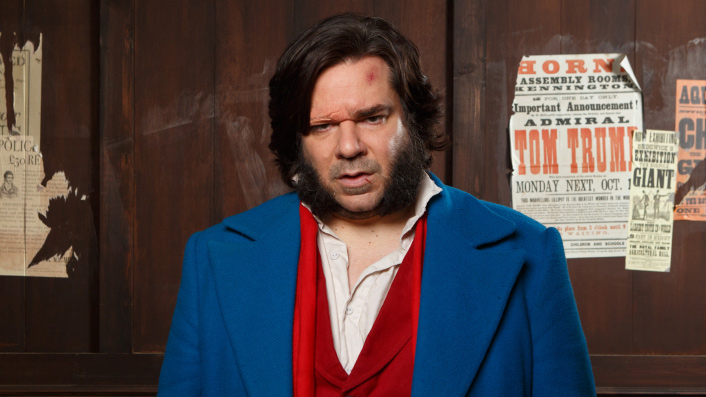 Naturally, it's Berry's vehicle, and he runs rampant as only he can. While perhaps more harassed than his usual bumptious characters (perpetually having to explain why he's only got one eyebrow…) Rabbit is most often found sousing himself at the Bar of Gold, regularly receiving either sage (and accidentally case-solving) advice from Gwendoline, or savage beatings. His love life is complex, as you'd hope, and while it's worth saving the details for you to discover for yourself in what little serious plot actually does unravel throughout the show, it deserves a mention that our detective has been taking love-making tips from Berry's alter-ego Steven Toast.
There is perhaps nobody more obviously fond of British pop-culture of yesteryear than Matt Berry. His most recent album (did I mention he also makes fantastic music?) is a covers album of lovingly recreated 1970s television theme songs, including Doctor Who, Rainbow, and Are You Being Served?. Berry's dedication to an aesthetic, and the memory of the gloriously silly heritage his homeland boasts, is a true pleasure to partake in… if you're into that kind of thing, you know.
If you're down for a bit of a ludicrous laugh in this miserable modern existence, take a trip back to when times were shitloads worse… Settle in with a cup of Rosie Lee by the old Obediah and sink your Hampstead Heath into a healthy chunk of Year Of The Rabbit!
* … "a dog chewed it off last Christmas"