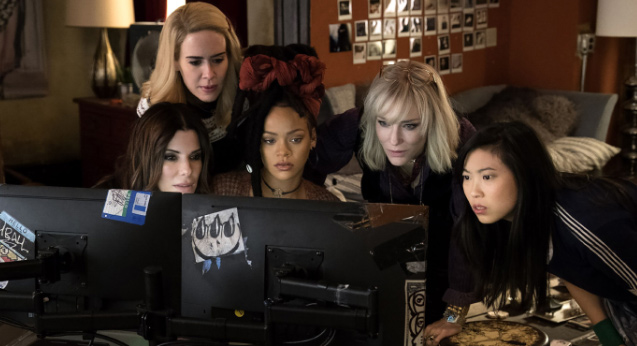 Ocean's Eight, the all-female spin-off from the Ocean's franchise of heist films, is now in cinemas (you can see it at HOYTS – who've brought you this opinion piece). As Amanda Robinson says below, the Sandra Bullock-led pic is more designed to deliver multiplex thrills than upend decades of Hollywood chauvinism.
---
On the eleventh anniversary of the release of Ocean's Thirteen comes Ocean's Eight, an all-female reboot of one of the slickest franchises ever developed, in which Debbie Ocean (Sandra Bullock) the younger sister of the original trilogy's Danny Ocean (George Clooney) gathers an all-female crew to attempt an impossible jewellery heist at New York City's annual Met Gala. The crew is helmed by Debbie's voguish blonde best friend Lou (Cate Blanchett), the Rusty (Brad Pitt) to her Danny. Then there's computer genius Nine Ball (Rihanna), jewelry maker Amita (Mindy Kaling), Debbie's old partner in crime Tammy (Sarah Paulson), artful dodger Constance (Awkwafina), and fashion designer Rose (Helena Bonham-Carter). The target of their heist is a multi-billion dollar diamond necklace on the neck of glamorous actress Daphne Kruger (Anne Hathaway).
The fact that the central characters are all female is not the principal focus of the film's plot, nor should it be the determining factor in this, or any film's quality. Many critics have heralded Ocean's Eight as a film "needed now more than ever", yet I find this interpretation tedious and shortsighted. First of all, nobody "needs" another $70 million movie with an A-list cast. Secondly, even though desire, rather than need, certainly should be reason enough for this film's production, "now more than ever" implies feminine subjectivity is only worth anything when women are being aggressively oppressed. What does that approach mean for stories by women that aren't explicitly focused on that womanhood? Are they, too, deserving? The political climate and whichever form of feminism is in vogue at any particular time is a ground far too unstable to base upon it the merit of female-led films. Even Cate Blanchett is fed up with incessant questions about the film's all-female casting in these uncertain times. In an interview with Refinery29, she said she wishes it were less remarkable:
"I am really done with talking about how amazing it is that we've got an all-female cast. Because in the end, it's a heist movie, and you don't want this sort of political climate on a human issue to eclipse the fact that this is just a fun film. The timing is actually completely coincidental. Fantastic, wonderful, but completely coincidental."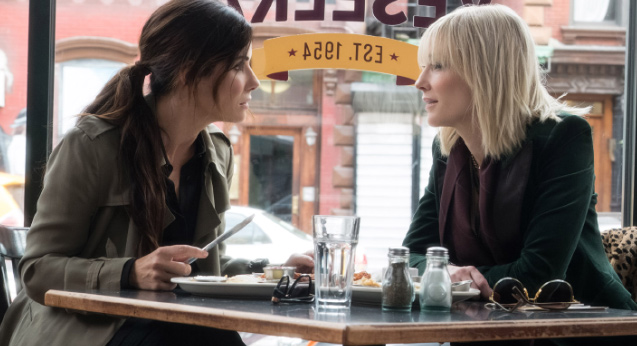 It seems redundant to applaud the film's recasting as any kind of symbol of political progression, considering the state of things. Instead, we must recognise all-female reboots as a very lazy, obvious, but nonetheless vital first step, of many, that Hollywood needs to make to tackle the problem of female representation in cinema. To industry heads, it's all about money. The 2011 success of Bridesmaids, essentially an all-female twist on 2009's The Hangover, ushered in a wave of all-female reboots that have stunned at the box office. In 2016, Ghostbusters took in almost $230 million. In large, it's not a feminist awakening that's underwriting these big studio reboots, it's the market.
Fun films featuring women will continue to be an escapist treat for audiences when the world for women outside the cinema is often less than fun. This escapism is grounds enough for a whole host of all-female reboots, and there are plenty of other franchises that could benefit from such an overhaul. In an interview promoting her 2010 spy film Salt, Angelina Jolie says she was asked to play a Bond girl and instead told executives she wanted to play Bond. Ever since, I've been consumed by this casting dream. Cate Blanchett as the villain, Tessa Thompson as the Bond girl. Wouldn't that be something? GoodFellas, too, would make a brilliant all-female reboot, all those mob wives in their pastels.
Still, these films will always be reliant on box office success. This means the industry is unlikely to ever fully embrace many of the compelling stories female filmmakers have to tell. This is why it is so crucial that progress does not stop with all-female reboots. More support must be given to female filmmakers to get their films made, so that the breadth of stories being told extends beyond all-female reboots of men's stories. Gone Girl's Rosamund Pike said it perfectly when clarifying that she'd rather play a female action hero in a new story than a female Bond, asking "Why should a woman get sloppy seconds?"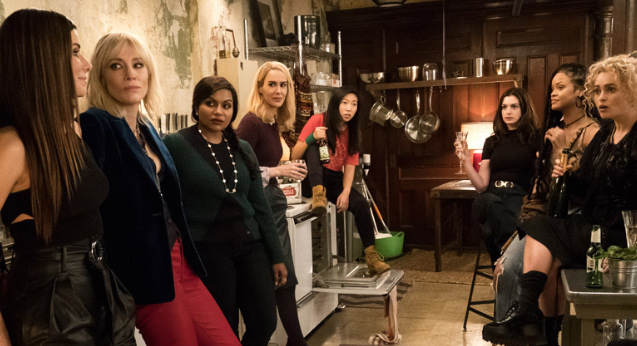 I'm hesitant, too, to echo the tired suggestion that the recasting of a film like this will make it more relatable to female audiences, as if gender inherently carries more kinship than Brad Pitt's character's affinity for eating messy foods in silk shirts, or the perfect near-screech bickering between Casey Affleck and Scott Caan in the original films, which aren't exactly immediately relatable to most men just because of a shared gender identity. Because male interiority has always been the default, women have learned to empathise with men, allowing us to enjoy and connect with films with all-male casts. It is with a sliver of earnest sentimentality that I hope, though cynically don't expect, the more films made concerning female interiority, the more men will learn to empathise with women. But while that's the goal of cinema in general, that's not the goal of this movie. The connections made while watching a heist film aren't about gender or interiority at all. It's the slick fantasy, the fashion, the projection of cool. Ocean's Eight, like the original trilogy, is pure and simple fun.
I expect Ocean's Eight to be a charming, funny, compelling film. Set at the Met Gala, I'm desperately looking forward to the inevitable brilliance of the costumes and production design, often my favourite part of any heist movie. To turn this film into agitprop is to take away from its simple purpose: to entertain. Ocean's Eight won't perfectly represent every kind of woman, which is why more films by women are necessary. Nobody ever asked Ocean's Eleven to speak for all men, because there were thousands of other examples to look to. Like the original trilogy, Ocean's Eight will be a fun film. I wish it was allowed to be just that.
---