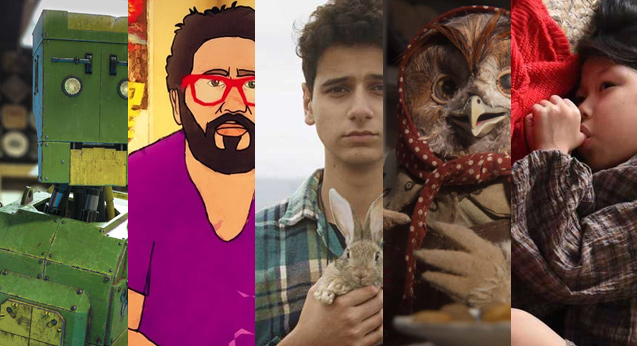 The 13th annual Show Me Shorts film festival announced the top 50 short films set to play in their 2018 programme. Just like previous years, the line-up contains a bunch of eye-catching films from all over the globe, from a South Korean animated short about explosive sneezing to a comedic Kiwi tale set within a gay conversion therapy camp for dogs.
The programme is split into seven categories:
The Sampler: accessible, heart-warming, fun films from Aotearoa and around the world.
My Generation: stories for little kids, medium kids, big kids, and kids at heart.
What Binds Us: stories centred on the things that keep human connections tight and strong.
Korean Focus: shorts showcasing some of South Korea's most talented filmmakers and storytellers.
Battling Your Demons: tales following characters attempting to find themselves when all seems lost.
Beat of My Own Drum: music-infused shorts that express the beauty of song and dance.
Late Night Frights: tense, creepy shorts best suited for horror fans.
The countries represented in this year's programme includes Australia, Belgium, Brazil, China, France, Germany, Japan, South Korea, Lebanon, New Zealand, Norway, South Africa, Spain, Sweden, Switzerland, UK and USA.
Sign up for Flicks updates
Here's the rest of the official press release.
---
Four Kiwi films will make their world premiere during the festival: One Day by Nicky Cameron, Twenty One Points by Pete Circuitt, Toilet by Simeon Duncombe and Delivery by Stephen Kang. Chinese film 牛奶 (Milk) and South Korean film 단팥죽 (The Red Bean Soup) will also make their world premieres during the festival. More than 30 international films in the programme will have their New Zealand debut.
South Korean filmmakers are in the spotlight this year, with a special Korean Focus section in the programme. Two guest filmmakers will attend the festival from South Korea, Jinju Oh and Sung Yoon Kim, thanks to a collaboration with the Korean Embassy of New Zealand. The Korean Focus programme includes seven South Korean films, including a comedy about a family having dinner on the eve of Korean reunification and a delightful coming-of-age story about a teenage boy who finds himself in danger of demotion from the choir due to his breaking voice.
Festival Director Gina Dellabarca says, "The 2018 programme is a mix of edgy, entertaining, impressive and charming. We hope this year's line up will take audiences on a ride through a range of emotions as they empathise with characters both similar to and different from themselves. That's the beauty of short films – viewers so often learn something new, feel something deeply or are genuinely inspired."
Show Me Shorts is an Oscar-accredited film festival, meaning the winners of the top two awards, Department of Post Best New Zealand Film and SAE Best International Film, will become qualified to enter the Academy Awards. Ten prizes will be given out at the launch of the festival on Saturday 6 October at Auckland's The Civic. Wellington Opening Night will follow on Friday 12 October at The Roxy.
With more than 25 cinema locations across the country, from Kaitaia to Stewart Island, there are ample opportunities to get friends and family together and enjoy the range of films and events on offer. Full dates, locations and booking information is available here.