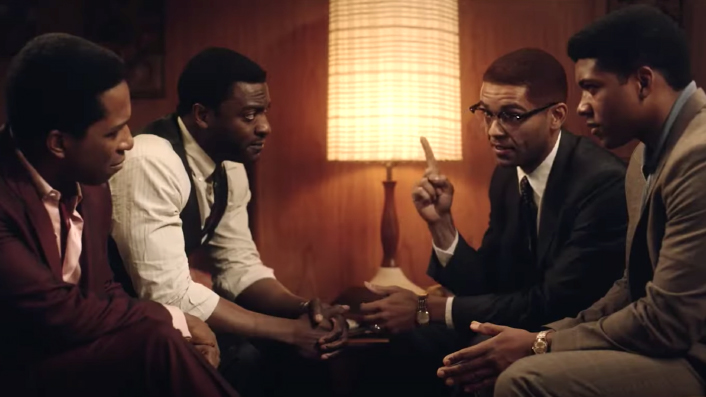 Four 20th century legends come together in One Night in Miami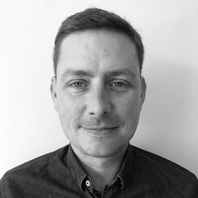 ---
Cassius Clay, Malcolm X, Jim Brown, and Sam Cooke share a night of civil rights soul-searching and infighting in One Night in Miami, streaming on Prime Video from January 15. As Matt Glasby writes, Regina King's eloquent drama can't shake its stage origins, but still makes us feel like participants in an evolving debate, rather than just flies on the wall.
Based on the play by Kemp Powers (Pixar's Soul), who also wrote the script, and directed by the actor Regina King (If Beale Street Could Talk, Watchmen) this eloquent drama spins a speculative tale from real-life events.
See also:
* All movies now playing
* All new streaming movies & series
On the night of 25 February 1964, the boxer Cassius Clay (Eli Goree)—soon to convert to Islam and change his name to Muhammad Ali—beat Sonny Liston to become the world heavyweight champion. Afterwards, he retired to a motel to celebrate with three famous friends, namely: activist Malcolm X (Kingsley Ben-Adir), soul singer Sam Cooke (Leslie Odom Jr), and the NFL star Jim Brown (Aldis Hodge). Four remarkable men, each living out a different version of the African-American experience.
Sign up for Flicks updates
Nobody knows what actually transpired, but Kemp imagines a night of civil rights soul-searching and infighting, as Malcolm X's guards stand watch outside and Feds lurk in the carpark. Aside from the excellent performances, the film's main strength is in making us feel like participants in an evolving debate, rather than just flies on the wall.
"We're entering a new time," says Malcolm X, given a disarming bookishness by Ben-Adir, as he encourages the others to "strike with the weapons that you have". "We're not anyone's weapons," insists Jim Brown, who Hodge plays as a sad-eyed realist. Goree, meanwhile, is all preened and pumped as Clay, with Odom Jr slick but increasingly uncertain as consummate entertainer Cooke.
Brown is about to give up football for acting, but Clay, who has fallen under Malcolm X's spell, warns him against becoming "the sacrificial negro". Cooke, meanwhile, sees his role as empowering black people by becoming financially independent—an argument put forward by Chadwick Boseman's songwriter in Ma Rainey's Black Bottom, another play turned into 2021 Oscar bait. The point is that, in such incendiary times, every choice they make is political whether they like it or not.
Smoothly shot, with just a smattering of piano music, and very few scenes outside the motel room, the film never quite overcomes its stage origins. But nor does it betray the seriousness of its intent in favour of easy answers. It might not demand a watch, but it certainly deserves one.