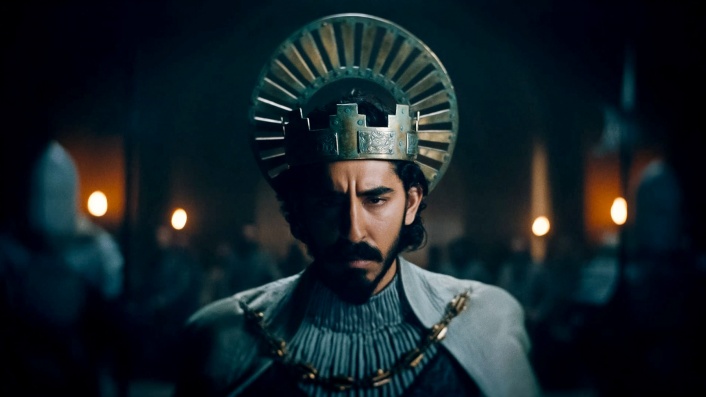 Everything we know about the highly anticipated dark fantasy The Green Knight

---
Starring the dev-astatingly handsome Dev Patel, upcoming fantasy epic The Green Knight has been collecting positive buzz for yonks. Here's what we can expect (no spoilers!) when the film finally arrives in New Zealand.
The legend of King Arthur and his various Knights of the Round Table dates back to the Middle Ages—too crusty and old to be protected by modern copyright law. Being in the public domain, this means we can pretty much always expect to see some retread of the epic stories every few years for the rest of our lives.
Then comes along something like The Green Knight, a much-buzzed-about fantasy epic focusing on Arthur's nephew Sir Gawain. It's from arthouse director David Lowery, who gives the dev-astatingly handsome Dev Patel a bloody massive axe and sends him on a quest of talking foxes and not-so-jolly green giants.
If that sounds like something you simply must see in order to believe it, you're in luck: Prime Video has confirmed that The Green Knight will be available for New Zealand subscribers from October 28. It's not the ideal big screen experience many locked-down cinephiles would aspire to, but at least we can finally see this anticipated epic, and find out once and for all: just what is the deal with The Green Knight?
Here's what we know about the 14th-century cinematic reimagining so far, beginning with an environmentalist explainer from Lowery and Patel. It sounds like this ancient tale has some very contemporary, climate-conscious fears to tackle.
A trial by nature ⚔️🍃 Dev Patel and director David Lowery on the sweeping, untamed world of #TheGreenKnight pic.twitter.com/T1xOv63rVi

— The Green Knight (@TheGreenKnight) August 4, 2021
David Lowery's last few films, The Old Man and the Gun and A Ghost Story, were both genre-busting festival faves, and we were expecting just as much lush cinematography and oddball narrative from this newest A24 venture. Until coronavirus came along and cancelled The Green Knight's premiere at South by Southwest 2020, pushing back the film's US release.
In the original Arthurian poem and this new film, Sir Gawain (Patel) accepts a duel with the ominous Green Knight (Ralph Ineson). Whoever can behead the big fella with one blow will win his axe, but must receive the same wound exactly one year later. Gawain's hubristic killing lands him a year of agonising suspense—can he find some fantastical solution to his prophesied beheading, or should he just lay back and take it?
In the trailer below we see friends and foes Alicia Vikander, Barry Keoghan, Joel Edgerton, and Erin Kellyman in sick Middle Ages garb, plus some tantalising scenes of swordplay and skyscraper-sized women.
Before Kiwi viewers had any chance of seeing The Green Knight, the first feedback from international viewers ranged from confusion to ecstatic praise: focusing on Patel's heroic lead role, the surprisingly inexpensive cinematography, and the story's most horny, unforgettable moments.
The Green Knight cost 15 million and looks better than basically anything that has ever cost over a hundred million. Money is fake and craft is everything.

— Gretchen Felker-Martin (@scumbelievable) August 1, 2021
This summer's hottest film is THE GREEN KNIGHT. It's got everything: tender face touches between fellas, screaming foxes, confronting death, nut

— Mary Beth McAndrews (@mbmcandrews) August 1, 2021
Some negative reactions to THE GREEN KNIGHT remind me of how angry people were at THE WITCH. I watched it at a Regal and people walked out. Those who stayed till the end were vocal about their dislike. A24 sneaking art films into multiplexes & Ralph Ineson causing uproar again!

— Carlos Aguilar (@Carlos_Film) August 2, 2021
Currently sitting at a fresh 90% from critics on Rotten Tomatoes, the same site's audience rating is at a divisive 53%, so it'll be fascinating to see whether Kiwis can vibe with this medieval art flick or not once The Green Knight premieres on Prime Video this October.
A24 films have a sluggish track record in Aotearoa cinemas, with Waves arriving on our shores a full year after its US release, and both The Lighthouse and Midsommar taking way too long to arrive as well.
That's the best explanation we can give for why it's taken so long to see The Green Knight, and why Kiwis sadly may not be able to witness the Middle Ages mayhem on a big screen—but at least, thanks to Prime Video, we're not left waiting for good news any longer, like poor sexy Sir Gawain.