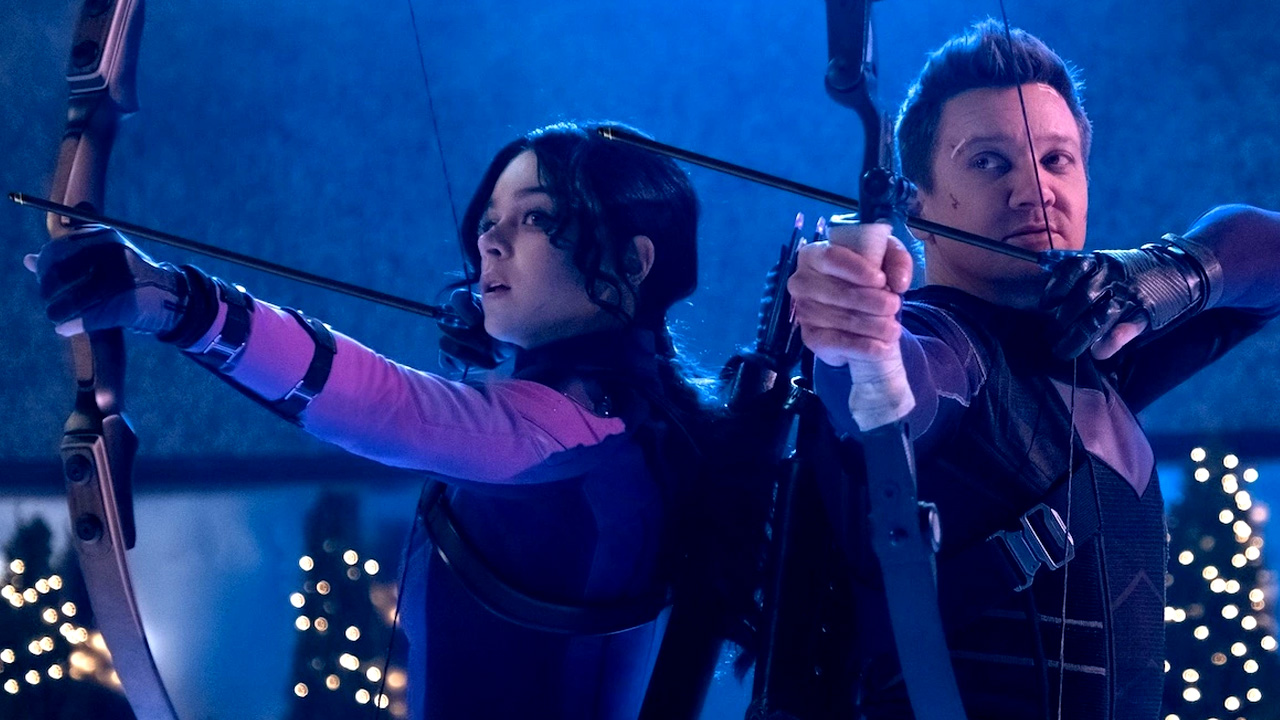 Xmas-themed Hawkeye is a much-needed holiday from MCU doomsday threats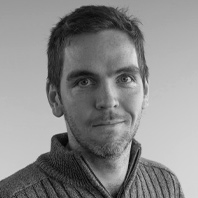 ---
Jeremy Renner returns as masterful archer Clint Barton (AKA Hawkeye) in this Christmas-themed Marvel series where he trains Kate Bishop (Hailee Steinfeld, Bumblebee) to become a "superhero without superpowers." Liam Maguren takes a shot at the first two episodes.
Beware of light spoilers for Loki and Shang-Chi and the Legend of the Ten Rings.
A lot's happened in Phase Four of the Marvel Cinematic Universe. The world's been on the brink of collapse multiple times, if not from the social chaos seen in The Falcon and the Winter Soldier then from some otherworldly creature fought by Shang-Chi or the Eternals. Then you've got that whole dismantling of the multiverse thing in Loki, opening up multi-dimensional threats seen in What If…? and those Spider-Man: No Way Home trailers.
When every day's a doomsday, it can get a bit exhausting. Fortunately, the MCU's fifth series Hawkeye is here to give us a much-needed holiday from world-ending events. Is it any wonder it's set during Christmas?
Harshly but perhaps fairly dubbed the least useful of the original Avengers, Clint Barton's always been a lowkey underdog in the MCU. It's hard not to be when compared to a super soldier, a tech genius, a AAA assassin, a muscle tank, and a literal god. But while being a good archer doesn't quite rank alongside the others, Clint's always had something they lacked: a functioning and healthy family life.
The abundant value of being an average family man remains intact with Hawkeye, as does the oddity of being a normal human in the extraordinary world of the MCU. The first episode does a great job exemplifying both, placing Clint and his three kids in front of a painful/hilarious Broadway production of the 2012 Chitauri attack on New York City (see: The Avengers). As well as being one of the funniest and most rewatchable things in the recent MCU, this scene neatly anchors the show as one of the more grounded entries in this ever-expanding universe.
Clint cannot cringe harder at this musical re-enactment of a violent encounter he experienced firsthand. But, like any good dad, he went along anyway as a means to spend time with his kids. And the kids, bless 'em, give him the sympathy cringes he needs to feel sane. When Clint sends them home, that's when Hawkeye sets up one of its big tension points: a dad's promise to be home for Christmas.
And it works, proving that not all stakes in the MCU need to come with earth-shattering kabooms.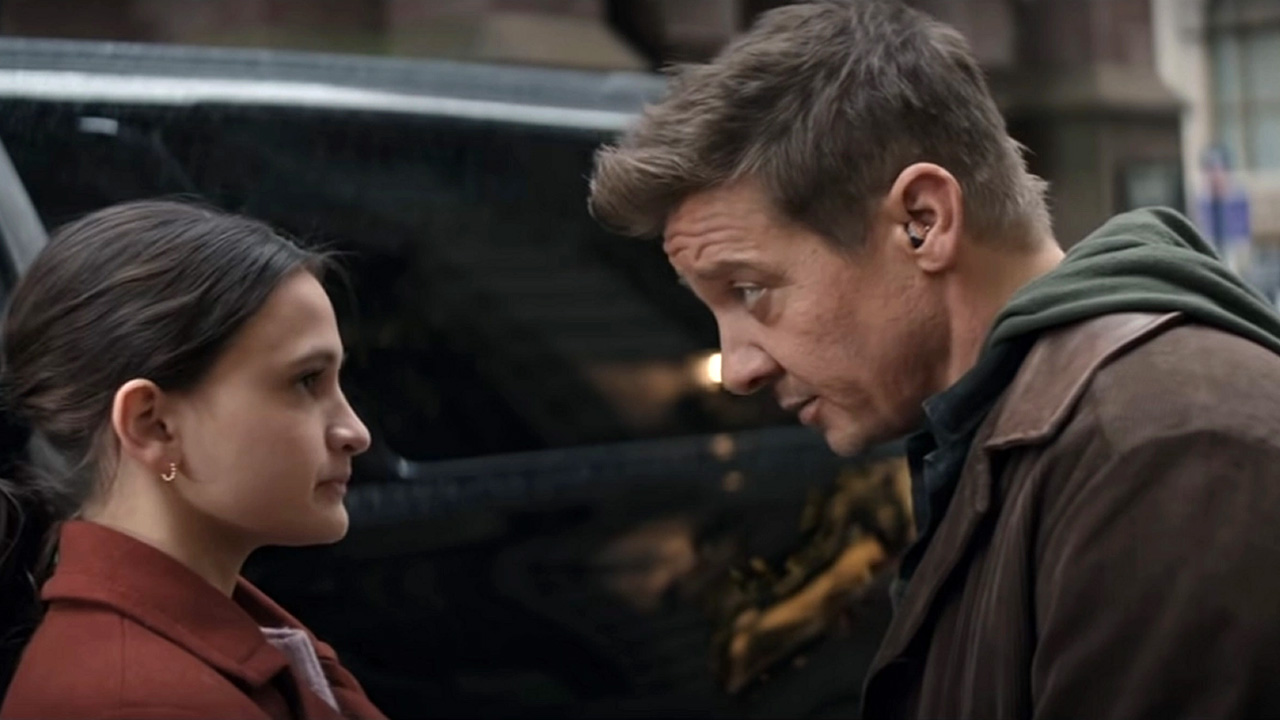 The reason Clint can't come home yet? That meddling Kate Bishop. Played by the always-great Hailee Steinfeld, making her welcomed debut to the MCU, Kate's introduced early on with a Batman-lite origin story: she's born rich, but not super-rich, and loses her father, but not her mother (Vera Farmiga). As a survivor of the Chitauri attack on NYC, the impressionable child is presumably the only human being who saw Hawkeye do the shoot-a-grapple-hook-while-falling manoeuvre.
That slo-mo-worthy moment kicked off two big things: Kate's dedication to archery/fencing/martial arts, and Hawkeye finally getting a #1 fan. Not that Clint ever wanted one, especially when said "fan" digs up the suit from his former life as a murdering vigilante.
As many would have predicted, Hawkeye touches on Clint's time as freelance assassin Ronin. A prominent plot point in Avengers: Endgame, that storyline was criticised for taking unsatisfying leaps in that character's morals. Clint loses family; goes on a killing spree. Clint gets family; he's all good. It left a lot to be desired.
Though there was only one scene of Ronin in full fury, all his victims were Asian men—a fact that was not ignored. Released a year prior to the #StopAsianHate rallies, this moment in Endgame looks even more misjudged today than it did back then.
As an Asian American living in Japan, I was especially angry about it and the lack of criticism it's gotten in intersectional circles. I wrote about it: https://t.co/iLuxjZVk4D

— Jason Ten (@JasonThinh) May 9, 2019
Having seen only two episodes, it's unclear how much Hawkeye will fill out the Ronin side of Clint's character. Fortunately, it looks to play a major part in this series, which is a promising start. It's done enough so far to make one wonder how Kate's demeanour would change were she to find out what Clint did during the Snapped Years.
As it stands, though, Hawkeye gets a lot of early mileage out of Clint and Kate's master-apprentice/Grinch-and-Cindy-Lou relationship. It's a great double-act, with Steinfeld nailing that stench of desperation a talented but over-eager intern in their early 20s would reek of, perfectly opposed by the stone face of Jeremy Renner not caring in the slightest. Kate's badassery with a bow and her fists mean little to a man whose Christmas might get cancelled by this Zoomer's crime-fighting nonsense.
While it's not quite Thor: Ragnarok in its level of comedy, it shares a similar desire to mock superhero egotism. In its first two episodes, Hawkeye aims that mockery at Kate, knowing full-well her abilities were accessible in part by her privileged upbringing. Even Farmiga's character is hyper-aware of her daughter's inflated self-image, noting the one thing young people and rich people have in common—thinking they're invincible.
As you'd expect from someone who's both of those things, Kate's annoying, but the right kind of annoying—the kind that feels painfully relatable to anyone who's screwed up trying to do the right thing. That hard-to-pin-down quality relies on Kate's earnest and infectious vigour to do good, despite her youthful narcissism and naivety, as well as her mistakes being balanced by her successes.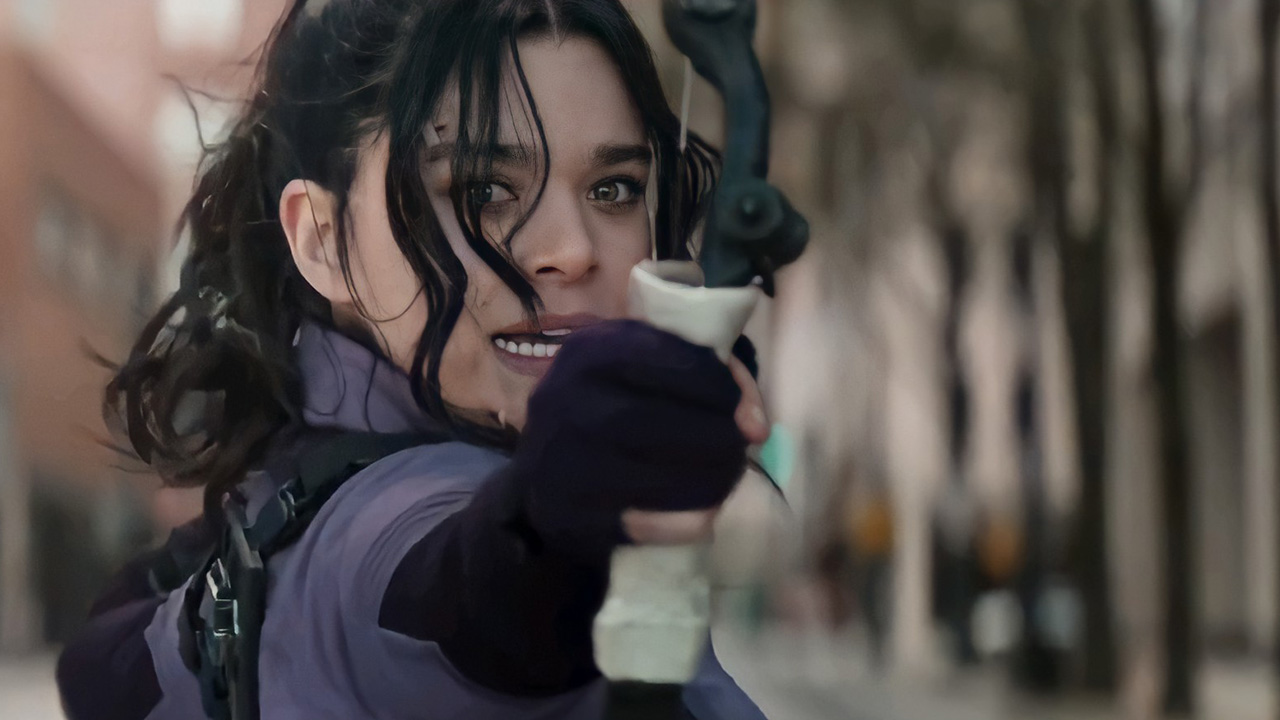 Kate's never more earnest than when she's trying to expose a potential inheritance scheme. That may seem like a far cry from everything else in the show, but when the potential victim's her own mother, it brings the family dynamic back into play. Add to that a cute dog, some corny goons named the Tracksuit Mafia, and a snow-covered New York that brings to mind the superior Home Alone film, and you've got a series that fully embraces the spirit of Christmas.
If I have any big concerns, it's that I'm unsure how the Ronin backstory can be covered properly. With only four episodes remaining, Hawkeye hasn't even scratched the tip of that iceberg, and while I'm here for grounded Christmas shenanigans in the MCU, the show will also need to curve its tone in order to confront Clint with his dark past.
Time will tell. For now, this wrapped gift of a show isn't looking like a lump of coal.