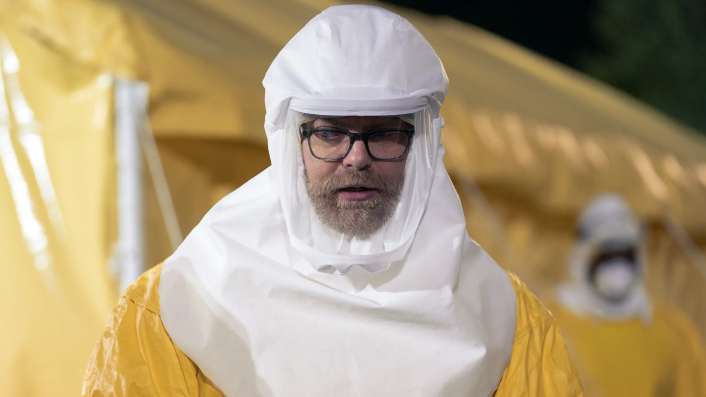 Utopia is a watchable conspiracy thriller with a coincidental pandemic plot

---
Told with both cartoonish glee and grim seriousness, the conspiracy series Utopia (now on Prime Video) arrives with narrative details that eerily resemble our current, pandemic-struck world.

Based on the 2013–14 British show of the same name, Prime Video's new thriller series Utopia was initially picked up for a US remake back in 2014. Hitting screens now after jumping from HBO in 2018, and losing director David Fincher but keeping Gone Girl author Gillian Flynn, it airs with a thoroughly 2020 warning.
See also
* All new movies & series on Prime Video
* All new streaming movies & series
Before each episode, Utopia reminds viewers that this is fiction, "and not based on an actual pandemic or related events." The series was filmed in 2019, so it can't have taken any cues from COVID-19. When you're spinning a story about pop culture fans gleaning conspiracy theories from a piece of entertainment as a new disease starts spreading, however, that type of caution perhaps comes with the territory.
Also part of the Utopia package: Contagion-style narrative details that feel eerily close to the current reality, and Flynn's usual obsession with the impact of trauma and violence (as familiar to viewers of Sharp Objects and Widows, too). Told with both cartoonish glee and grim seriousness, Utopia's eight-episode first season offers up something else as well. It's engaging and keeps audiences watching, deploying a constant onslaught of twists to cause that exact result. But in addition to seeming as if it's only unfurling half the story it should've, it also feels obvious and hollow. Anyone taking its characters' lead and scouring for deeper answers won't need to search for long.
Utopia begins with a quest, after the titular graphic novel is found among a pile of junk. It is put up for auction at a comic book convention and attracts a group of diehard fans. Samantha (Jessica Rothe, Happy Death Day) works in landscaping, Ian (Dan Byrd) sells insurance and Wilson (Desmin Borges) doesn't need any help questioning authority. Together with Becky (Ashleigh LaThrop), who Ian clearly has a crush on—plus Grant (Javon Walton), who no one has gleaned is actually a child—they spend their spare time chatting online trying to decode every inch of Utopia's predecessor, Dystopia.
More than that, this ragtag gang is convinced that Dystopia's pages aren't just entertaining, but accurate. And, that Utopia will be as well. Not only do both books explore the exploits of a girl called Jessica Hyde, and her kidnapping alongside her scientist father by the sinister Mr Rabbit, but Dystopia might've predicted SARS. And when a creepy killer (Christopher Denham) shows up at the convention, starts offing anyone who has seen Utopia and keeps asking about Jessica Hyde's whereabouts, it really does appear that these texts aren't mere works of fiction.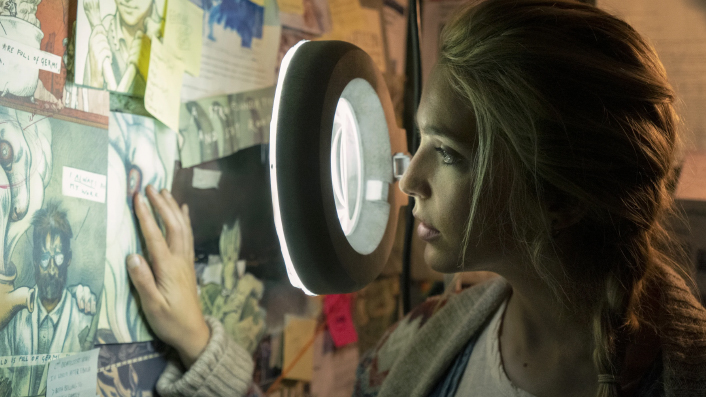 Utopia (the series) throws more into the mix, including a growing outbreak, protests over the government response, and an expert (Rainn Wilson) on the disease who struggles to be taken seriously. Then there's the unnerving big pharma head honcho (John Cusack), and the mysterious young woman (Sasha Lane) also searching for Utopia.
Alas, while this show is fond of taking sudden turns, trading in shock revelations and even eradicating prominent characters unexpectedly, a certain sensation settles in quickly. Telling a tale about a motley crew trying to dismantle a conspiracy and bring down the powerful controlling forces behind it, it falls neatly into Amazon's recent catalogue, as viewers of The Boys and Hunters will spot easily.
It's notable that Amazon keeps making shows along these lines. The Boys unmasks not-so-heroic superheroes and the organisation behind them, while Hunters attempts to thwart a secret Nazi group attempting to set up a Fourth Reich in 1970s America—and, like Utopia, continually questioning the powers-that-be is baked into their respective premises.
Sign up for Flicks updates
We live in conspiracy-filled times, as real-life theories around everything from mobile phones and the Snyder cut to vaccines and climate change makes plain, so it isn't surprising that TV content is following suit. Amazon isn't alone in jumping on the trend, but the huge multinational company's decision to add Utopia to its stable of thrillers plays like the product of an algorithm.
Perhaps that algorithm should've led Prime Video to stream the British Utopia, instead of greenlighting this remake. Again, the US version is watchable, as well as bingeable. It makes great use of Wilson, Cusack and the always-impressive Lane, lets viewers ponder a world where Gone Girl: The Musical exists, and never slackens for pace. But, whether proposing that comic book fans do indeed know everything or positing that some conspiracies are valid, every second always feels particularly calculating in Amazon's hands.
The outbreak plot is a coincidence, but if Utopia was being shot now to air next year, perhaps the streaming platform wouldn't bother reminding viewers that it was 100-percent fiction—if that would increase its audience.