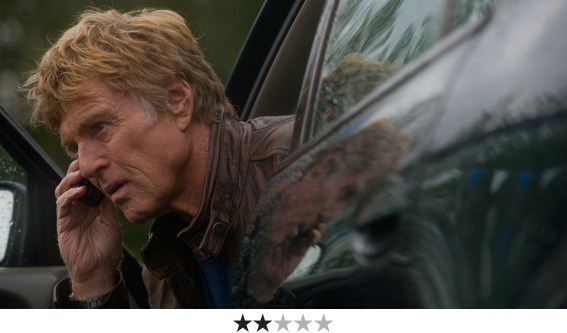 Oscar-winner Robert Redford directs and stars in this politically-charged thriller as Jim Grant, a civil rights lawyer and single father forced to go on the run after a brash reporter (Shia LaBeouf) exposes his true identity – Grant is an ex-Weather Underground revolutionary wanted for murder. Sparking a nationwide manhunt, the fugitive sets off on a cross-country journey to clear his name. Co-stars Susan Sarandon, Stanley Tucci, Nick Nolte, Anna Kendrick and Terrence Howard.
Read more and find movie times.
---
Robert Redford's fictionalised flushing-out of the remaining members of the '70s radical anti-war group Weather Underground is a dull thud of a film, strenuous in its steadfast character-driven-ness and resistance to any sensation. Fundamentally a throwback to Alan J. Pakula-style thrillers of that era (All the President's Men et al), The Company You Keep unfolds its flimsy man-on-the-run narrative at a dreadfully near-catatonic pace that never makes you feel like there's much at stake.
It's basically a road trip/old-friends-reunite movie where lawyer Jim Grant (Redford) – actually the FBI's most-wanted "Weatherman" Nick Sloan – must make his way cross country to find the only person who can clear him of a murder that he obviously didn't commit. A bad-haired, bespectacled Shia LaBeouf is the cocky dirt-digging reporter who's sniffing out Sloan for his next big headline.
The rest of the cast is rounded out by an embarassment of distractingly familiar faces that yanks you out of the film more than anything: Terrence Howard, Nick Nolte, Richard Jenkins, Julie Christie, Stanley Tucci, Brendan Gleeson, Brit Marling, Sam Elliott. By the end of the movie you'll have forgotten Anna Kendrick was actually in it. There's a strong, brief performance from Susan Sarandon as Sloan's former associate Sharon Solarz, who does a better job of conveying how their past political transgressions have shaped their lives over the years than Redford, who conspicuously lacks a certain hardness and ambiguity for his role.