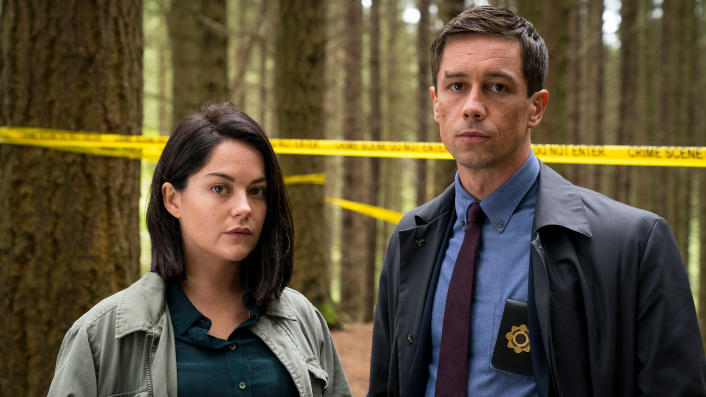 Irish series Dublin Murders has plenty to please Nordic noir crime fans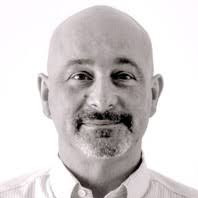 ---

A new crime drama series streaming on Neon sees top-tier cinematography and a cast of familiar faces employed to bring a popular series of crime novels to the screen. As Adam Fresco writes, Dublin Murders, which starts with the discovery of a young teenage girl's corpse in the woods outside Dublin, offers plenty to please even the most ardent fan of Nordic noir-style, cop versus serial-killer shows.
My biggest complaint about only having seen one episode of Dublin Murders in writing this story is that I'm now left hanging on desperately to see the rest. Scripted by Sarah Phelps, and based on the 'Dublin Murder Squad' books by Tana French, series one of this gritty, Irish-set, drama consists of eight, hour-long episodes. Judging by this densely packed, firmly paced, and downright beautifully shot and acted opening salvo, I'll be glued to the next seven episodes.
See also:
* All new movies & series on Neon
* Everything coming to Neon in August
* The best thriller films of last decade
Moody, dark, and fittingly bleak, Dublin Murders starts with the discovery of a young teenage girl's corpse in the woods outside Dublin in 2006. Add a host of unanswered questions, possible suspects, odd goings on, and myriad possible clues, and there's plenty here to please even the most ardent fan of Nordic noir-style, cop versus serial-killer TV.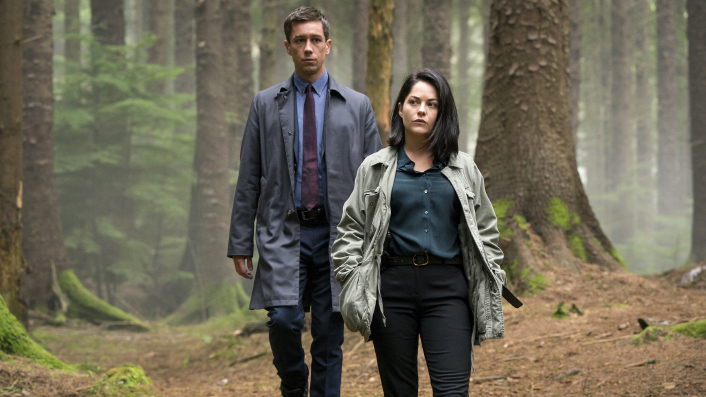 Top-tier cinematography sets the scene of the spooky woods where, between shafts of sunlight, trees rise like ogres coated in thick moss. It's an immediate and evocative visual reference to a world of dark myths and legend, and grim fairy-tales of children entering the woods only to stray from the path and land in a whole heap of trouble. Having read the books on which the series is based, it's exhilarating to see complex characters make the leap from page to screen with little lost in the transition, and much gained in mood, with shadow-soaked visuals doing dark justice to pages of dense description.
The series centres on Garda (Irish police) detectives, Rob Riley (played by Killian Scott) and Cassie Maddox (Sarah Greene), who set out on a grim path to find the killer of the young girl. But the circumstances of the crime reopen old wounds, and memories of two decades ago, when three local children playing in the same woods vanished. Two of the missing kids were never found. The third child, Adam, was found by a search-party; clinging to a tree, his sneakers and socks soaked in blood—not his own.
Sign up for Flicks updates
Is the murdered teen connected to the children who vanished some twenty-years before? Or to their friend, found blood-soaked, but unable to tell what happened to his two playmates? Are the murdered girl's family hiding something? Why is a homeless guy writing "He Rises" on signs for the planned new motorway development? Who is buying up the land, and will the proposed road entail tearing down the ancient woods? What has the nearby archaeological dig uncovered, and why is the lead archaeologist so rude to the detective protagonists? Is there more to Dublin Murders' lead duo of investigators than meets the eye? And what is it between them? They seem pretty touchy-feely with one another. Are they lovers? Former lovers? Relatives? Just good friends?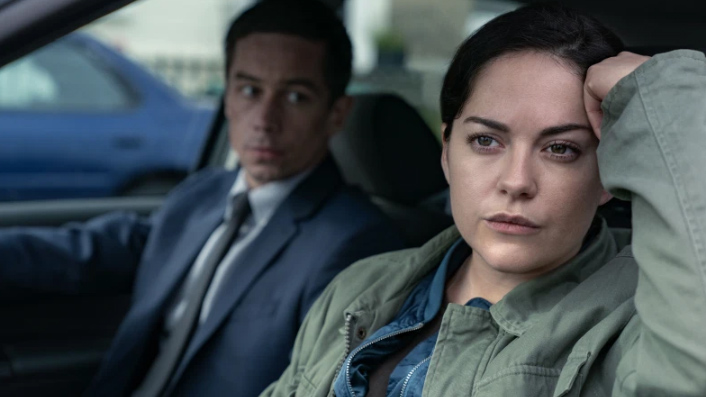 What's a red herring? What's a true clue? It's all up for grabs in this creepily crafted, introductory episode that expertly wrings the tension and mystery out of the ever-twisting narrative and cast of intriguing characters, including an array of familiar faces from TV series Game of Thrones and Vikings (both shot in Ireland). So, to save you the hassle of yelling "I know that actor! Where have I seen them before?" let me introduce you to some of the supporting cast I spotted in this first episode.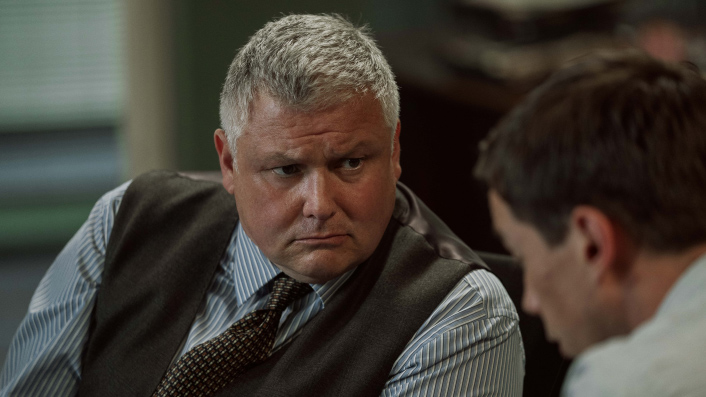 In the role of the grumpy boss of the detectives, Conleth Hill is suitably old-school, sexist and impatient, his broad Irish accent and short-cropped white hair making him an ideal Superintendent O'Kelly. But if you think there's something eerily familiar about him, that's because he's the same actor who played Lord Varys, the bald, chubby, eunuch and slippery political operator from Game of Thrones. Yup, that's the oily, cunning and soft-spoken Lord Varys alright, almost unrecognisable here as the old fashioned Irish copper who thinks political correctness is for idiots and the English.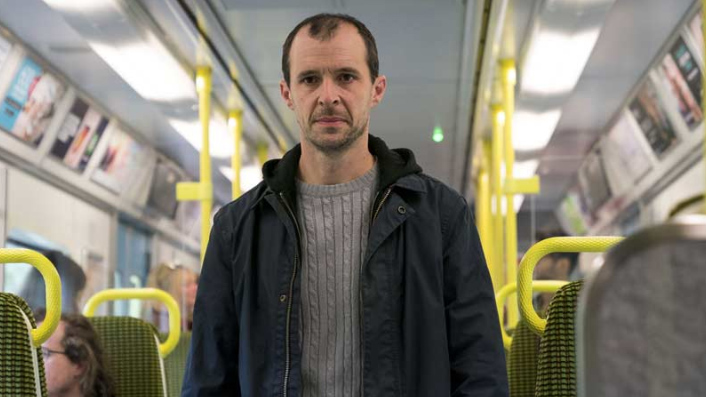 Who is that mysterious bloke following Detective Cassie Maddox? Shifty, suspicious and familiar, it's actor Tom Vaughan-Lawlor, who made such an impact as Malacki Byrne in Peaky Blinders.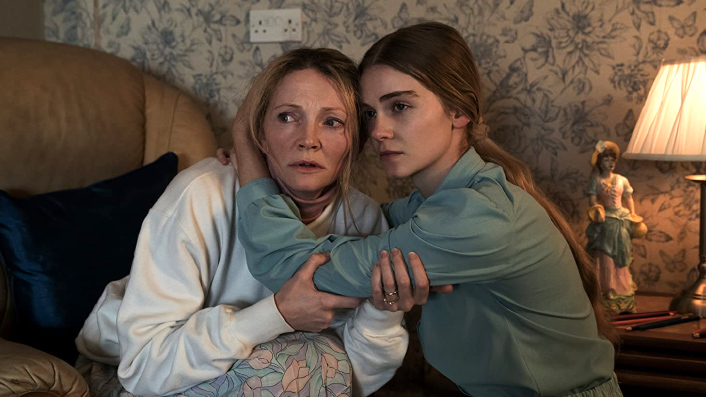 Then there's Leah McNamara, as Rosalind Devlin, sister of the murdered teen found in the woods, who you might recognise from her role as Aud in Vikings. Playing her mother is Kathy Monahan, who played Eira in Vikings, now playing Margaret, the seemingly perpetually tranquilised mother, hypnotised by a television set and unable to deal with her daughter's murder.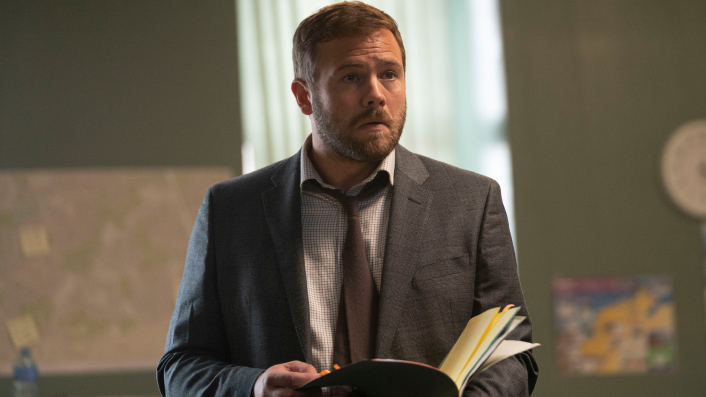 Rounding off this first episode's roll call of recognisables is Moe Dunford as Detective Sam O'Neill, who you may well recognise from roles in Vikings, Game of Thrones and The Tudors.
In other words, what we have here is a high-calibre supporting cast of experienced character actors, complemented by a great script, a tangled web of intriguing mystery, and high production values. Most avid murder mystery fans will be speculating about where this all heading from episode one, as is the case with all mystery series, but Dublin Murders is more personal in its impact, and the origin and outcome of the historic child-abductions and modern-day murder fertile dramatic ground. Pure melodrama, (and I mean that in the nicest way), in which the stakes are high, the mysteries deep, the motives murky, and the plot just keeps on thickening.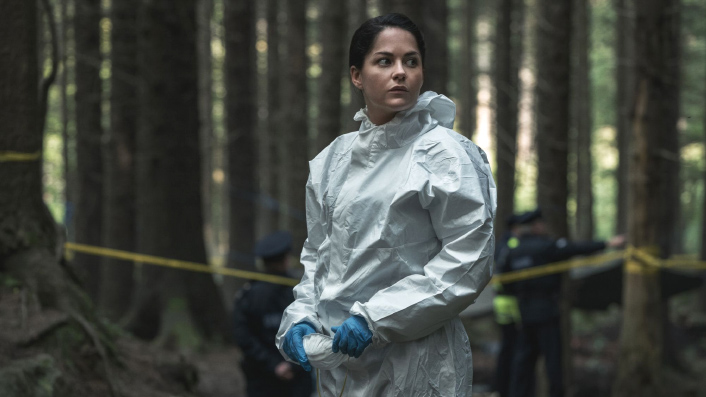 Expect to be quickly hooked as you find yourself guessing, second-guessing, crying foul, and generally playing detective—the heroes making their way towards a grimly inevitable reveal of terrible truths, with morally compromised cops and family secrets revealed for good measure.