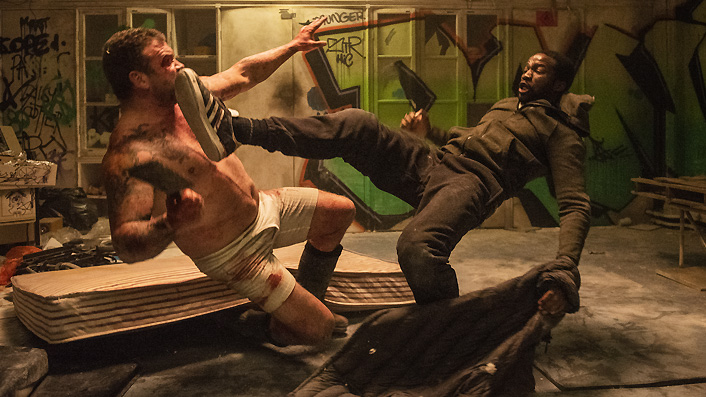 New show Gangs of London is probably 2020's best action viewing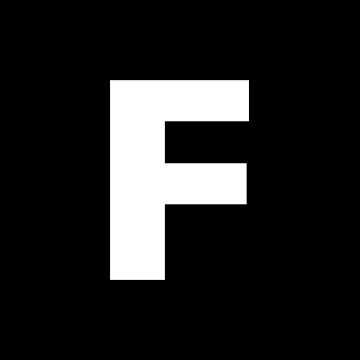 ---

A new show coming to Neon on July 20, Gangs of London sees London erupt in a wave of deadly violence. Masterminded by Gareth Evans of The Raid fame, it's a shockingly physical thrill-ride, one that Daniel Rutledge praises as perhaps the best action you're likely to see on any sized screen this year. 
The action genre underwent a beautiful evolution nearly a decade ago when a movie entitled The Raid was released. It had a massive impact and has been an influence on countless films since. Gareth Evans, the bloke behind it, delivered a brilliant sequel in 2014 but since then has experimented in other genres and gotten entangled in a few stop/start projects we're still waiting to see.
Now he's back.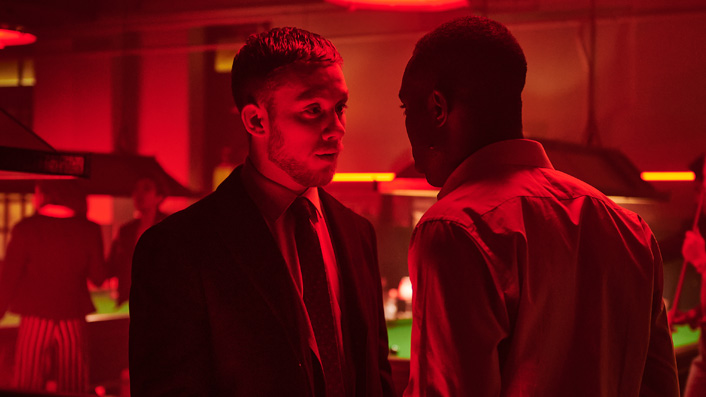 Gangs of London is clearly the filmmaker's action follow-up to the one-two punch of The Raid films and should satiate fans, even though it doesn't star Iko Uwais and Yayan Ruhian. Those awesome Indonesian dudes are replaced by a vast array of multicultural London-based criminals who are all just as capable of—and willing to dish out—extreme viciousness.
See also
* All new movies & series on Neon
* Everything coming to Neon in July
* The best action films of last decade
This is most probably going to be the best action release on any screen this year, providing a nice, pulpy mob story over nine episodes that each deliver seriously wicked fights. British tabloids hailed it "the most violent British drama ever" and it's said to have triggered a bunch of complaints in the UK as a result. While the bloodshed isn't actually all that relentless, there's an excessive nature to many of the explosions of violence and an intense clarity to how they're put together that makes them very impactful. Complaints from unprepared viewers are understandable.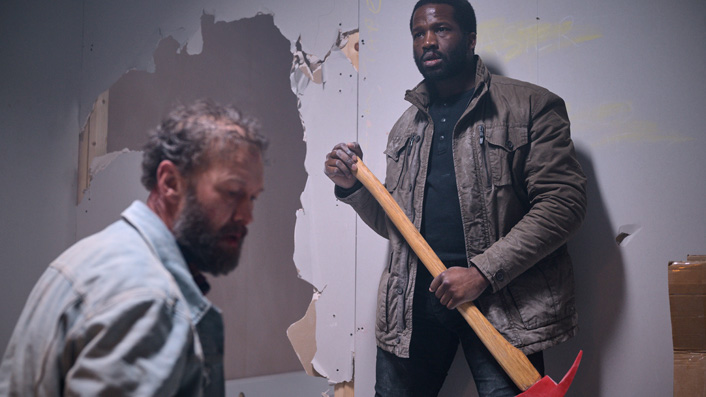 One of the many great things Game of Thrones did for the medium of television was normalise extreme violence. Thirty or forty years ago, attack dogs eating babies and guys crushing/exploding skulls with their bare hands were only found in banned video nasties. Thanks to Game of Thrones, your mum and everyone else you know is now fine with seeing that sort of thing.
Sign up for Flicks updates
Gangs of London certainly carries on that tradition and does not hold back on the brutality. The opening scene features a chap being being burnt alive in a graphic way that really makes one appreciate the stuntman. A few episodes later, another unfortunate bloke is roasted alive using a crazy torture stove that has to be seen to be believed.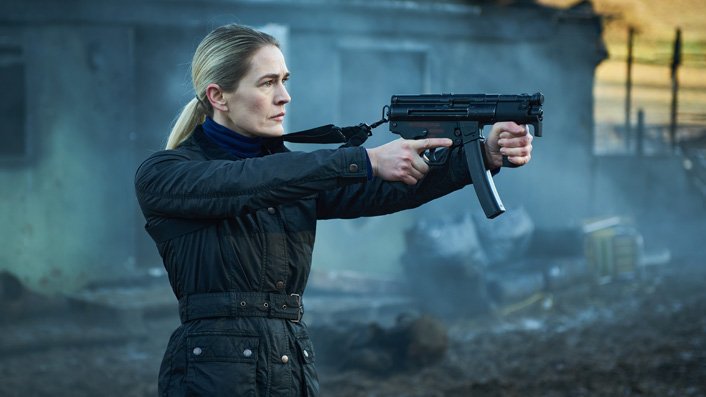 Then, of course, there's a few hundred murders and mutilations carried out with guns and blades. It doesn't always rub your nose in the gorier stuff—that's peppered like a fine seasoning over the delicious, chunky stew that is the combat action. And oh how delicious that stew is. The trademark Evans camera style of long, handheld takes that maximise every hit rather than edit around them is on full display. There's a clear geography in every set piece and a fidelity to all of the action, despite it usually having a chaotic, messy feel.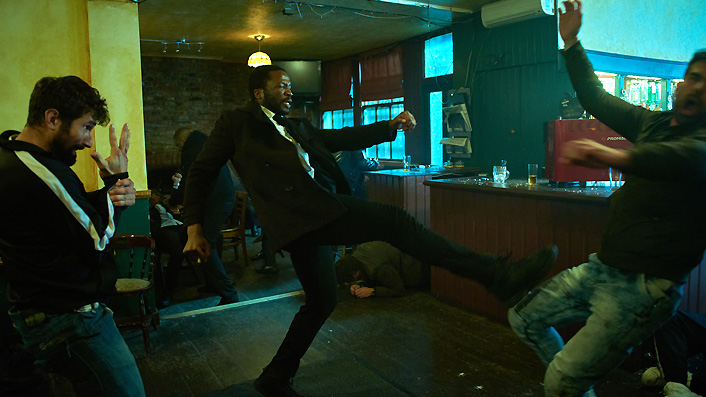 British pub fights can be a lot of fun to watch on-screen and after Evans praised the one in Scott Adkins vehicle Avengement, he almost appears to be trying to one-up it with his own London bar brawl. It's the central action sequence of the first episode and is punctuated with a few nastily distorted bodies and an ashtray being put to particularly nasty use. Then a dart is incorporated into the ruckus, puncturing many a cockney thug's skin and muscle.
It's a really fun, hyper-kinetic fight involving a large bunch of men that's nicely contrasted with another fight later in the episode—a one-on-one meat cleaver scrap that has more of a wince-inducing horror movie feel to it. While I am talking about a lot of man-on-man violence here, it's not a complete sausage fest and a few mean ladies get in on the action. Michelle Fairley aka Catelyn Stark carries out some of the worst torture in the whole show.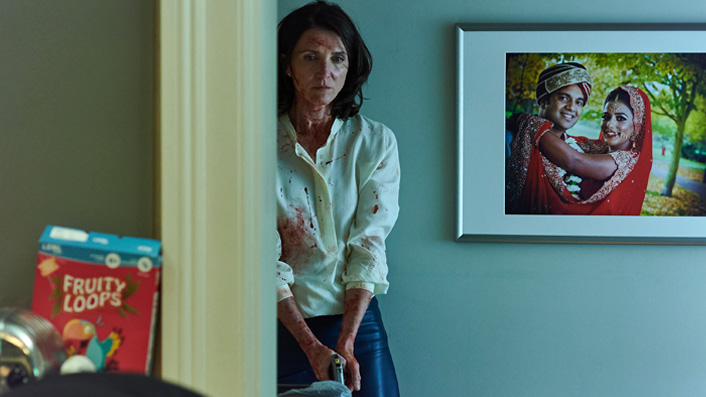 OK, OK, so there's plenty of sweet as violence, but what about the story and characters? I suppose they also matter. While the extraordinarily well-crafted action is definitely the main drawcard of the show, as it was with The Raid movies, there's a fun, comic book-style gangster tale here. It's a classic set-up with a mob boss getting whacked and his wild son taking over, trying to find out who killed his dad while mercilessly announcing to the world just how brutal his reign will be.
There's a dense cast with dozens of characters to keep a track of, most with secrets, ambitions and hidden motives that unravel over the series. As well as a shitload of Cockney geezers, there's Pakistanis, Kurds, Nigerians, Albanians and even Welsh Travellers in this highly stylised, over-the-top depiction of London's criminal underground.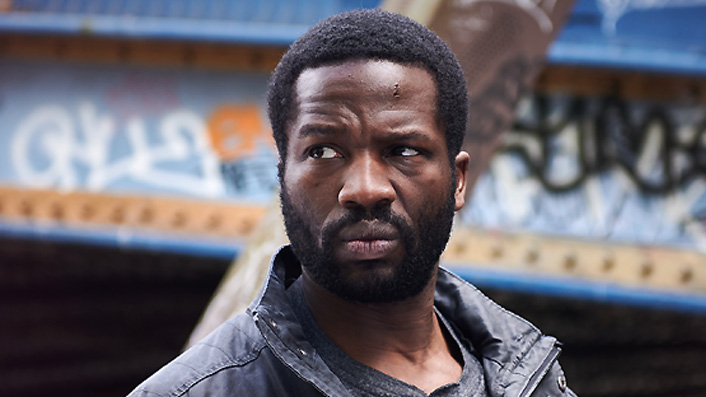 One of my favourite things about Gangs of London is actor Sope Dirisu. This guy rules. While not as skilled in martial arts as the stars of The Raid films—he says he only learnt some karate and judo as a youngster—the moves he's able to pull off without a stuntman are mint. But even when he's just having a conversation or looking off into the distance, he's always choice to look at.
But of course my absolute favourite thing about this show is its action. It's diverse, offering a nice variety of action that consistently thrills in a way that movies are only occasionally able to achieve and TV shows almost never are.