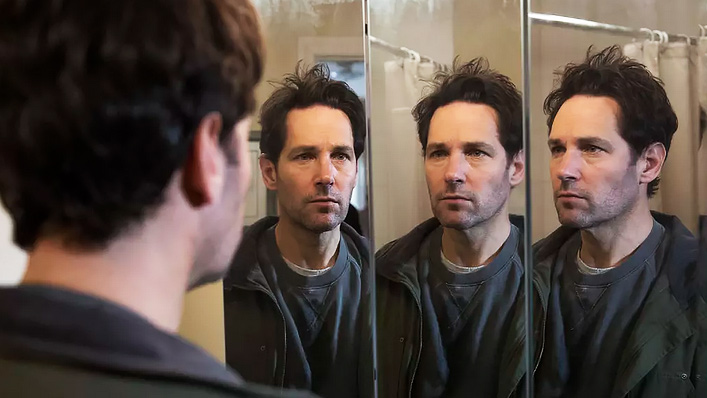 Paul Rudd's best roles, from wooing Juliet to hanging out with Ron Burgundy

---
Paul Rudd stars opposite himself in the new Netflix comedy Living With Yourself, playing a novelist and his clone. It's one of his best roles – though his career has many highlights.

Somewhere in Paul Rudd's attic, a portrait of his likeness could be ageing, all while the star retains his youthful glow. Nearly a quarter-century since he made his movie debut in Clueless, he's still brightening up screens big and small; still brandishing his nice guy charm and still looking virtually the same.
That quarter-century has been kind to Rudd, career-wise. First hitting cinemas in an enduring classic certainly helped. Although he did also star in Halloween 6: The Curse of Michael Myers – which is one of the worst Halloween movies – that same year. And, for every hit on his resume, he's been in just as many average movies.
But when Rudd is great, he lights up the screen. Thankfully that happens often. He's tried to woo Juliet, headed to camp, reported the news, been zapped down to insect size and played double in Netflix's new existential comedy Living With Yourself. And they're just some of his best roles.
Sign up for Flicks updates
For much of Clueless, Cher (Alicia Silverstone) doesn't pay attention to her college-aged ex-stepbrother Josh (Rudd). She's too busy trying to rule the school, enjoy her Beverly Hills lifestyle and be Amy Heckerling's '90s-era version of Jane Austen's Emma.
The film doesn't make that mistake, though. Rudd is a laidback presence in this coming-of-age comedy, but a charismatic one. And, while it was his first movie role, it surprised no-one when he almost stole the show.
Almost everything in Romeo + Juliet stands out. Which, with Baz Luhrmann at the helm, is by design. The Australian director isn't fond of subtlety, knows how to make a splash, and has never been better than when he took on the Bard.
In this romantic tragedy, he's also helped by stellar casting – including Rudd as the fiancé that Juliet (Claire Danes) doesn't want to marry. Making Rudd the undesirable romantic alternative may defy belief; however it also gives power to Juliet's love for Romeo (Leonard DiCaprio) – and Rudd plays the part well.
In the 2001 big screen comedy, as well as its 2015 prequel and 2017 sequel series, Wet Hot American Summer has always been an ensemble affair. That's understandable – Camp Firewood has welcomed plenty of campers and counsellors, and everyone has their moments.
Finding his niche within a group effort is one of Rudd's key skills, and it's firmly on display here. Although his character, Andy, receives ample attention across the film and its follow-ups, all thanks to his tumultuous romance with Katie (Marguerite Moreau), Rudd is at his best when he's riffing with as many of his co-stars as possible.
Anchorman: The Legend of Ron Burgundy doesn't hit every note, didn't need a companion piece cobbled out of the film's deleted scenes and definitely shouldn't have received a sequel almost a decade later. Still, when this news anchor comedy works, it works, largely thanks to its five main stars.
Indeed, while Will Ferrell and Ron Burgundy have become inseparable, his character would've worn thin quickly without Christina Applegate as fellow anchor Veronica Corningstone, Steve Carell as weatherman Brick Tamland, David Koechner as sportscaster Champ Kind and Rudd as ace investigator Brian Fantana.
Rudd not only starred in but co-wrote Role Models, his third movie with Wet Hot American Summer director David Wain. Usually, he's perpetually affable on-screen – and while that's still the case here, he's affable with a slacker attitude. Playing an energy drink salesman forced to mentor a nerdy teen (Christopher Mintz-Plasse) after getting into legal trouble with his co-worker and best friend (Seann William Scott), he's also unexpectedly caring as well.
There's a weightiness to Rudd's performance in Prince Avalanche that's rare across his career. It's usually not necessary in most of his roles, but it's crucial in this tale of two men repainting traffic lines in the summer of 1988. They bond over their problems and learn more about their strengths, limits and hopes. Soulful, meaningful but understated, Rudd finds a different gear in the David Gordon Green-directed comedy-drama, which is based on the 2011 Icelandic film Either Way.
Guest starring in a show as smart, sublime and finely tuned as Parks and Recreation is no easy feat. Rudd only features in five episodes of the political sitcom, but he's always memorable. As obscenely wealthy but vastly unqualified city council candidate Bobby Newport, who's running for office opposite the show's highly capable protagonist Leslie Knope (Amy Poehler), he manages to be both sweet and silly – and make fun of his ever-personable on-screen persona, too.
Bobby and Leslie's battle predicted the 2016 US Presidential election as well, although the world would be a much better place with Bobby in the oval office.
The Marvel Cinematic Universe is overflowing with heroes, but Ant-Man might be the most fun. Size matters – or, to be more accurate, it's the goofiness that comes with a pint-sized protagonist that stands out. Rudd wears that tone with aplomb, not just in Ant-Man and it's not-as-convincing sequel Ant-Man and the Wasp, but in Captain America: Civil War and Avengers: Endgame too.
More Ant-Man films are bound to follow. But if Disney wants to add another Marvel-centric series to its upcoming streaming platform, a buddy comedy featuring Rudd's Scott Lang and Michael Peña as Luis would be welcome.
The details are different, but Ideal Home puts Rudd in the same kind of unexpectedly caring mode as Role Models. Here, he plays a TV producer who oversees a cooking show starring his long-term partner (Steve Coogan), then becomes a father-type figure to the grandson that said star and lover didn't know he had.
As well as offering up a touching ode to families of all shapes and sizes, particularly those with same-sex parents, this warm-hearted comedy-drama serves up excellent performances from its two leads.
There's more to Living With Yourself than the obvious: two Paul Rudds. He stars as Miles Elliot, a novelist-turned-copywriter who's trudging through his life – and also as Miles Elliot, a happy, considerate clone who wants to make the most of his new existence.
While this Netflix series finds external conflict by pitting the two men against each other and letting them fight for custody of one identity, it reaches contemplative and relatable depths by pondering whether Miles is his own worst enemy both literally and figuratively. Double the Rudd works a treat, but it wouldn't hit the mark if it didn't wade into such thoughtful territory.